---
Review of Etro Spring 2023 Men's Fashion Show
Finding Freedom in Fluidity
By Angela Baidoo
The collection presented on a sunny afternoon at the Nuovo campus of the Bocconi university, couldn't have been a more optimistic way for Kean Etro to end his tenure as Creative Director of Menswear for his family's namesake brand, making way for Marco de Vincenzo who is due to present his first collection in September. Inspired by the utopian power of poetry, as the carefree breeziness that permeated the clothing glided down the winding runway, one couldn't help but wonder if the loosening of silhouettes was a metaphor for how the designer was now feeling about being free to pursue other passions, but more on that later.
Etro is about escapism, our vocation is in vacation, we need to clear our minds and become more rooted and balanced."

Kean Etro
This season it was heartening to witness the brand rely less on the paisley prints that made its name, and in recent years caused a stir for less favourable reasons. Instead, their extensive archive was the starting place for an exploration in flora and fauna, which admittedly had an eastern influence, but between the stencil, spriggy, and oversized varieties, Etro avoided falling into the expected tropes. This departure spoke to ways in which a brand can realign their focus, and play with house codes to create something that still retains its signature, but ushers in the modernity needed to keep it relevant.
Outside of the floral update there was an eye on providing the perfect way to dress for a destination, even if that remained a local coastal haunt.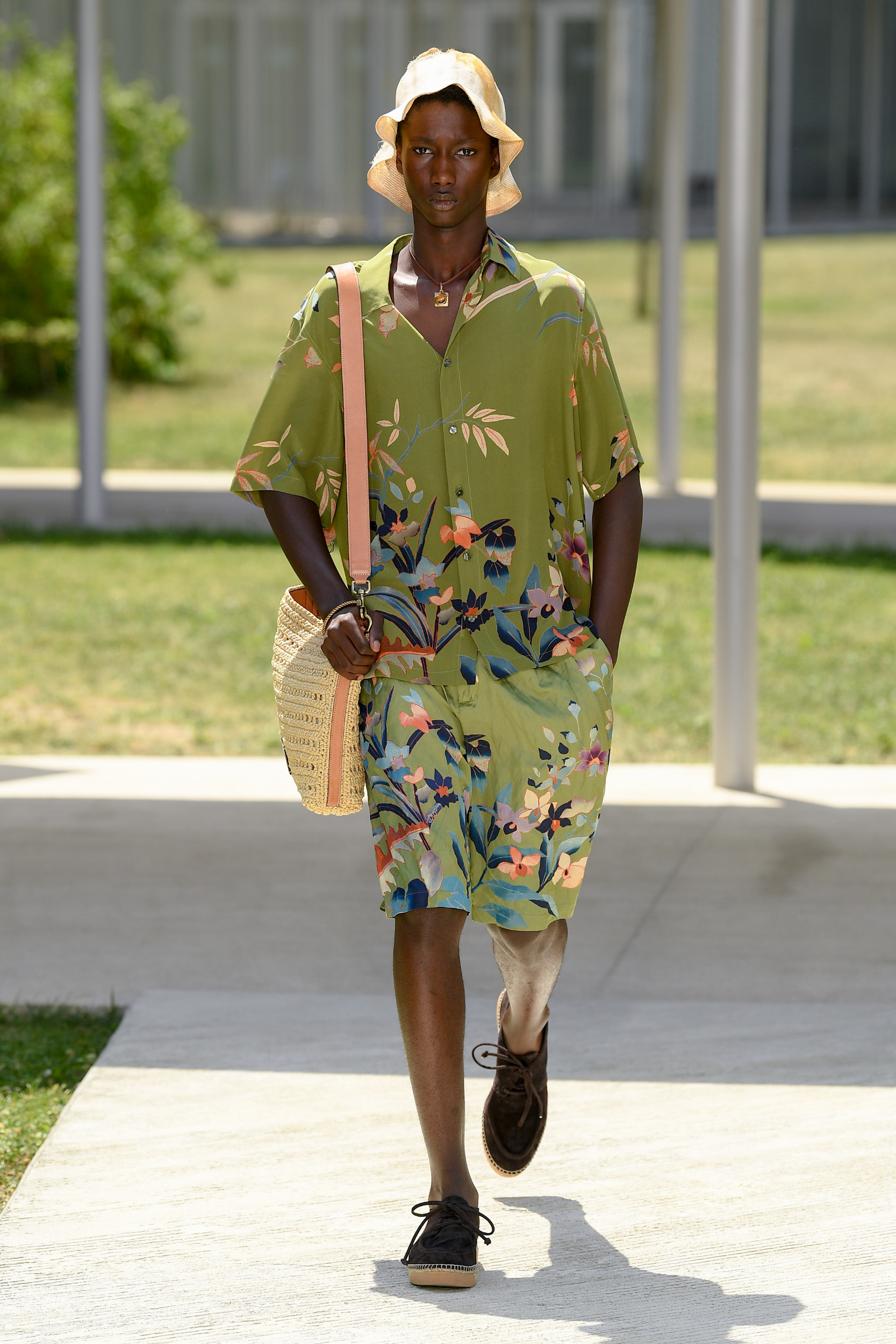 This Mens fashion week , Milan seems to have been going through a mini revolution, as waif-like, gender fluid, and markedly less macho models represented a move towards a softer side of masculinity, here models – that represented a 'gentle eroticism' according to the show notes – paraded around the runway in bare feet that were adorned with toe rings, as a way to stay grounded. Looking to the future you could say it's an inevitable sign-of-the-times which can only be a positive thing. For Spring Summer 2023 shorts will be shorter, shirts buttoned down to the naval, and luxe pyjama sets will be designed to be worn and seen outside of the home.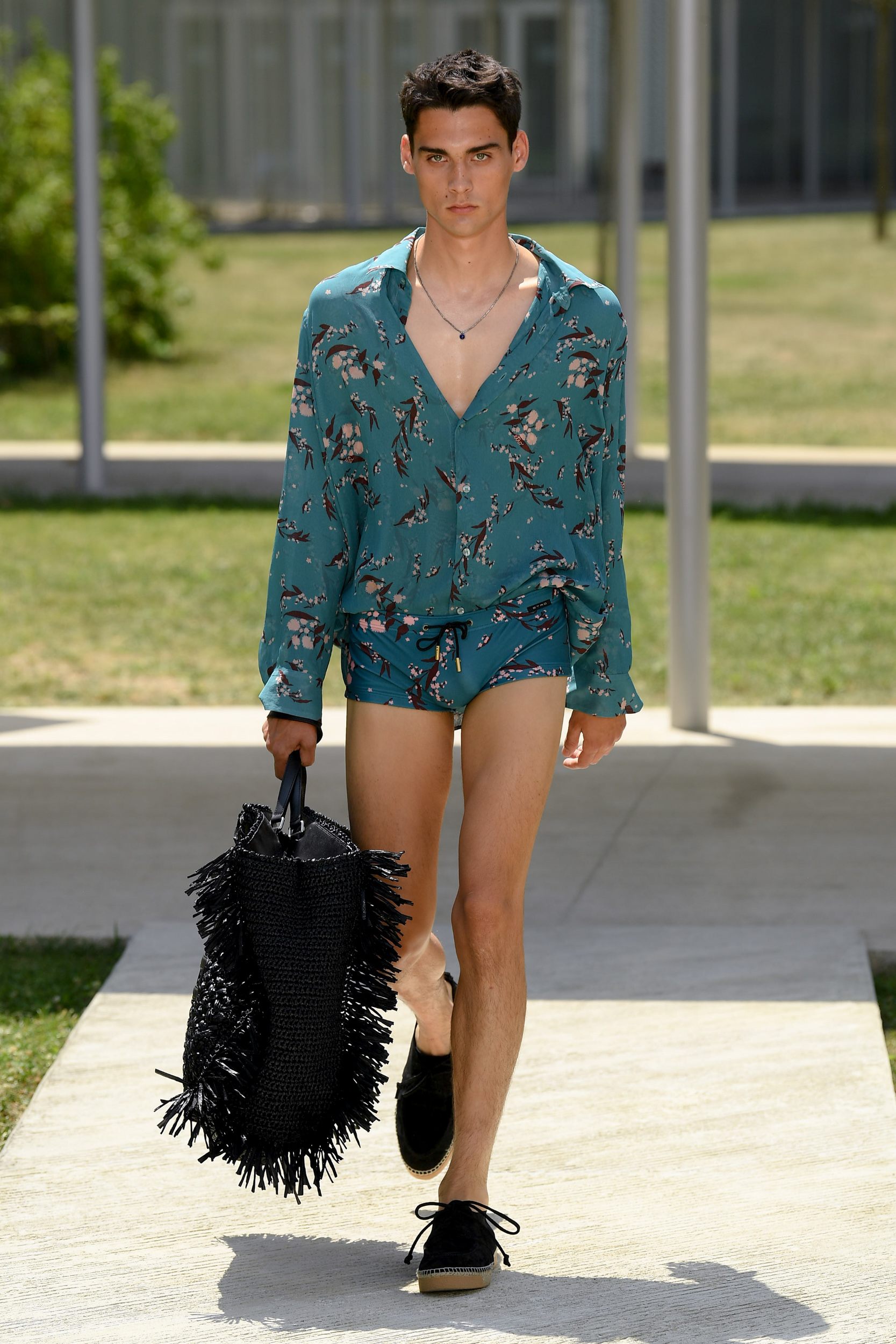 The more sensual side of the collection also seemed to reference the 70s rock stars. Blouson sleeved blouses came in lurex chiffon, and the skinniest of skinny pants in satin. We may even get a revival of the long neck scarf, which wouldn't look to out of place on say, a Harry Styles.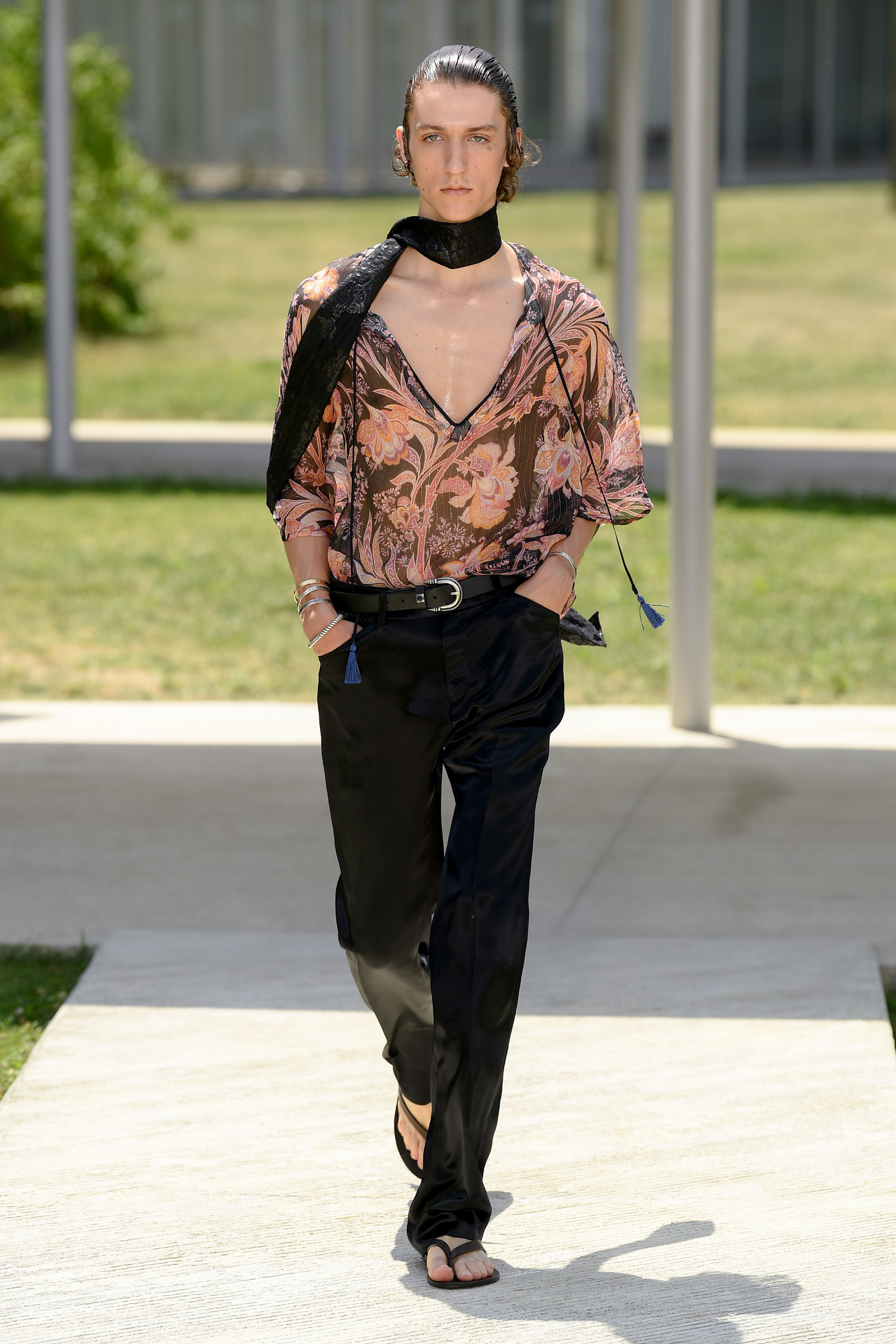 Marco will start from the archives, as he has such a great respect [for the brand, but even though] everything comes from the archive, you have to change them, otherwise its just the same"

Kean Etro
An almost imperceptible detail that will have been missed unless you were looking hard enough as the models walked by, was the use of laser-cutting which took the traditional place of heavy embroidery – when pressed backstage as to why use this was the case, Etro confirmed it had factored into his design process (recycled fishing nets were used as a material in the collection) saying "I try to be gentle with nature..that goes beyond any sort of certification….we can get there, but lets get there with a consciousness".
For such a handcraft focussed brand to embrace digital techniques, leaves room for adjacent brands to open themselves up to the viability of the adoption of less labour intensive methods, that can work in tandem with handcraft, rather than being seen as a threat.
In an exclusive backstage interview it was hard to avoid the topic that was on everyone's mind, what was Kean going to do next and how did he feel about the incoming Creative Director? In a move that was in keeping with the new fluid collection, Kean couldn't wait for the freedom that he would finally have to explore new projects, he revealed "For me it's about following the path of beauty, from reading or poetry, lets see what it will bring, but I am so eager as a little child for this new chapter" and in relation to staying within the brands eco-system he confirmed "Its not lip service, I will stay to give advice with my sister and my brothers to Marco (de Vincenzo), but I will finally have more freedom, I'm really happy".
---