---
The Impression's Philippe Pourhashemi Talks With Koché Founder & CEO Christelle Kocher About Design, Inspiration, and Staging A Live Fashion Show In A Global Pandemic
In artistic and creative terms, the biggest risk to come out of a pandemic like the one we're experiencing right now is complacency and full paralysis. Fear takes over our souls and major decisions are being postponed, while constant questioning makes it even harder to trust our gut feeling. Last Spring's lockdown was already a defining moment for many independent brands and corporate groups alike, forcing them to slow down, take a step back, and reconsider the manic pace of our reckless industry. After all, fashion relies on the new constantly, but many designers have been questioning the validity of such cycles, reconnecting with a more human -and measured- approach towards design, manufacturing, and consumption itself. Words like "sustainability" and "inclusivity" seem to illustrate the ideology of a younger generation that is clearly not interested in the old-fashioned notions of "luxury" or "distinction".
In order to stay relevant, gain a larger audience -and minimize financial losses- brands must address their consumers in a democratically open way, underlining acceptance and tolerance within their communication. Old tricks won't cut it anymore, and traditional structures of power are also eroding: the Vogues of this world have lost most of their influence, and the Instagram stars we followed eagerly a year ago -with their jet-setting lifestyles and weekly avalanche of designer goods- have had to reinvent themselves. Now more than ever, fashion and politics are deeply intertwined, and brands taking a stance is expected -and welcomed- in 2020.
There are so many racial, cultural, economic, educational, and religious issues affecting our lives that neutrality itself becomes impossible. Fashion has no choice but to reflect this current state of affairs and it's up to brands -and ourselves- to decide which side to be on. This is something French designer Christelle Kocher understands almost instinctively, and her brand Koché -which she launched in 2015- stands for the values and beliefs that are close to her heart.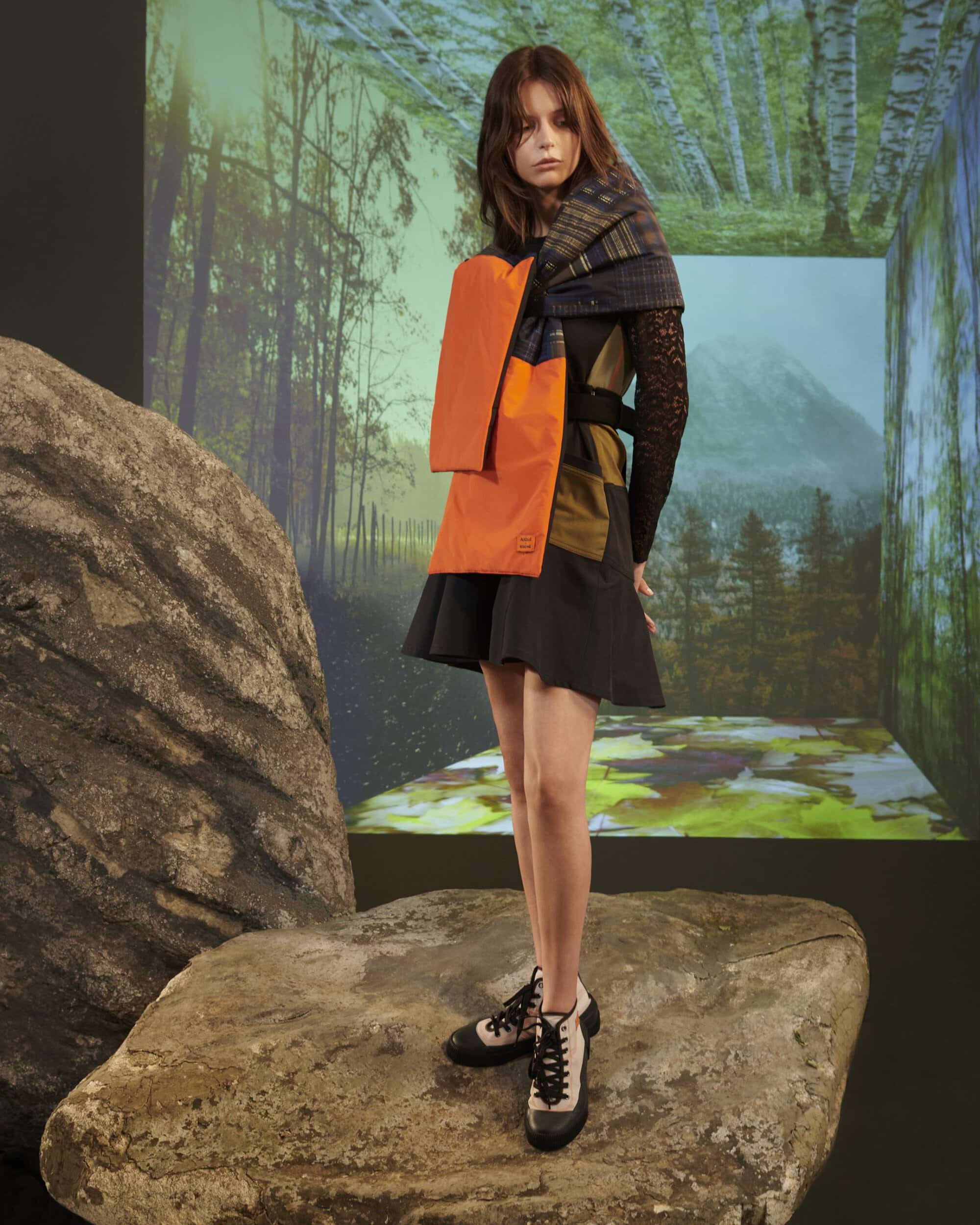 This year has been pivotal for Kocher in many ways and her creativity shone through within various platforms. Last February, she was the very first guest designer of prestigious Florentine brand Pucci and delivered a strong message with a convincing show, few hours before the government imposed a strict lockdown on Italian citizens, the first to take place within the whole of Europe. She also signed a significant manufacturing and distribution deal with Renzo Rosso's OTB Group at the end of last year, allowing Koché to benefit from state of the art production facilities as well as a powerful sales network, while keeping full creative control. She designed a capsule line in collaboration with French textile and footwear company Aigle -founded in 1853- which she got to during her last September show in Paris' Parc des Buttes-Chaumont, located a few miles from her own design studio.
In this exclusive interview, Kocher shares her thoughts on the lockdown and how she found ways around new restrictions, keeping her values and principles intact after 5 years of running her brand, and why staging a physical fashion show was so key and important to her.
Philippe Pourhashemi: This has been such a busy year for you. Did you expect it to be this way?
Christelle Kocher: It's true that I've had a lot on my plate lately, but at the same time I'm so used to multitasking that it has become second nature.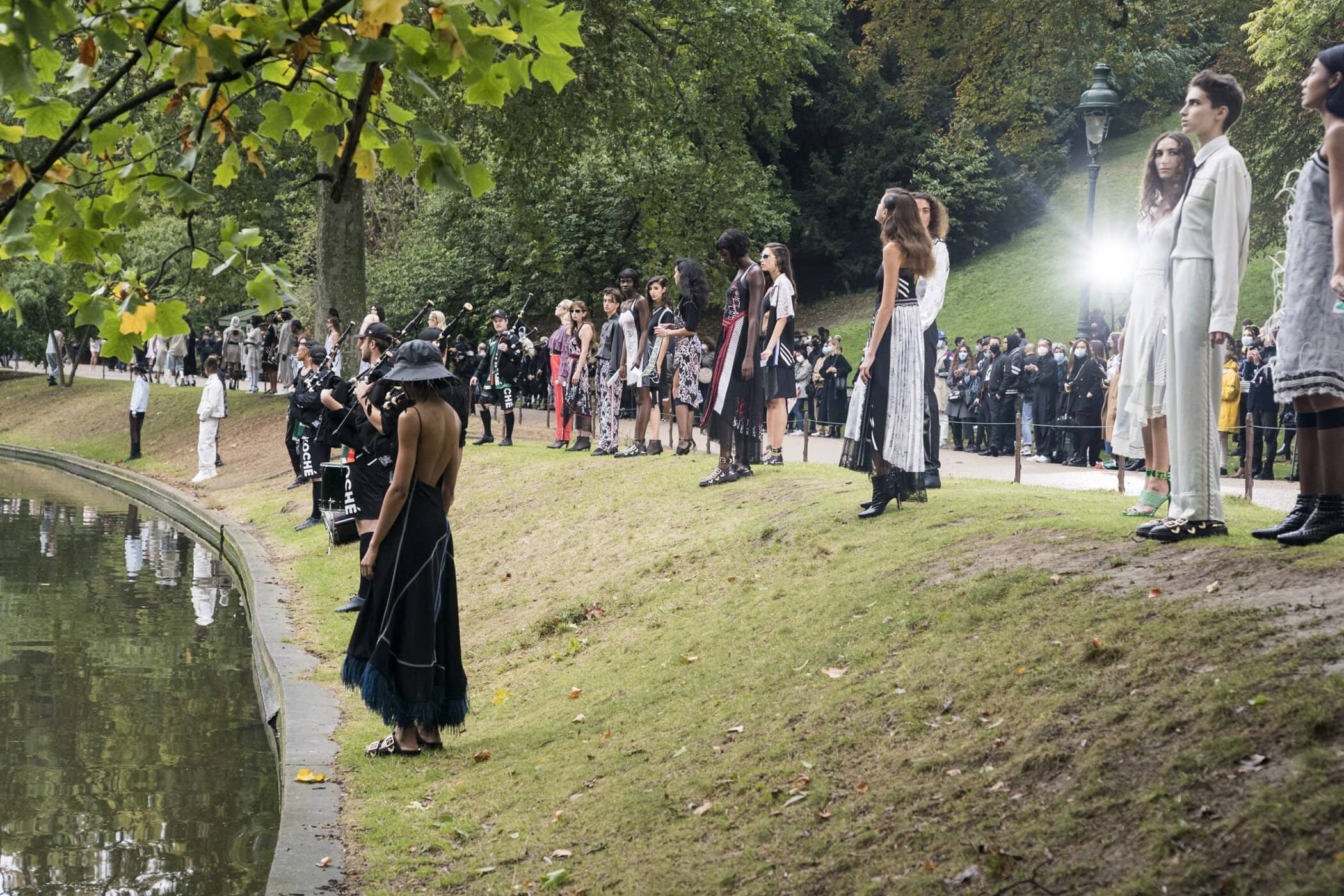 Philippe Pourhashemi: Your last Paris show had a poetic and positive vibe. What were your wishes with this collection?
Christelle Kocher: The first thought I had when starting this collection was to do something that had a little bit more romanticism and poetry to it. I also felt it was key to return to nature, which explains why we staged the show in a park.
Philippe Pourhashemi: Several brands avoided shows and went for digital events instead. Why was the live experience so relevant for you?
Christelle Kocher: Staging a physical show was an act of resistance for me. I wanted to be part of a group of people with similar beliefs, and share these values with our audience. It was about being present, and defiance as well.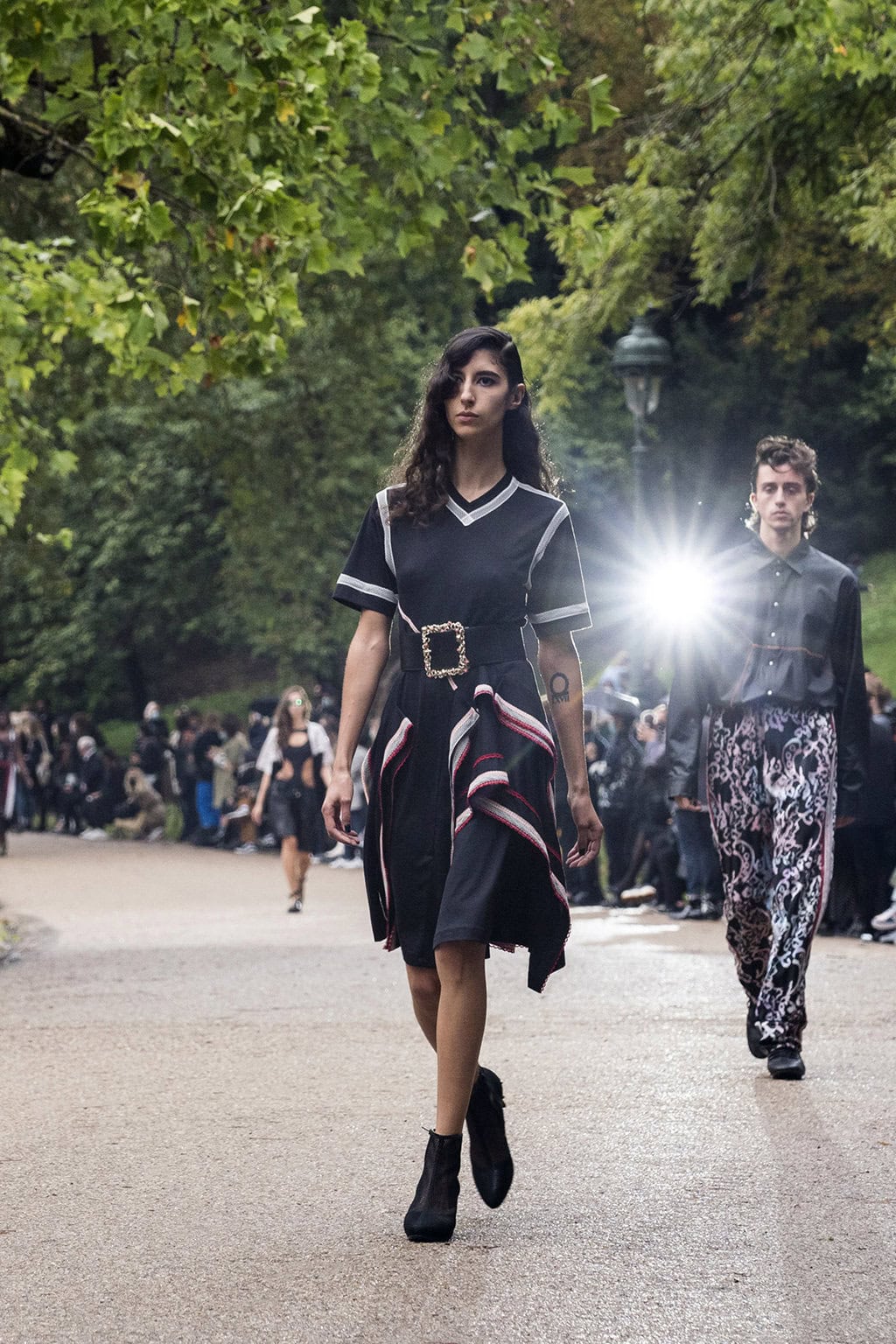 Philippe Pourhashemi: Was it difficult to put it together? I interviewed a couple of designers in August and none of them knew at the time if they would do a show in September.
Christelle Kocher: We're 100% independent as a brand and do the production of our own shows. That makes us very flexible and allows me to plan them with my team. Of course there were a few unexpected twists and turns this time -as you can imagine- but for me it was important to do it outdoors in front of a live audience.
My own office overlooks the park and my studio is located nearby, so this location really inspired me. I truly wanted to gather people around the brand and celebrate that. For me, fashion only exists if it's worn by real people.

— Christelle Kocher, Founder and CEO of Koché and Artistic Director of Lemarié
It also needs to be viewed in motion. The Parc des Buttes-Chaumont is a place that welcomes people from all backgrounds, races, generations, and this multiculturalism is part of the brand. This richness really speaks to me, and the fact that the park was built during the 19th century added that layer of romanticism to the overall presentation.
Philippe Pourhashemi: You used a lot of lace this season, both on men and women. What attracted you about this fabric?
Christelle Kocher: I wanted something very feminine, and lace kept coming back as some sort of a leitmotiv. I combined lace panels together to evoke the stripes you see on sportswear and used it for men, which I found very beautiful. Lace brought fragility and something delicate to the collection. During lockdown, I met Italian artist Alex Cecchetti on social media and asked him to use some of his poetry to customize the final looks of the shows, which were embroidered by hand and embellished with feathers. This collaboration mattered to me, because it allowed us to show that I still believe in the power of human beings to get together and remain optimistic.
Philippe Pourhashemi: How did the lockdown affect you creatively?
Christelle Kocher: I was lucky to be able to spend it at home in my Paris apartment. Of course it was a period of worry and anxiety, and we had to reevaluate and change the way we worked, like many other teams. I missed fittings a lot, but thanks to our phones and countless Zoom meetings, we had tools to carry on and be connected to our teams in France and Italy, as well as Japan and China. Losing close contact with the people I saw on an almost daily basis was hard, which again explains why I was so keen on gathering everyone again in this urban park, surrounded with nature. Obviously, budgets were cut, but we did our entire casting through social media and did not hire models from agencies. I have to say that people were glad to take part and the energy was really positive. The solidarity I felt that day was incredible and the models were proud to be there, too.
Philippe Pourhashemi: How many people could you invite?
Christelle Kocher: I was authorized to invite 240 guests.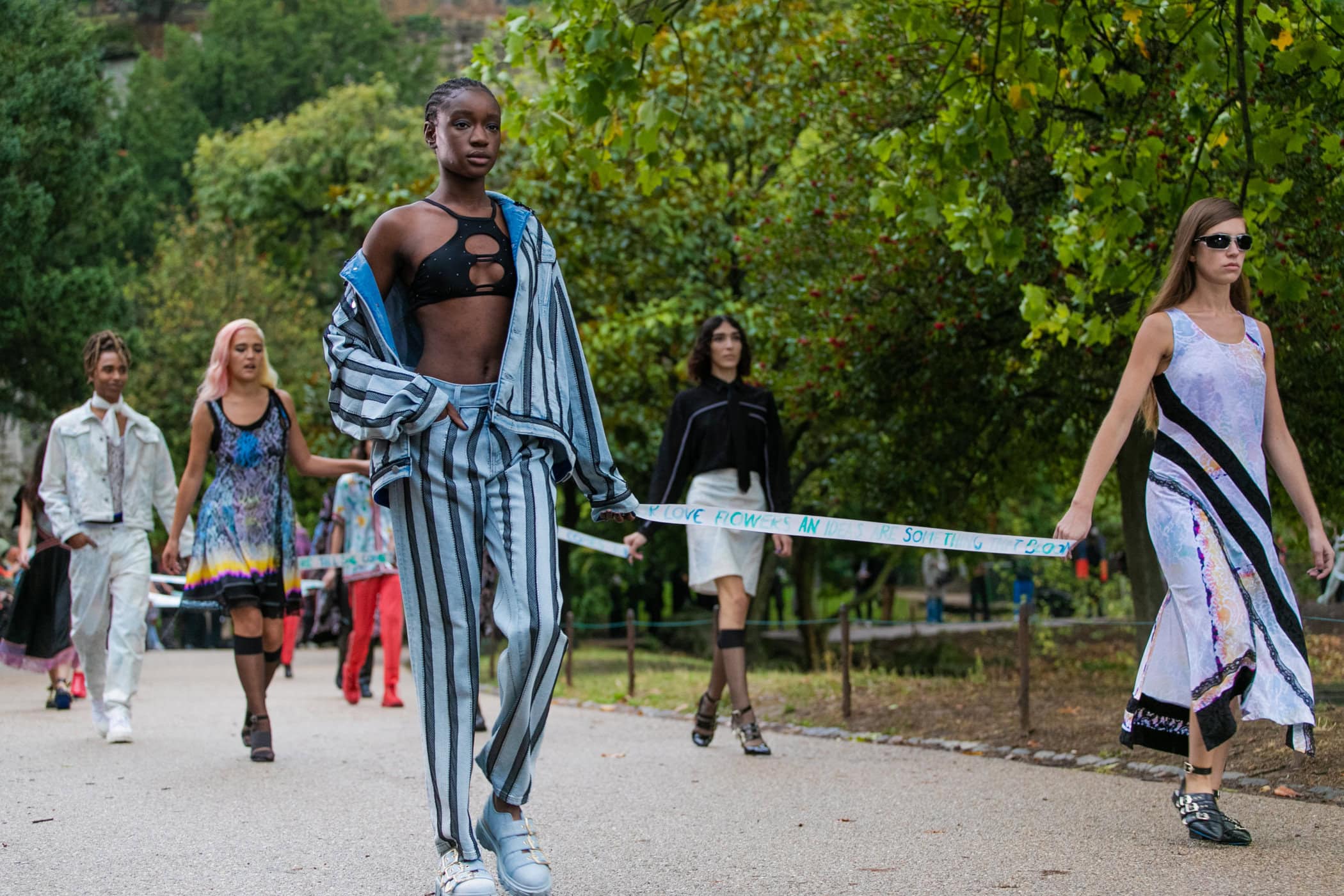 Philippe Pourhashemi: That's tricky.
Christelle Kocher: We had anticipated everything with our security teams and it was complicated, but we managed it, and I think people were touched we had made the effort.
Philippe Pourhashemi: Going back to the beginning of this year, you had just presented your show with Pucci in Milan and the lockdown happened afterwards, right?
Christelle Kocher: The lockdown in Italy started the day after the show, which was clearly unexpected. It had an impact on the showroom sales, but the reviews were favorable and the collection has been doing well at retail, which makes me very happy. Pucci is such an iconic brand and they have amazing factories producing for them. I've been a Pucci fan for years, so it was really exciting for me to be able to meet the family and work for them.
Philippe Pourhashemi: How did this happen?
Christelle Kocher: I was approached by them to be their first guest designer, and Laudomia Pucci welcomed me with open arms and true generosity. Pucci will change designers every 6 months in order to let them reinterpret the DNA and heritage of the brand. There are in fact many points in common between Pucci and my brand: color obviously, an emphasis on print and movement, as well as care and respect for real craftsmanship. Emilio Pucci used jersey to liberate women, which allowed them to feel more comfortable in their bodies. He was so avant-garde in his way of thinking and empowered women with his style and vocabulary.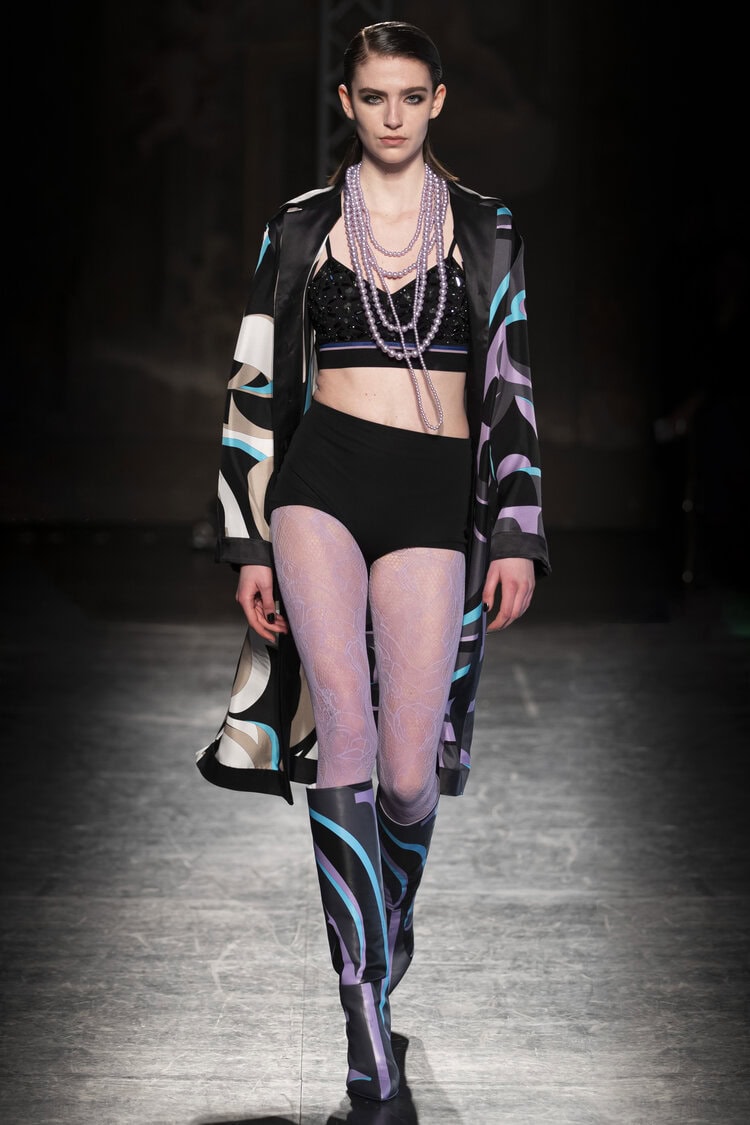 Philippe Pourhashemi: Did you get to explore their archive?
Christelle Kocher: Laudomia made it happen and I could honestly have stayed there for weeks. There were so many prints, textiles and designs that had been made, and it was great for me to be able to offer them genderless pieces, which was a new thing for them. I also did jeans for them, and printed patterns on sweat-shirts, t-shirts, even tracksuits. It brought a more urban edge to their brand.
Philippe Pourhashemi: Could you involve Lemarié as well?
Christelle Kocher: Yes, I'm Lemarié's Artistic Director and got them to collaborate with Pucci by digitally printing feathers using this incredible technique. I like creating bridges between people and do believe in this collaborative approach. For my own brand, I advocate a democratic stance and there are various price points aimed at different customers. I wanted to do the same for Pucci, by working on a pair of printed tights or designing a printed and embellished evening dress. Their tights are made in a technical jacquard, featuring a new Pucci print and you could pair them with Pucci lace or something more plain. There are many possibilities and this kind of plurality really appeals to me.
Philippe Pourhashemi: Comfort has always been key for Koché, even when dealing with more intricate pieces.
Christelle Kocher: It is comfort and accessibility, too, which matter to me in the end. My passion for design itself has always been a driving force, which explains why artisanship plays such a big part.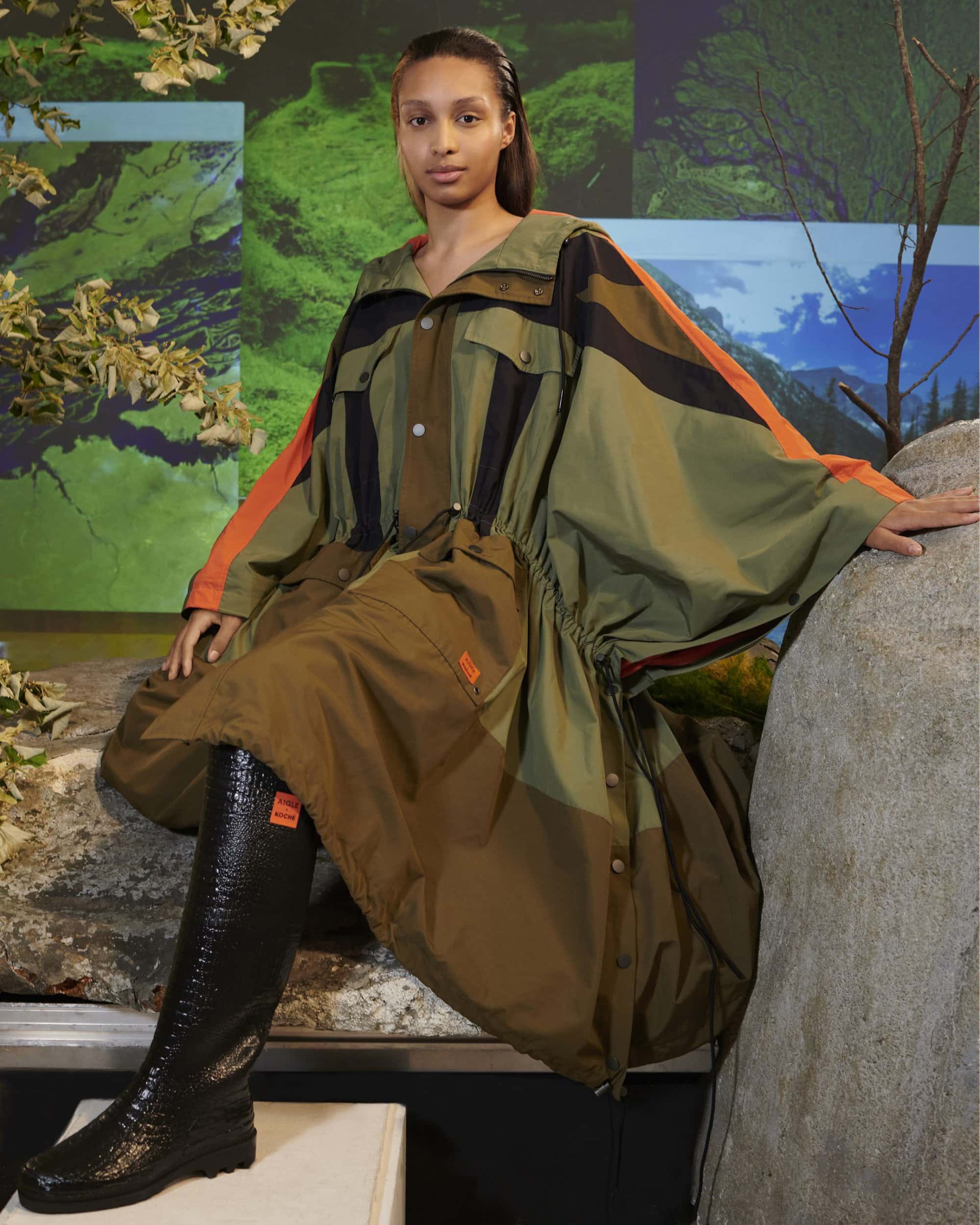 Philippe Pourhashemi: You also collaborated with Aigle this season, which was an interesting choice.
Christelle Kocher: The Aigle pieces were apparent in the first 3 looks of the show and we reworked their iconic boots, as well as parkas and adding other pieces, such as dresses, shirts and pants. I love the poncho we did with them.
Philippe Pourhashemi: Sounds like there's been a lot going on for you so far.
Christelle Kocher: Definitely. To be honest, I worked even more than usual during lockdown. I'm the founder and CEO of my company and have certain responsibilities, so business decisions had to be made on a daily basis. The deal I signed with Renzo Rosso at the end of last year was significant in that sense, too.
Philippe Pourhashemi: How exactly are they going to be involved?
Christelle Kocher: They are manufacturing KOCHÉ now and also taking care of the sales across their own channels of distribution.
Philippe Pourhashemi: Has this Italian influence affected the way you design and create?
Christelle Kocher: It brought more sensuality to the brand, and I've embraced the idea that gender may not be that relevant for younger individuals.
I wanted my guys to be in tune with their own vulnerable side and women to act strong and assertive. Today, I love the idea that a man would want to be desirable to others and dress in a more sensual way, whether it be for women or men. I feel this very deeply and will pursue this direction within upcoming collections.

— Christelle Kocher, Founder and CEO of Koché and Artistic Director of Lemarié
In Paris, I see men wearing fitted things in fishnet or lace, which I find inspiring. The fact that these guys even wear female clothing in quite a confident way triggers my own imagination and creative impulses.
Philippe Pourhashemi: In 2020, what do we expect from fashion and which role should it play?
Christelle Kocher: For me, it's about values and what the brand stands for. My brand is not elitist either and I see myself as a generous and open-minded designer. I like to connect people and deliver positive statements through my work.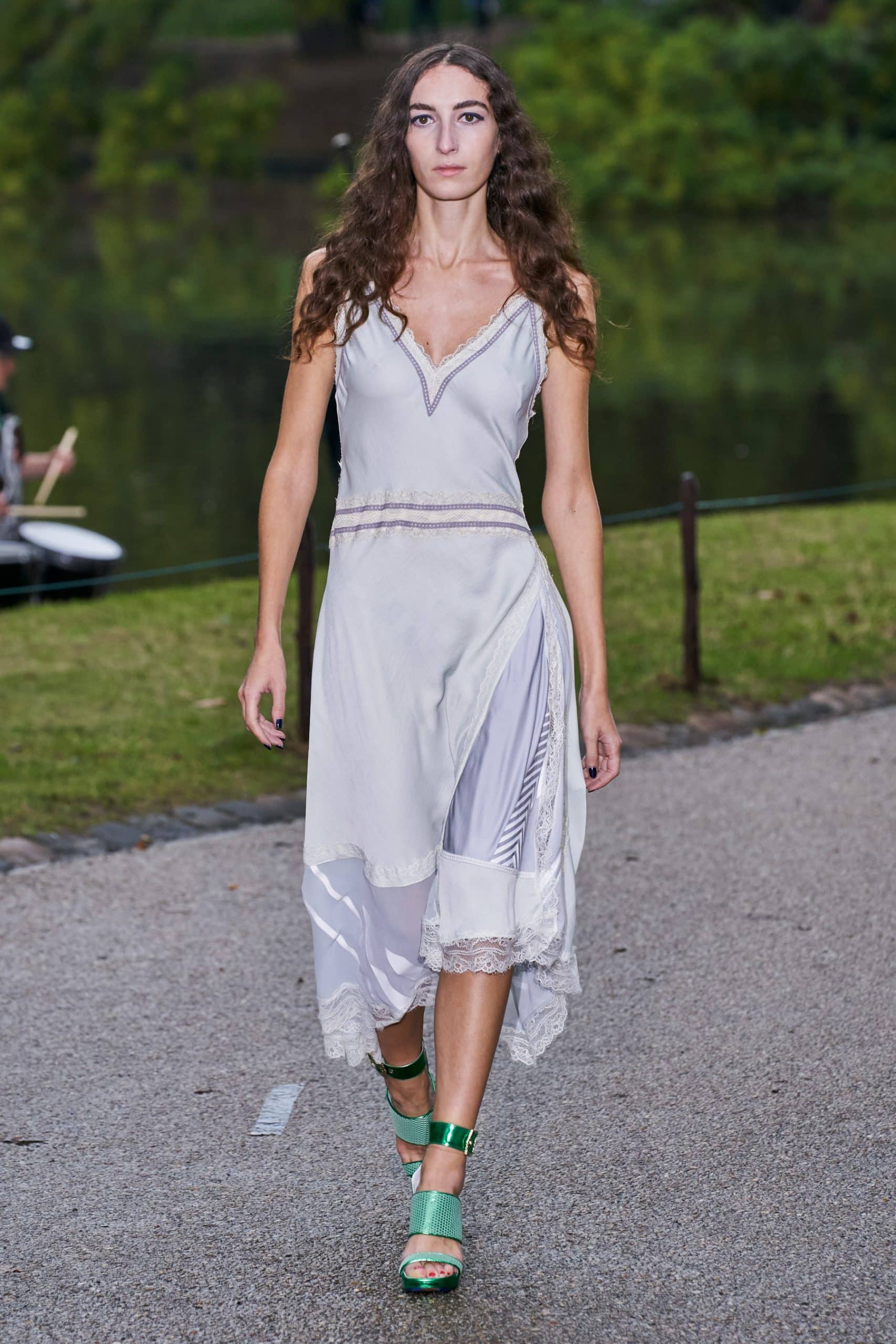 Regardless of your culture, gender or body shape, I want the clothes to enhance and complement the person wearing them. It's fundamental for me that the clothes are inclusive and honest. I guess that if my brands sticks to these values, we will have the possibility to grow and pursue our path. Such values go back to 2015, and I am committed to them.

— Christelle Kocher, Founder and CEO of Koché and Artistic Director of Lemarié
I may work in some of the finest ateliers in Paris, I've also helped young people who lived just outside Paris and could not afford a famous fashion school to work on their portfolio or find internships in places where they could learn as much as possible. Not everyone has the chance to be educated, or simply connected to the right people that could make your vision turn into a reality.
Philippe Pourhashemi: So you're definitely sticking to your guns and embracing pragmatism.
Christelle Kocher: I had the chance to work for amazing designers, such as Karl Lagerfeld, Dries Van Noten and Giorgio Armani. What you can give back is just as important as what you get and learn.
Philippe Pourhashemi: Today, the fashion landscape is dominated by larger groups, but the consumer buying these goods might not even know who the designer is. Does the faceless nature of corporate luxury create an opportunity for independent brands?
Christelle Kocher: It does create them. What is particularly interesting within our industry today is that there isn't one big church that all disciples have to follow.
The audience is much broader, which implies that fashion can be consumed in many different ways. Still, there is a younger audience that has very clear values, and they will surely not validate those brands if they do not recognize themselves within their discourse. I think that this idea of throwaway clothes -and of fashion as pure fun and entertainment- will slowly give way to something more measured and reasonable.

— Christelle Kocher, Founder and CEO of Koché and Artistic Director of Lemarié
Philippe Pourhashemi: Expectations are clearly not the same as they were before.
Christelle Kocher: Definitely. Designers are now dealing with a committed generation that values ethics over image. Quality and substance matter more than appearances. Of course, the personality of a designer can play a central part within the growth and success of a brand, regardless of the context we're currently in.
I do believe that there will always be a place for storytellers in fashion, and what matters more than ever today is how sincerely and genuinely you communicate with your audience. When I see that we sell the most intricate and embellished pieces to buyers, it is proof that there is an educated audience that appreciates and believes in such craft and complexity. People are touched by what is unique, and one of a kind garments also play an important part.

— Christelle Kocher, Founder and CEO of Koché and Artistic Director of Lemarié
I buy organic food for instance. It is more expensive, and you need to make more of an effort to find what you want, but it is a lifestyle, and something I have believed in for years. I don't see why we could not approach fashion and clothes in exactly the same way.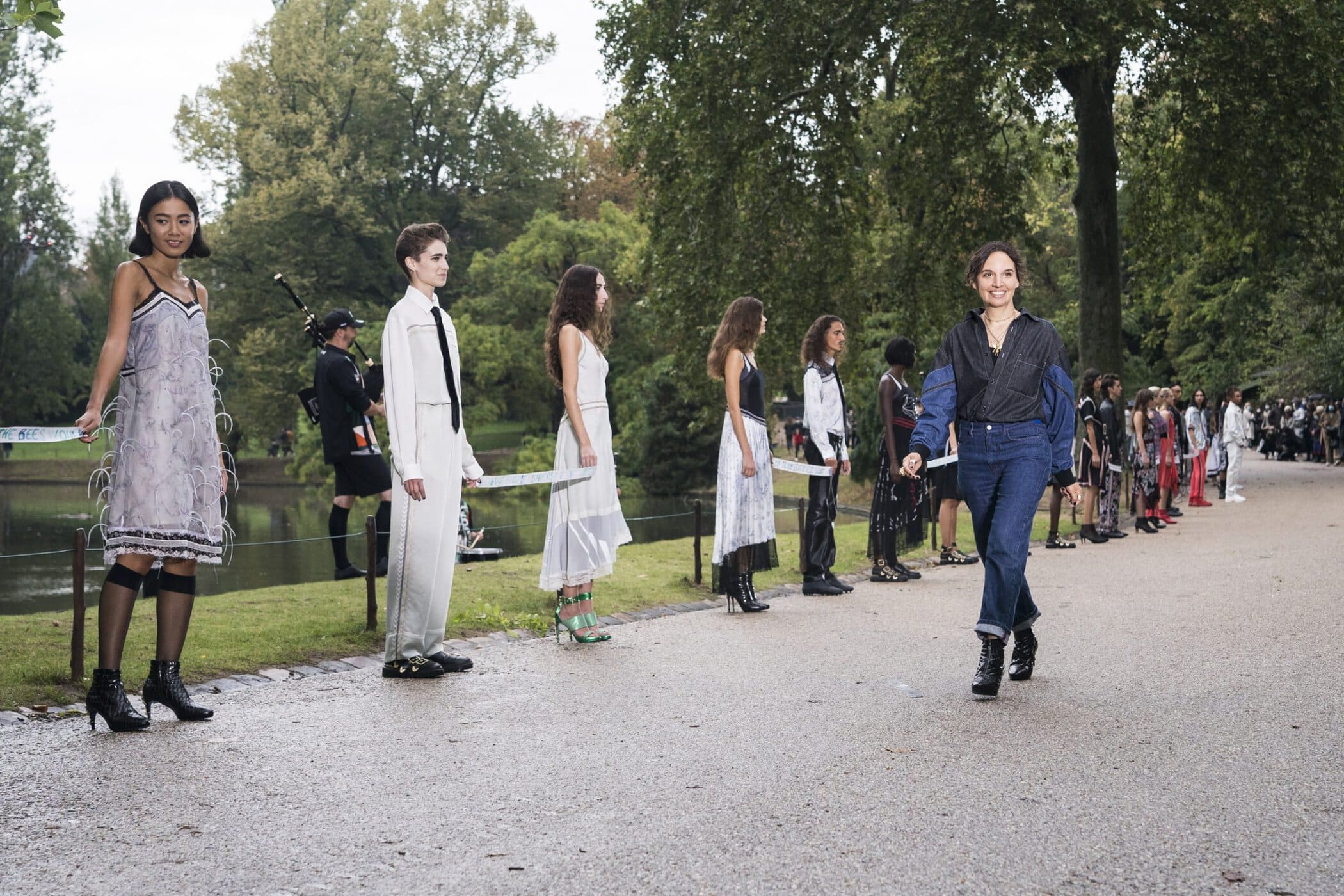 ---