---
Review of Fendi Couture Fall 2022 Couture Fashion Show
Understated glistening glamour
By Lizzy Bowring
Today's Fendi show, held within the commanding building of the Palais Brongniart, Place de la Bourse, is in the heart of Paris. A magnificent building with dramatic stone stairs that command attention from the very first step, right up into the hallowed white space in its interior. There is a lot to be said about clean, minimal white space; no matter how and where it is used, it makes for the perfect canvas as a starting point, be it a painting, a room's decor or as today, the backdrop for a perfect Haute couture presentation.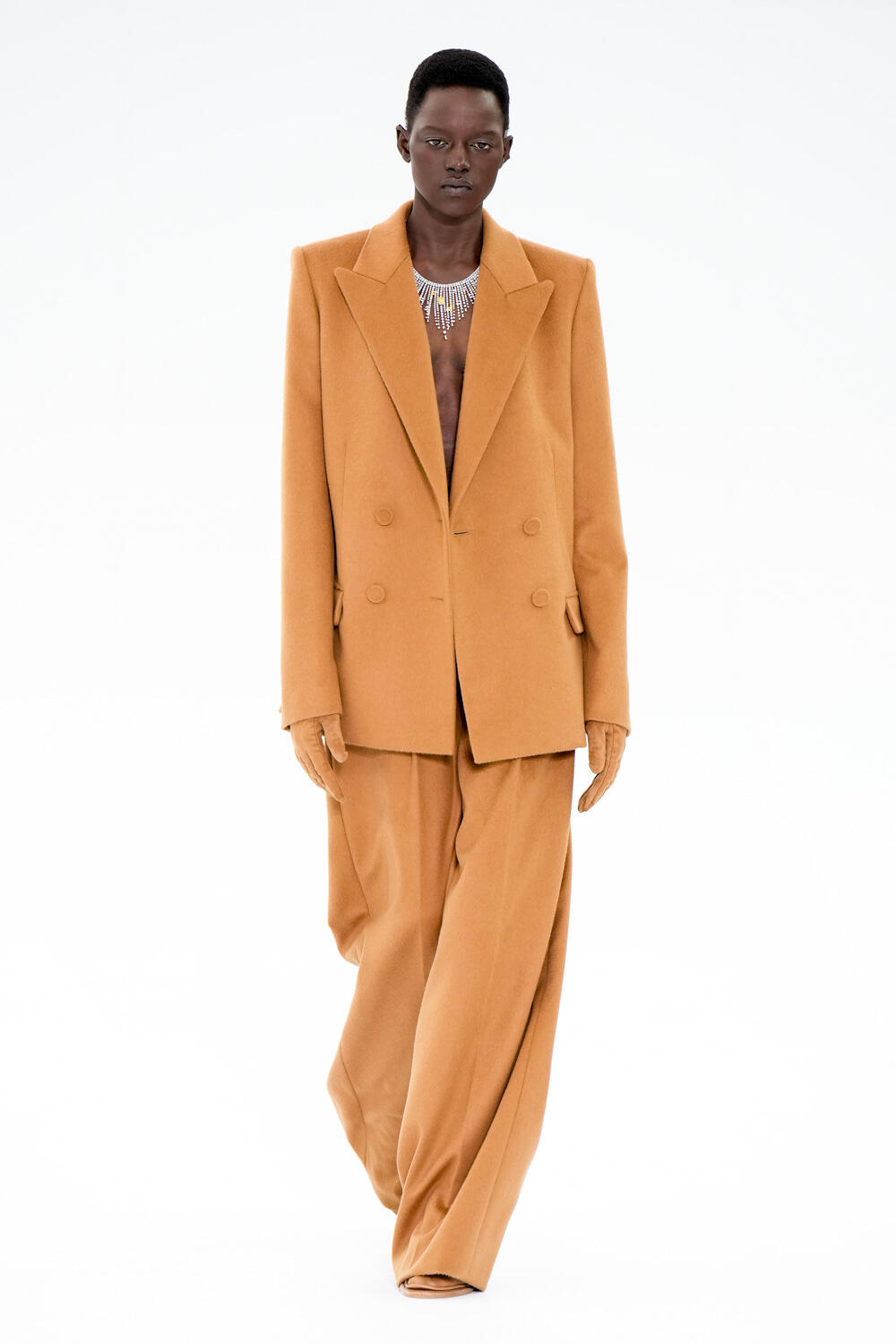 Alexandre Betak once again was the mastermind behind this fabulous set and, along with the reverberating music, set the scene, for this presentation was all about showcasing the glamorous clothes.
Kim Jones based this collection on what he called, 'A tale of three cities' — Kyoto, Rome, and Paris, from a time when it was important for the world to acknowledge the unique cultures that emanated and inspired a mode of style. And there you have it. Fendi's cultural Couture Fall 2022/23 collection opened with a mouthwatering colour palette of something close to coffee cream and toffee.
The first outfit, a languid sartorial trouser suit, was cut in a luxurious material that allowed such freedom of movement that the jacket surreptitiously opened, revealing a necklace cascading in strands of sparkling diamonds.
Each outfit came accessorized by these strands of jewels, whether singular earrings that swept to the shoulder or strands that graced the demi-leather gloves or clutch bags. This, by the way, is Fendi's first foray into such jewellery, and of course, it was designed by Delfina Delettrez Fendi.
The silhouettes that followed were equally sleek and elegant. Every piece refined in construction and cut with the purest of lines. This minimalist design aesthetic carried through into fine buttery leather silhouettes, such as loose trousers topped with an equally clean-cut 'shell' top or the fluid sleeveless coat, softly tied to the side, and as for those turtleneck dresses, each one was as covetable as the next.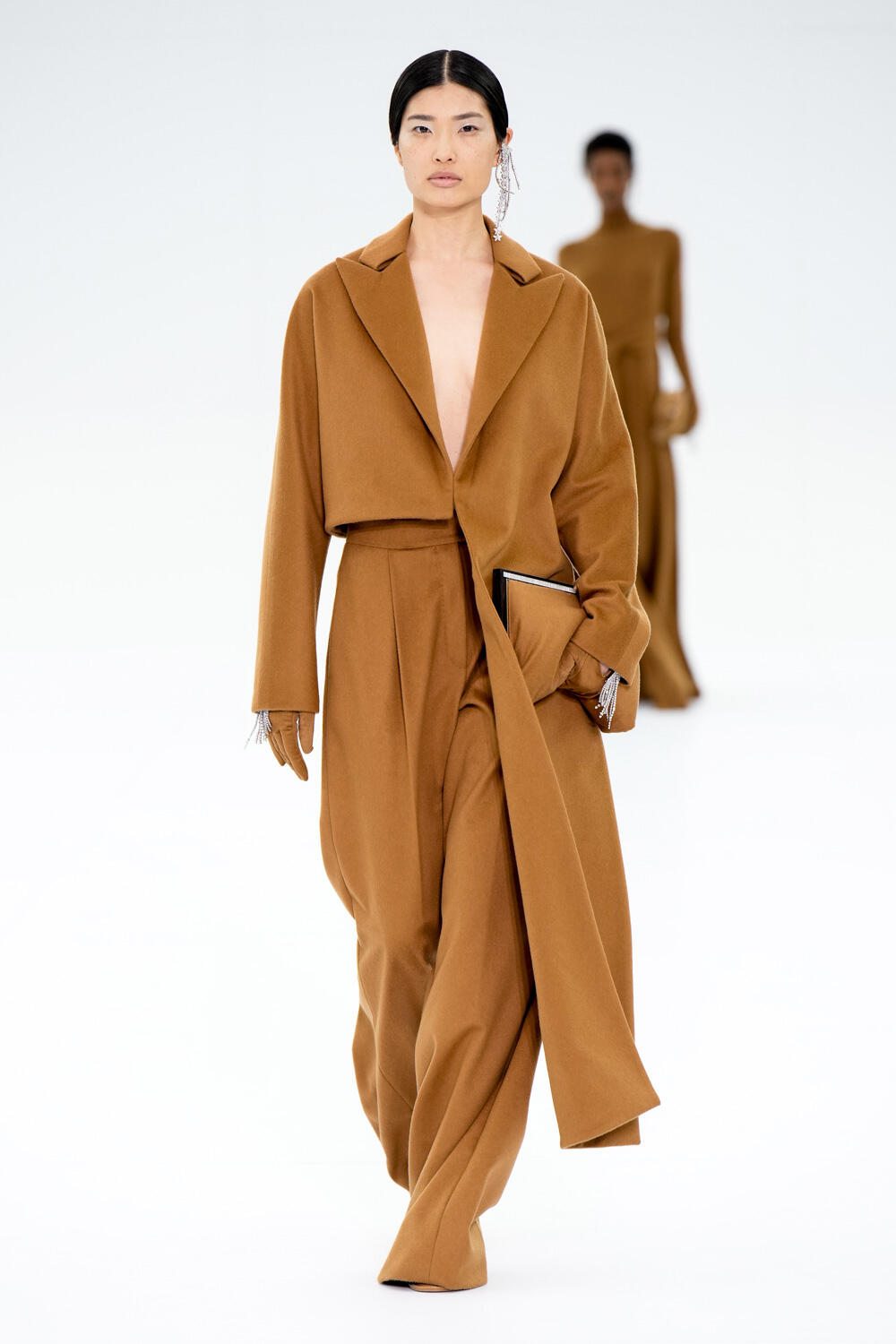 It's the attention to detail that makes this collection so wearable.
There is a new cut appearing in several jackets this season, and today it was most evident whether this detail is inspired by Prada's S/S 22 collection and the long train that flowed from the back of a dress or whether the Kimono references within this collection inspire it. Am not sure, but from wherever it came, it is incredibly appealing; coats and jackets came cropped at the back with a dexterously placed side panel skimming one side of the body.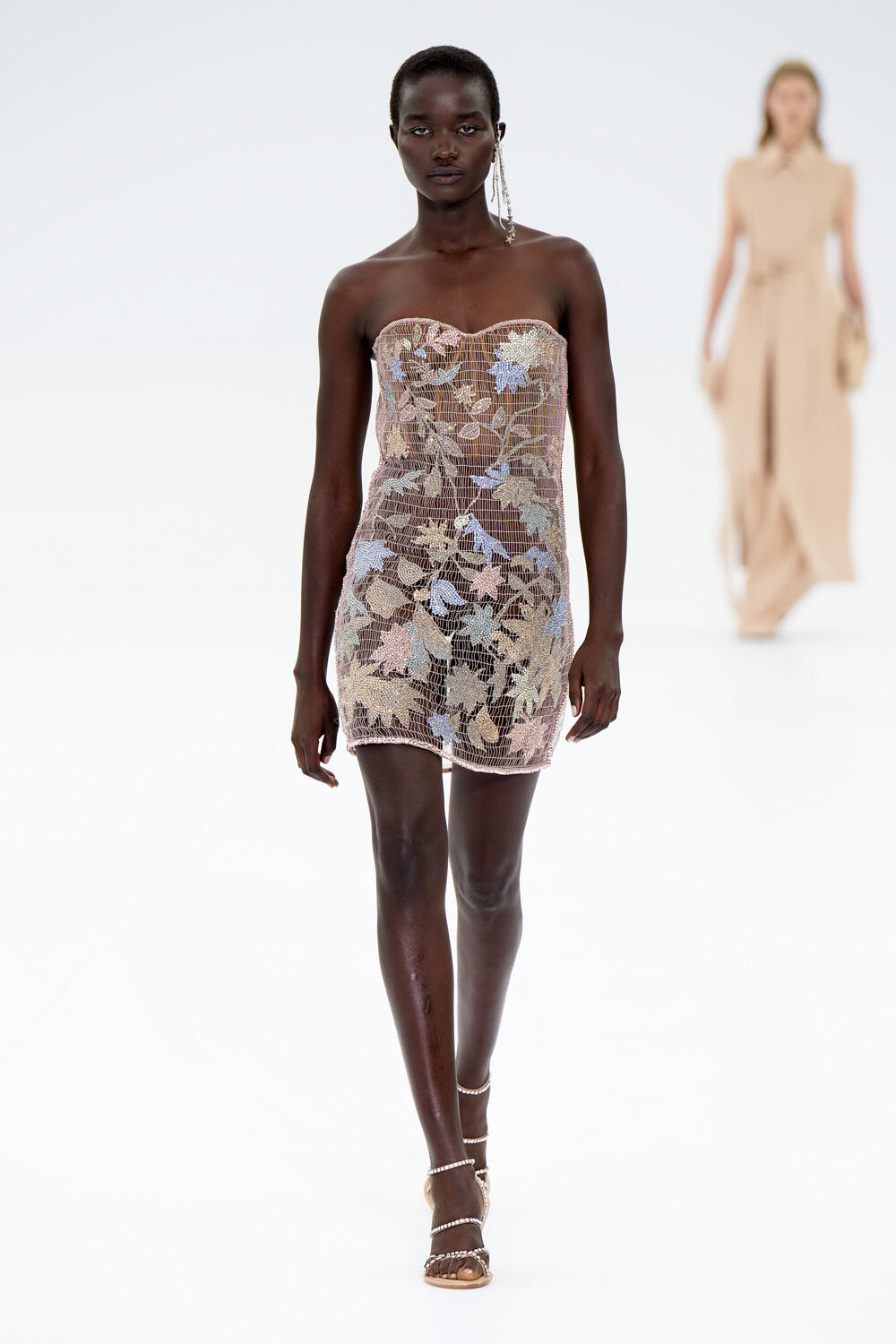 Within the mix, there were hypnotic little silk tulle dresses and equally sinuous long cylindrical columns, strewn with botanical motifs that were reinterpreted through intricate embroideries and finished with sparkling beads and stones.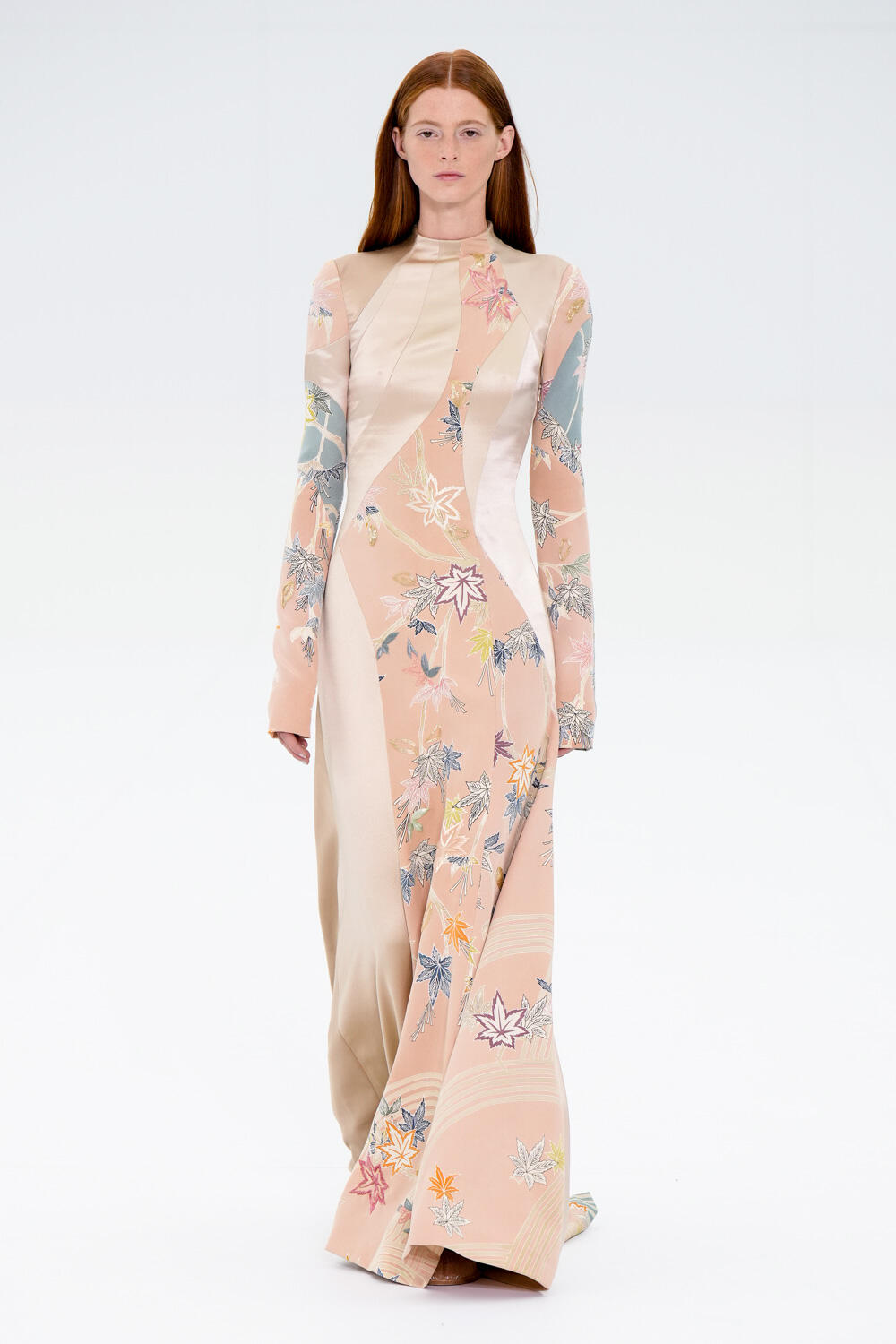 These floral embellishments carried through into the ankle boots that looked relatively comfortable but will, either way, will prove to be equally as covetable. A small vignette of sinuous, fluid dresses emerged into the bright white light that enhanced the vibrancy of the colors of brilliant yellows and emerald greens, as well as the transparency of delicate mesh tube dresses cascading to the floor. These, too, were adorned with crystals that sparkled tiny rays of white light with the wearer's every move and not to mention the shattered-mirror gowns, with slashes of colour interspersed through the abstract seams.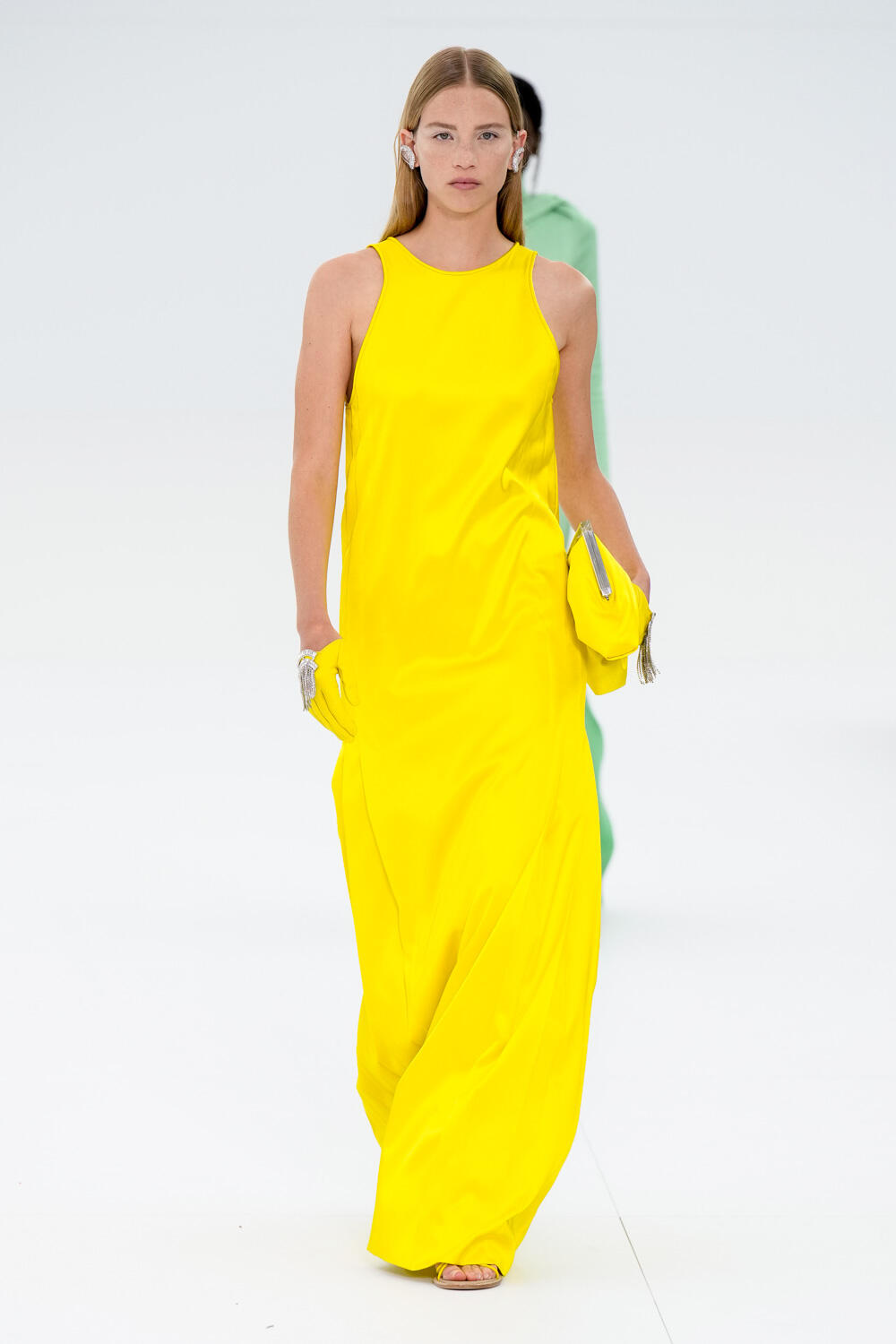 The references to Kyoto also came via fragments of kimono fabric from the 1700s; these were lovingly re-created and carefully crafted by a celebrated maker of kimono silk. Apparently, due to the narrow looms and the particular techniques needed to accomplish the reproduction, Kim Jones chose to patchwork these lovely prints into fluid full-length gowns, where the cut of the panels swirled around the body in figure-defining lines.
When looking into the silhouettes closely, there radiated a distinct 1920s flavour, reinterpreted through the articulate hands of Jones, particularly in the glittering languid two-piece trouser suit or the body-hugging silhouette of the columnar gowns; this flavour made them even more appealing. Along with its sheer lightness and glistening glamour, the collection was steeped in modernity and came as Jones's most elegant and sexiest proposal thus far.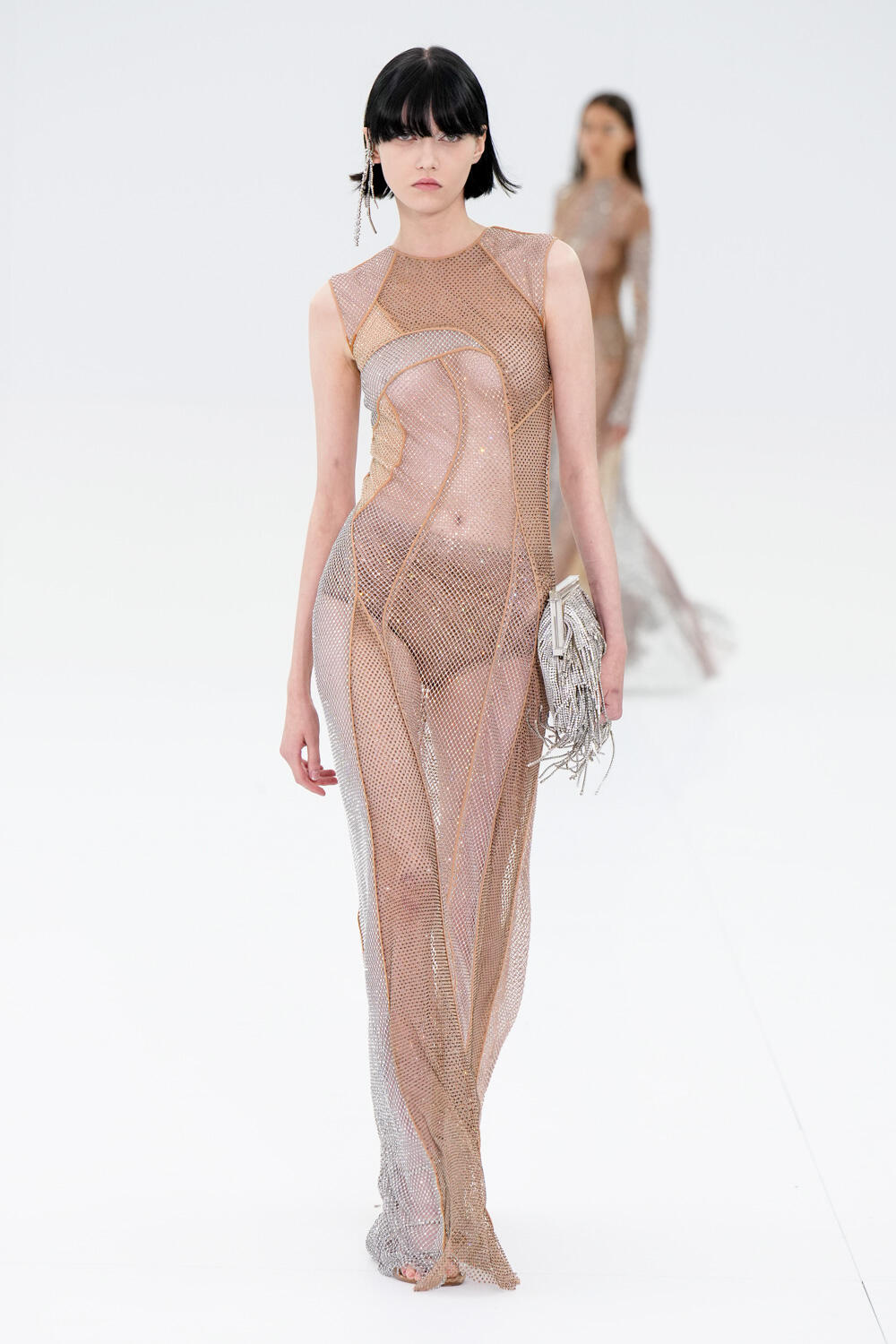 ---