---
Review of Fendi Fall 2022 Men's Fashion Shows
Neo-Dandyism for the New Roaring 20's
By Mark Wittmer
Fendi balances dandyish decadence with contemporary sharpness in its Fall 2022 men's collection. Creative director Silvia Venturini Fendi continues on her path for the house, guiding it forward by merging its historical codes with a youthful coolness. This season, her signature handwriting is imbued with a romantic subversion of a perennial gentleman's wardrobe.
Classic-feeling menswear staples – in particular tailoring, as well as fur-collared leather bombers and fleece jackets – provided the backbone of the collection's silhouettes. Venturini Fendi's tailoring was excellent as always, and most often applied to traditional jackets and trench coats – and a few more experimental pieces, like cropped jackets with sleeves cut just below the elbows, providing a hint of subversion that lended to the subtle modern rakishness of the collection (as well as a smart continuation of a technique explored for Spring 2022).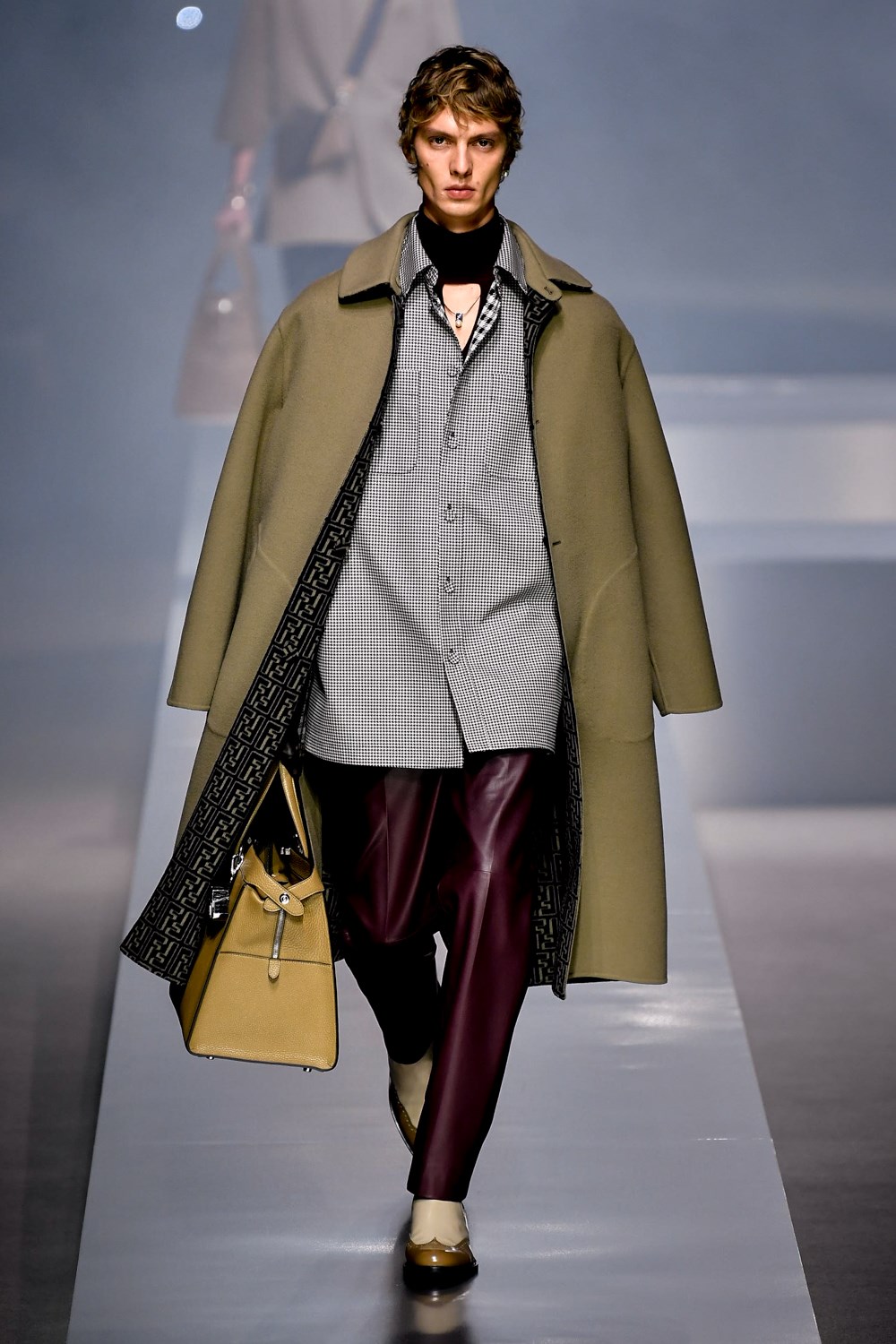 Drawn out of and intertwined with this appropriately timed return to roaring-20's masculine dandyism is a complementary feminine side, a romantic and poetic preciousness and vulnerability. Sweaters open just underneath the collar to reveal a bit of bust; the fabric of pants join behind to form a half-skirt (a skant?); rows of pearls shine along detached turtleneck necks; jackets are given boat necks.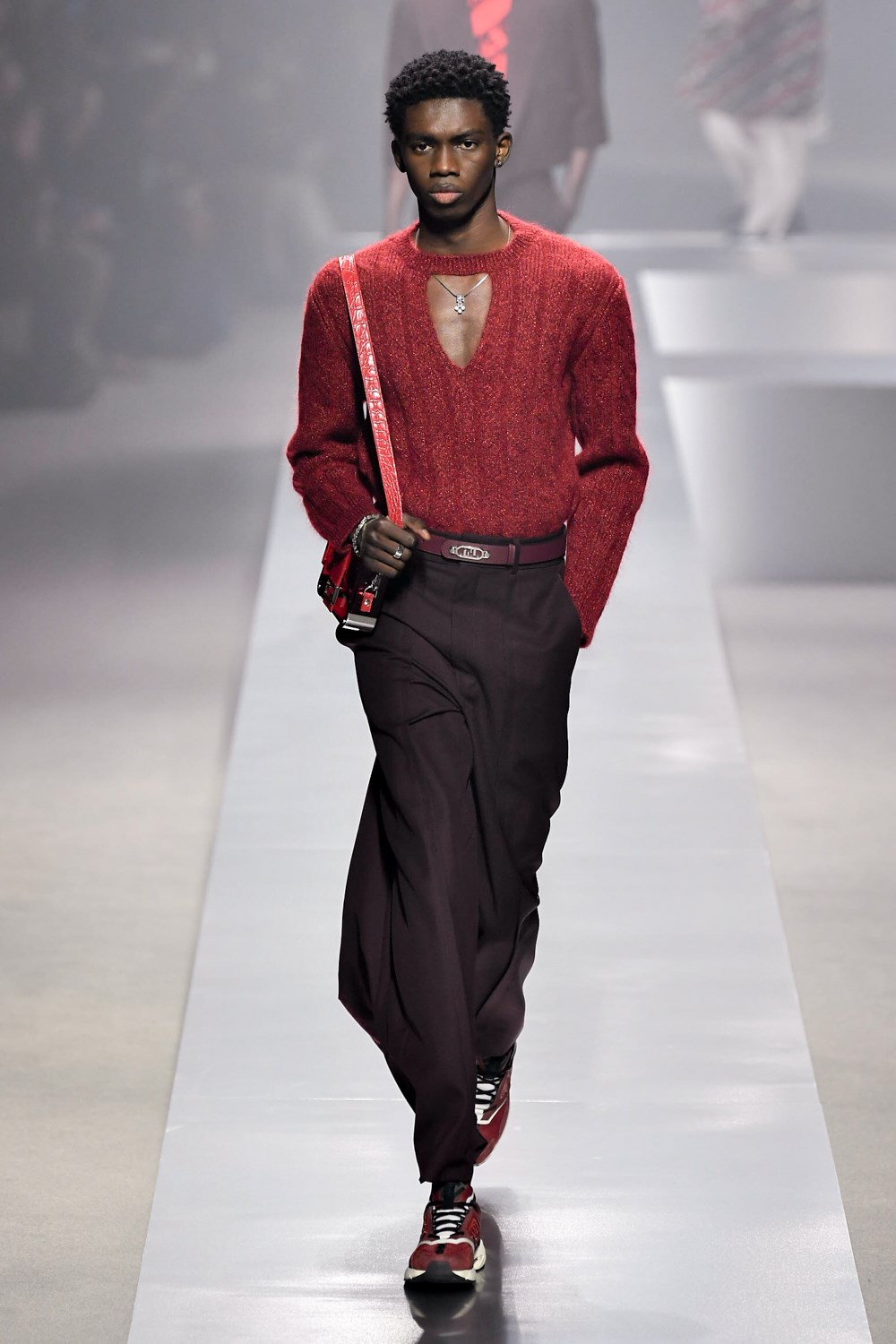 The combination of prim tweed and an embrace of femininity felt a bit reminiscent of Stefan Cooke's Fall 2021 collection, though with its coy London university feel swapped out for Milanese braggadocio.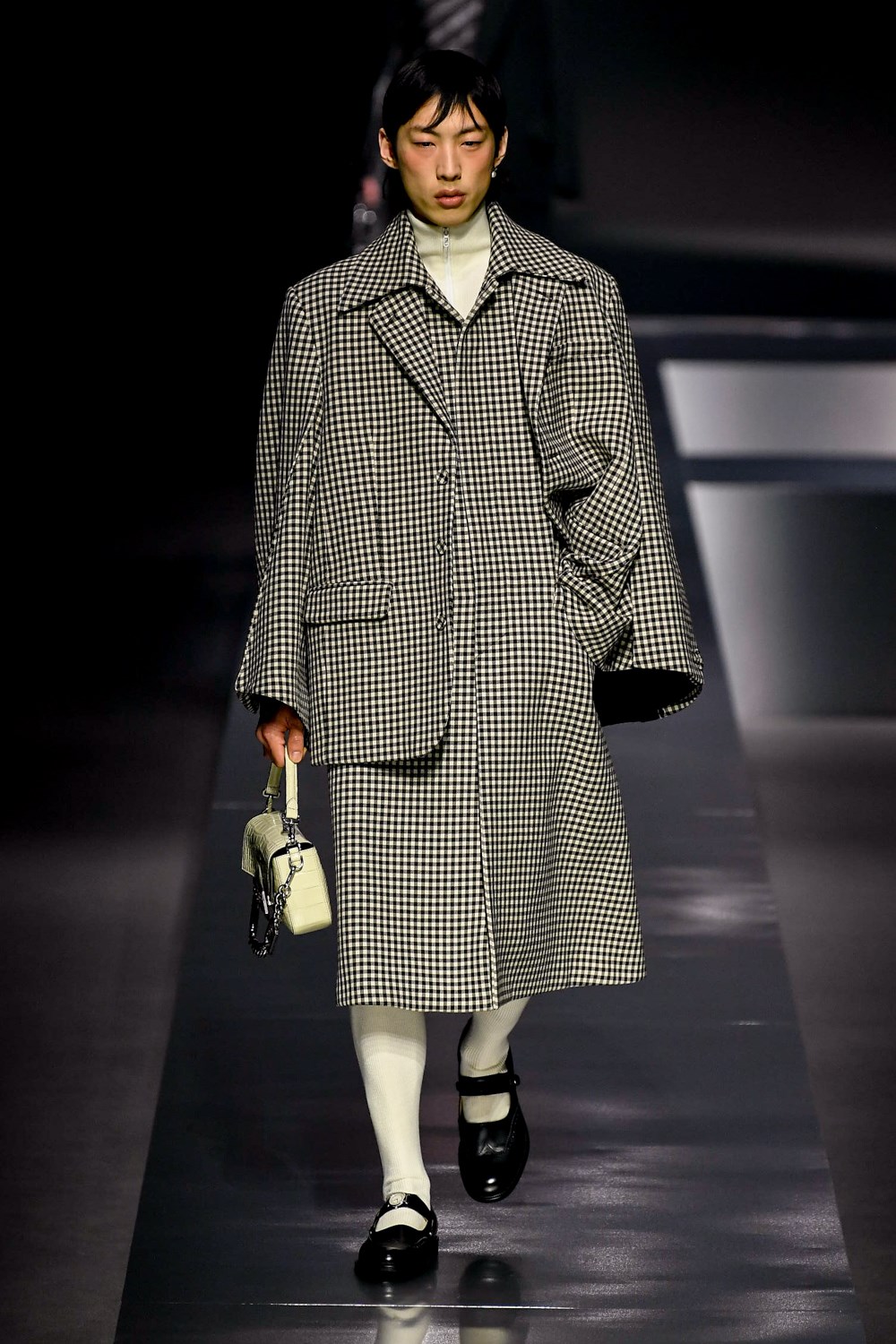 Fendi's accessories are probably its strongest point, and this season was no exception. Included in the collection's contemporary reconsidering of classic and elitist gentlemanly tropes is a collaboration with Ledger Nano X, a hardware wallet for crypto currency. On the analogue side of things, bags ranging from the petite – crossbody bags shaped as rectangular prisms, alligator skin wallets held by chains – to the hefty – triangular leather duffle bags, voluminous totes – developed and focused the character of the collection, with their gleaming silver hardware especially bringing out the decadent yet focused dandyism.
In fact, all of the collection's metal touches were silver; there was no gold to be seen. It's a choice that harmonizes well with the restrained yet romantic color pallet of black, white, grey, tawny olive, red, and what is shaping up to be the color of the season, aubergine.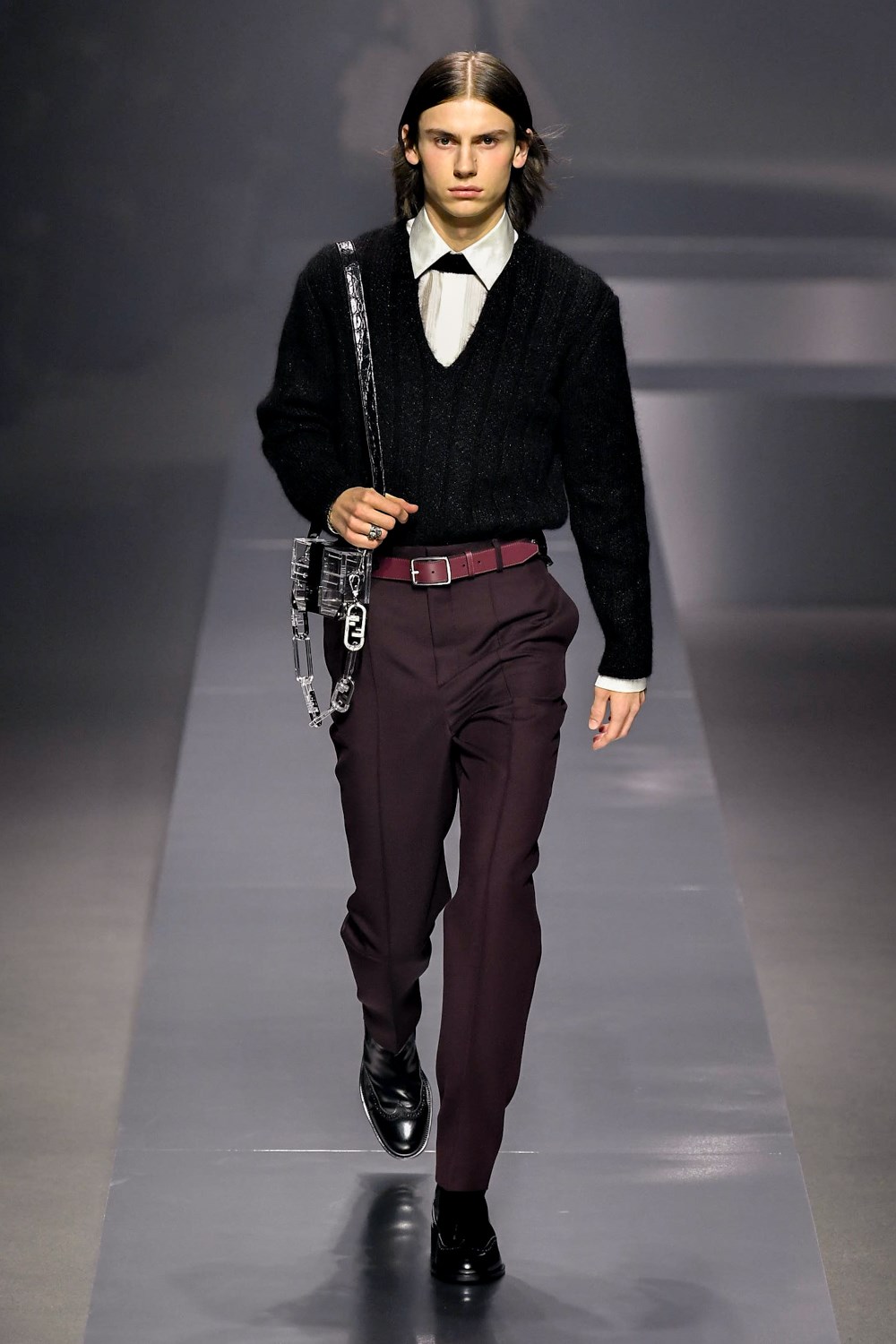 Shoes included classic leather oxfords and loafers, dainty Mary Janes, and on-trend dad sneakers that could easily be mistaken for New Balance.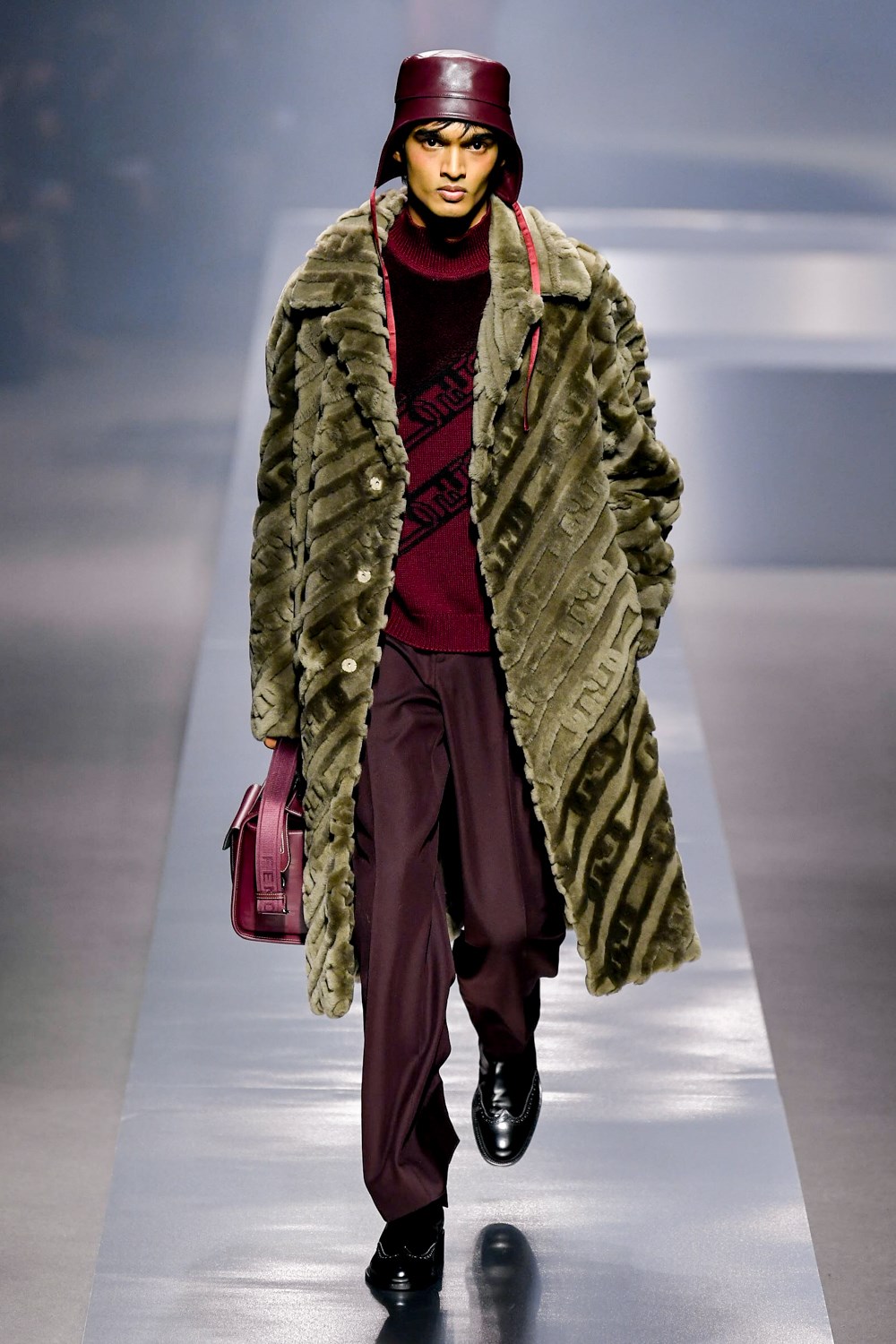 F's and double-f's were relatively few by the brand's recent standards, but monograms still graced many a bag, shirt, sock, and faux-fur coat, into which they were shaved. In particular, Venturini Fendi's looping double-F chain link made quite a few appearances, as both hardware (in handles and clasps) and as a print.
The collection never felt particularly surprising, but this isn't at all a bad thing. There is still freshness and excitement in the thoughtful new details here, which are incorporated with subtle emotion into the house's typical fare. Reimagining historical codes and finding in them new values, Fendi reminds us why the classics are classics and gives us new reasons to love them in the now.
---