---
Review of Fendi Fall 2021 Men's Fashion Show
Wrapped in the Mantel of Fabulous New Art, New Music, and Traditional Craft but Missing a Soul
By Long Nguyen
The Roma based Italian artist Nico Vascellari – a multifaceted performance punk musician, visual artist, painter, sculptor, and filmmaker – concepted a video for the latest Fendi men's showing. The set, a shiny black rectangular box designed by Alexandre de Betak of Bureau Betak, featured models stolling around a black rectangular mirrored stage setting with multiple white neon lights rectangular sculptures forming maze-like pathways. Vascellari directed the short film where the male models wearing outfits from Fendi's fall-winter 2021-2022 men's collection carefully navigated their way around this maze set up in a game framework of illusions.
As the models turned the different corners, they and the audience are treated to the original sound created especially for this show by the Italian electronic musician Alessio Natalizia. The piece, entitled 'What Is Normal Today,' featuring Silvia Venturini Fendi's voice, the creative director of menswear and accessories, in a sort of broken rap with the lyrics that started with "Hello, it's Silvia calling. I just wanted to tell you about … normality, color, what is normal today, about … light and darkness. I wanted to talk to you about …"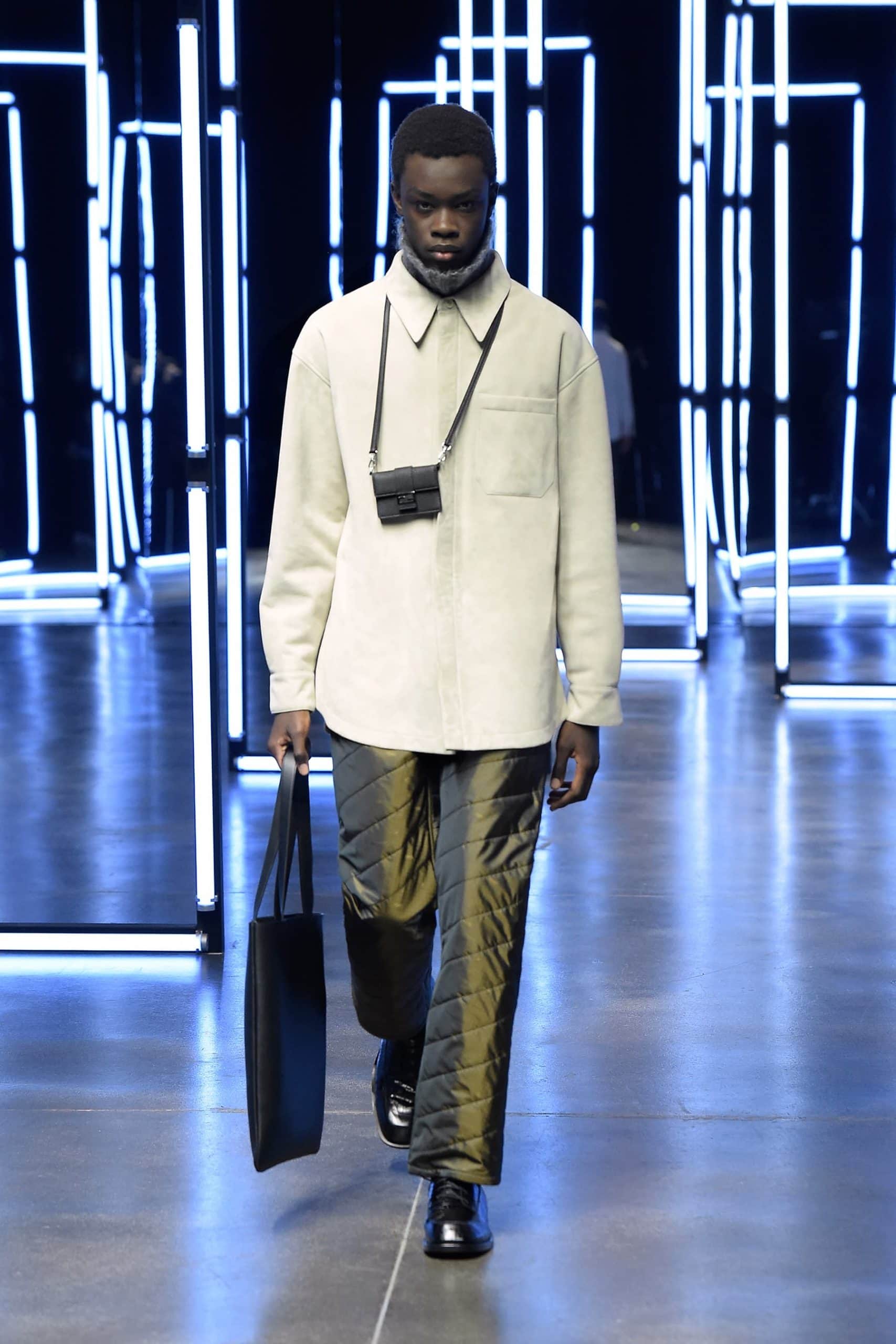 Venturi Fendi answers what this new normality entails in this post-pandemic world where changes and transformations occur at lightning speed across all industries that affect everyone's livelihoods and at the fashion level what to spend on in the coming year. Her new fall collection encompasses the sense of ease in these mostly fluid and loose but not oversized shapes – a felt wool ecru shirt blouson, a cashmere short flare wool shirt collar wool coat, a beige-tan double face reversible duffle hooded coat, or an anthracite wool tweed short trench – that seem to float on top of the bodies of the models to demonstrate the sense of comfort these clothes engender. Comfort is key here but with a little bit of mixing of fabrics – knits and felt wool, shearling and leather, cashmere sweaters, and nylon puffer shorts.
"Emotional yet fiercely optimistic, the track is a cathartic dance-pop odyssey in which the unexpected becomes serene at the crossroads of elegance, saturated beauty, Italo/Detroit chromatics, and subversive escapism," Natalizia said of how he approached making this original soundtrack. This collaboration with Natalizia is the latest work done in the music field with the recent and ongoing 'Anima Mundi' series of live musical performances with virtual concerts that opened in Rome last summer with a violin rendition of Vivaldi's Four Seasons to the jazz performance in mid-January in New York featuring top students from The Juilliard School.
The collection contains very few suits, a signifier of the changing ways that men, especially younger men, approach what used to be conventional formal and business dressing.
Perhaps the show's most formal look is a black satin wool coat paired with a black stripe shirt and slim pants with a white stripe down the outside of the legs, the closest semblance to a tuxedo look. The suit shapes are longer jackets and straight lines with buttoning for a double breast black jacket deep at the waist level that elongated the neckline.
To add a bit of flavor to the clothes, Venturi Fendi commissioned the London artist and performer Noel Fielding to create a series of psychedelic and colorful graphic artwork with a hand scribble version of the Fendi logo rendered in the house classic gold color or in blue, red, green crayon embroidered on a black wool coat. Fielding's stream of consciousness colorful scribble art is seen on a black satin robe-coat, on the sleeves of a black down coat, or on black cotton shirts – all to accentuate these wardrobe basics with a graphic lift.
In terms of clothing, the collection has plenty of commercial elements that can be merchandised creatively at the stores or on e-commerce, like the multiple versions of down puffer coats in red, blue, yellow, and pink with wide sideway stripes and matching pants or knee-length cargo shorts even one down parka in black with black mink sleeves.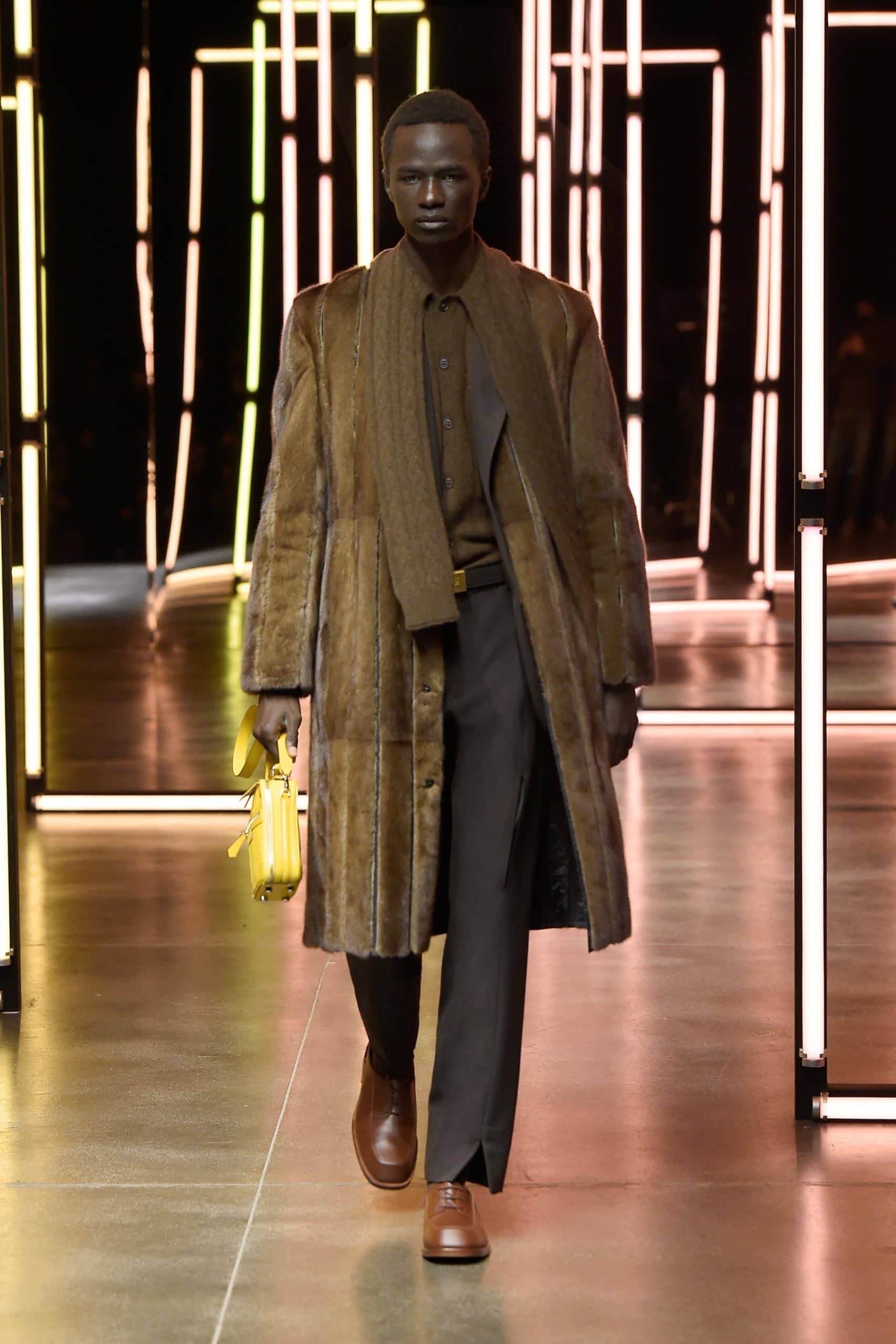 These clothes require a close-up examination for their intricate craftsmanship. Artistry often eludes a more casual inspection like the black double-ply leather trench coat with detailed patterns of light perforations done by hand or how the mink is precisely laser cut on a long brown mink coat. Fur remains a basic, both a heritage and a modern fabric at Fendi.
Interspersed throughout the video are the small screen-in-screen inserts with close up views of the various offering of men's purses, a category of growth in an accessory that adapted best selling versions of the women's bags like the Baguette and the Peekaboo into these new men's varieties of purses like the brown alligator Baguette Trunk with gold hardware, a black leather Peekaboo with art decorations, or a simple light charcoal leather Baguette made for everyday use.
Wonderful, great, excellent clothes, or maybe even throw in fabulous. The clothes are functional and fashionable. Perhaps this collection deserves all of these accolades but what is missing here is a fashion point of view, which is greater than just a generous proposition of what to wear, especially in an ever-changing and challenging world.
The show's title and the accompanying song appeared at the end of the video presentation.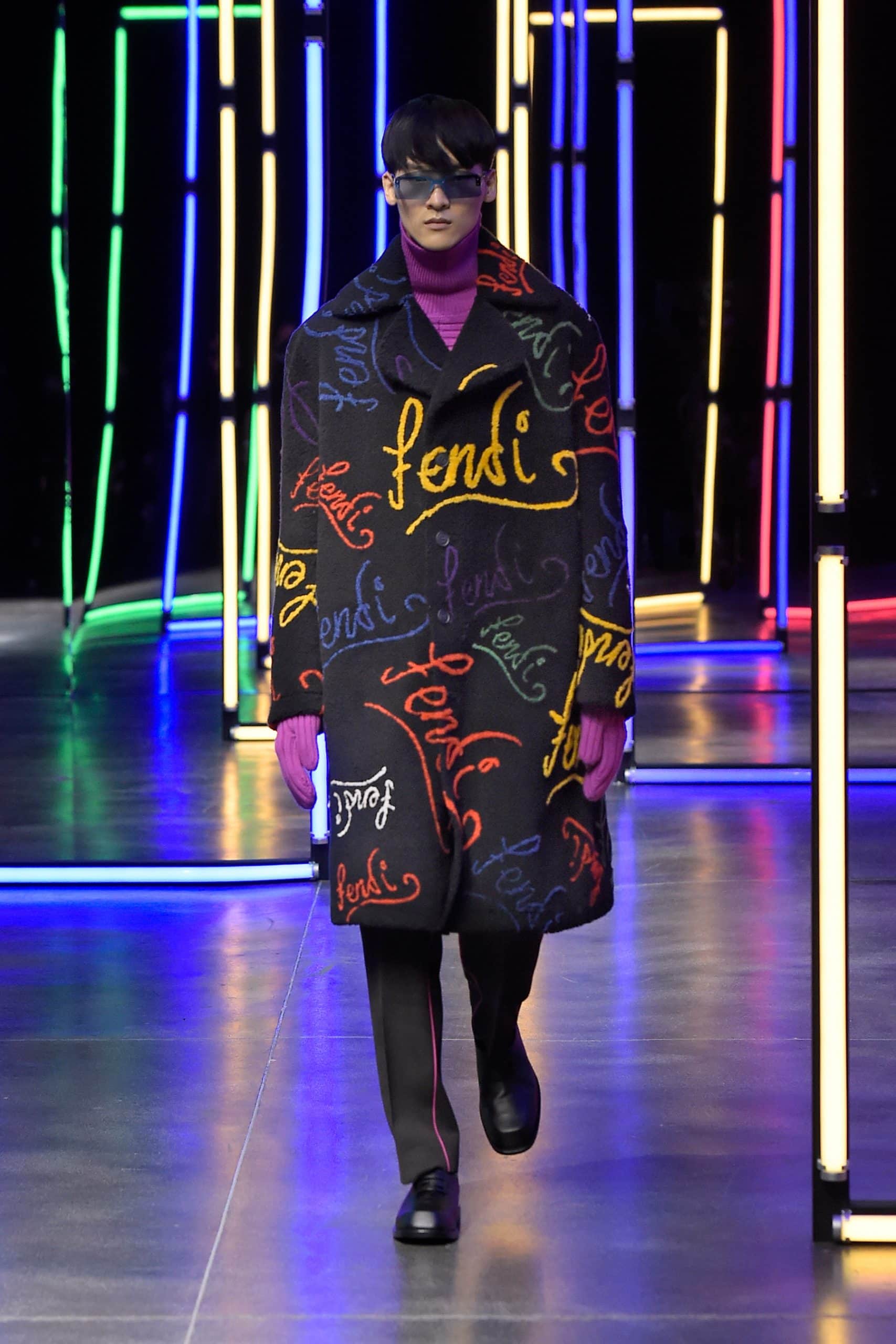 A question popped up on a screen in the house's signature yellow against a black background that asked the following question – 'What Is Normal Today?' While the answer to what is normal may depend very much on who is answering, another critical question that should be asked here is 'what is Fendi and what does Fendi for men mean today?'
Young guys who are spending an excess of 1,500 dollars for a pair of leather sneakers at the very least expect the footwear to be made with the finest materials and crafted by the best artisans – those qualities of craftsmanship are not what would draw this young generation to any luxury brands.
Soon, Fendi has to create a community for a younger audience globally, the new purchasing power players in these coming years, a community of shared brand and individual values and ethos to capture these kids' hearts and minds. Here in this fall collection, not a single idea binds together to tell this young audience what Fendi stands for in menswear. It is neither sufficient at this juncture in time to deploy art on clothes nor to deploy crafts without a greater idea of the Fendi brand.
---