Over thirty works created between the 1970s and the early 2000s in an itinerary that crosses the Halls of Mariano Rossi, Apollo and Daphne, The Emperors and Aeneas and Anchises to expand into the Garden of the Uccelliera (Aviary) and exceptionally into the Garden of the Meridiana (Sundial): with Giuseppe Penone. Universal Gestures, curated by Francesco Stocchi, from March 14 to May 28 2023 the Galleria Borghese once again opens up to the contemporary, with an exhibition that is a tribute to the immutable vitality of sculpture and to a Master of Arte Povera.
The exhibition stems from the search for something that is not present in the splendid spaces of the Galleria, offering a new reading of the relationship between landscape and sculpture that the ancient statuary present in the museum's collection embodies according to classical canons. A path that is in perfect continuity with the research on the relationship between Art and Nature that characterizes the direction of Francesca Cappelletti.
Giuseppe Penone. Universal Gestures does not propose any comparison but presents works chosen as a "reflection" with respect to the environment, offering a "completion" of elements: in the rooms characterised by a triumph of marbles, sculptures and decorations – magnificent representations of the mineral world – Penone adds an organic graft of leaves, leather, wood that connects and defines the two universes. In the Gardens, on the other hand, the integration looks to the world of metals, with bronze sculptures that dialogue with the rich surrounding vegetation, enriched by around forty new potted plants to support some of the works.
The exhibition itinerary includes nuclei of lesser-known works that are less associated icono- graphically with Penone's work, such as Vegetal Gaze, and others exhibited for the first time in thematic groups – Breath of leaves and To breathe the shadow – inserted into the space as autonomous and original presences. In the absence of mythology in Penone's work, the narra- tive shifts its axis, and the relationship between natural time and historical past gives rise to a new, uncertain present.
Distancing itself from any possible formal or symbolic comparison with the Galleria, Penone's work observes matter by revealing the forms it conceals, with the intention of reactivating the natural osmotic exchange between the museum and the surrounding park, which inspired many of the works composing the museum's collection.
The artist's interventions do not disrupt the unique balance between form and architecture that characterizes the Galleria, but renew that entirely Baroque game that intertwined land- scape, nature and sculpture, activating a new dialogue, presenting a question on sculpture, revealing its historical and contemporary evolution.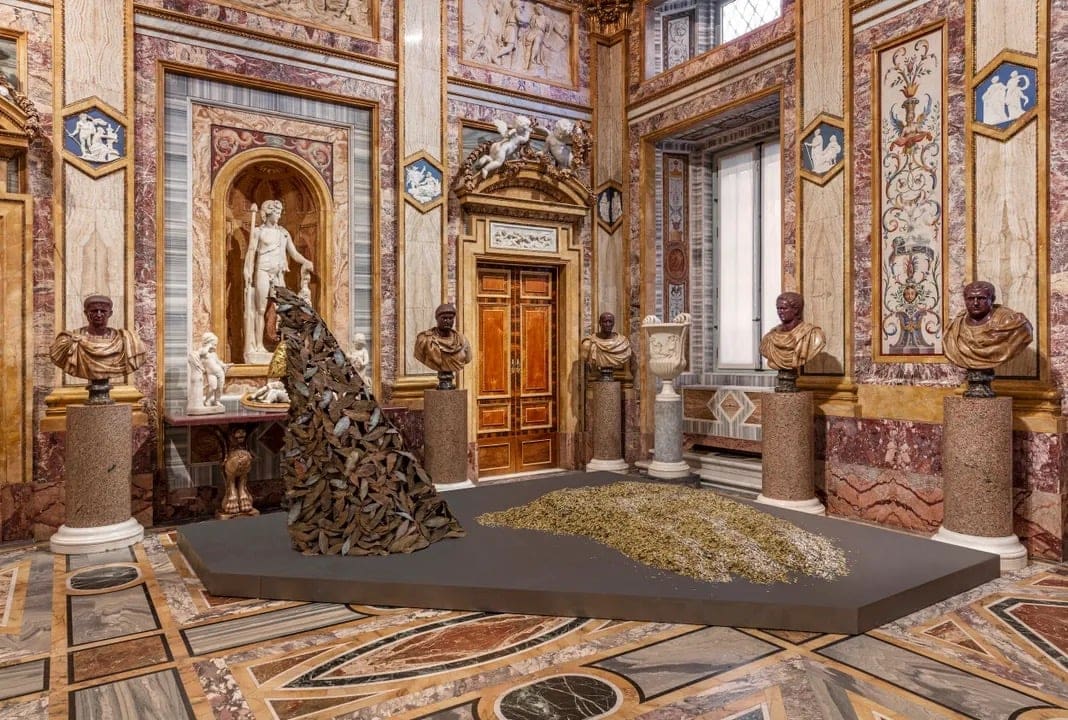 ---