Fendi opened its newly renovated boutique at Las Vegas Crystals with a 5,998 square foot space, encompassing Women's and Men's Ready-to-Wear Collections, accessories, and leather goods.
The house's signature FF motif is emblazoned on white plaster over a metal canopy on the welcoming façade of the boutique. The interior plays with materials that highlight Fendi's codes and tradition with luxurious touches of marble and metal, paired with plush carpeting. Arabescato Vagli marble recalls the architecture of Roman churches, creating a grandeur atmosphere, present on the floors and columns.
Upon entering, a large open area presents a display of Women's Ready-to-Wear, complemented with a soft palette of ivory and natural tones, accentuated with stainless steel and warm gold finishing. The left side of the boutique offers a dedicated Menswear area, carrying a warm and masculine feeling through green tones and leather sofas.
Honoring precious materials and the Roman roots of the Maison, special glass walls serve as a focus area in the center of the boutique, imitating the movement of water, which recalls Roman fountains. Luxury and craftsmanship meet unexpected and surprising twists rooted in Italian heritage.
Opposing glass walls lead to a privatized Fendi lounge adorned with a luminous ceiling. The lounge enriches the client experience, offering privatization with ivory curtains. Marble flooring and stainless-steel elements are continued in the lounge area, as the space is punctuated with vibrant pink stools.
Adjacent to the Fendi Lounge, the special VIP Room is unveiled, designed with pink crystal marble, crafted with precious stone. An immersion in floor to ceiling pale pink is introduced, complete with a pink metal ceiling and plush pink carpeting, with a textured ivory couch and velvet chairs.
The concept of whispered luxury is expressed in each fitting room that reveals in its inside a vibrant color story, filled with precious materials in Pink and Ivory for Women's, and Green Patagonia for Men's.
The new Fendi boutique brings a luxurious touch of Italy to Las Vegas.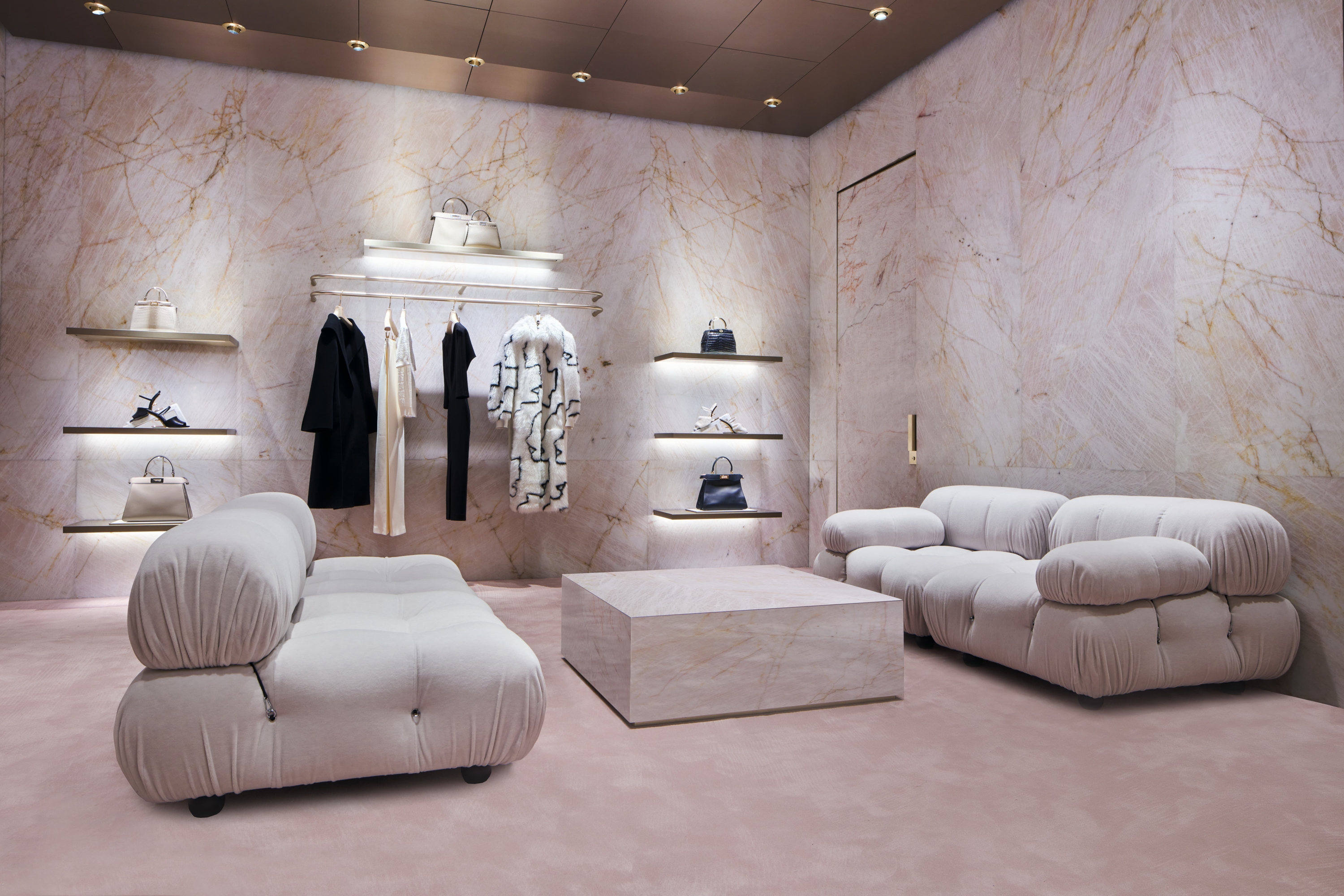 Fendi Location | 3720 S. Las Vegas Blvd, #202 Las Vegas NV. 89158
---