---
Review of Fendi Spring 2022 Fashion Show
Odes to Femininity as Concepts, But These Clothes Don't Convince
By Long Nguyen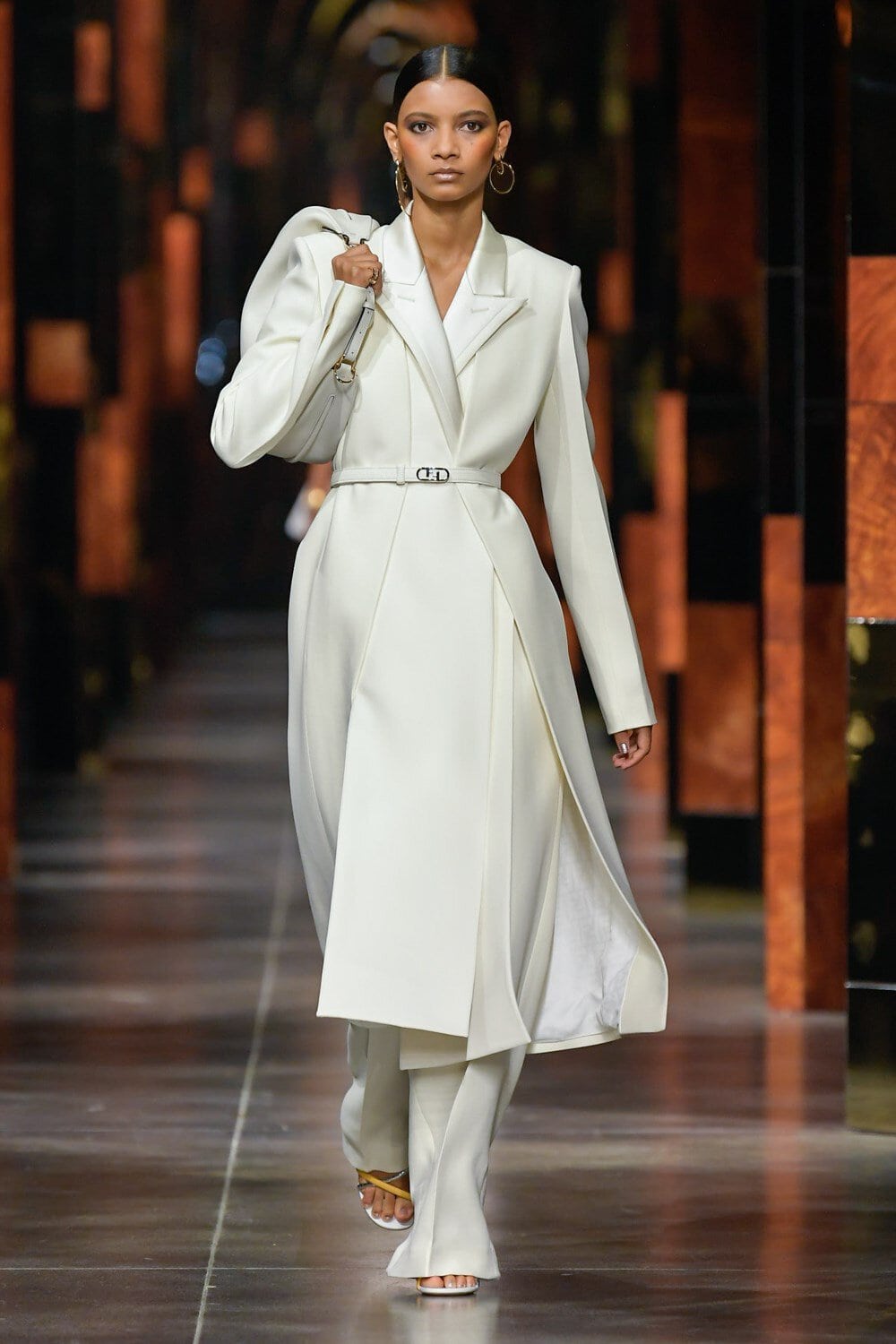 In his first live fashion show for Fendi at the Milan office base, Kim Jones, the artistic director for womenswear at Fendi, showed a Spring 2022 collection with the idea of recasting the different notions of femininity at Fendi over the years with clothes meant for a real celebration. "Our women have let loose a bit, and she's going out, dressing up. We've all been locked away for so long that I think that's what we all need right now. 
Going out, of course, meant some recollections of the actual era of going out – the disco era and that famous Studio 54 as a mythical deep-well style mine. But it is difficult to tell the idea of disco glamour from the range of rigid cut pantsuits and flowing caftan dresses where these women should be going to – Ibiza, Sardegna, or any local dance clubs recently reopened.
According to the brand's statements, the purpose is to 'spotlight the diverse and powerful femininity and a 'modern perspective on disco-age glamour.' Sure, there is a bit of disco in the Halston-like remake of the Tom Ford for Gucci Fall 1996 homage collection, especially in the loose dresses, but the disco era was far more poignant and sharp in style.
The opening section of all-white cut-outs tailored pantsuits indeed reminisced the clothes from the New York-based Vietnamese-American designer Peter Do. Like the white wool, rigid shoulder belted double breast coat with the waistband of the coat cut into multiple rectangular pieces that flapped against the model's leg. Do specializes in manipulating his tailoring with a new approach to architectural constructions. And Do had softened his shapes in his Spring 2022 show, making the clothes more sensual.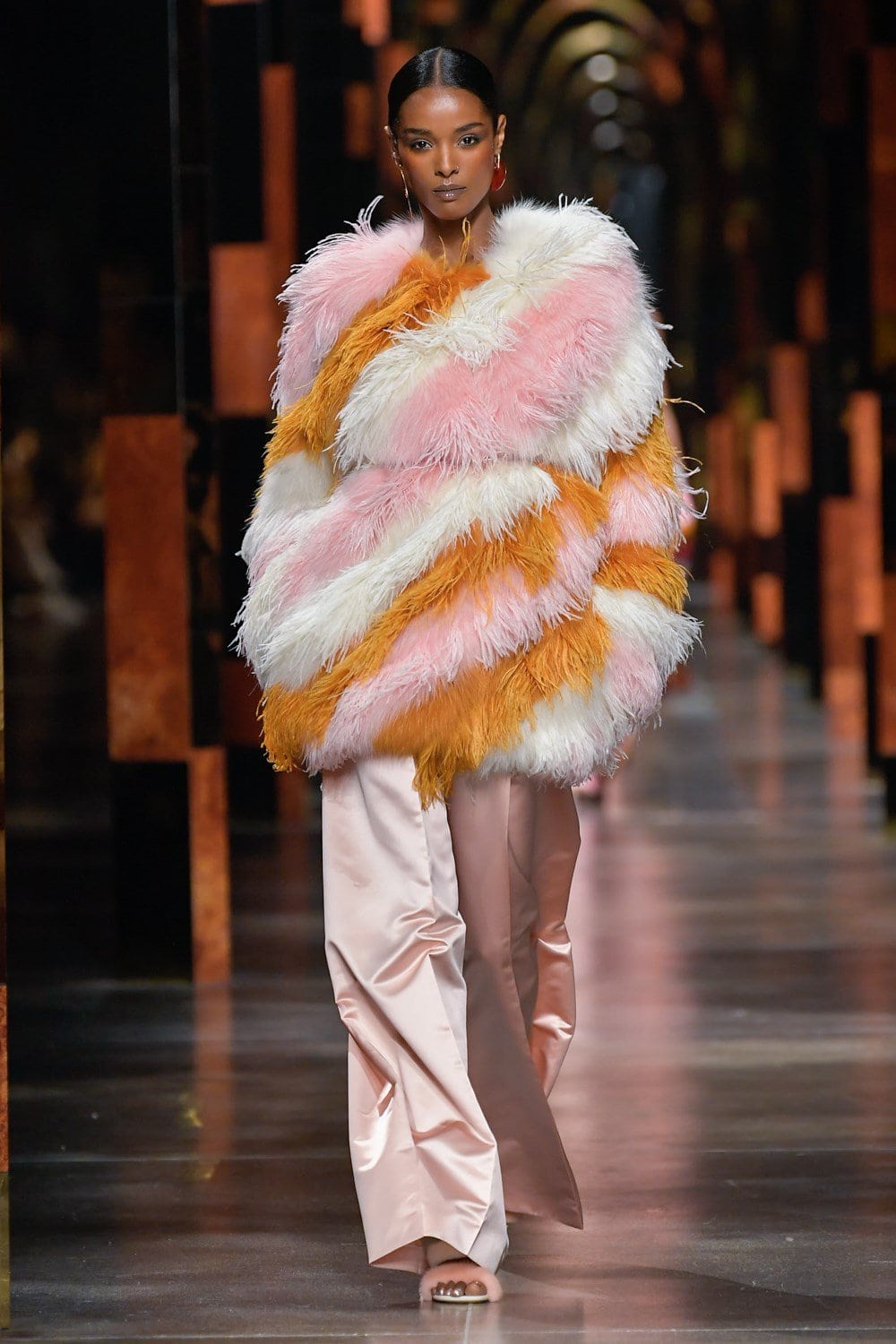 In Do's case, the layering and artful cuts allowed a fluidity that at times made his tailored clothes soft and sensual. Here in Jones' case, the pantsuits or the backless large lapel vest-jacket pantsuit or, for that matter, a button-less single breast cropped jacket paired with loose white pants look relatively rigid on the body and convey little sense of the feminine in the traditional sense.
Take, for example, the loose white shirt-coat worn over a strapless dress – the fabric of the shirt-coat looks stiff perhaps intentionally. Still, The white bra worn underneath the white hand-painted long fur coat and under the cropped pantsuit is direct heirs to the same looks that Michael Kors presented at Tavern on the Green about a fortnight ago. The American designer chose his version in black and one in camel wool with skirt suit. Here it is like playing catch up to this showing of skin feel for next spring.
In looking closely at the collection, there are also a lot of repetitive looks in different colors. For example, the opening white jacket-coat pantsuit came out again in light brown with a waist belt, again in a soft cement grey belted also, and again in the same grey jacket-coat and pants exited once more with the jacket slightly shorter. The long white caftan dress with a back train cape and archival Antonio Lopez prints came out again in orange and pink side silk stripes with train cape or even as a v-neck in the same train cape silhouettes.
Even a long-sleeved stretchy micro dress has two versions in different colors: pastel and darker brown and light pink patterns. So does the loose short-sleeved caban dress in white and light camel, both with the Lopez graphic design element and the new Peekaboo in visual artwork, and the Baguette as a tapestry is the woven rainbow bag.
More alarming, though, is the carry-over from Dior Men, where Jones is the creative director, to this Fendi women's Spring 2022 collection. 
The light cement grey wool double breast no buttoning side closure with a belt is the exact suit shape and cut that Jones premiered at his first Dior Men Spring 2019 show in June 2018. That Dior Men suit has a name – the 'Oblique' about the shape in the women haute couture from 1955 culled from the archives. Since then, Jones has brought out this suit to all his men's Dior shows, including the live outing in late June, where this suit came out a few times in different colors. 
The clothes, undoubtedly sumptuous, however, aren't convincing aside from the idea of femininity. Every single garment is carefully crafted by skilled experts using the best fabrics available; every look is fitted on top models to enhance their digital values across the globe. 
Here at Fendi, the heritage and the presence of craftsmanship, especially in the furs, stand out. The graphic drawings from Lopez were handcrafted into leathers and fur coats. But something is missing at the heart of this collection. 
The lack of creating a signature style early on, even immediately as the fashion time frame isn't like regular time, only heightened this disparity. But at times, it takes several seasons for something familiar to appear. After that, it hardened into a shape, turning maybe a couple of looks into a familiar signature that continues to evolve but is recognizable each time in new fabrics and cuts. 
Jones can easily borrow from Dior women's haute couture for his work on menswear at Dior Men.  He reshaped a women's heritage suit to a new men's silhouette like the cross-body double breast he presented in his first men's collection in Paris in June 2018.  The designer's work has been about co-opting artists' works in collaborations to heighten his often very plain design clothes. While the designer can easily harness the deep design well heritage at Dior, the story at Fendi is radically different. 
Karl Lagerfeld, the designer for Fendi for 54 years from 1965 to his death just days before the showing of the Fall 2019-2020 season, did not leave behind a powerful fashion legacy in terms of a highly recognizable silhouette that Jones can now adapt and transform into his own. The new designer who debuted for Fendi with the Spring 2021 haute couture season has to start from scratch, building and forging a Fendi signature fashion look from the ground up. 
"While I've been looking at Karl's legacy at the house, I've been looking around him, at his contemporaries – at who he was interested in. Lopez was a friend of Karl's and has always been someone who inspired me. He was forward-thinking, inclusive, looked up to by everyone from Andy Warhol to Steven Meisel and David Hockney. I want to introduce him to a new generation," Jones said of the origins of the Antonio Lopez illustrated brushstrokes now made into intarsia leather coat or as intricate lacework dress.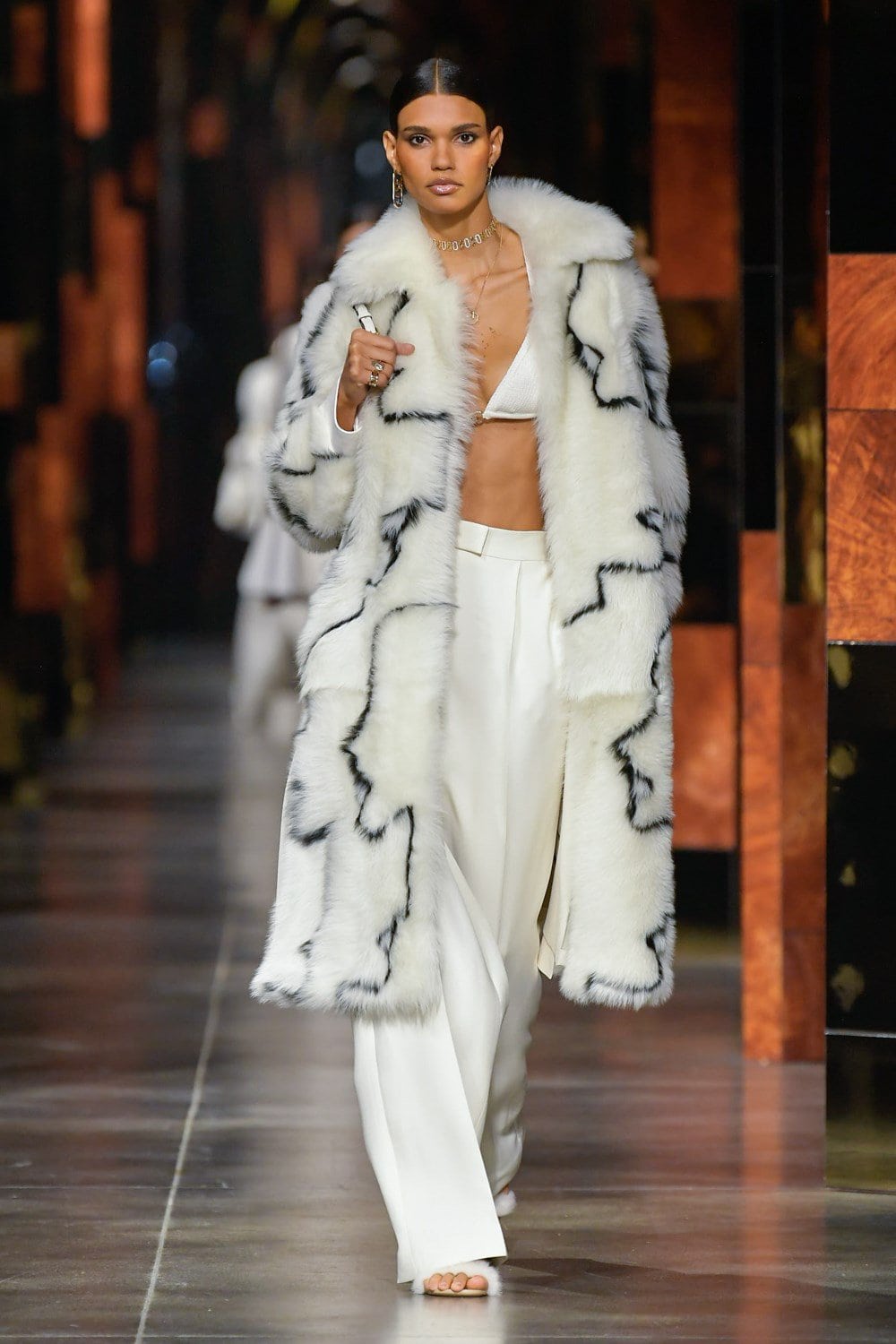 The constant emphasis on the house's inherent ownership of craftsmanship may also pose certain limitations on looking ahead by lionizing past glories rather than a view to the present with a particular goal for the future. Idolizing craft isn't a value to younger consumers crucial to luxury brands attempting to align with these kids soon to be major consumers in this category.  Crafts are not ideas. 
This Fendi Spring 2022 show looked a bit of fashion's past and not so much its future presented by the emerging new generations as seen so far in New York and London in the past weeks. While the short-term goal is easily achievable by offering accessories in the variations of handbags, the longer-term goal of creating and sustaining a fashion signature should also be a real worthy accomplishment or at least a priority.
Jones's primary mission is to express a new definition for what Fendi stands for in terms of aesthetics that can draw young consumers towards the brand via the show of clothes. There are few indications of the direction Jones is taking the Fendi brand from this Spring show, at least not from solely the fashion point of view. The collection, on the whole, lacked the cohesive unity of an overarching idea, and well, the soul is still absent.
---