---
Review of Fendi Spring 2023 Fashion Show
In a show of form follows function – mouthwatering liquidity
By Lizzy Bowring
Fendi is the third show of the day at Milan Fashion Week. We have been treated to some covetable designs thus far – some unique, lovingly pieced, and handcrafted, others created from a dystopian view of youthful streetwear.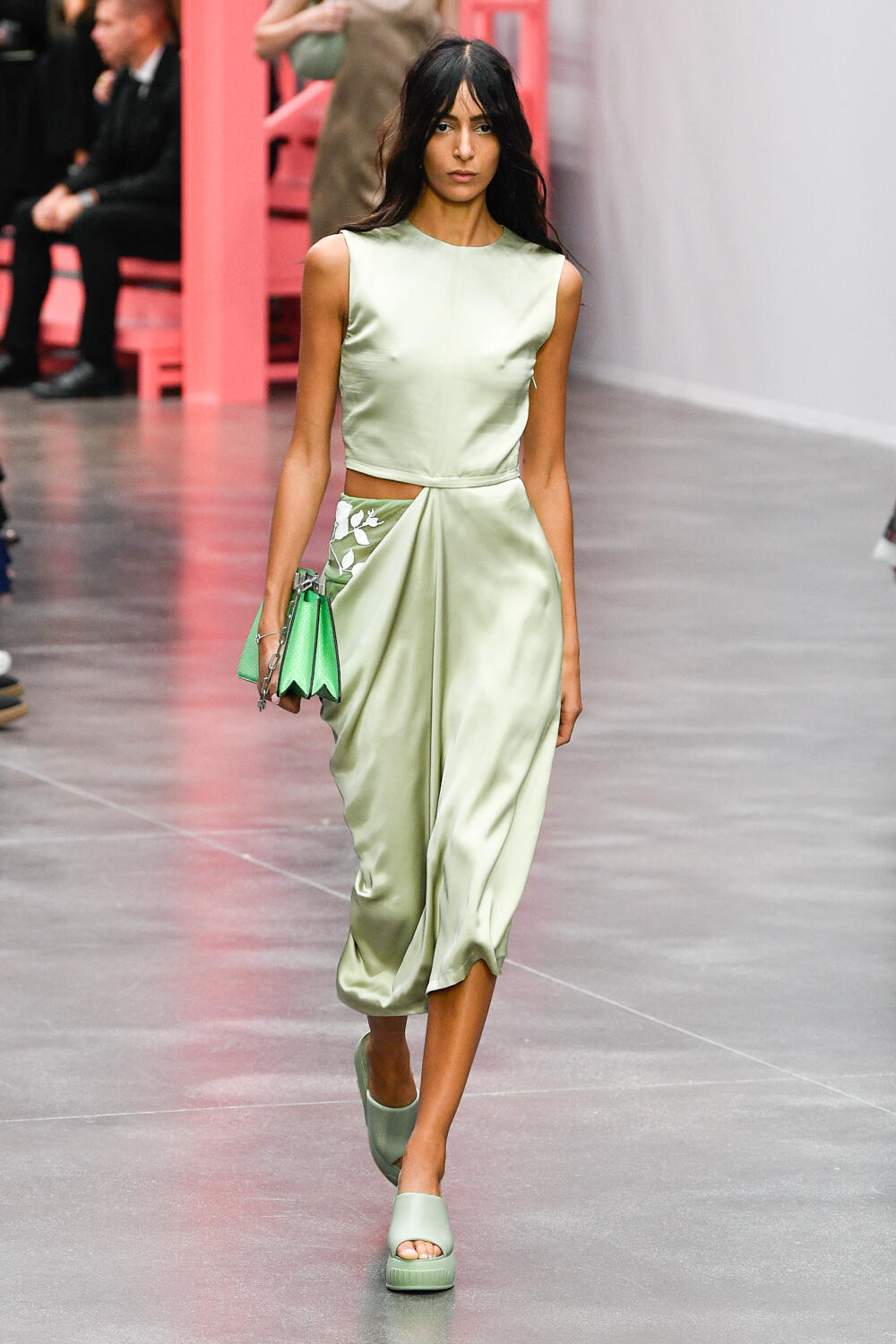 However, today, Fendi offered a collection 'of the moment, easy to wear, highly desirable pieces that engaged the best of two worlds – femininity and functionality – an ode to freedom
The idea that we can pursue happiness at any time and place, with no obligations holding us back from an adventure, seemed to permeate the air. In a room filled with pillared structures of mouthwatering colors, Artistic Director Kim Jones sent out a bevy of luxurious silhouettes that is a perfect reflection of today's contemporary mindset – how leisure and freedom are essential to happiness. Jones takes the codes he has established during his tenure at Fendi and draws upon its history to develop a distinct language for now. Through this fresh perspective, the past becomes future: Lagerfeld's work from 1996-2002 offers the starting point with floral prints drawn out of the archives and reimagined today in unexpected ways. Constance C.R.White wrote in her review of the Fendi baguette show 'secure the bag'. Add to this, 'secure the clothes'! And that does not mean 'fasten them tightly.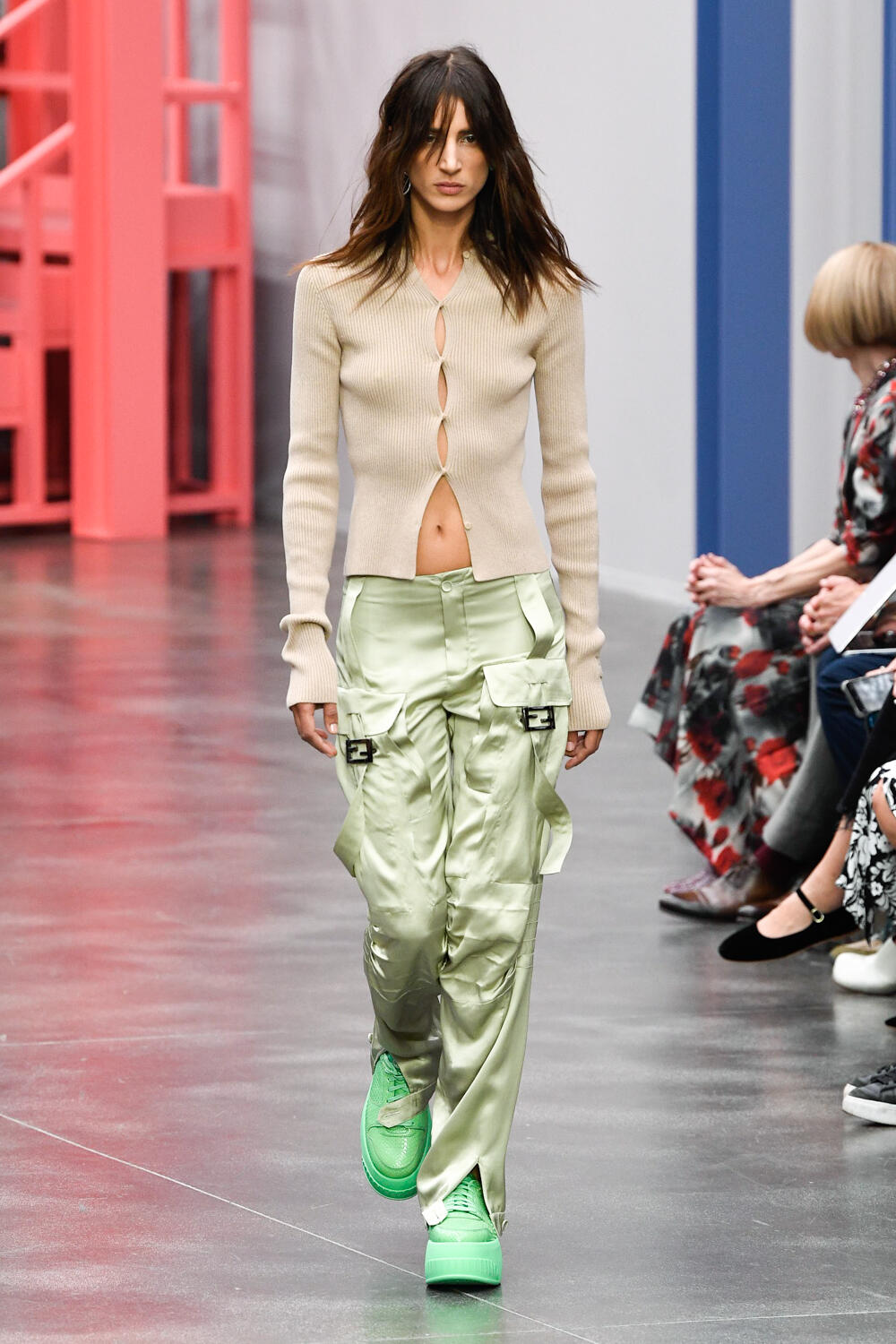 Each piece on every singular silhouette was just as covetable as the next in a collection that spoke volumes in streamlined minimalism. However, the minimum stopped right there due in part to the clever simplicity created by its director. The shapes came languid and liquid and desirable on models that coursed in a constant flow. Mesmerising shots of 'Digital Pales' such as mouthwatering lime, melon pink, and cornflower blue sat harmoniously orchestrated against a backdrop of pale 'new-trals'. Surely a palette that has some relevant forethought for the digital future.
The futuristic colours appeared in 'glowing' accessories that accompanied the opening silhouette of a textured coat, asymmetrically fastened at the waist (and not dissimilar in construction to a fine leather outfit from the haute couture presentation) setting a precedent for a flow of shapes that either draped seductively around every form or provided that sense of ease that comes with functional clothing. Soft and luxe materials complemented the cut. Liquid satin was used in the most effortless cargo-styled trousers worn back with comfortable knitwear – buttoned just so – let's not forget there must be a modicum of sexiness whatever the brand!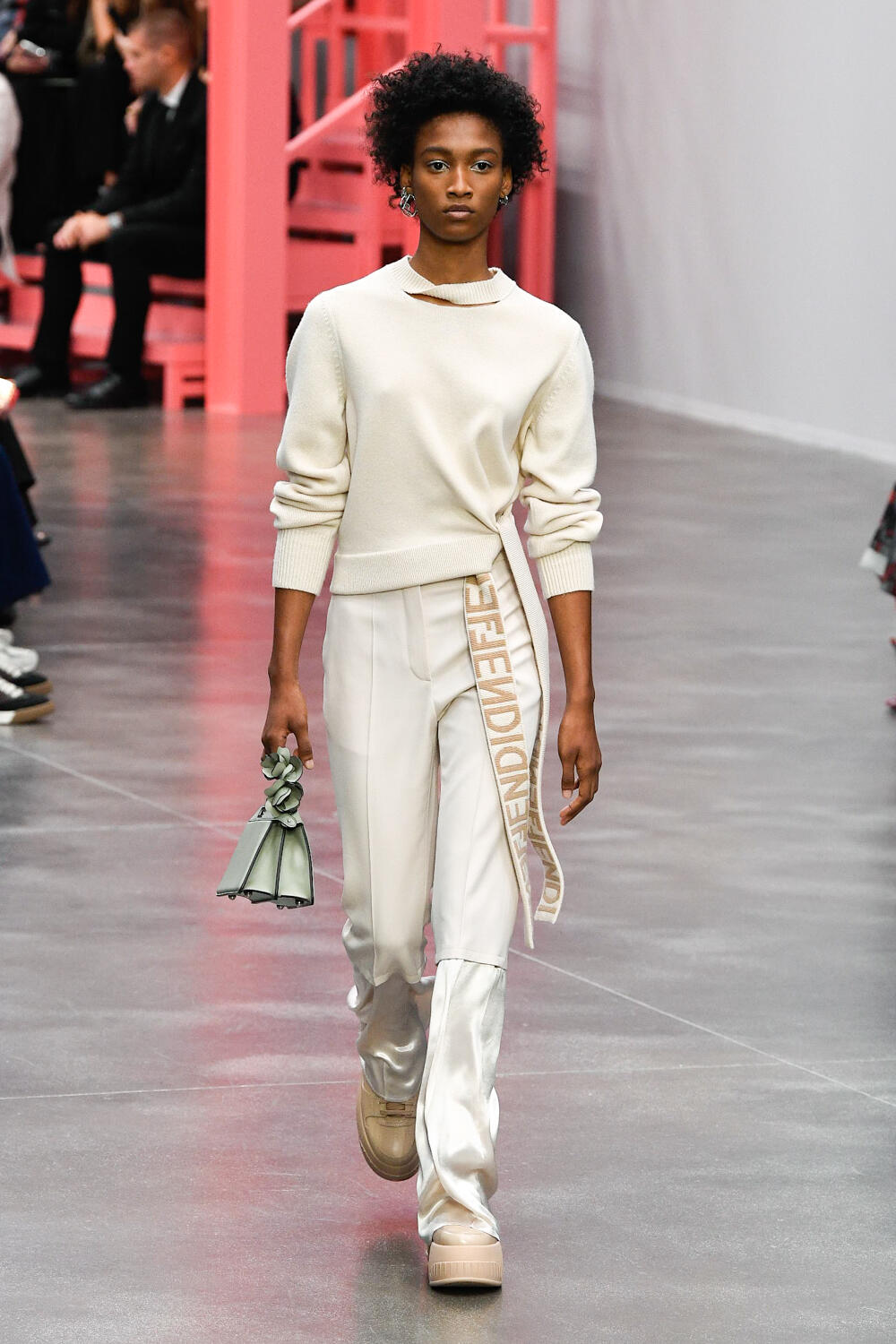 Of particular importance, a streamlined sheath dress, in the softest Fendi leather, was constructed down to razor-sharp minimalism, as were the softly tailored suits with inset details – just as precise yet offering a feminine ambience through form-fitting shape.
Floating layers of technical organza or nylon jersey were embellished with lacquered embroidery – sporty yet delicate, effortless and refined. Elsewhere, organic textures of cashmere, leather fur, and shearling were infused into silhouettes that were light and barely there. Two new colours joined the party, a soft grey and a pretty pale cream, both of which offered up a touch of normality and gentle repsite for those not so daring as to wear lime green.
The shoes and accessories were just as grounded in form and function. There were
elevated tennis shoes and rubber platforms: the inverted "F" of the FENDI appearing across footwear. A Peekaboo came sliced in half to reveal its mechanisms, and elsewhere a steel F fell through the body of a bag to become its handle.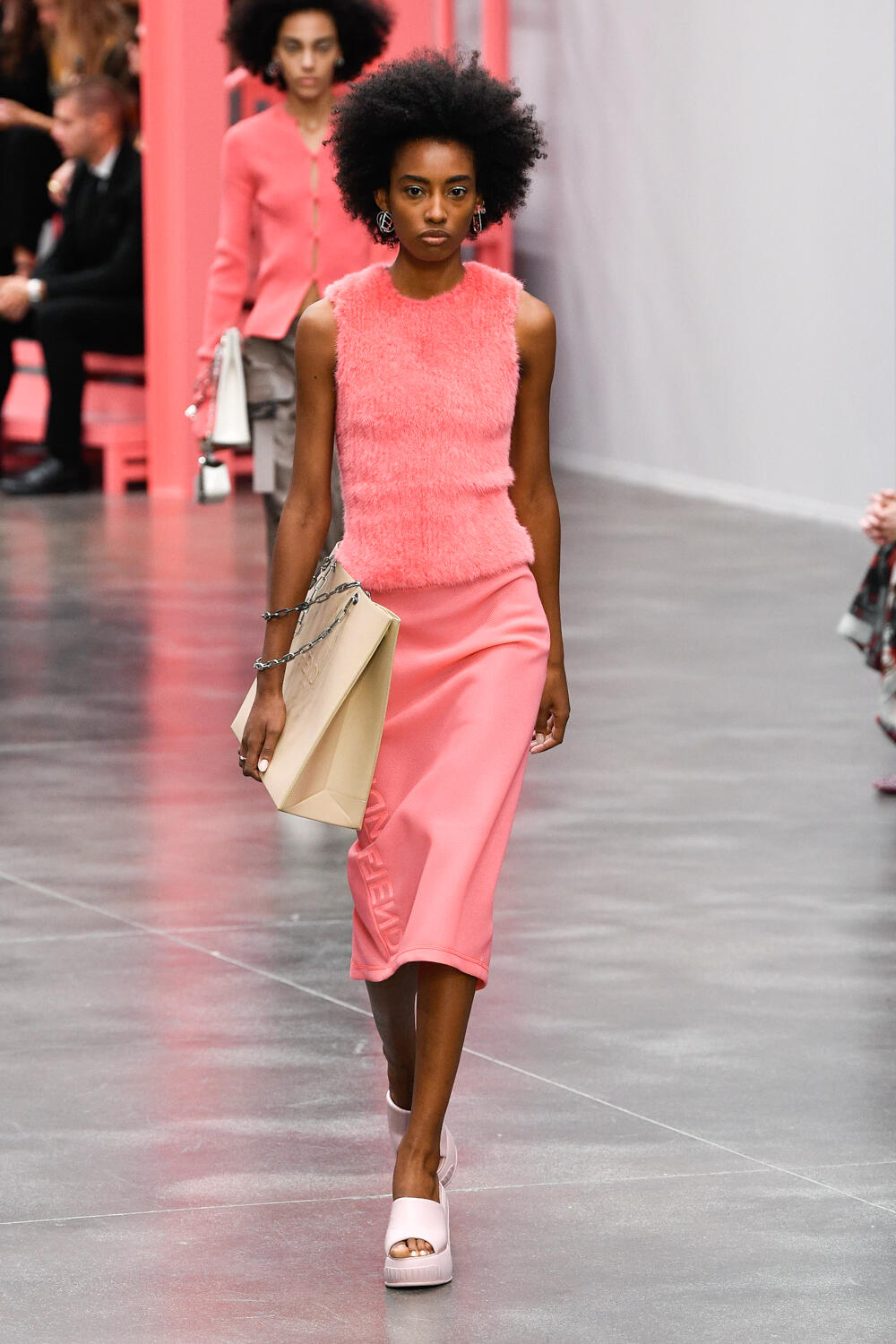 Kim Jones's exploration of modernity, executed succinctly through the duality of purpose, shone throughout this presentation today.
And it will more than adequately complement the full, busy lives of the utterly strong and feminine Fendi woman – just as the model who removed her shoes during the presentation and strode off comfortable in her strength and attitude.
---