Frame partners with British Vogue Fashion Director, Stylist, and Consultant Julia Sarr-Jamois on a limited-edition capsule collection for Summer 2023 inspired by Julia's unique style and eclectic vision. The collection continues its journey of unique partnerships with some of Frame's most revered, talented, and dear friends.
Born to a French mother who was a textile designer and Senegalese father, Julia was raised in South London. Her prolific career spans over sixteen years of ruling the best dressed lists, championing emerging talent, advocating diversity, and making her mark as one of the most influential names in fashion today. Now custodian of the highly esteemed role at British Vogue, Julia draws upon these dynamic facets of her life for this 19-piece summertime collaboration. Bold tones, earthy textures, and spirited prints reflect Julia's eccentric elegance and distinctive take on summer dressing.
Artisan crochet made by hand in vivid stripes of Hot Pink, Bright Mandarin, and Emerald Green are woven into beach-side essentials and brought to life in the collection's campaign, shot in Miami by renowned photographer Angelo Pennetta. A string bikini and halter mini dress are accessorized with a matching crochet bucket hat, delicate crochet earrings, and a handmade beaded tote for a head-to-toe look that's bursting with pool party poise.
Regularly spotted in this eye-catching print, Tie-Dye is one of the image-defining styles of Julia's coveted luxe- casual wardrobe. Frame X Julia Sarr-Jamois offers a unique handmade tie-dye for a kaleidoscope hit of colour. A silk camisole dress and an oversized PJ style set alongside a hand-knit cardigan in Flash Lime and fluid feel basketball shorts are typical of Julia's elevated casualwear meets high fashion aesthetic. Arguably one of fashion's most enduring prints, camouflage is a firm favourite for this leading industry tastemaker. The Camo High Rise Utility Trousers run as a solo piece in this print, embracing Julia's love of exploring unexpected trend, print, and colour fusions.
Denim receives special attention for this vibrant collaboration, welcoming the artistry and savoir-faire of Swarovski® crystals. The collection's pièce de resistance is an $11,995.00 pair of the most luxurious denim currently on the market. The low-slung, straight leg jeans are adorned with over 50,000 Swarovski crystals in an iridescent chocolate brown. The embellished design took 120 hours to complete. The show-stopping jeans are the ultimate in denim luxury, combining the decadence of Swarovski's more than 125-year legacy and mastery with Frame's craftsmanship of well-loved rigid denim.
"Julia and I were actually on a boat together in Ibiza and I loved what she was wearing – we have been friends for a while, and I have always admired her work and style. We got chatting about what it would look like for us to do something together, and it was as simple as that! I am super proud of the collection, it feels beautifully unique, wonderfully Julia, and excitingly experimental for FRAME". – Erik Torstensson, Co-Founder of Frame
"It has long been a dream of mine to create my own collection. To partner with a brand I have always loved and be given the chance to create something that really plays with genres, texture and colour; exploring fashion and what it means to express yourself stylistically – it' s been really exciting!" – Julia Sarr-Jamois, Fashion Director, British Vogue
Frame X Julia Sarr Jamois is the latest addition to Frame's exploration of partnerships with friends of the brand and some of the industry's finest talent.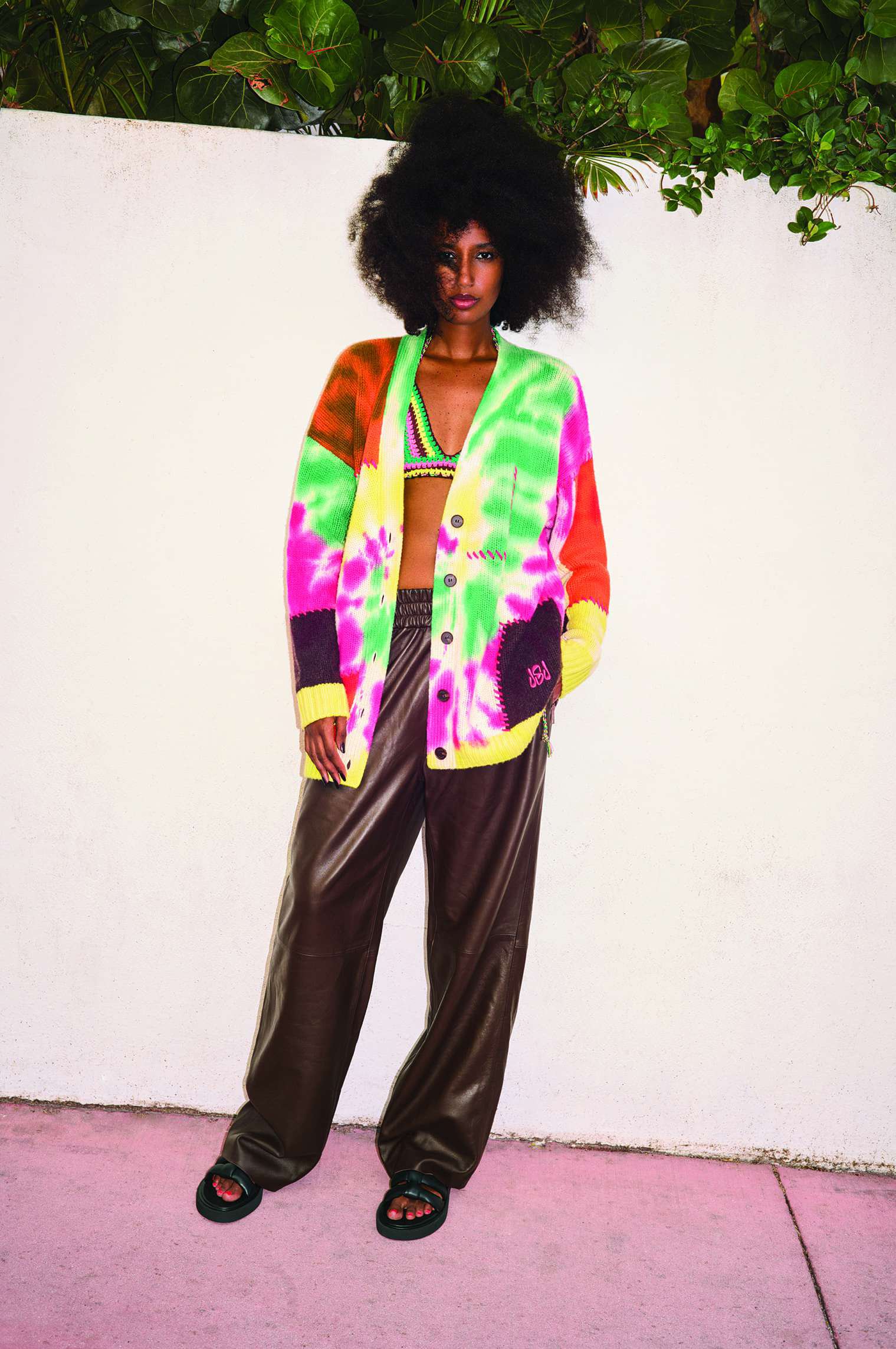 ---