---
Review of Giorgio Armani Privé Fall 2021 Fashion Show
Velvet Jackets and Organza Crystal-Edge Pants Shine Continuity and That Sense of Nobility in Clothes
By Long Nguyen
When Giorgio Armani came out onto the runway to greet his tiny audience of guests at his fall-winter 2021 Privé couture show, the designer smiled with that look of comfort. He was taking a bow now in his two decades of showing his haute couture collections in Paris.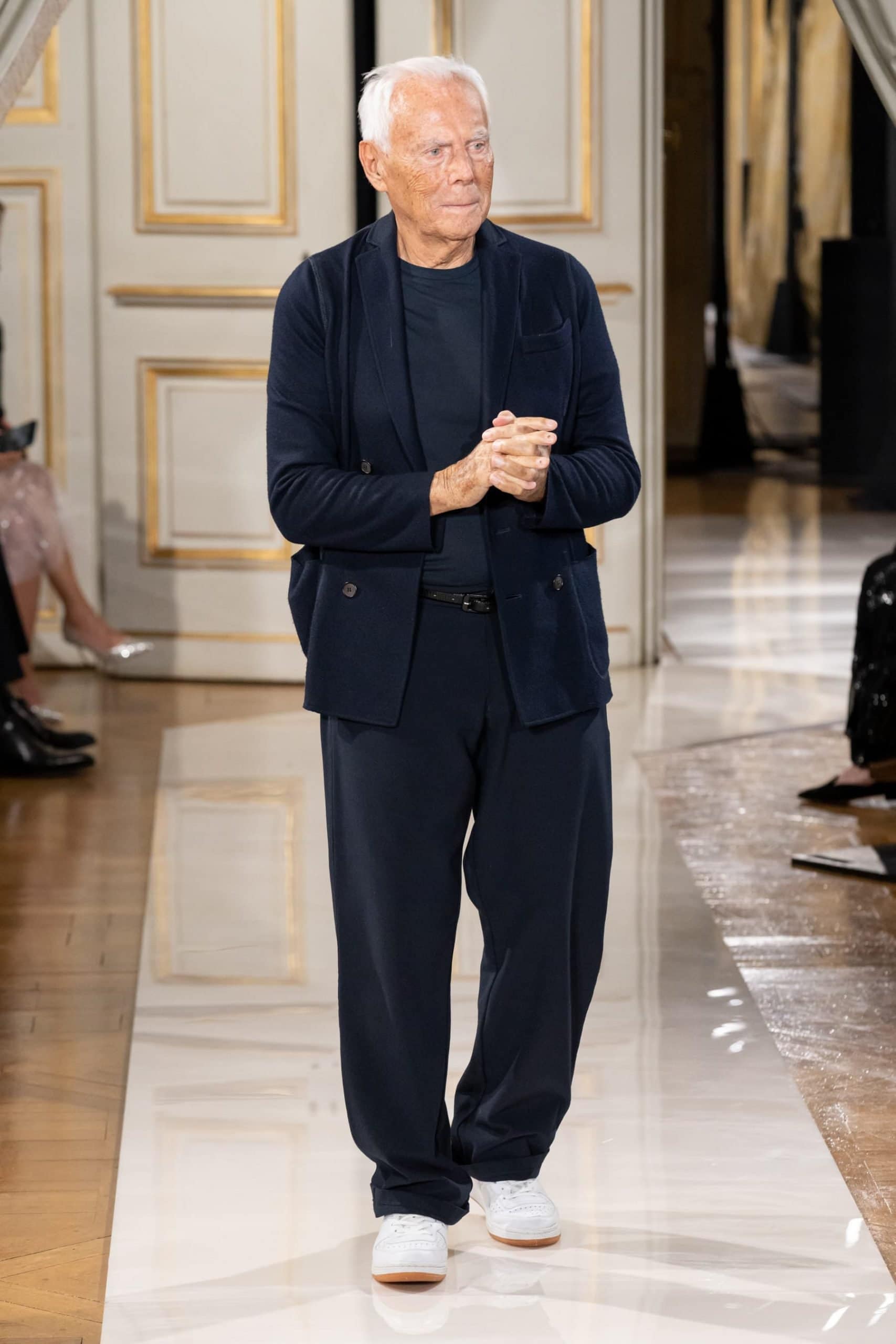 In his second time at this sumptuous Italian Embassy in the posh seventh arrondissement, Armani perfected his couture gamesmanship with a tight collection mostly made of high-tech fabrics that offer a sheen surface.
The designer is right to be very proud of his new fall collection, as the models had just walked through on the minimal runway set up with individual chairs still placed six feet apart before he came into the different salons.
This fall 2021 couture collection is quintessential 'Armani.' It isn't a statement that many designer fashion collections can make today.
There is something one can say with certainty about fashion in the pandemic era. Many brands faced doomsday as supply chains and customers vanished overnight without any signs of an imminent return to the business of buying apparel or anything else.
Now, parts of the world reluctantly crawl out of the recent past of lockdowns, and so forth, it is sure a sense of optimism. Still, it is less so that people suddenly adopt radical ways of dressing up to change the ninths. Perhaps, deep down somewhere, many still feel the impact of the pandemic, personally, financially, or psychologically.
That said, Mr. Armani, in the short period before the pandemic hit in earnest, has been calling for fashion to slow down and to adopt a model that is more sustainable to use that fashion word that now has so little meaning. The perennial designer wants to establish a stronger fashion business built on consistent, not frequent delivery of the right kind of fashion that is reflective and well-designed, not ostentatious seasonal merchandise tossed in a few months.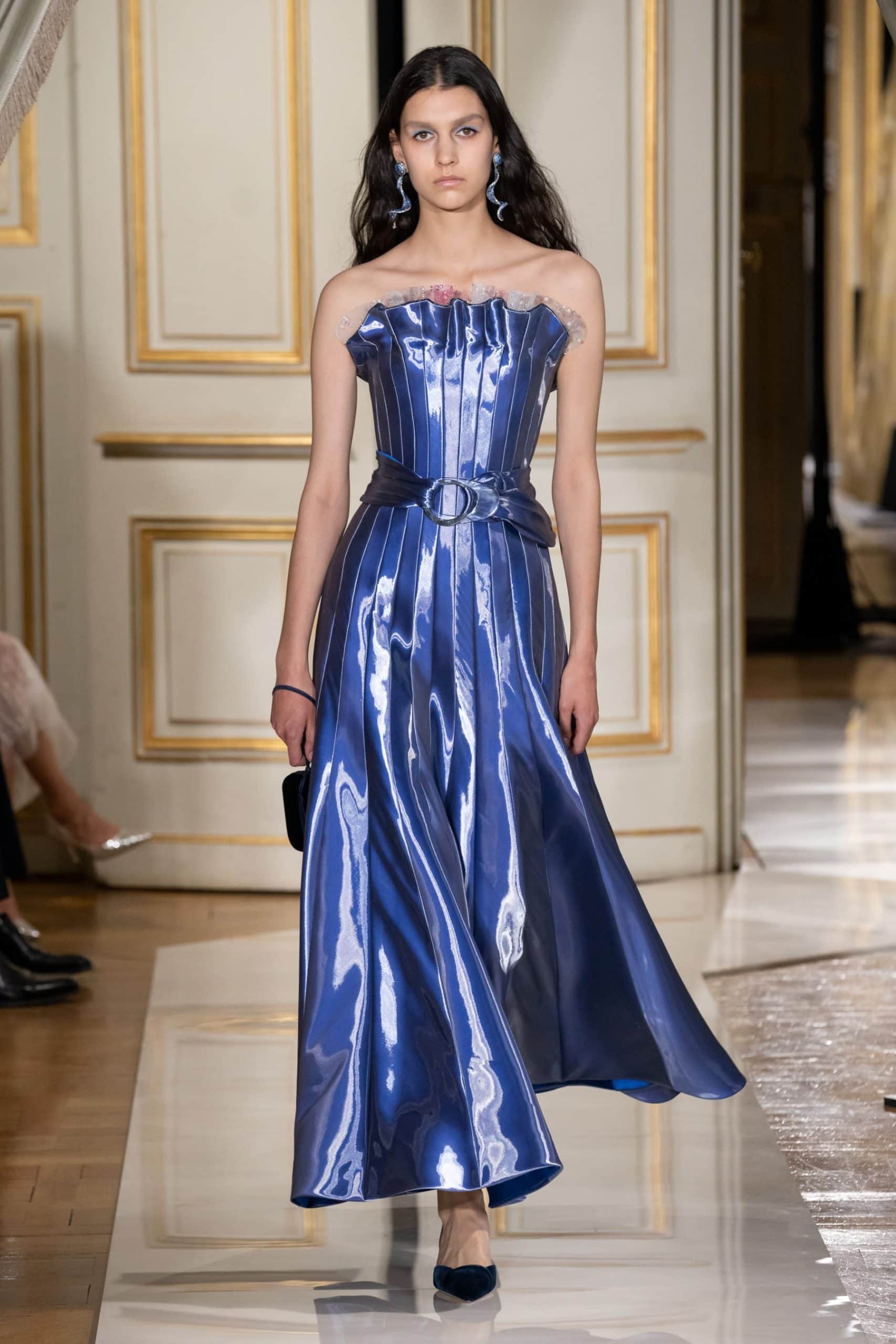 Armani advocated the slow fashion that is precisely the kind of fashion that he has consistently produced on his own in his main collections, in the Emporio Armani and recently in the reacquired Armani Exchange for men and women.
The consistency a choice Armani made in slowly evolving his fashion signatures – the jackets, the suits, the slender dresses – that over the years saw new fabrics, new colors, and perhaps a little added decorations here and there. Still, the Armani signature remains throughout, with none of the significant alterations and none season to season. 
The newness in colors and materials with an overall theme of 'Shine' always found expressions on more familiar territory. The designer meant shiny and reflective fabrics are conveying a sense of joy and optimism.
The sheen of satins and silks interweaved with ultrafine metallic thread to produce to luminous brilliance shine on the white hand-painted double breast coat, on a pale blue short sleeve deep v-neck cropped one-button jacket with loose pleated pants with subtle embroideries at the legs, or on a bright pink shoulder sleeve long fluid dress.
The clothes give off not just that shine but a new optimism wrapped in clean design clothes in pastel colors like the arrival of all sorts of flowers in spring gardens.
The collection is a remarkable assemblage of craftsmanship all done internally in the Milano studio – from the work of the crinoline ruffles on a light pink jacket for ease of movements and to the giant pleating and folding work on a pink dress like a weightless giant blossom.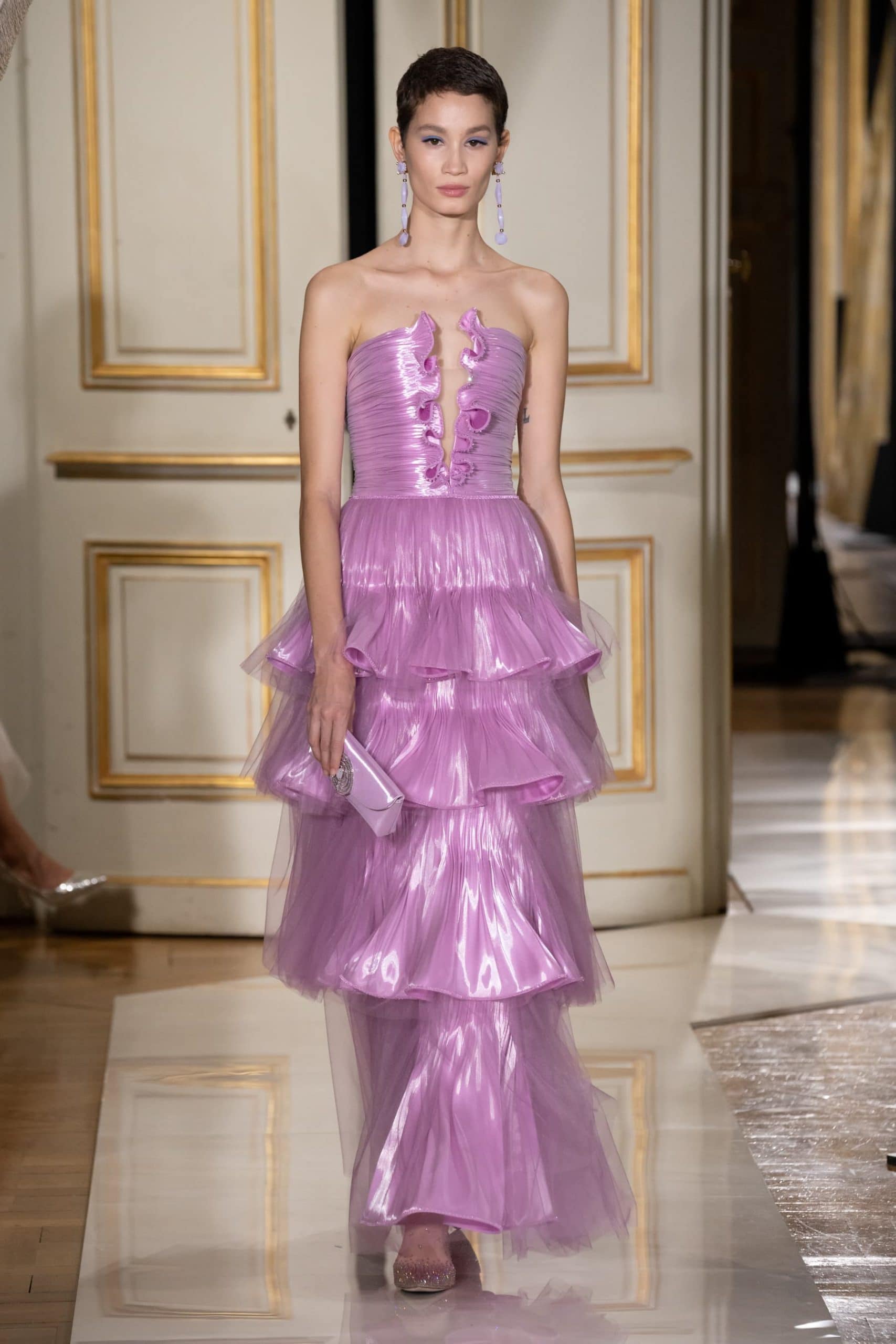 But, technicality aside, the collection is a portrait of continuity amidst changes that can serve as a guide to fashion in the coming new era in the sartorial vocabulary of these Armani couture outfits. 
Speaking of continuity, several outfits from the Spring Privé collection shown via a no live audience stream resurface in this show. The black velvet jackets with satin petal lapels cropped sharp shoulder, and boat neck jackets from the Spring 2021 collection now mixed with the silver metallic silk organza, blue and indigo pinstripe jacquard micro-edge crystals organza shiny pants.
It is less about 'vintage' but about the common thread and the sense of authenticity at Armani that endures over time.
---