---
Review of Giorgio Armani, Salvatore Ferragamo, Sportmax, Ermanno Scervino, & Philosophy di Lorenzo SerafiniFall 2021 Fashion Shows
The Maestro Gives a Lesson or Two in Timeless Elegance
By Long Nguyen
On this fourth day of the Milano digital fashion week, the maestro Giorgio Armani taught everyone a great lesson in fashion with his nonchalant and elegant approach to style, disregarding the vagaries of any current winds to stand the test of time.
In a moment of meditation at Armani, the designer looks inward to his work building a particular aesthetic over the decades on his universe of style that withstood the tremendous changes that the fashion industries had experienced during this era. Fashion in recent years has seen the torchbearers passing on from one generation to another, from one hype the next, and from zeitgeist to another in an ever rapidly evolving system.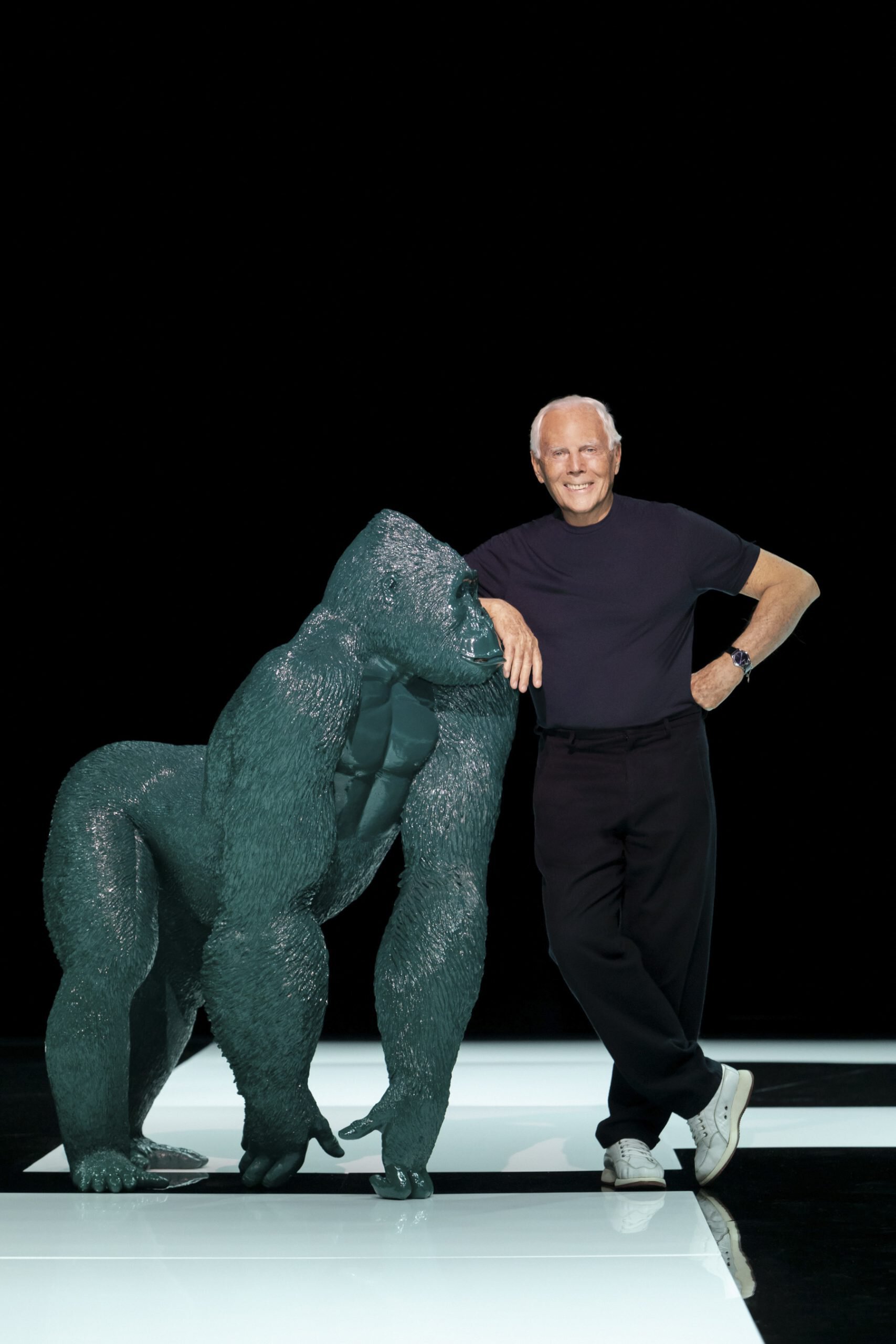 I am not abandoning my idea of simplicity, or even of precision, but I think this moment calls for kindness, and perhaps even a touch of romance. This is an element that is merely hinted at, captured by the detail of a small ruche on the collar, by light flashes of crystals on a surface, or by delicate and surprising colors. This is a collection that is gracefully reassuring.

– Giorgio Armani
Armani explained his new fall men and women collections shown separately as two collections in a broadcast taped show staged at the brand's Teatro in Milano.
At the Teatro this time, the stage includes a large green gorilla – Uri – positioned at the center with the black lacquer catwalk around this sculpture by the artist Marcantonio. This gorilla, a gift from a film set to the designer years ago, has been part of the Armani home decoration. In 2020, the Armani Group supported the World Wild Life Fund for Nature to help endangered species that include gorillas. Here, the presence of Uri signifies respect for nature, a value embraced by the young generation.
"I decided to put it at the center of the scene because I think it is essential, now more than ever, to remind people how important it is to protect the natural world," the designer said of his decision to put the focus on Uri now.
The quiet and confident walk of the models wearing the incredible lightness of clothes on their bodies to the classical music set the template not just for this Armani's fall show but for how the designer has always operated his brand. The designer is never in a hurry and never needs to chase after fleeting moments of trendy fashion that passed quickly as a sudden change of wind direction.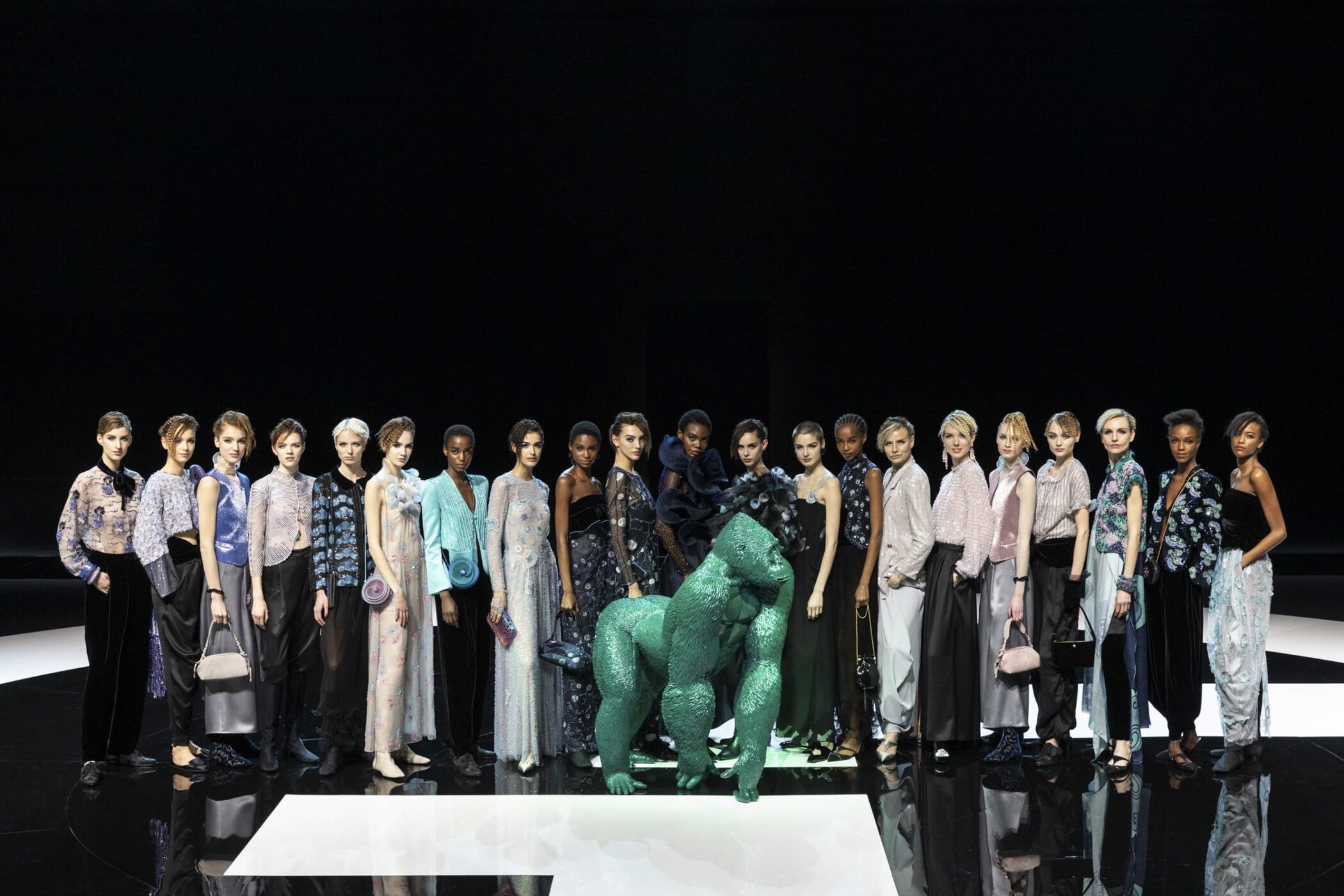 Nature blooms right onto the women's show's opening look with a hooded zippered silk jacquard blouson with lotus leaf print paired with slim velvet pants and then onto a corset top the floral petal sculpted on the front worn with a black pantsuit. The floral print wool silk slim and cropped four buttons double breast jacket with a strong shoulder and short relaxed pants feature a new two tones combinations – the blue jacket with a light grey fluid pants in the same print. A silver spread lapel floral print jacquard jacket worn with a light grey tee shirt and slim pants represents this new, more romantic mood, mixing the formal and casual light-handed manner.
The slim and longer soft silhouette permeated throughout this women's collection was first seen a few weeks back with the laser focus Privé couture spring collection. Here, the suits' shapes are the brand's signatures of fitted jackets with raglan sleeves over fluid pants and in the elongated jacket like a light purple and grey patchwork jacket and cigarette pants or the classic black wool one-button jacket with black silk track pant. A black fitted flare wool long coat with large sleeves is one of the strong outwear shapes. The evening portion is full of delicate garments like the thin leaf embroidered overlay of a black strapless long dress.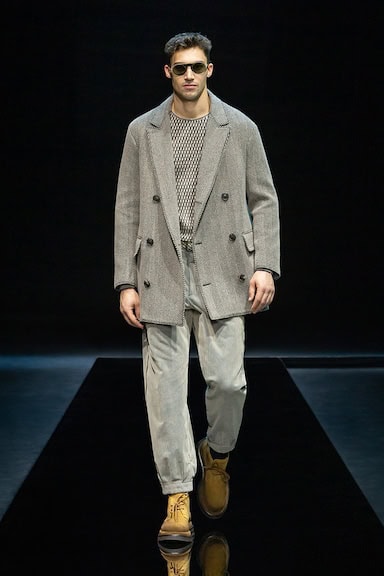 The soft and deconstructed jackets that are the essence of the menswear is an Armani trademark and a look made famous by Richard Gere in the 1980 film American Gigolo. The designer is looking back into his vast repertoire of the Armani men's vocabulary to draw the new silhouettes for fall. Armani refreshes his signature work with softer and more hollow jackets, like shirts and coats that fall effortlessly on the body with little encumbrances with a patchwork of velvets and wools with floral motifs and even a few touches of colors like orange and wine burgundy. Like a heavy wool double breast short coat, even the outerwear is not spared from inheriting the soft silhouette pervading throughout the show.
The four buttons cropped jacket cardigan jacket – in small greyish plaids, in brown velvet, or floral plaid – with patch pockets and front pleats slim pant is a new shape, but one that rests on the gamut of Armani's deconstruction territory.
Looking at the range of clothes in this men's fall collection – business, executive, sporty, casual – is to understand how the Armani aesthetics have penetrated very deeply into how men get dressed. Perhaps this collection is not the niche group of hipsters looking for the latest fads at all times. These clothes are for the men living outside that fashion radar. They have always adopted this wardrobe and its variants over the decades.
"In fashion, the past exerts a gravity – we are always drawn to it. For this season, I wanted to invert those physics. The objective was to engineer a collection that sees the present through a prism of the future, unleashing many fresh perspectives. Pre-millennial sci-fi classics Gattaca, Until The End Of The World, and The Matrix were all cinematic influences – past imaginings of the future that have shaped today. For this 'Future Positive' collection, I imagined today's uniforms' standard contours as fossilized remnants of a long-forgotten past, free of all associations of class, color, or creed. This collection proposes new uniforms for a utopian future in which diversity and positivity combine to transform our world for the better," Paul Andrews, the creative director of Salvatore Ferragamo said of his new fall collection with a view ahead and backward into imagining the clothes for the future.
A stage film set mixes virtual reality elements of an imagined New York City of the future with a brand new skyline added among the familiar ones in existence with actual reality as models entered in a portal into Milano's Rotonda della Besana. This real-unreal divide provides the perfect backdrop for this Ferragamo co-ed collection where Andrews left behind a bit of the luxury and craft-dominated shows of the past few seasons. Now, he ventured into more fashion space to connect this way to younger consumers, adding an inkling of the late 1960s and 1970s spirit and shape into these fall looks.
The clothes have a mix of the military, motorcycle, scuba, and sports references rendered in bright colors. The brand's familiar leather a bit uncommon in a sighting like a bright green double breast leather coat paired with a transparent plastic pant, an aqua blue cropped jacket hot shorts suit, or a bright red long leather dual pockets fitted coat. Transparent cape with white flare pants, a white transparent hood raincoat with knit top and pants, or a long transparent skirt and blue mock neck sweater – all fabricated with biodegradable PVC – added a futuristic element into these sporty separates.
The slim silhouette with skinny pants with flare legs infiltrates this show's garments that include a light green ruched shirt and pantsuit or a white low wait cut pant paired with a mock neck white and green knit sweater. The blue and white jumpsuits represent the future's all-in-one look, merging the tailored and the sporty into one garment. Knitwear and leather remain the strength here, and also the simple long sleeveless blue silk dress.
At times, the efforts at making this collection more fashion appeal run into a bit of trouble. It is precisely clear how the blue 'cloud' oversized sweater and pants decorated with long white wool fringes fit the theme. Perhaps this look and its sister in a black dress with curvy fringe attachments mixed some between the virtual and the real world.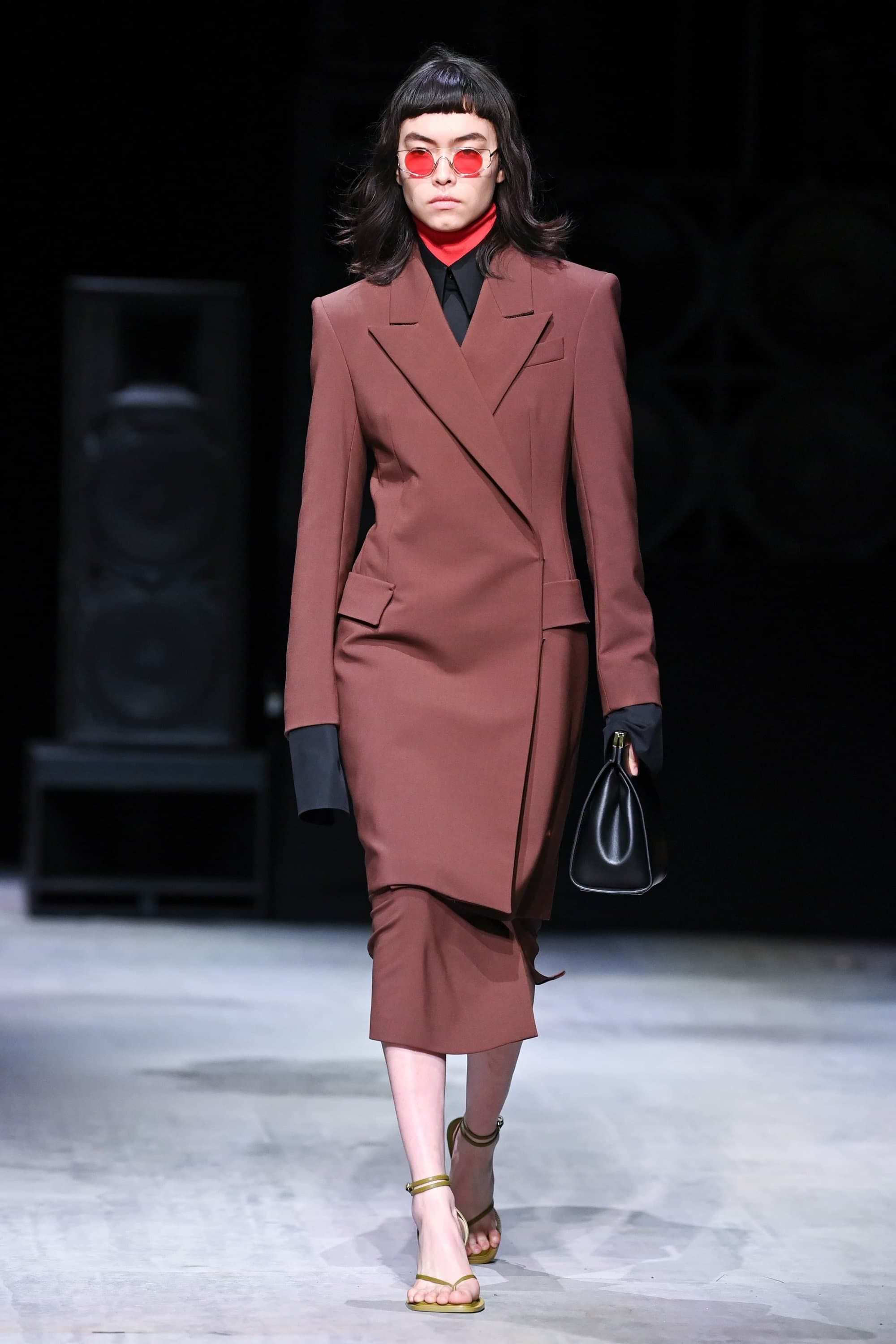 "The two things that every artist should avoid are modernity of form and modernity of subject-matter. The only beautiful things are the things that do not concern us. Nothing is so dangerous as being too modern. One is apt to grow old quite suddenly" is the famous quote from Oscar Wilde that the Sportmax designer Grazia Malagoli used as a template for her fall substantial collection.
Malagoli said her inspiration came via the post-World War I Surrealist artist and gender performer Claude Cahun, née Lucy Renee Mathilde Schwob, best known for her all-gender self-portraiture personae. Malagoli deployed Cahun's pioneering exploration of gender as a base for her fall collection. The tensions between maximalism and minimalism, between androgyny and super glamour, and between modesty and sexuality defines this Sportmax collection. Today, strong and independent women like Annie Lennox and Grace Jones are the reincarnations of Cahun's spirit.
The long and lean shapes started from a navy blue double breast jacket tucked into a long column skirt wrapped by a grey knit large waist belt that opened the show. This thin shape encompasses a white long sleeve biker dress infuse the base shape of Sportmax's fall monochromatic collection that combined strong tailoring with a bit of shoulder for that sculptural look and soft fluid dress shapes.
The red sheer long mohair dress or a black sheer knit long sheath dress worn with a bra top and underpants seemed slightly off the radar. But, there are plenty of great clothes proposed here, from a long jacket-coat skirt suit to a burgundy off long shoulder dress with tie-dyed below the waistline or a brown fitted military coat with a green tie-dyed long skirt. An oversized double breast floor-length overcoat has large patch front pockets.
The black leather tunic paired with a slim black skirt, an olive leather long sheath dress, and a long ecru sleeveless coat with corset knit tops and pants is other great looks in this lineup.
These clothes fit perfectly with the brand ethos of providing the perfect wardrobe for everyday life that isn't too fashionable. In a way, Malagoli avoided Oscar Wilde's warning by steering this collection into territories and fashion yet avoiding the pure commercial arena and a balanced presentation.
In a similar gesture, Ermanno Scervino meshed his tailoring with touches of femininity while keeping an eye on the sporty impact on fashion with slightly voluminous shapes in outerwear.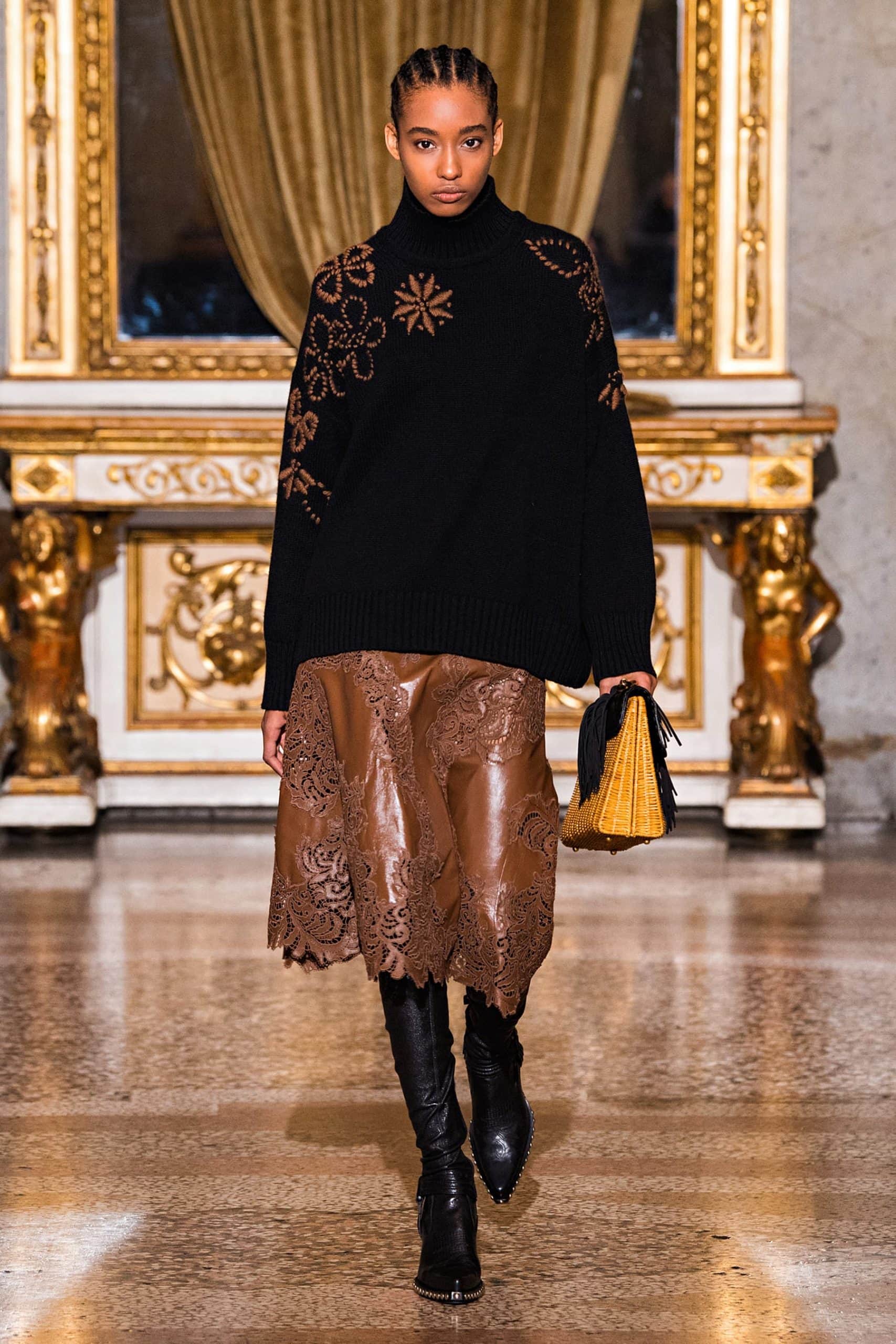 However, the collection Scervino showed rarely verged far from his familiar territory of very dressy and couture approach, now with intricate off-white lace mock neck dress, lace strapless cocktail dress, and lace tunic with an ecru jacket and thigh-high leather boots. The exception to this collection of sophisticated-looking clothes is the wool sequin fringed long cardigan paired with a light green lace dress and black suede boots. Elsewhere the black biker leather cape with fitted black pants look fantastic but almost too sporty to fit in with the rest.
There is nothing wrong with maintaining one's integrity. Here that means adhering to what Scervino does best, even if his kind of mature clothes seems a bit of the path at this moment. Suddenly a silk black puffer coat looked out of place next to the lace outfits.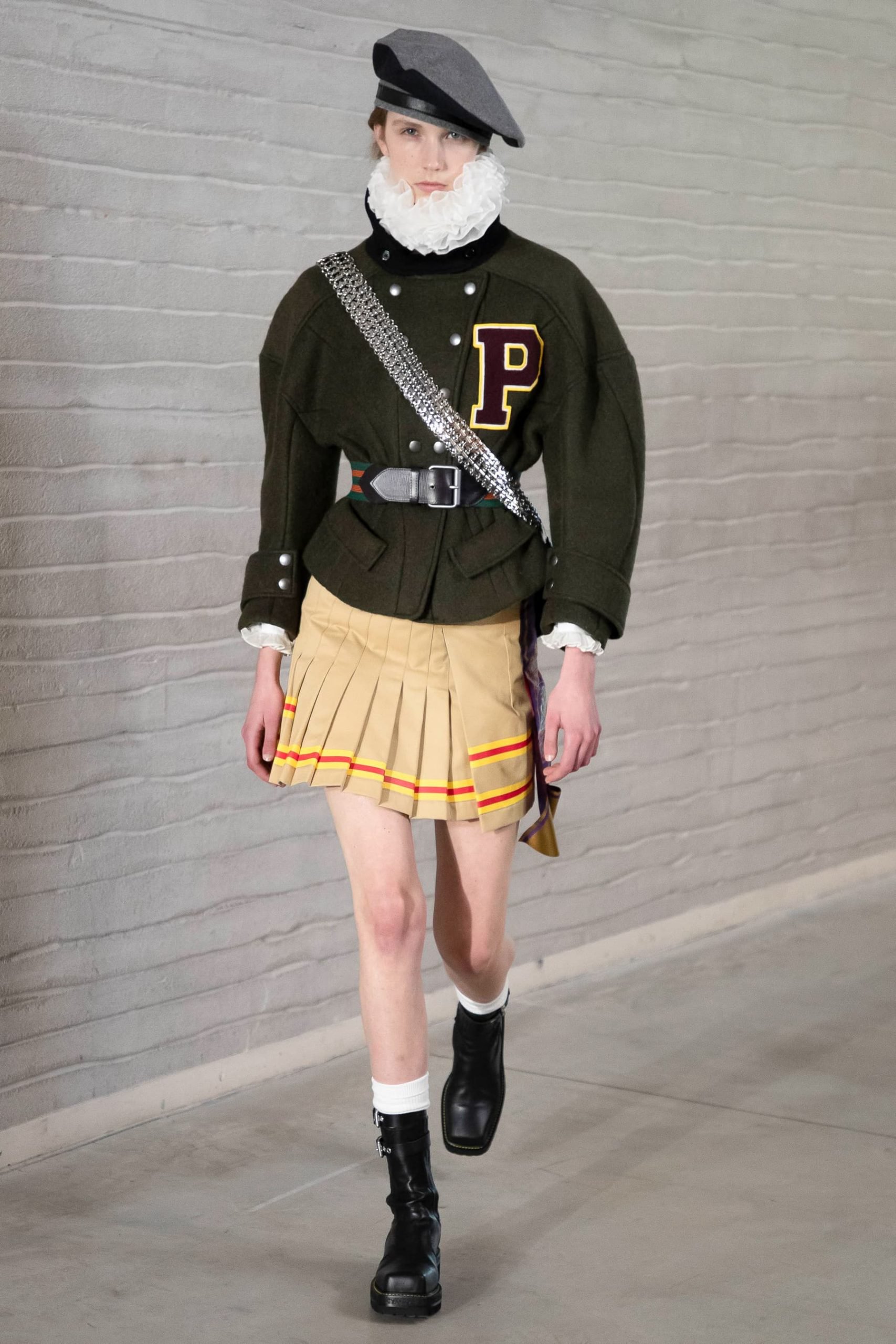 On this topic of being out of place, it is not easy to get what Lorenzo Serafini is trying to accomplish with his Philosophy di Lorenzo Serafini collection. The team sports athletic wear that dominates this Serafini collection is a virtual redux of the Miu Miu fall 2021 show broadcast from Paris last October.
This collegiate-dominated collection is nothing but derivatives of the Miu Miu fall 2021 collection and a few others. Simultaneously, the collection contained a range of easy daywear looks, a black micro dress with puff shoulder or even worse, one black sequin short dress with oversized shoulder sleeves that took from the recent Balmain collections. Others, such as a red dress and a black leather belted short jumpsuit paid tribute to the current obsessions with shoulders.
If Serafini were to apply to college, the plagiarism in this fall essay would surely disqualify him from any potential admission entrance.
---