---
Review of Givenchy Resort 2022 Fashion Show
New Cartoon Dog, Spider Web, and Graffiti Motifs Decorate Familiar Clothes 
By Long Nguyen
On the heels of the Paris Fall-Winter 2021 Haute Couture show season scheduled to begin on Monday, Dior will be one of the first few live fashion shows with a limited audience as Paris began a slow reopening since late May from the third lockdowns.
Today, Matthew M. Williams – the creative director at Givenchy – opted to present a film of his pre-collections for Spring 2022 rather than venturing into haute couture. 
This Givenchy Spring 2022 pre-collections for men and women revealed via a taped film shot by Jasmine Loignon at a rail yard turned into a grey runway in Paris. Williams intended to signify his journey two his two home countries – the U.S. and now France – with the clothes serving as physical metaphors bridging these two worlds. In the film show, images of the Eiffel Tower and the replica of the Statue of Liberty in the middle section of the Pont de Grenelle.
Railway stations here become the melting pots of youth culture, much like the rave parties, skating ramps, or the underground music scenes that have provided the juice for many fashion designers and thus contribute towards constantly changing fashion. These types of adolescent pleasure became the source to infuse brands with that crucial connection to a known subculture to cater to the current youth market at the high luxury level.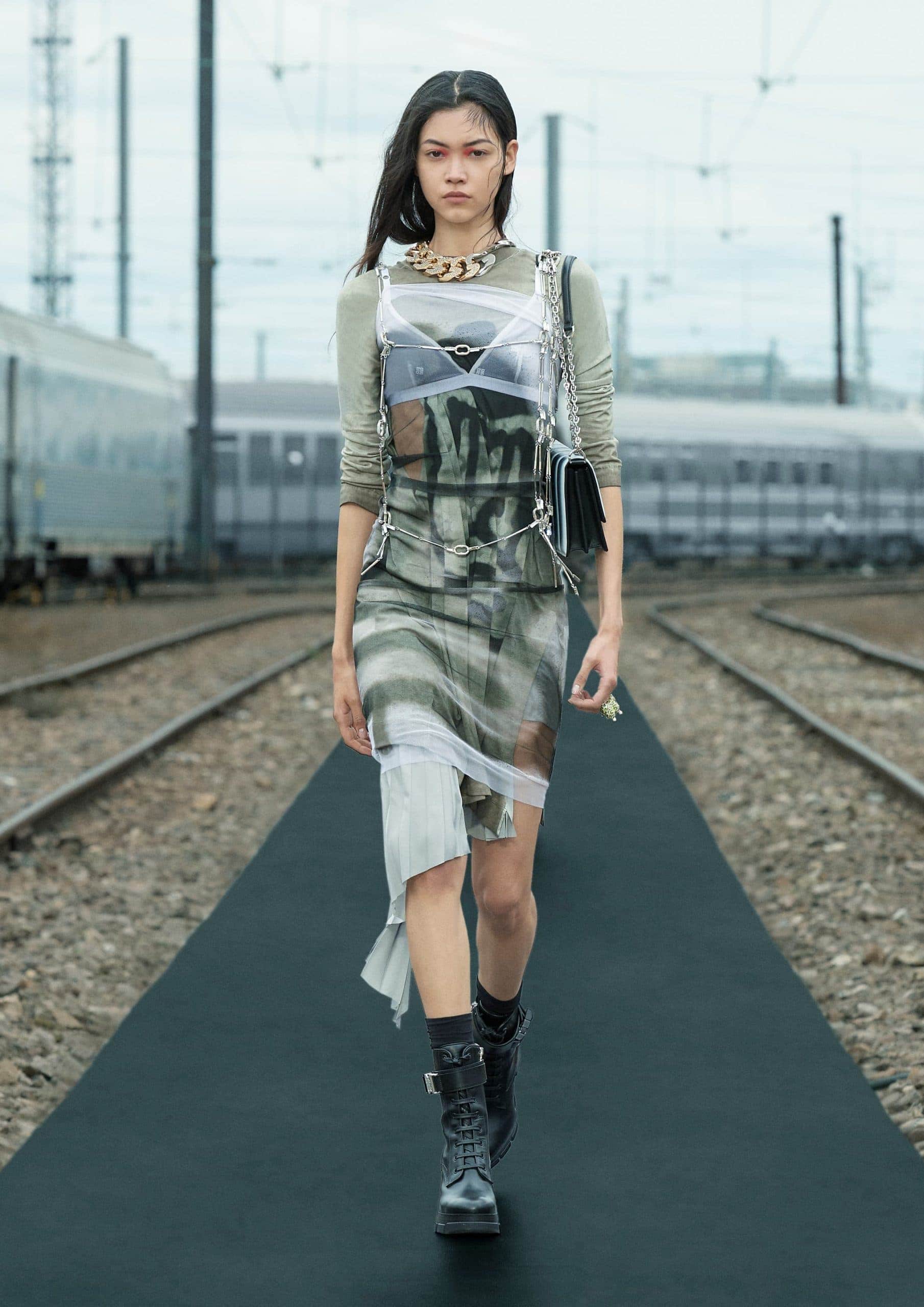 In my collections, I always speak to lived reality. For Spring 2022, our first pre-collection runway show, I wanted to bring my American roots and my brand new life in Paris. There's an energy of striking out for a new adventure, drawing on something familiar yet creating something completely new.


– Matthew M. Williams
As a transient travel and meeting place of people and culture, the rail yard was a perfect selection for a seamlessly fused location with the spirit of this heavily streetwear-dominated high luxury collection rendered with the Seattle-born and Mexico City-based Chito.
The self-taught visual artist and designer uses his airbrush techniques to create artworks often based on his life and encounters on his travels. In February 2020, just before the pandemic shut down, Chito opened his first solo exhibition, Notes To … as part of the Lagos International invitation in Mexico City that focused on his artistic practices now on paper.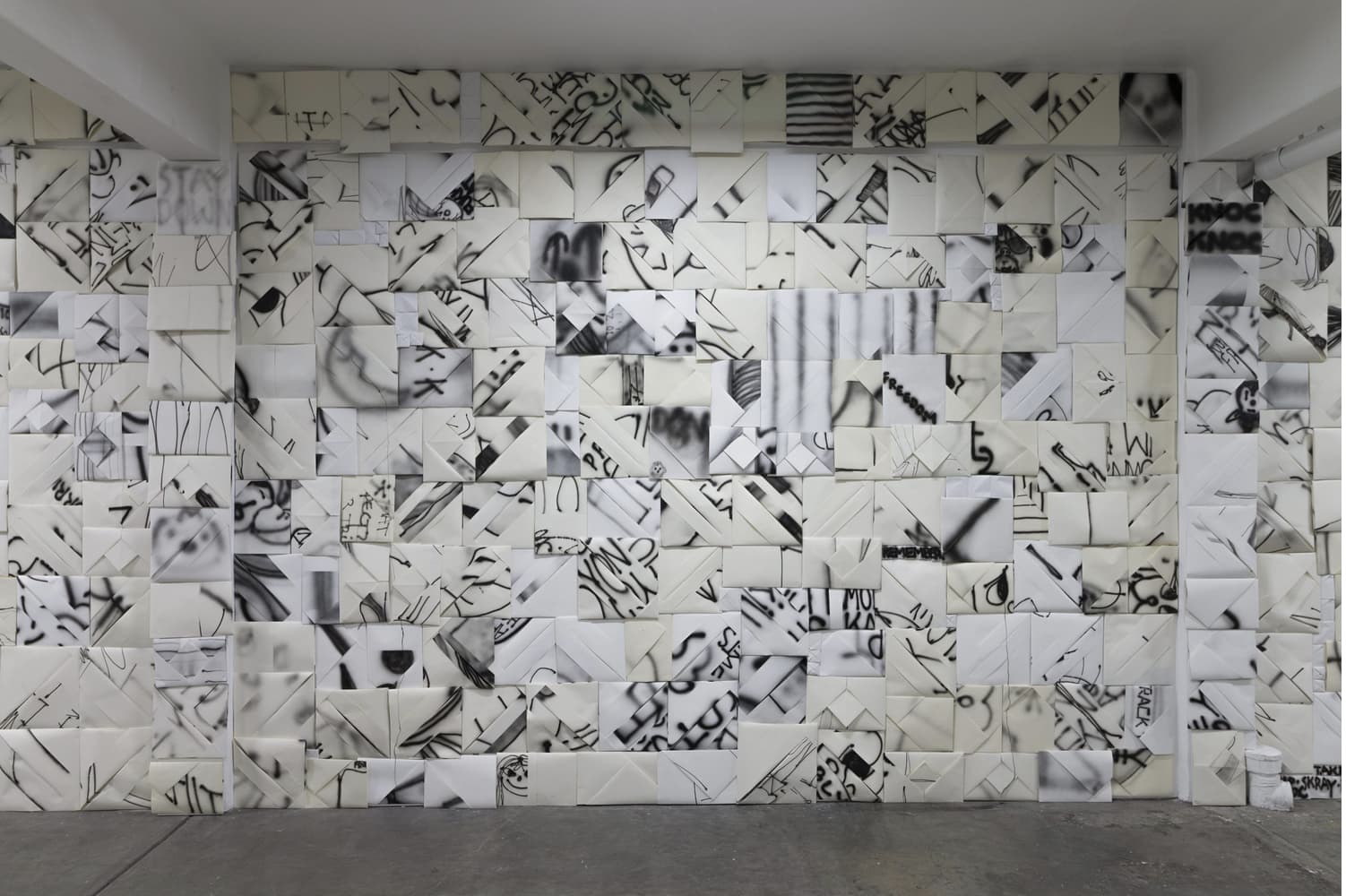 Chito's signature airbrush graphics with the abstract and figurative motif and characters like the artist's cartoon dog now featured prominently on these new Givenchy garments. The film show opened with grey sweatshirts paired over black tailored pants, panel wrap, or a grey double layers sheer painted strappy dress over a light brown long sleeve t-shirt.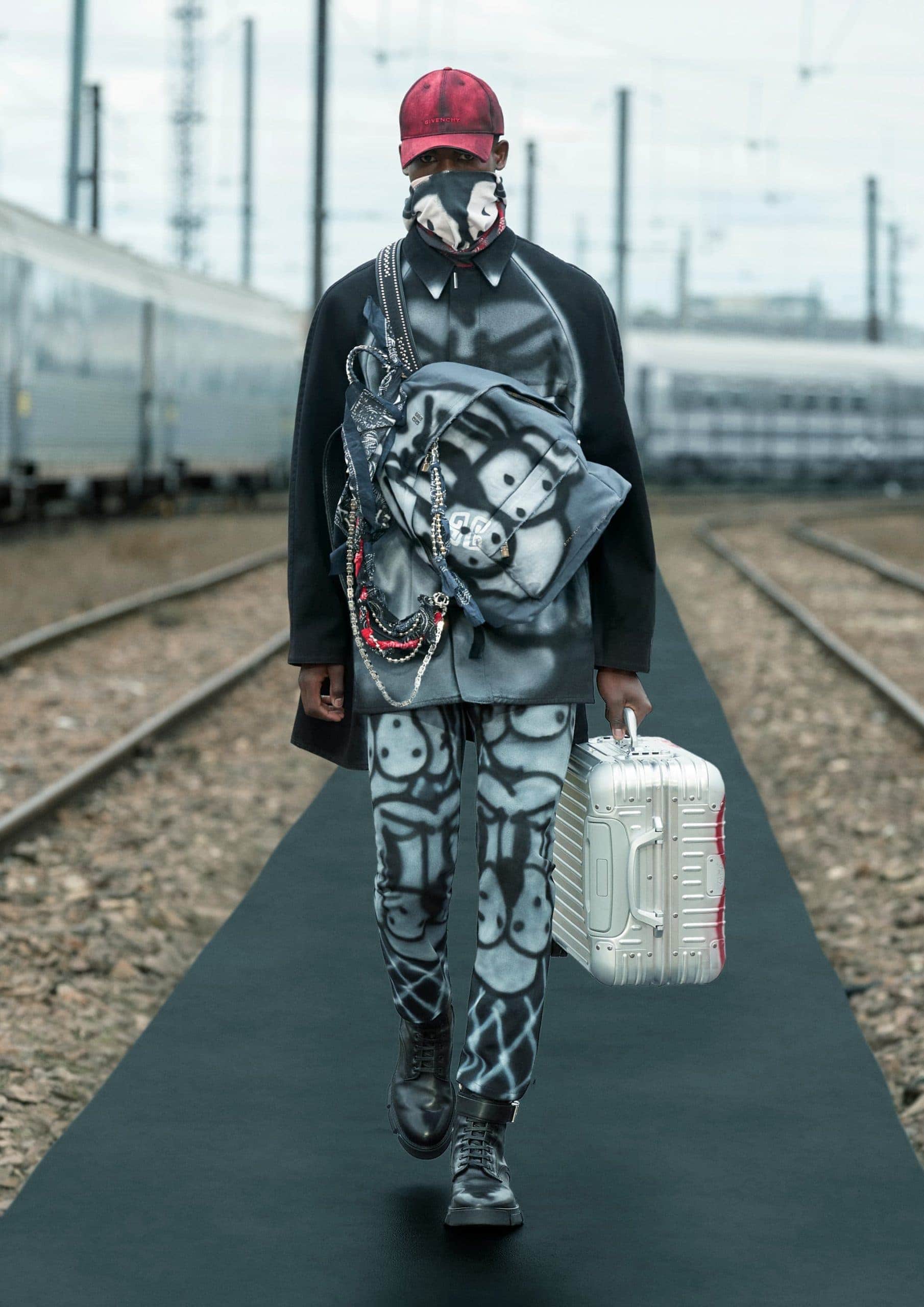 Chico made an ideal collaborator because we share the same storyline; we speak the same language. Like me, he expresses his distinct visual signatures through unique pieces that give people total freedom to make creations their statement.

– Matthew M. Williams
The designer's choice of the artist collaboration is the heartbeat of this pre-collection, focusing on apparel, familiar apparel newly decorated with art graphics.
A men's long sleeve black spider web print t-shirt, a light grey graffiti print tee shirt with grey slim-fitted cigarette zippered pockets pants highlighted Williams' direction for this Givenchy collection. Williams paired the house's craftsmanship and tailoring into these street vibe garments destined for the young generation of consumers. A white wool crochet spider web hooded sweatshirt was also meant to convey both Givenchy's craftsmanship and this collection's slightly rough aesthetic base.
Elsewhere, the classic tailoring focused on fitted and slim shapes – a black single breast pantsuit for men and an olive leather broad shoulder skirt suit for women with side Velcro closures. Williams transformed a black wool varsity sports jacket with black leather sleeves – a classic American sportswear staple – into a cropped bolero worn with a black dress with pleated silk underskirt into this new merger of cultures and thus of garments.
For accessories, there is a new capsule with Rimowa and a new assortment of 'hardware' – Williams' signature design element – into heavy metallic necklaces, giant rings, and pendants. Abundant too is the variety of backpacks and cross-body bags – the new handbags – all with airbrushed paint as a mark of distinction.
This collection, though, reminisced another Givenchy collection from another era – Riccardo Tisci's men's Fall 2011 and women's Fall 2013 collection with heavy graphic prints featuring version silkscreened images of the Rottweiler and Bambi that became cult iconic items at that time. Those two collections became part of the fashion road map in the second decade of the twenty-first century.
The difference, though, is that a decade ago, that Fall 2011 with another dog signaled a moment of metamorphosis, especially for menswear that cusped the luxury-street merger with Givenchy leading the pack, espousing craft and tailoring in clothes that appealed to youth.
These new Givenchy clothes are fine, and they are very commercial and should sell well at retail. But, even when completely covered with an artist's decorations, this collection doesn't move the needle very much, either in men's or women's fashion.  
---