---
Review of Givenchy Spring 2022 Fashion Show
Plenty of Merchandises, But Where is the Soul?
By Long Nguyen
In his first live show since taking over as the creative director at Givenchy, Matthew Williams collaborated with the musician Young Thug for the exclusive soundtrack of the show at the Arena in La defense and with the artist Josh Smith the illustrations that dotted the various looks from a white shirt and pants print motif worn under a windowpane stripe wool coat.
"For the Spring-Summer 22 collection, I wanted to build on the tradition of Givenchy's history while also really looking towards the future. To do this, I worked with people I admire across different disciplines who have a truly unique perspective,s including the artist Josh Smith, whose iconic work is incorporated throughout the collection, and the musician Young Thug, who created the entire score for the show. The collaboration and this collection offer people a remarkably immersive and special experience," said Matthew M Williams of his thinking behind the show and the collection.
The Spring 2022 collection veered between attempts at artistic design manipulations within a framework of streetwear silhouettes and more classical tailored clothes.
That meant adding the ballerina tutu as trims for, say, a black sleeveless zipper jacket, black micro skirt, and black leather thigh-high boots that opened the show. The collection covered a lot of bases – camel or black tailored coats and jackets, utilitarian khaki jackets, flight blouson, tutu trimmed corset tops, or just a plain tailored single breast jacket for either gender.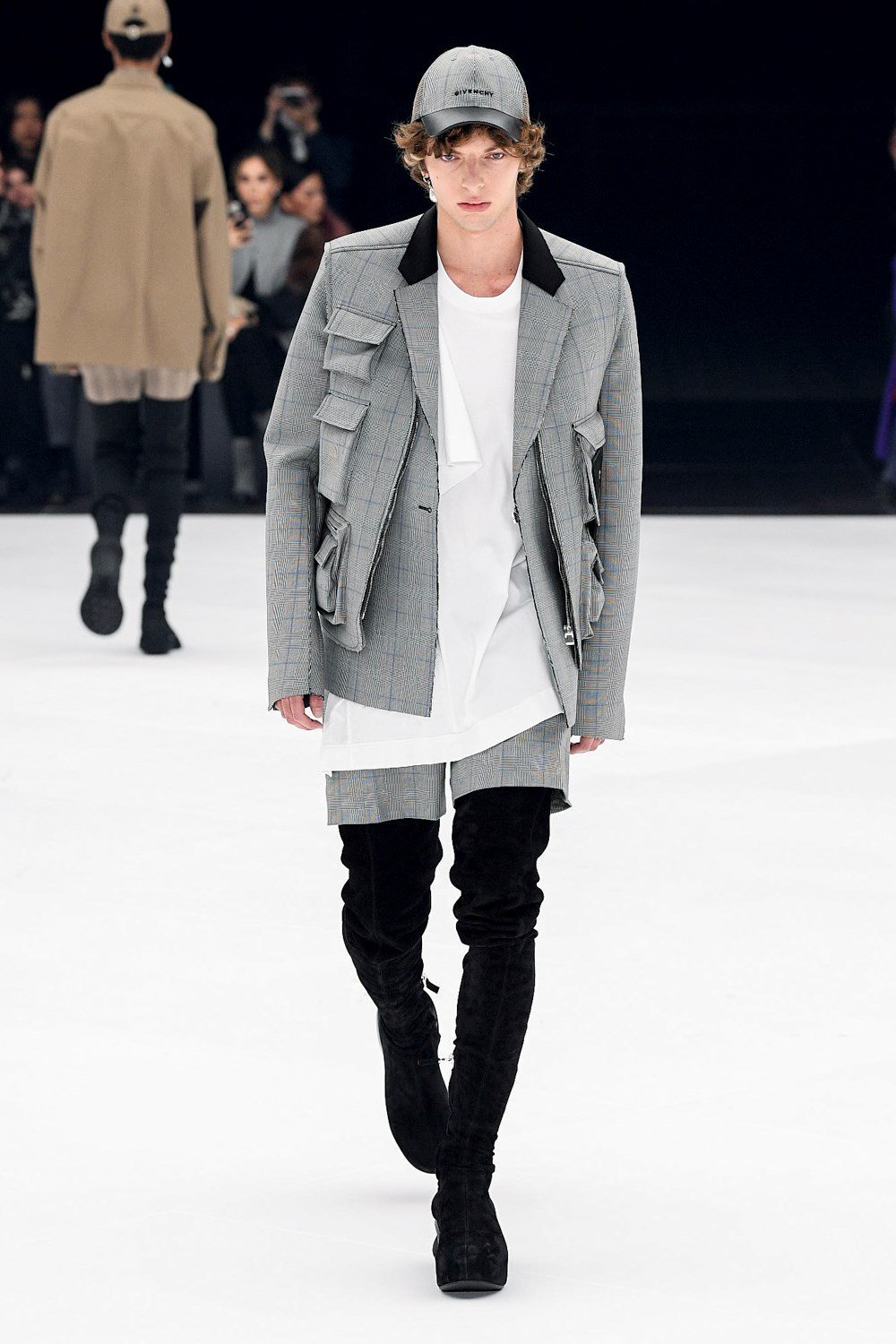 However, a men's grey shirt collar wool jacket, white tee-shirt, gray shorts, and a pair of white stretch legging reminisced the early men's collection from Riccardo Tisci. Still, Tisci's version evokes an emotion of sensuality. Same for the tan plaid hunter sleeveless vest, oversize white tee-shirt, plaid shorts, and matching plaid stretch leggings. These men's looks felt a bit forceful and lacked the organic sexiness that was once a Givenchy terrain, especially in menswear.
There are plenty of clothes to choose from on the tailoring front for both sexes and the in-between.
The tailoring is a strong point of this collection that seemed to venture between the avant-garde and classical. A black single breast jacket with front pleating, a slight side buttoning well not exactly buttons with a metallic closure black wool linear jacket with flare sleeves, or a men's slim-fitted single breast jacket paired with a loose white shirt and fitted black pants. With the resources of the Givenchy ateliers, these tailorings should be just perfect.
Another way of viewing this collection is viewing from the perspective of 'items driven' collection or the 'drop' economy of hustling products emanating from the marketing strategies of streetwear brands that have luxuries big names lusting after these continuous pop-up shops every few months.
But does this short-term thinking eviscerate the need for a longer-term creation of a Givenchy aesthetic, well in the old fashion sense? And in terms of an item-driven collection, this show has plenty of merchandise in stores – hoodies, sleeveless jackets, art decorated pants, for example – come springtime.
However, these art projects are great for pop-up shops.
But, the trick with art, music, or any type of collaboration is that this co-working is just a very short-term approach to foster immediate sales or brand recognition. Still, in the longer term, the ephemeral projects don't enhance the central aesthetic of the brand.
The overwhelming question still lingers on after this first live showing – that is, what exactly is the Givenchy ethos today, and how can the brand harness a community around this central aesthetic point of view.
What exactly do all these clothes say?
Can all these looks form a community that can sustain the brand on a longer-term basis?
Can all the looks in this Spring 2022 live show with intricate high-tech décor gather new tribes for the brand?
Where is the soul of Givenchy even with this array of fine clothes?
More questions remain than answers from this Spring 2022 show.
---