Light and Day
Review of Givenchy Spring 2024 Fashion Show
By Angela Baidoo
THE COLLECTION
THE VIBE
THE THEME
Much like night and day, the evolution of Matthew M. Williams Givenchy is leaning into the simple pleasures of 'light and day', or in other words a lightness of silhouette and fabric which renews the focus on sophisticated daywear. Housed in an open-air structure, the welcoming summer breeze played its part, as the unusually warm temperatures that the city is experiencing only helped to enhance the message of delicate diaphanousness. The set itself, within the grounds of the L'École Militaire, suspended the idea of the traditional runway tent by creating a space of calm and light to reflect the easeful themes adopted by the brands artistic director this season.
Simplicity, when the world is getting ever-more complex, will always be welcomed by the luxury consumer. And todays Givenchy show spoke to that desire for uncomplicated design that still manages a level of inventiveness. In this there was a re-purposing of eveningwear dress codes and reimagining them for day. Summer 2024 is set to revolve around the juxtaposition between hard and soft as strict tailoring enveloped whisper-soft chiffon dresses and hand-painted florals. Which was an inspirational nod taken from Hubert de Givenchy and Williams own passion for gardening as a recreational activity. Looking particularly new on a black pencil skirt, where a stem of floral sprigs came hand-painted, through the designers cut-away structure and elongated front detail, the silhouette was an exercise in subversiveness grounded in simplicity.
There was also the incorporating of haute couture techniques for those awaiting the designers debut on the official calendar, as looking closer in many ways it is already here. You only had to observe how he worked his way around "Architectonic hourglass tailoring". Jackets and dresses which expose the back through open winged constructions, and his fringed embellishment veiled under a layer of inky black chiffon are all markers of a master craftsman at work.
Ease and elegance are not always easy bedfellows, but here there was a new playbook being written for how eveningwear can be worn by women of today. Always seeking out the contrasts which reflect their daily lives, the classic connotations of feminine florals handprinted onto both leather and sheer layers worn back with sculpted tailoring or pastel coloured opera coats, feels right for the moment. The combination of opposing colours in translucent layers also added to the feeling of modernity. Biscuit with baby blue, and the pop of a red stocking extending down into a strappy pump is sure to make the cut of the marketing campaign, for its visual impact and youthful vigour alone.
THE BUZZWORDS
Translucent layering. Architectural tailoring. Floral handiwork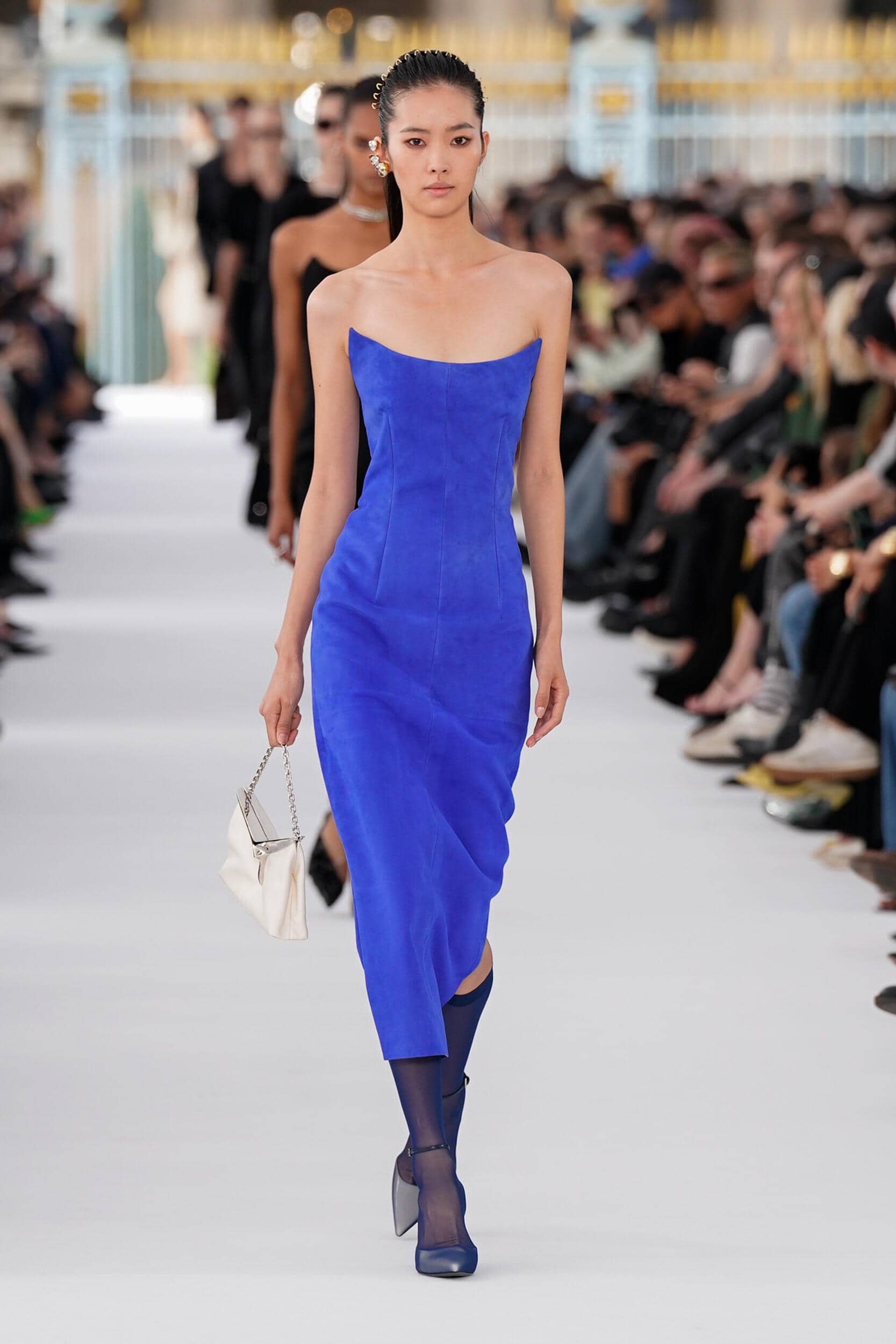 THE SHOWSTOPPER
Look # 37
Epitomising Williams delve into delicacy and the floral prints favoured by Hubert de Givenchy, not simply an off-the-shoulder gown, look closely and a printed slip is revealed to be layered underneath as a twist on the idea of formal dress.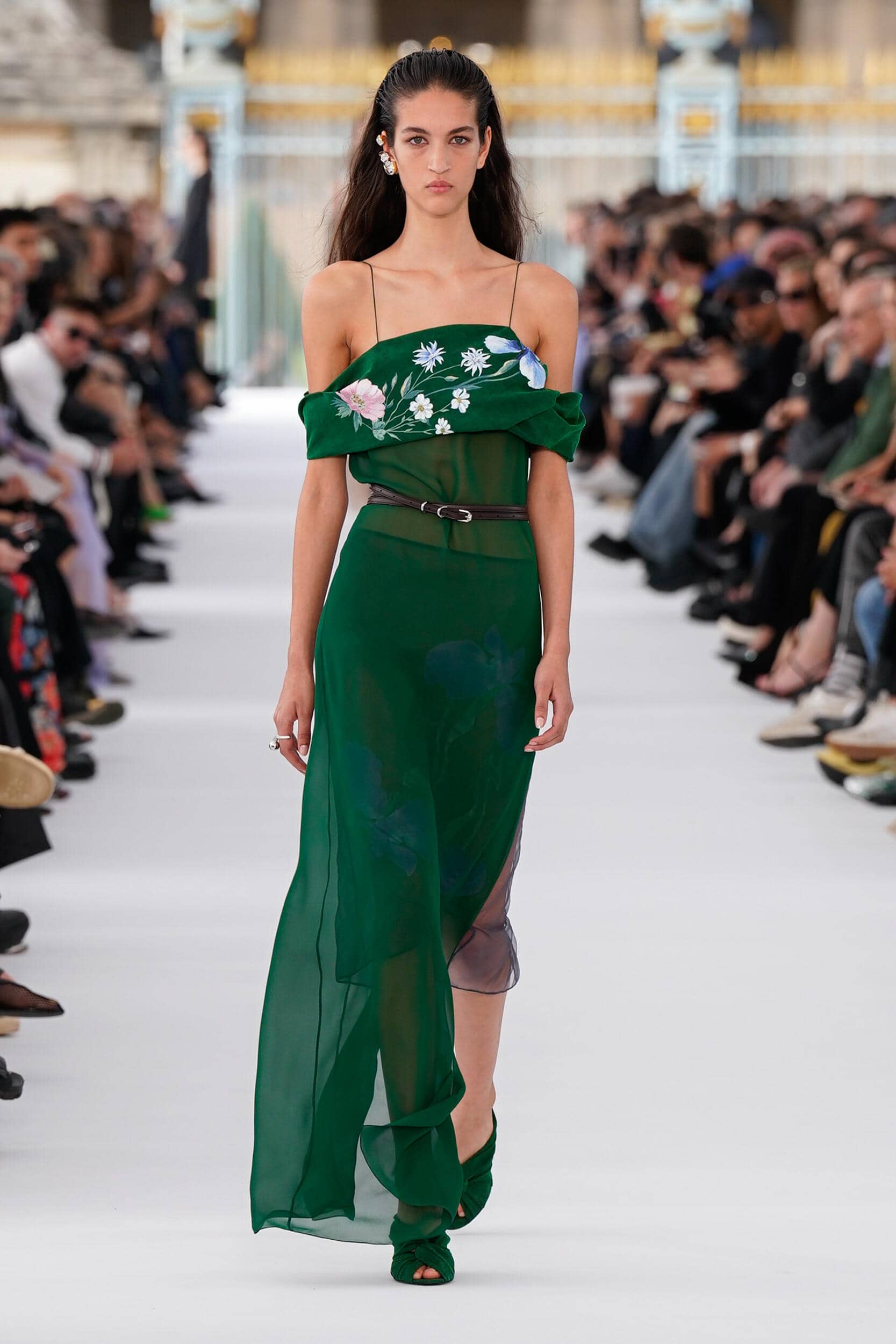 THE DIRECTION
Ease and elegance take precedence as Matthew M. Williams reworks eveningwear codes for a daytime sensibility.
The wearability of some of the more risque pieces will need to be addressed across regions and demographics at retail.
THE WRAP UP
Finding a rhythm at Givenchy, Matthew M. Williams has hit his stride with this summer collection, expertly demonstrating how what is often only considered for formal occasions can be re-evaluated for the daywear market. Taking sumptuous silk, satin, taffeta, and organza and applying a palette of soft neutrals, sweet pastels, and classic black with a pop of red, green, and cobalt shouldn't work on paper but in real-life through the application of the right fabrics and clever draping and layering techniques it all came together in a collection that was the artistic designers most accomplished to date.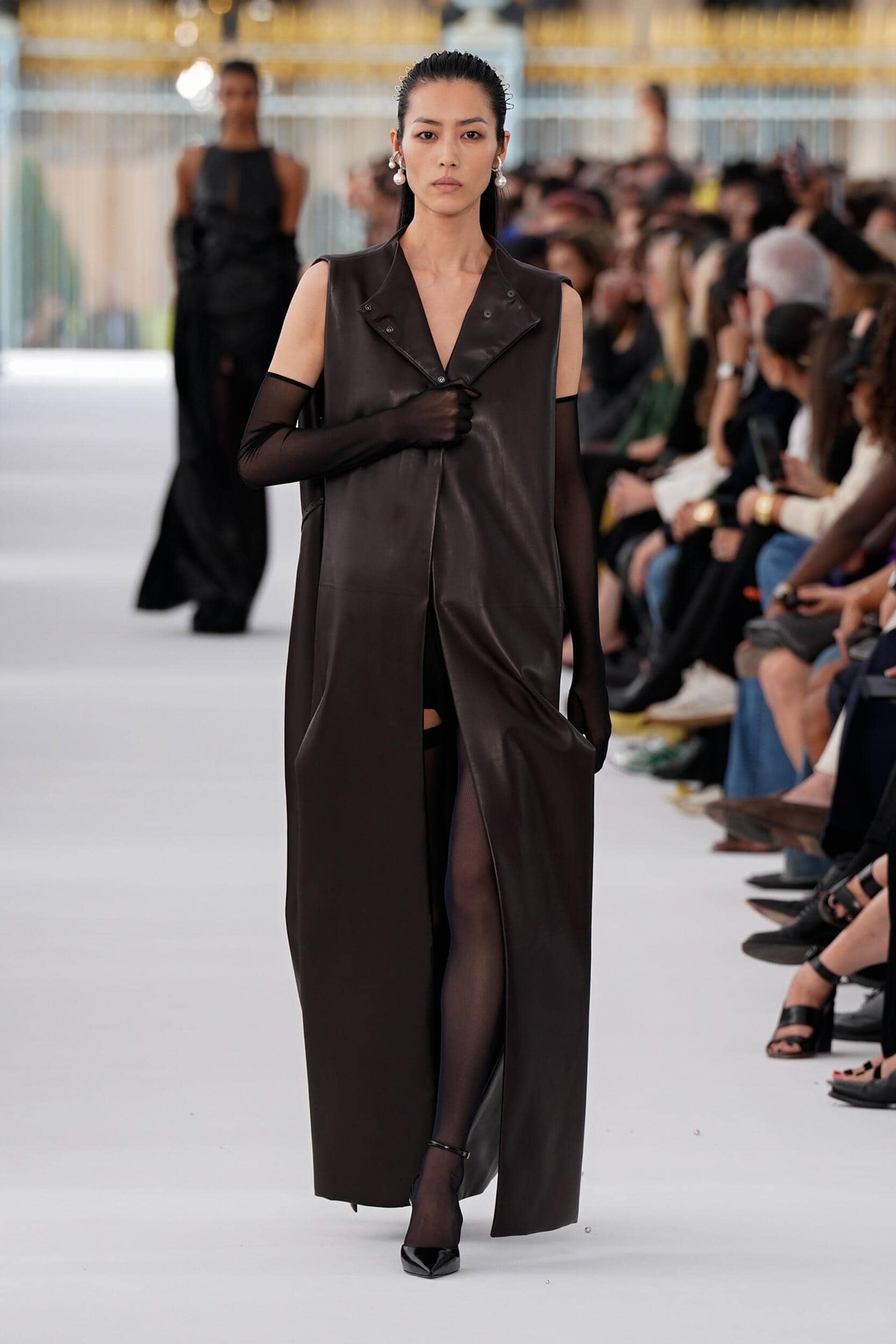 ---