---
Review of Gucci Cruise 2023 Fashion Show
The Stars Aligned
By Mark Wittmer
Taking his cue from the night's rare lunar eclipse, Gucci creative director Alessandro Michele weaves light and shadow, history and humor into his beloved signature design style for Cosmogonie, the house's Resort 2023 collection.
Following his star-studded Hollywood show for Spring 2022 and his subsequent return to Milan for Fall, Alessandro Michele's latest destination synthesizes the best of both approaches, at once suggesting fantasy and cultural exploration while staying close to home: Castel del Monte, a 13th-century citadel and castle situated atop a hill in the Apulia region of southeast Italy, built during the 1240s by King Frederick II. After having been abandoned for a considerable length of time, the castle was purchased in 1876 by the Italian State, which began the process of restoration in 1928. Today, the castle is celebrated as a UNESCO World Heritage Site, and appears on the Italian-issue one-euro coin. For the show, the castle is bedecked with lasers, fog machines, flashing lights, and projections of constellations thanks to the production work of Bureau Betak.
With the geometric beauty of its octagonal courtyard that opens to the sky, the location is a fitting habitat for the collection's exploration of the intersection of astronomy, history, and mysticism.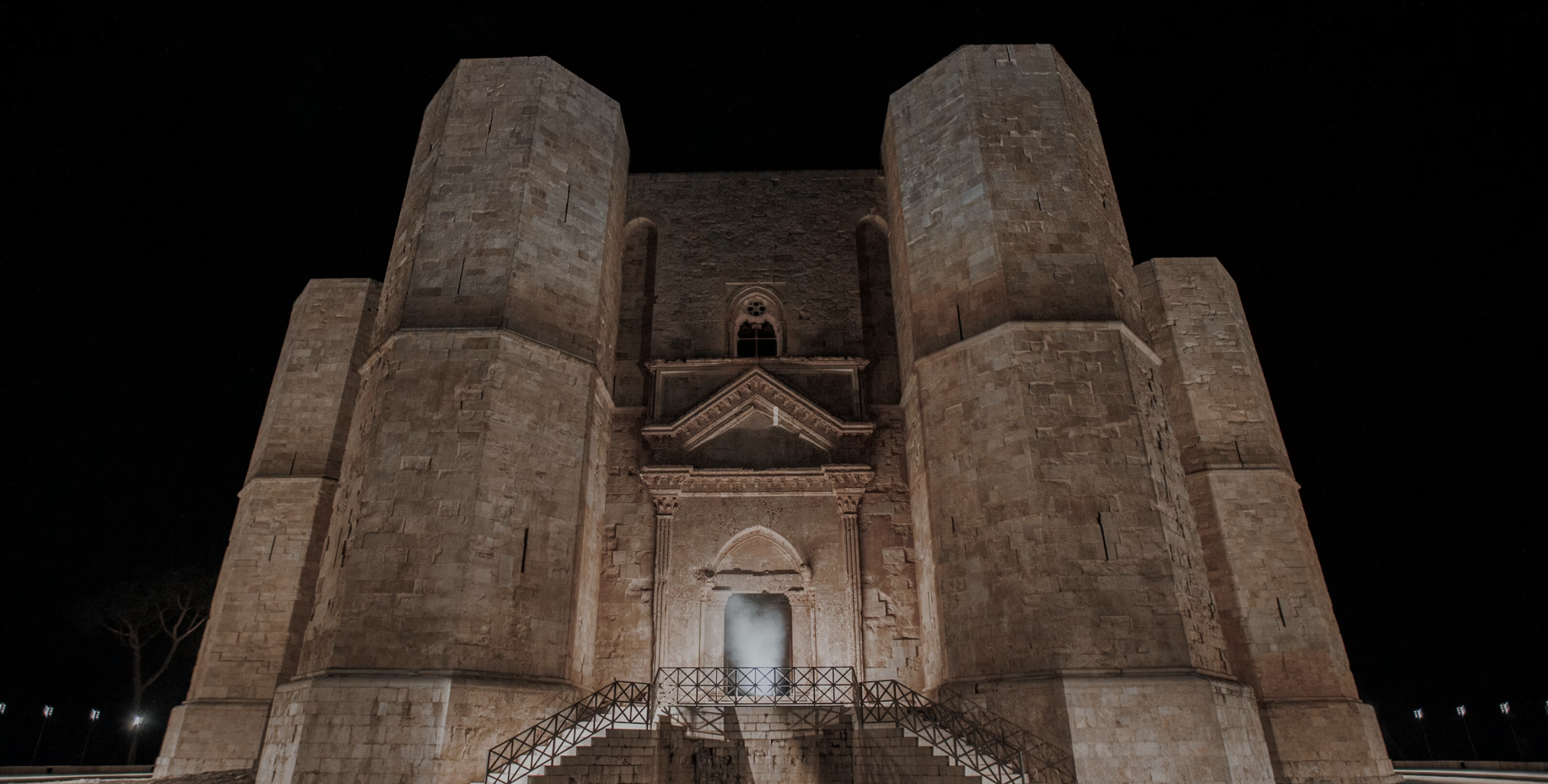 These themes are further embodied in the intentional timing of the show with the lunar eclipse, a super blood flower moon, and the show invitation, which informed every guest that a star had been registered in their name.
But for the most part, the collection avoided the literalism, overt symbology, and trendy astrology references that this theme might have led us to expect. Instead, Alessandro Michele delivered a body of work that was much in the same vein of what we have seen from him in collections past, but subtly threaded through with a theme of the night sky, and in particular the moon.
Weaving together elegance, glamor, and dark seduction across various sartorial timelines, Michele hopped with effortless grace from intricate and austere Victorian influence to 60's mod to baroque opulence and back again.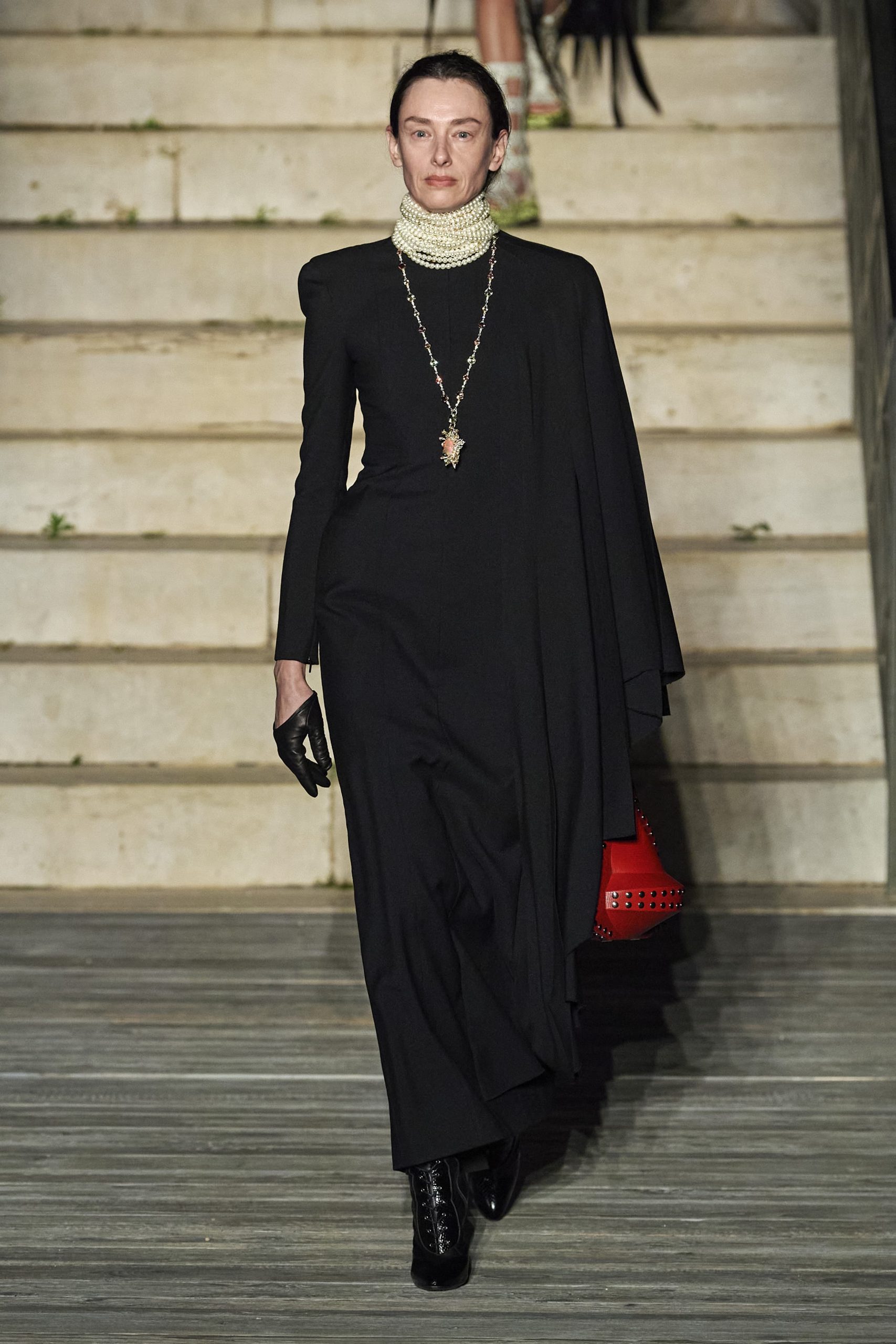 Well-deployed details like ruffs, lace collars, and cuffs suggested Italian Renaissance aristocracy – but these royalty were never without a court jester nearby.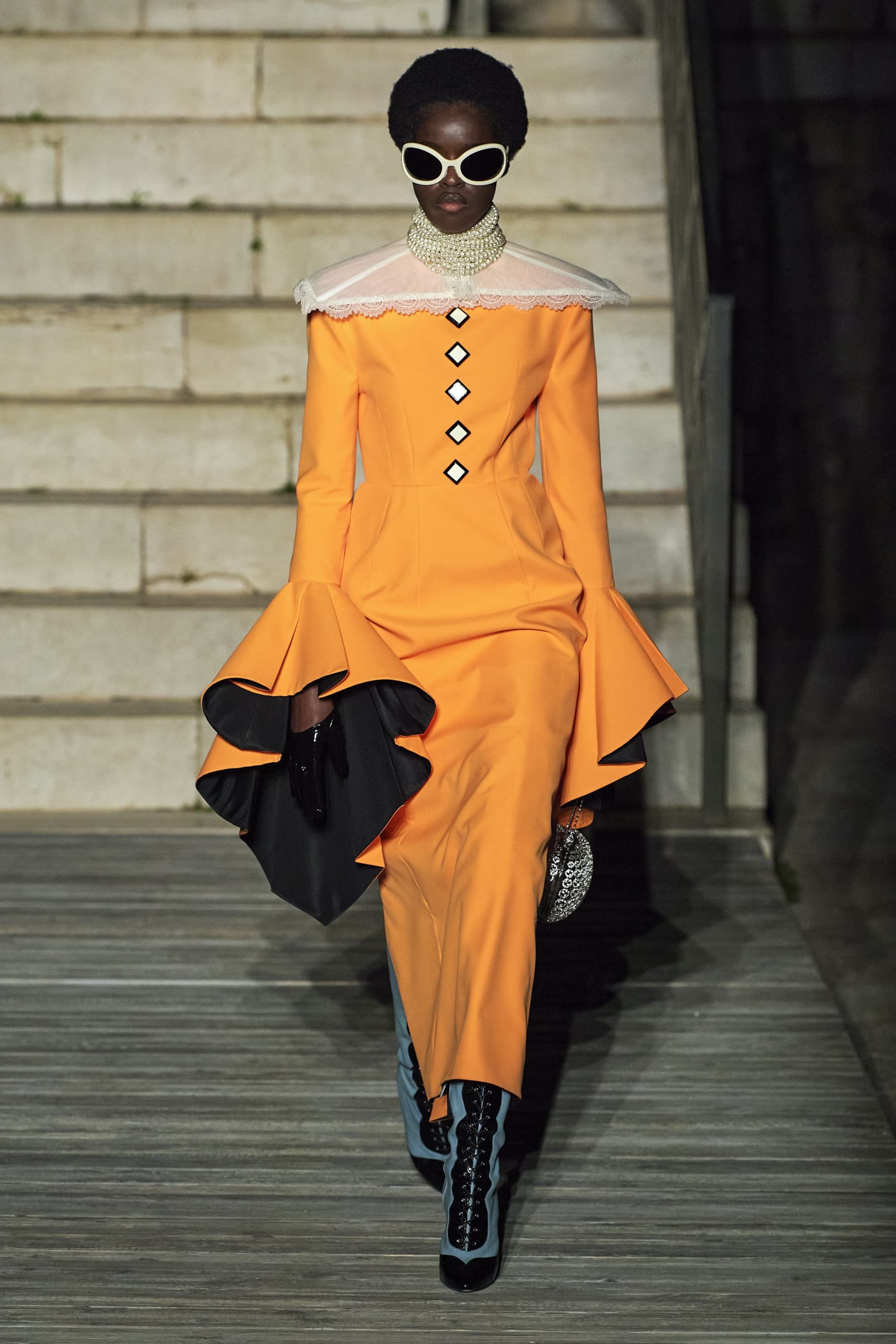 Rather than obvious graphics, the reference to the eclipse was smartly conveyed through simple color-blocking: for example, a half-white-half-black look that suggests a shadow creeping over the lunar surface, a motif that was carried across or reconfigured on a number of looks.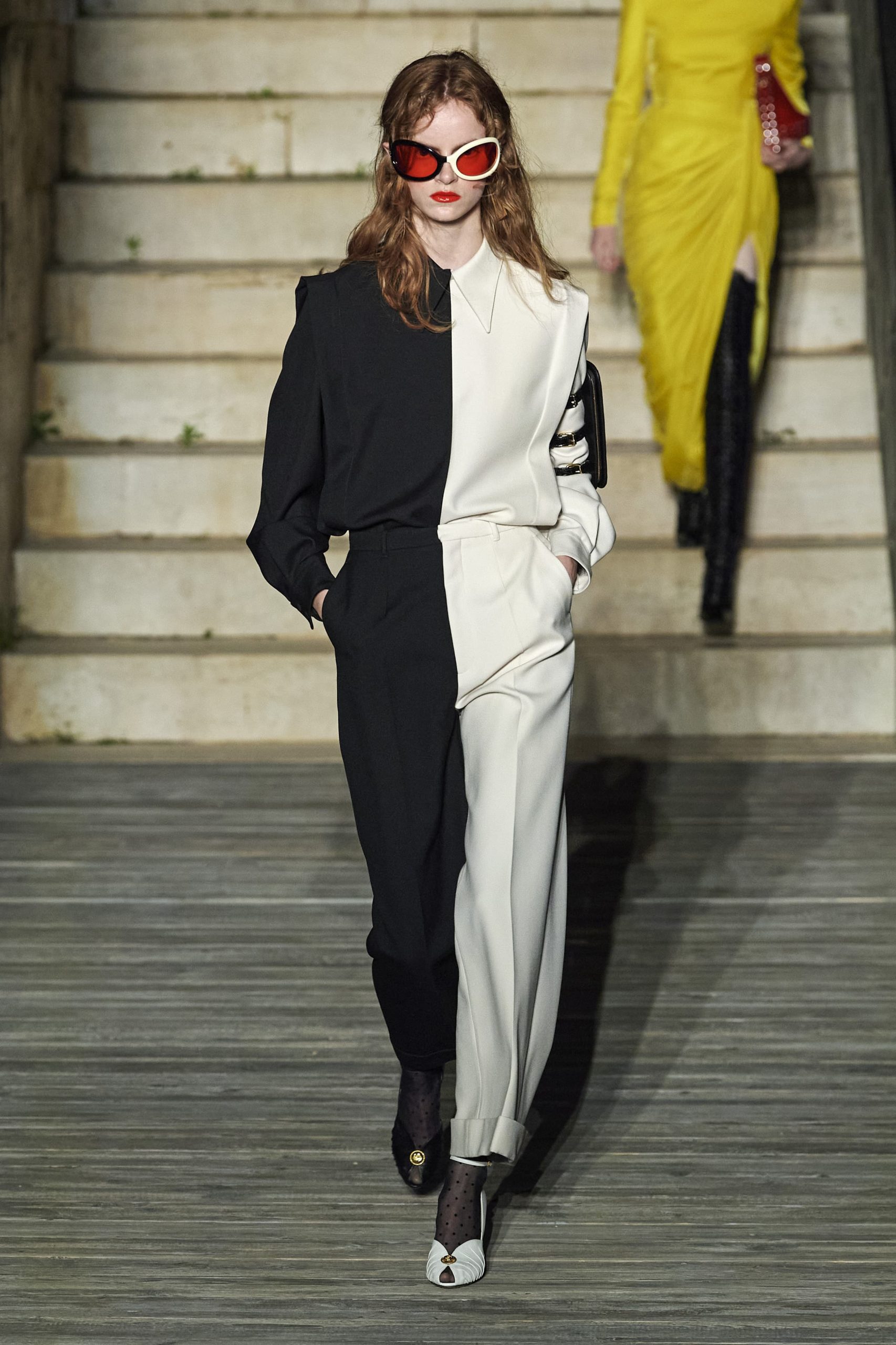 Silver embellishments and bejeweled adornments ran throughout the collection, exuding opulence and winking through the darkness. A part of the history of fashion we haven't seen Michele explore much, primitive and folk-art-esque geometric motifs were revisited and glammed up, perhaps pointing to the reverence of the moon as one of the oldest human traditions. This was particularly recognizable in the frequent headbands with dangly attachments.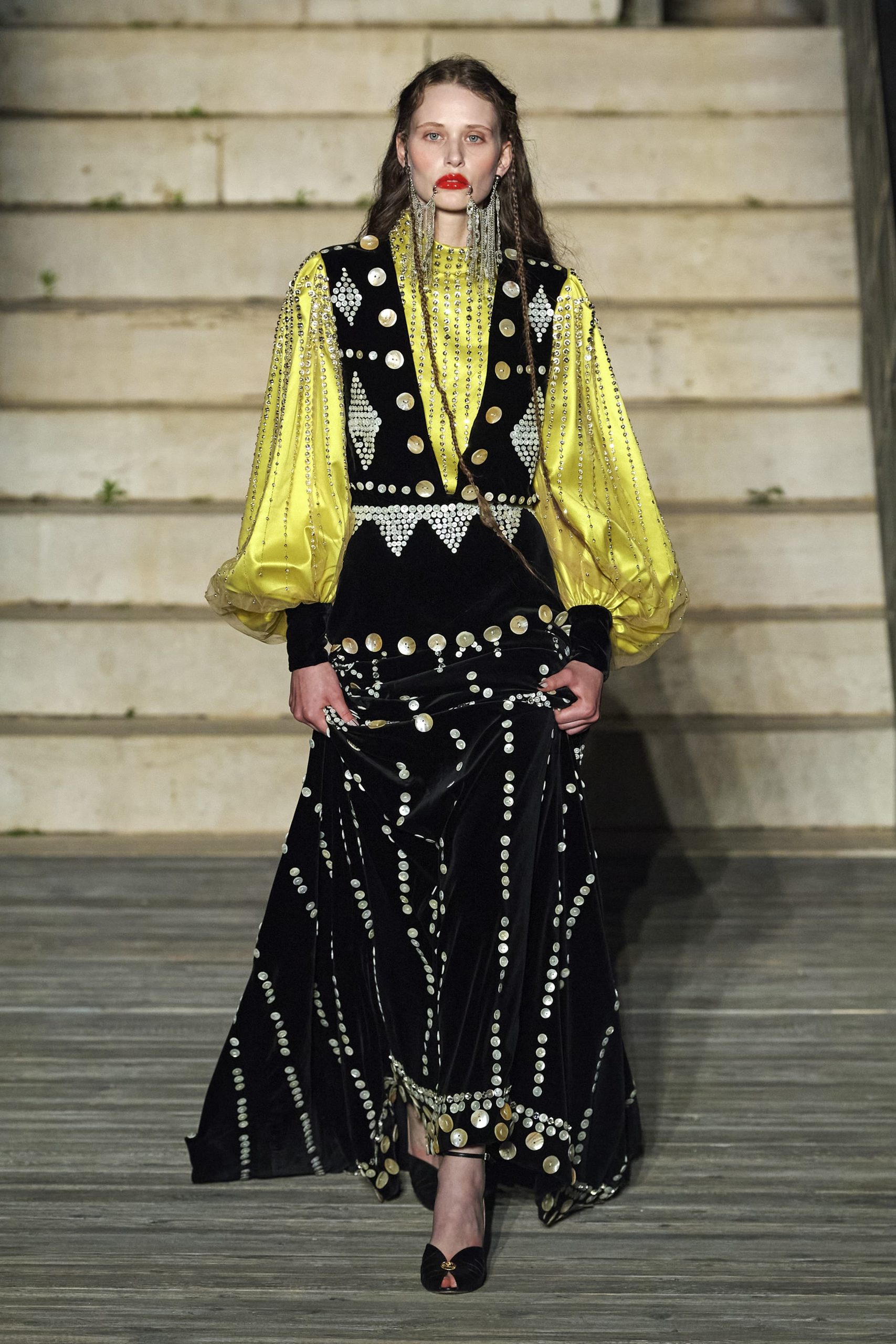 While a sense of nocturnal seduction was certainly present, the overt sexual references of previous collections were not – nobody held anal beads or a horse whip (though a few pieces didn't leave much to the imagination). Another sign of development from the last few collections (particularly the collaboration with Adidas), there was nothing resembling sportswear and very little that could be called "casual" to be seen: while eminently wearable, this is a collection for rare moments of revelry, for nights that are meant to be commemorated and remembered…
And what better time to share such a collection than a rare lunar eclipse? Tapping into this event's symbolism of natural rhythm and supernatural power, Alessandro Michele further illuminates his iconic vision for Gucci with intrigue and elegance. He shoots for the moon, and lands among the stars.
---