Gucci Marks 10 Years of Gender Equality Campaign, Gucci CHIME, with Powerful Video Series
Luxury brand Gucci celebrates the tenth anniversary of its global gender equality campaign, Gucci CHIME, with a moving video series directed by Sharmeen Obaid-Chinoy. Influential figures like Annie Lennox, Halle Bailey, Julia Roberts, Idris Elba, Alia Bhatt, Serena Williams, John Legend, and Salma Hayek Pinault share their perspectives on equality. This milestone showcases Gucci's unwavering commitment to advancing gender equality worldwide.
In 2013, Gucci launched THE SOUND OF CHANGE: LIVE, a groundbreaking concert dedicated to raising funds for gender equality. Its success led to the creation of Gucci CHIME, raising $21.5 million over the past decade and impacting the lives of over 635,000 women and girls across 92 countries.
To honor a decade of progress, Gucci collaborates with Sharmeen Obaid-Chinoy to produce a compelling video series. Featuring diverse voices, these films aim to unite and amplify advocates for gender equality. The videos will be available for streaming on Gucci's social media channels and YouTube.
Gucci CHIME co-founder Salma Hayek Pinault reflects on the campaign's impact and emphasizes the need for continued efforts. The video series highlights Beyoncé's enduring role, featuring her empowering anthem "Freedom" from the album Lemonade.
Gucci continues its support for gender equality with campaign participants like Florence Welch, Julia Roberts, and John Legend, as well as new faces including Idris Elba, Julia Garner, Halle Bailey, Alia Bhatt, Serena Williams, and Jodie Turner-Smith. The campaign showcases Gucci's commitment to empowering the next generation of changemakers.
Gucci President and CEO Marco Bizzarri expresses gratitude for Gucci CHIME's impact and pledges the brand's dedication to the next decade of progress.
In addition to the video series, Gucci strengthens collaborations with NGOs and grassroots organizations dedicated to gender equality. Notable partnerships include UN Women's Generation Action Coalitions, where Gucci leads the action coalition focused on Feminist Movements & Leadership. Gucci CHIME also collaborates globally to support vulnerable women and girls, including those with disabilities, Indigenous communities, and those in the Global South.
Throughout 2023, Gucci and its partners will celebrate the 10-year journey of the CHIME campaign and share updates with the global Gucci CHIME community, continuing their mission to create meaningful change for women and girls worldwide.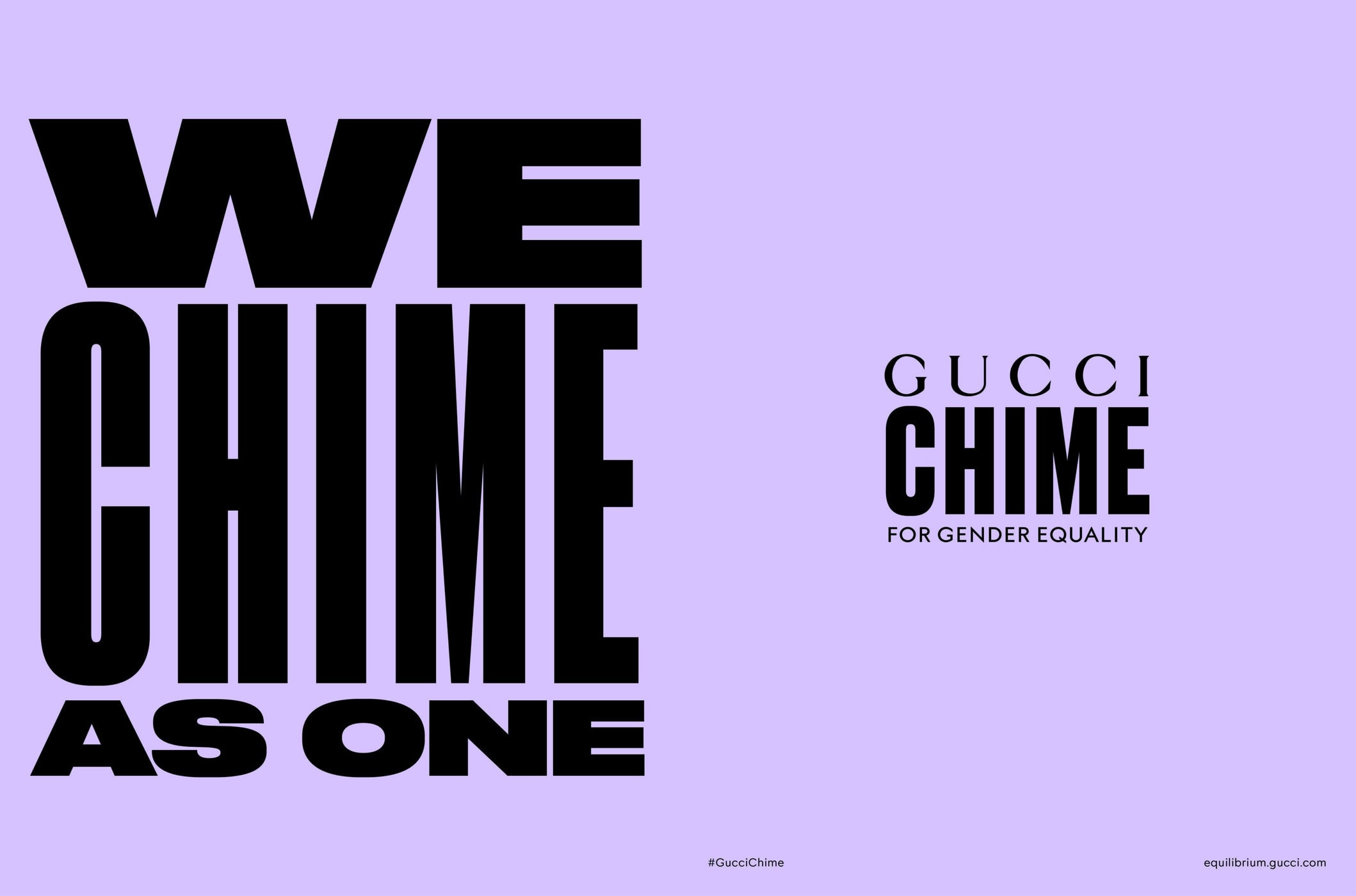 ---