---
Review of Gucci Spring 2021 Ad Campaign by Creative Director Alessandro Michele, Art Director Christopher Simmonds, and Photographers Daniel Shea and Leslie Zhang
Gucci gondoliers us into spring with a colorful and soothing new eyewear campaign. Creative director Alessandro Michele and art director Christopher Simmonds work with dual photographers Daniel Shea and Leslie Zhang.
The campaign has dual locations of Venice, Italy and Wuzhen, China. Both locales are characterized by the canals which criss-cross the city, and the campaign takes this charming feature as its basis. Whether in an Italian gondola or a Chinese riverboat, our two photographers conjure up idyllic scenes of a restful and meandering journey over the water. It's a smart choice for an eyewear campaign, as we see lots of sunlight glinting magically off the water.
The short film lends music and a strong sense of character to these scenes. Dressed in delightfully eclectic Gucci style, our romantic protagonists enjoy each other's company as they drift leisurely onward. It's a bit of a bummer though that the film only features the Venice shoot; we've seen a lot of Venice before and would have loved to learn more about Wuzhen through the Gucci lens.
With its gorgeous visuals and magically relaxing atmosphere, this eyewear campaign hits our eye like a big pizza pie.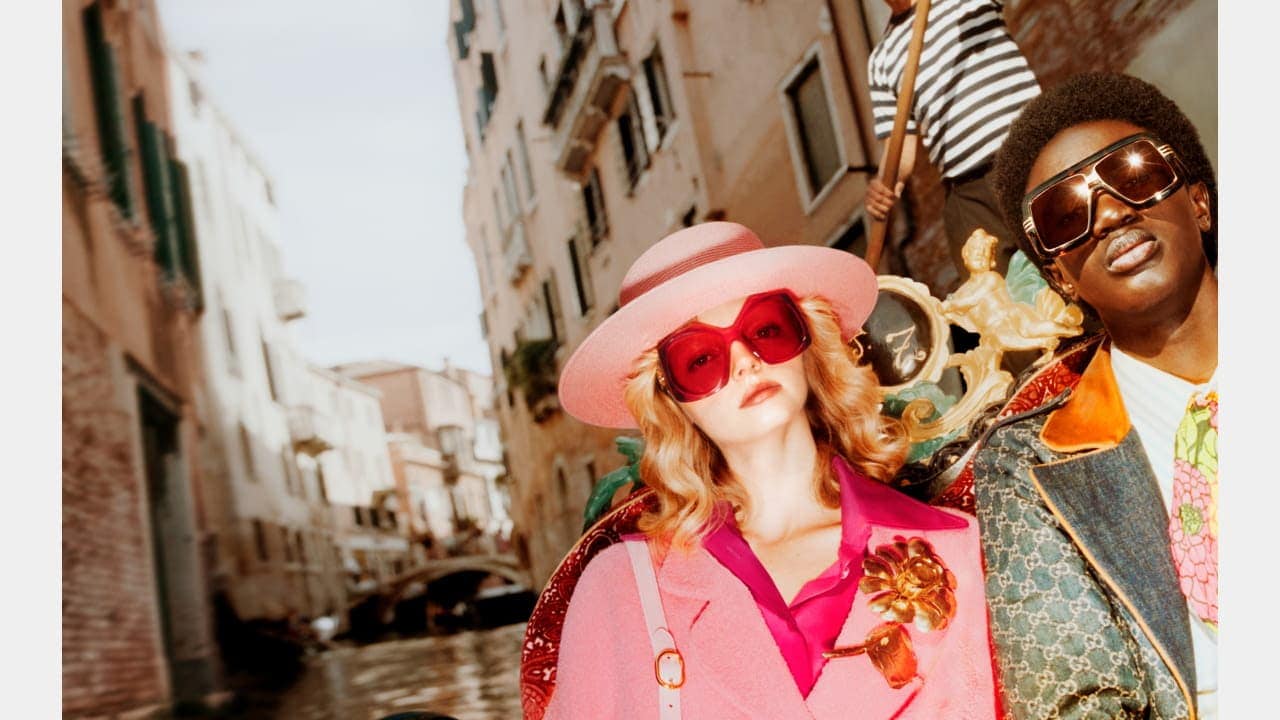 Credits (Venice)
Gucci Creative Director | Alessandro Michele
Agency | Simmonds ltd.
Creative Director | Christopher Simmonds
Photographer/Director | Daniel Shea
Stylist | Jonathan Kaye
Hair | Alex Brownsell
Makeup | Thomas de Kluyver
Location | Venice, Italy
Credits (Wuzhen)
Gucci Creative Director | Alessandro Michele
Agency | Simmonds ltd.
Creative Director | Christopher Simmonds
Photographer/Director | Leslie Zhang
Hair | Gao Jian
Makeup | Gao Jian
Location | Wuzhen, China
Music
"Moments In Love" by Art Of Noise (Trevor Charles Horn; Anne Jennifer Dudley; Jonathan Edward Stephen Jeczalik; Gary Michael Langan; Paul Robert Morley) © Unforgettable Songs Ltd/BMG Rights Management (UK) Limited/Perfect Songs Ltd/Universal Music Publishing Ltd. Edizioni per l'Italia: BMG Rights Management (Italy) Srl/Universal Music Publishing Ricordi Srl (P) 1984 Universal Music Italia Srl
---