---
Review of Gucci Aria Fall 2021 Fashion Show
ARIA
Aesthetic Splendors as Vessels and Reinvented Clothes as Artifacts of Our Times and Beyond
By Long Nguyen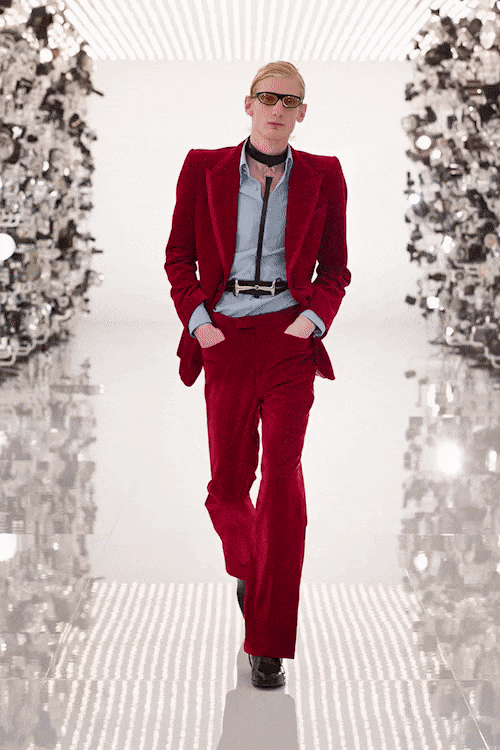 A blond guy wearing a red velvet suit with a light blue shirt approached a door to the legendary nightclub Savoy, gently removed his black eyeglasses, and moved his eyes towards the circular glass peephole glance inside. A sunlit garden appeared within his view, and he entered the spacewalking through a hallway with red light bulbs and turned towards a white corridor with walls packed with old cameras with flashes.
The opening look of the Gucci Fall 2021 collection titled Aria, the first anchor event of the brand centennial anniversary, has a very familiar feel. This slightly broad shoulder blood red cotton velvet single breast tuxedo jacket with flare pants worn with the blue cotton shirt and accessorized with a black leather neck/waist leather necklace belt is an homage.  This red tuxedo was the exact trademark look that Tom Ford had sent out for his Fall 1996 show and made famous on the young actress Gwyneth Paltrow at the MTV Music Awards show in that fall season. Ford was then the creative director who rebirthed Gucci in his fourteen-year tenure at the brand from 1990 to 2004.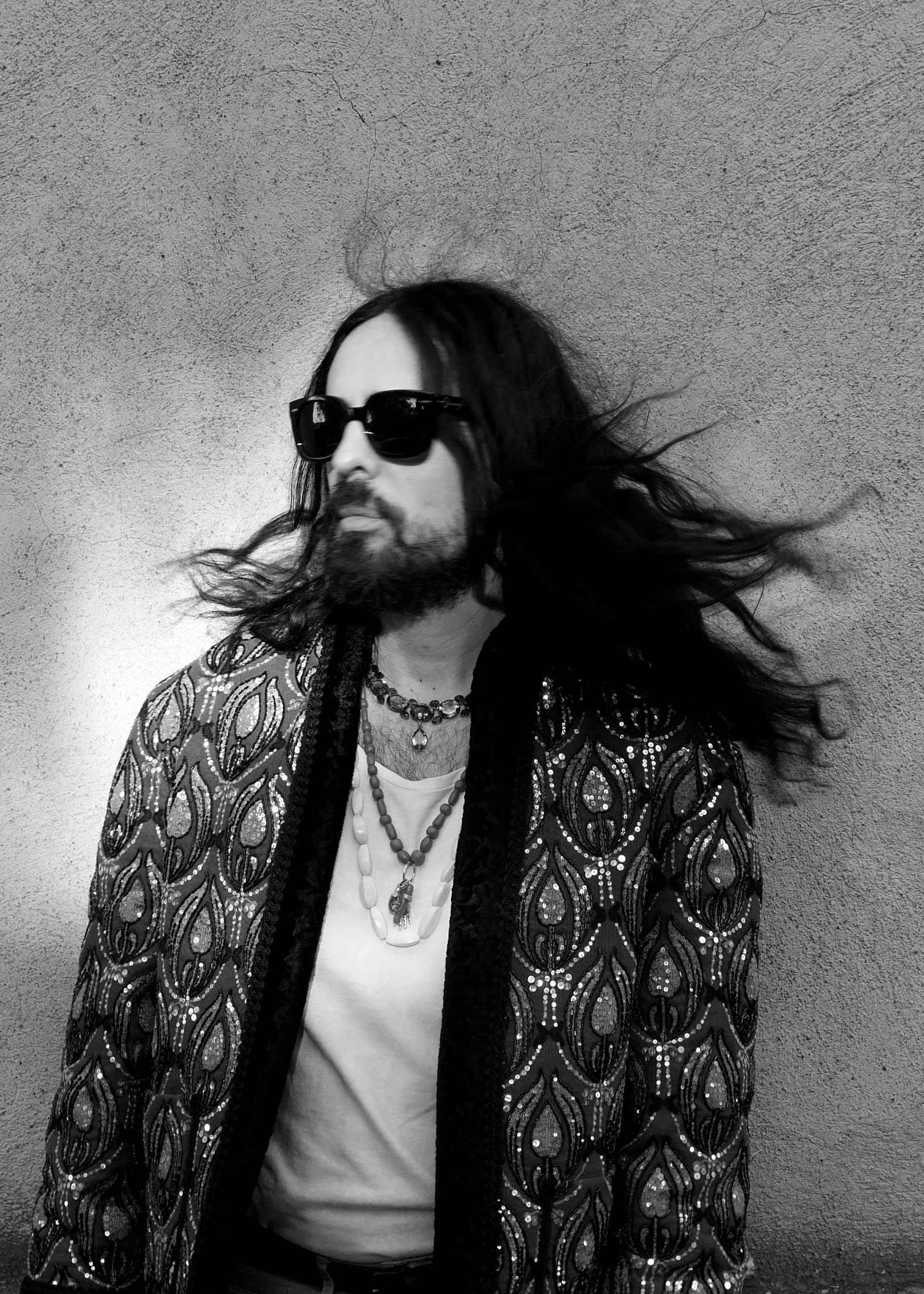 I revisited some of Tom Ford's pieces, and I added some new tailoring. The focus on brand DNA is part of my journey. I am creating a rebirth for this continuing saga because Gucci is a very complex container like a powerful occult and a mythical symbol. Gucci is constantly having rebirths, and the beginning is changing, and new beginnings are starting. The many symbols of this brand's myths are present – the equestrian world, the Hollywood world, and the fashion world. This film is an imaginary place to celebrate as fashion is coming back to life again and celebrate the brand at all levels.

– Alessandro Michele, post show on Zoom conference
Aria is, by Gucci's definition, 'a term that comes from music, indicating a melody sung by a single voice from an opera.' The super energetic, high pace fast action, and above all, highly poetic film directed by Alessandro Michele and Floria Sigismondi is more than a short film showing a new fashion collection. It's fashion's world in a unique symbiosis. 
The film Aria is about the spirit of regeneration and the splendors of fashion. 
People entered a nightclub filled with vintage flash cameras that no longer existed on the walls to finally exit to a sunlit world of nature where the abundance of green grass. The outside nature world is fresh and points to a new wave of fresh air and earth where all these kids in all these glamorous clothes are just themselves without any kinds of prejudice, a world of wonderment often found in fairy tales and children's books.
Aria the film serves to transport its audiences elsewhere; the fashion is terrific, and where everyone mingles in the light forest.
That glamorous corridor is passing through the darkness. It is the understanding that this party is about our life and our planet. It's about living in the present with deep connections to nature. The last model in the gold pleat dress throws the glittering heart so someone can catch it and giving it back.

– Alessandro Michele, explaining the new dawn with a silver sparkling heart-shaped clutch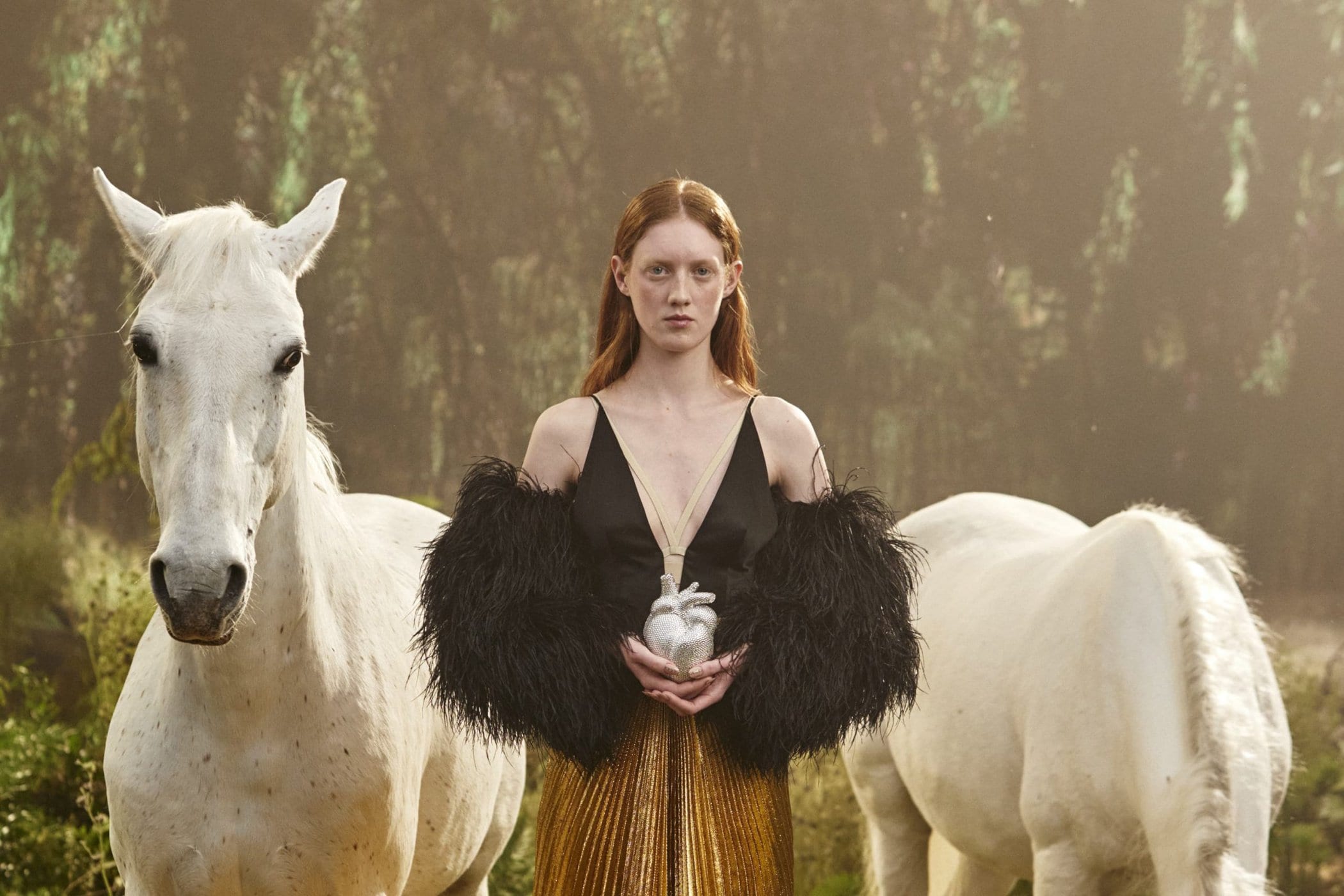 The Aria stellar fall fashion collection is these masterful mixtures of the most recognizable Gucci styles juxtaposing brand and fashion symbols in recent times, all reinvented flawlessly. The primary boxy silhouette tailoring, Gucci's strength under Michele, and many GG logo garments are all embroidered for that extra shine. The sharp light brown gabardine six buttons double breast pantsuit, the square shoulder knee-length coats in black or bright blue, the logo lingerie and lace dresses and corsets, or the light khaki pleat front long sleeve dress all combined elements known with something new added in the spirit of constant regeneration. The marabou feathers added a piece of heightened glamor to the spread collar double breast suits.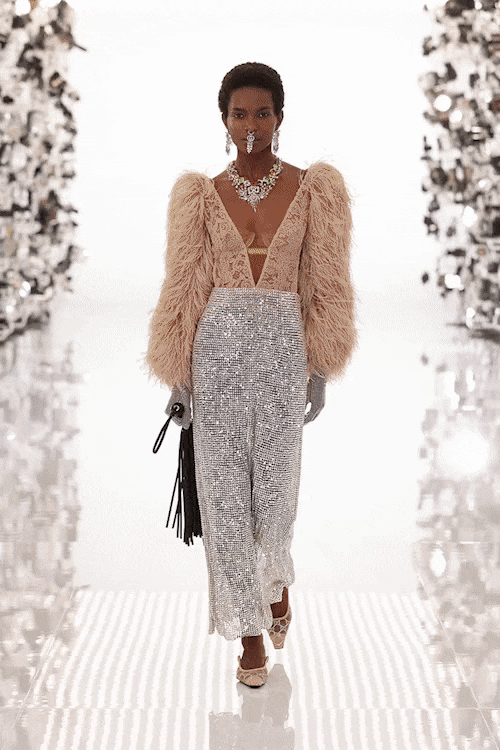 Fashion has come to life again. I am taking the styles to their extremes in the sense that this may not even be possible a short while ago. The beginning and the ending are circular. Tom Ford opened a significant chapter in this saga. Ford had taken from Halston, for example, with all those white dresses and from the goddesses era of the 1970s and 1980s and make them Gucci

– Alessandro Michele
Under Michele, Gucci excels in storytelling that the brand has been able to translate into creative and eye-catching content across all its channels with little fear or holding back risks. The brand's long history weaved together with elements merging on different surfaces like the horse bits rendered as a cross-body leather belt. The trendy double G logos are elaborately embroidered and brought to the simple GG fabric into another realm.
In this show, the logo garments are a testament and perhaps as an homage to the brand's popularity among the younger generations. "The logo is adorned and made into almost a holy material, sanctified," Michele said of the embroideries that magnify the glittering and perhaps magnifying sales in the fall. Excessive in a way, but these logo garments are now part of pop culture.
"Fashion is not fashion weeks. It is life," Michele said. It now makes sense why Gucci abandoned the traditional fashion system in every sense. This new way of showing is part of rejuvenating fashion on a whole more extensive scale. Gucci is birthing a renaissance, acting like a start-up working with talents known and unknown across the board globally to foster a new identity, first visually, then communally, and then at some points in between the products that sustain the connection; between brand and its 'people.'  
The seasonal show, now limited to a biannual event, is the opening chapter to a new, continuing narrative that will see different manifestations coming at the start of the actual fall season. It's a commencement of a new journey. This time, the Gucci spider web of cross-discipline and cross-pollination indeed moves as a pioneer as an activist, cultural creator by pushing itself into new spaces. Gucci has to nurture continuously, galvanizing unknown talents from all spheres with deep roots in their communities to the Gucci platform. This platform is to be a pioneer channel where different creative meets and joins hands and minds.
"Eternal youth characterizes fashion brands, and this rejuvenation is the only way to move forward," Michele said of the need to embrace innovative ideas and experimentations.
Bold fashion ideas of the un-timid kind coupled with exciting and excellent storytelling with relatable anecdotes framed in imagery with doses of theatrics are a central tenet of the Gucci fashion experience where substance triumph over superficiality.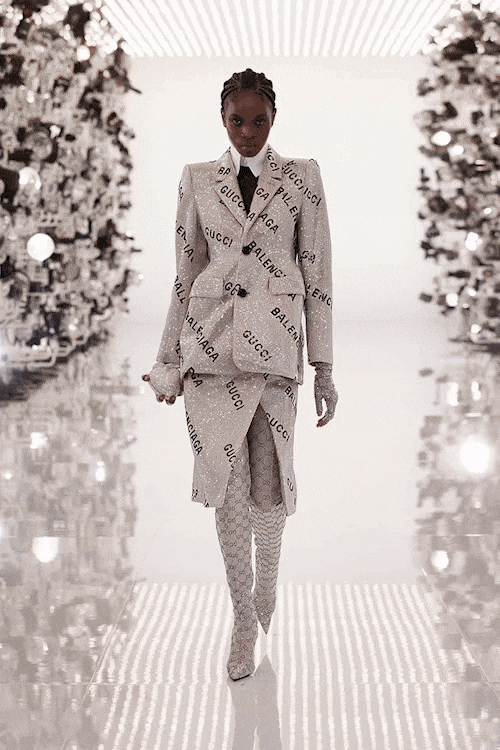 "I am no longer the person that I was. Fashion has been changing for some time, and we need to find new conversations and new dialogues. The world is upside down, but a new foundation is happening right now. Establishing a dialogue with other nests is very critical to rebirths. I attended Demna Gvasalia's first show for Balenciaga, and I had 3D images in my mind struck by seeing the shapes of his clothes. I told him I wanted to play with styles belonging to another house – Balenciaga. Fashion is something of a happening. If you have an inspiration, it is because you see something or discuss something. That was my encounter with Balenciaga and an intense encounter with those garments," Michele explained his 'hacking' of Balenciaga and transformed those shapes from that Fall 2016 collection into his own.
Adapting the Balenciaga shapes meant taking the rigid hourglass jacket and coat and making them softer with embellishment. The new jackets came in camel cashmere with both the Gucci and Balenciaga logo emblazoned on the fabrics, a camel logo parka shown off the shoulder like how it was in March 2016 a silver knit, or manifested in a black sequined rectangular shoulder logo coat.
"Those shapes Gvasalia developed had their roots in anatomy and the body. The idea of anatomy also relates to the equestrian world and in those big shoulders. I work on the shoulders and make something different and focus on the beauty of men's suits that women appreciate. I took from Gvasalia focus on the body and the dress. I added a bit of light and glitter, as I am obsessed with eveningwear, with lapels, with shoulders," Michele explained his process in reimagining the Balenciaga shapes.
No doubt this will surely be a giant commercial hit when the merchandises become available in the fall.
Make no mistakes – this isn't at all old-school collaboration as there isn't a two-way dialogue. It is a Gucci reinvention of Balenciaga's signatures as part of rebirth by embracing different ideas and points of departures. Or, as Michele said it, "Gucci regenerates itself as an experimental lab."
Today, a fashion brand's tentacles must reach deep into the undiscovered cultural arena to remain a leader embraced by genuine fans recognizing themselves in the brand. "Fashion in the old days was inside palaces way before fashion becomes a market. Fashion is also the antenna and the closest thing to human beings," Michele said. That's how to earn and keep loyalty.
Gucci is no longer a seller of products but a creator of cultures far beyond the fashion realm. 
In all of the Gucci image campaigns since 2015, a sense of pervasive freedom depicted in situations deemed at times unrealistic – yes, taking your white horse out for a ride, for example. This process will allow the brand to make serious inroads with younger people looking for an outlet to see themselves living freely within the brand's framework of words and images painted on building murals in selected cities. Michele spoke of the same way that he borrowed the shapes from Balenciaga.
The new tribes on the street see themselves among the characters hand-drawn in between actual window frames. One such painted wall for the release of new lipstick colors was a close-up depiction of a smiling red lip with two front teeth missing. Another posed this dilemma – "Common sense is not that common," or one that asked this question – "What are we going to do with all this future?"
Thus the show invitation transforms into a quiz book with word puzzles and other games. "Labels are also about words. Gucci is full of words and narratives and always changing stories."
Inherent in the story of the transformation of the Old Gucci to the New Gucci is a process still ongoing at this present moment, and at a voracious pace, in generating further gyrations in the fashion and pop culture industries. Young people can see in these Gucci image campaigns not as some portraiture of sordid pursuits, but in some manners relatable in this new fashion culture space. Some may want to participate in these kinds of heroic narratives.
Culturally, Gucci has been for many young people who embrace the brand as a moment of liberation and a coming of age. It was like how designers like Raf Simons brought the youth into fashion by embracing their ideas, their music and eventually gave them new clothes.
Projects like Gucci Changemakers propel the fashion brand far beyond the immediacy of its enclave of bohemian style. "We need to have conversations with the outside world," Michele said. He meant engagement as well.
Starting this spring 2021 season, Gucci is reissuing its past collections as an effort to get ahead of the secondhand luxury market that is growing exponentially with or without the brand's participation or blessing. However, the very fluid word sustainability is now defined. This overriding concept is still a value that young people espouse, like recycling and less waste in production and consumption.
At the end of his seasonal personal letter detailing his thoughts for the collection, Michele noted the critical importance of 'fresh air' – a jubilee of breath and the process of renewal that is what everyone is yearning for, not just the idea of going out and gather again. But there is also something else about this air that he did not mention.
In his short reign at the helm of Gucci's creativity across all channels and platforms, Michele has succeeded in inciting a style of looks that audiences can easily recognize as 'Gucci' with probably just a glance. In the final scene, the model in the gold dress inspired by a similar Marilyn Monroe version threw her heart clutch in the air for someone else to catch and carry on in the future.
"Gucci is a self-invention. I want to carry out the most unlikely experimentation," Michele said.  He is right that Gucci is at the center of the cauldron, leading to new fashion culture. 
At the same time, Aria is by far the most robust show this fall season, hopefully leading fashion's rebirth.
---