---
Gucci Creative Director Alessandro Michele has once again earned our attention with a 'getaway cruise ship' themed holiday campaign that transports the audience to the house's very own episode of 'Love Boat,' photographed and directed by ongoing collaborator Harmony Korine.
Korine, who recently lensed Gucci's star-studded Cruise campaign with the likes of Gucci Mane and Iggy Pop, followed the concept of Michele to capture a festive cruise liner packed with an eclectic group of passengers who unapologetically express and embrace their very diverse characters. The concept is packed with ready-made narrative from boarding the cruise ship to limbo dance contest to dining at the main hall while entertainers perform on the cruise's main stage. The video really brings the concept to life as antics unfold above and below deck all set to the perfect picked soundtrack of Little St Nick by The Beach Boys.
The story is designed around the art of gift-giving and perfectly matched with the house's new mash-up their beige/ebony GG Supreme canvas and the historic Flora motif, which here have been combined for the first time. All the Gift Giving items are well suited to the setting of a cruise liner, particularly the hard luggage models that evoke a time when people traveled by sea, in style, a time when Guccio Gucci, founder of the House, would have been making luxury luggage for just such use.
Never ones to rest on imagery alone without adding a touch of tech, a special section on the Gucci App will immerse users in a unique digital experience, with an Augmented Reality portal that will also be available on Snapchat App. Through this portal, users will be able to discover a virtual psychedelic tropical island where different fluo coloured holographic elements recall the campaign. Additionally, a face filter featuring lights and shadows inspired by the colors of the tropical island will be available on Instagram.
A dedicated interactive microsite will allow visitors to play with the Gift Giving line, randomly generating joyful wallpapers and allowing users to land on gucci.com website with the opportunity to purchase gifts directly.
More digital activations will include playful Gift Giving stickers available on Instagram, iMessage, and Giphy.
Finally, Gucci recently launched a thoroughly innovative initiative, designed to present luxury fashion in a new format. A project called Gucci Pin – referencing the pins on interactive digital maps – will see a series of ephemeral retail spaces appear around the world over the next year. The first of these will be dedicated to the Gift Giving season across November 2019 in Hong Kong Canton Road, Fukuoka Iwataya in Japan, Seongnam Hyundai Pangyo in Korea, Denver Cherry Creek Shopping Center in the US and Paris Galeries Lafayette in France.
The campaign is as 360 a narrative as we have seen, driven from the concept of the core product, told in a visually dynamic and entertaining fashion, and augmented by technology that isn't just one dimensional or a simple hashtag. Gucci is again taking all of us on a journey which is what the best of brands do, help their guest to escape and enjoy the world.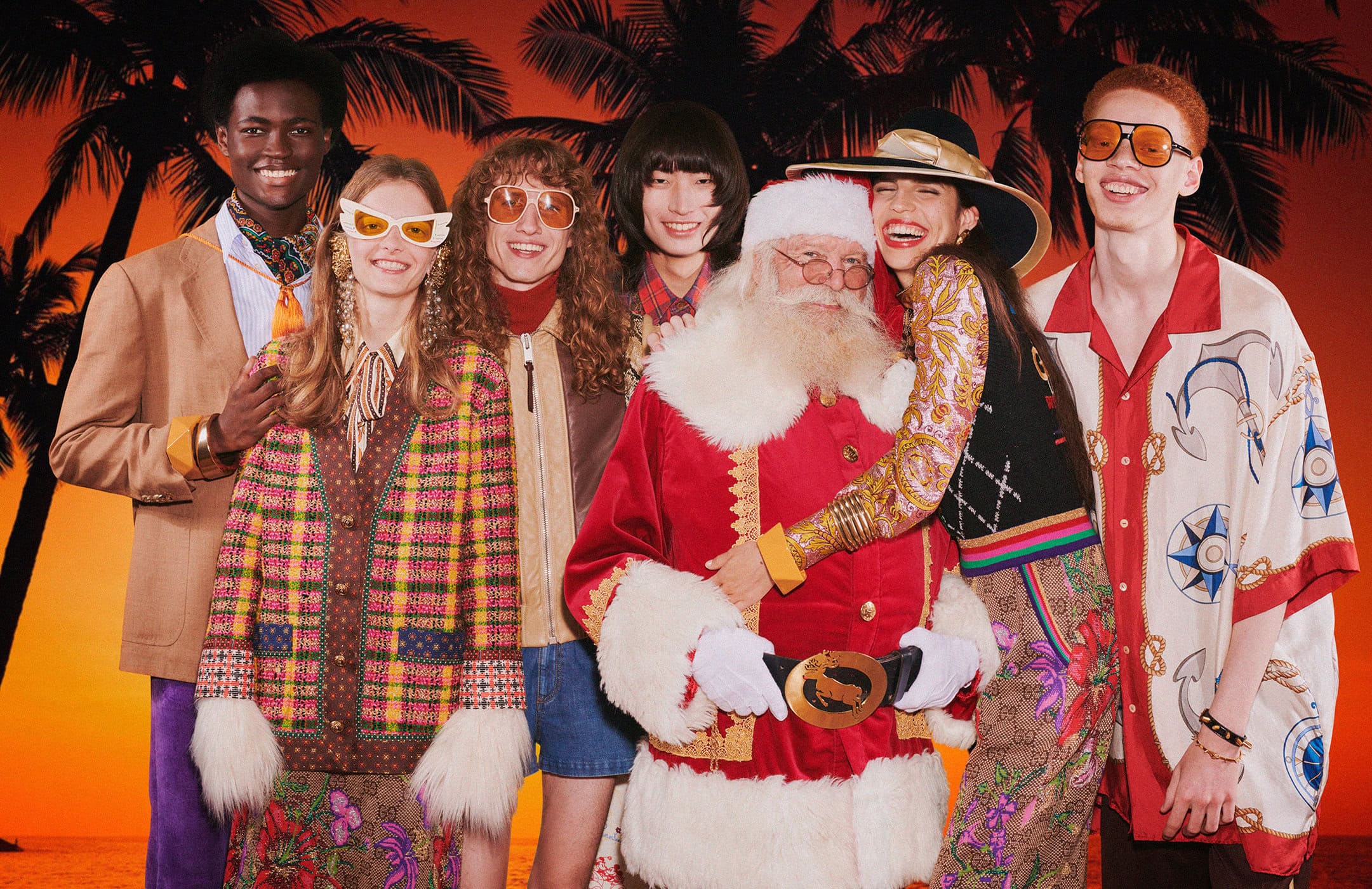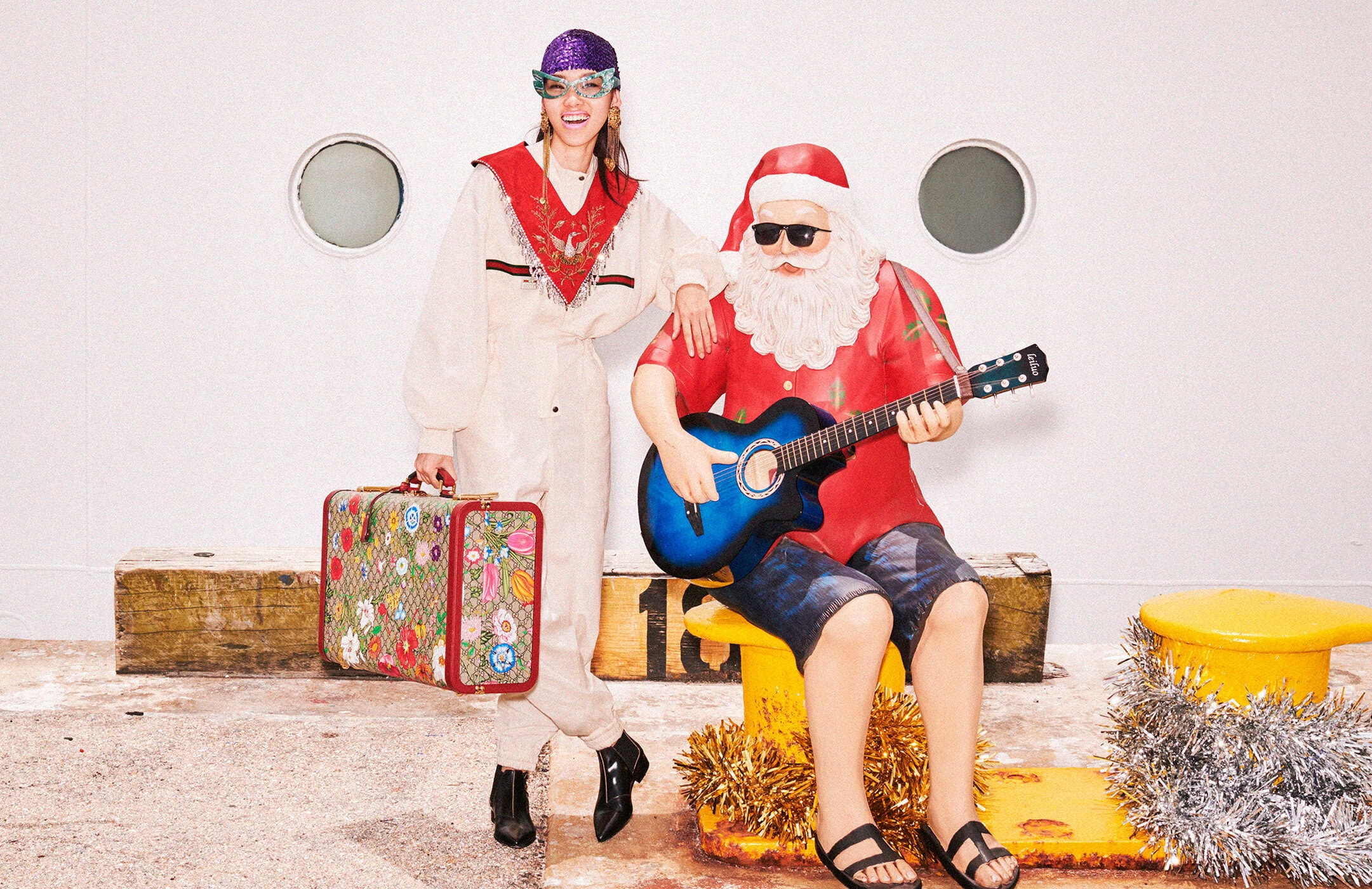 Gucci Creative Director | Alessandro Michele
Agency | Simmonds ltd.
Creative Director | Christopher Simmonds
Photographer/Director | Harmony Korine
Hair | Alex Brownsell
Makeup | Thomas De Kluyver
Music | Little St Nick Music and Lyrics by Brian Wilson, Michael Love
Original Publisher: SEA OF TUNES PUBLISHING CO INC/ IRVING MUSIC INC.
Italian Publisher: © 1966 EMI MUSIC PUBLISHING ITALIA SRL / UNIVERSAL MUSIC ITALIA SRL
Performed by The Beach Boys
(P) 1964 Universal Music Italia S.r.l.
---