Review of Gucci Horsebit 1955 Bag Fall 2023 Ad Campaign by Creative Director Sabato De Sarno, Photographer Tyrell Hampton, and Director Marcell Rev with model Billie Eilish
Gucci teams up with a next-generation icon to celebrate its latest innovation in rethinking fashion tradition: the house has enlisted Billie Eilish to front a new campaign for its reiterated Horsebit 1955 bag crafted in an asymmetrical shape using a new vegan leather alternative, Demetra. The campaign was shot by photographer Tyrell Hampton and directed by Marcell Rev.
An in-house creation by Gucci, Demetra is 75 percent plant-based, derived from responsibly sourced viscose, wood pulp, and non-GMO corn-based plastic – meaning that it has a lower impact when it comes to climate change and water usage. The animal-free leather is the culmination of two years of research and development by Gucci's own technicians and artisans and has been produced in Italy since 2021 in a Gucci factory. While the rest of the material is made from fossil fuel-derived synthetics (including the coating), the brand is now exploring ways of increasing the percentage of organic, renewable materials without reducing its durability.
To embody this forward-thinking look to fashion's future, Gucci has tapped an appropriately trail-blazing and youthful artist. Billie Eilish brings an elevated yet unfiltered sense of casual cool to the campaign, with the concise set of portraits forming a kind of digital scrapbook of the interwoven elements of style, expression, introspection, and music in a day in the life of an artist.
The imagery is another confirmation that Sabato De Sarno's aesthetic vision for the house marks a sharp departure from that of Alessandro Michele. While Michele's campaigns were fantastical, retro-inspired, and lushly detailed, Gucci's new direction is grounded, unvarnished, and squarely contemporary. Michele's campaigns used idiosyncratic and unfamiliar models and put them in a dazzling visual world; De Sarno's campaigns feature recognizable celebrities shot with what could be an iPhone camera – especially palpable in this campaign as well as the recent one featuring Kendall Jenner and Bad Bunny.
It's always exciting and refreshing to see a new creative vision come to life at a heritage fashion house, especially one that already seems realized and in tune with that brand's history. Sabato De Sarno's work has been impressively consistent, and we already feel reacquainted with the house's identity. That being said, he hasn't really given us anything to be surprised by; the new direction does feel a bit safe, and it remains to be seen whether the new aesthetic will resonate in terms of brand enthusiasm and sales.
It's exciting to see the house's momentum behind the new creative direction carry across sustainability and innovation as well. Gucci is wise to turn its newfound penchant for celebrity casting towards a distinct young star to embody this progressive mindset. Though the totally straightforward nature of the imagery may not inspire us to imagine new futures, there's no denying that it captures a certain je ne sais quoi of the moment.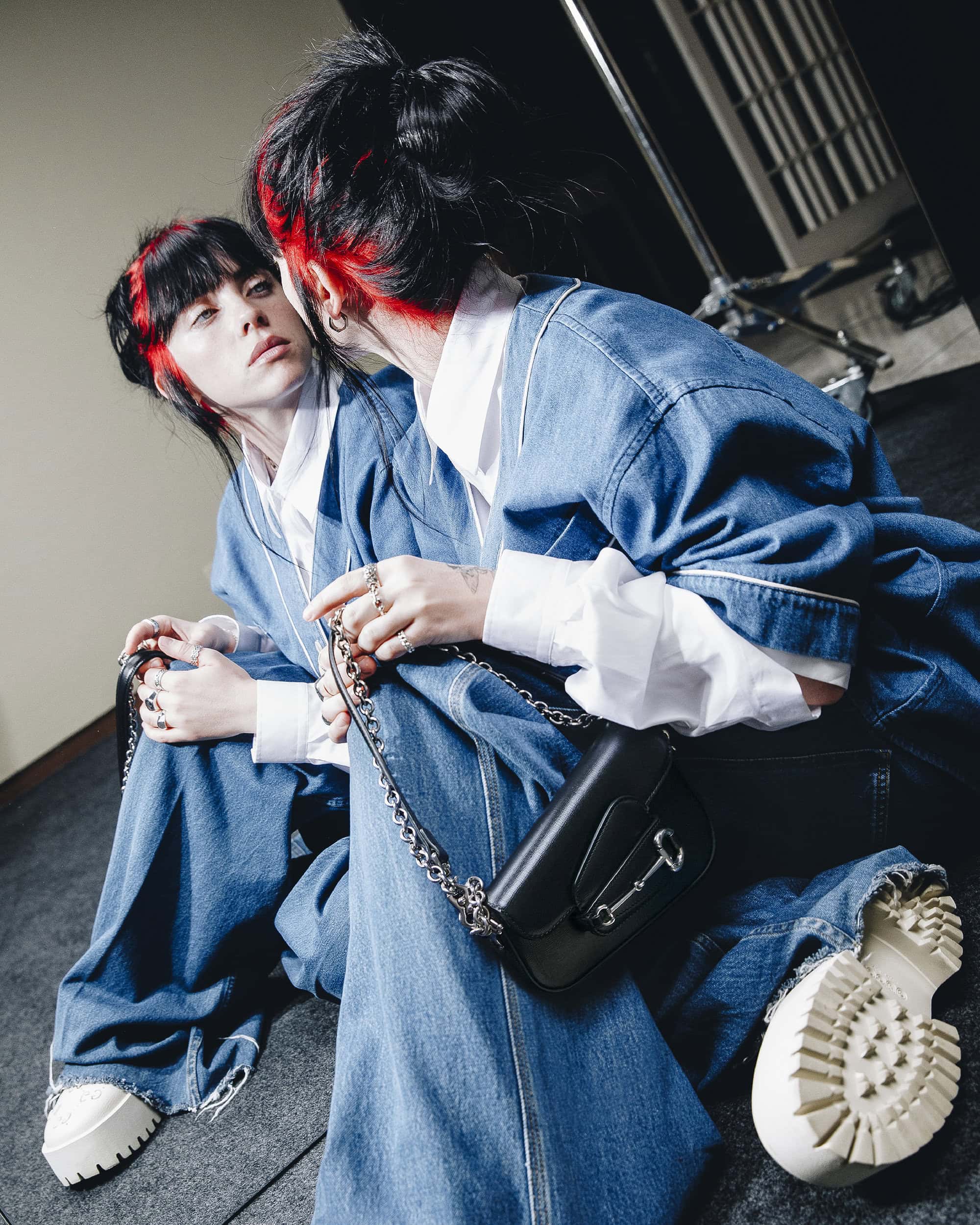 Gucci Creative Director | Sabato De Sarno
Photographer | Tyrell Hampton
Director | Marcell Rev
Art Director | Riccardo Zanola
Model | Billie Eilish
Stylist | Alastair McKimm
Hair | Ben Mohapi
Makeup | Emily Cheng
---