---
There is a difference between 'Punk' as a community and movement to disrupt the status quo and 'Punk' as a corporate making ploy. Thankfully Gucci's Creative Director Alessandro Michele, Creative Director Christopher Simmonds, and lensman Glen Luchford know the distinction in Gucci's eclectic and tribal mash-up of a Pre-Fall 2019 advertising campaign.
Set among the ruins of the temples of the Selinunte Archaeological Park in Sicily, the creative triad blog with casting director Walter Pearce has assembled a counter-cultural group of hardcore punks, rollerbladers, bodybuilders, and surfers. Each of the cast blends harmoniously in a world of open exchange designed to embody an ancient Greek forum where friends and lovers meet to discuss philosophical and political issues, read poems, play music and sport, and dance together.
The 7th century BC city of Selinunte was founded by the Greeks with nine temples on an acropolis including the Temple of Hera which is visible in the campaign. Currently, only 15% of the 250-acre site is visible above ground as the rest laid buried under years of dust and sand waiting for discovery.
The campaign is worth discovering as Luchford and Simmonds have crafted an enticing, bohemian atmosphere that is part music festival, part carnival. The genius in the campaign is the authenticity of the piece as each character feels as though they belong with the others. Tent revelers and tight-walkers meld with surfers and Burning Man-like patrons atop a wooden horse. An impromptu basketball court is juxtaposed with the classical symposium of the temple which also doubles as a backdrop to surfers strolling by with boards tucks under their arms.
The free-spirit, free-love nature of the gathering is augmented by the backing track of Jefferson Airplane's White Rabbit, a fitting throwback to the age of Aquarius.
Marketers often manage to tap into the aspirations of their audience before they are able to even articulate their desires. Gucci has managed to reveal our longing for a peaceful tapestry of tribes that woven together make for peaceful coexistence. If politicians are worth their salt, come next election cycles across the globe, they will tap into that as well.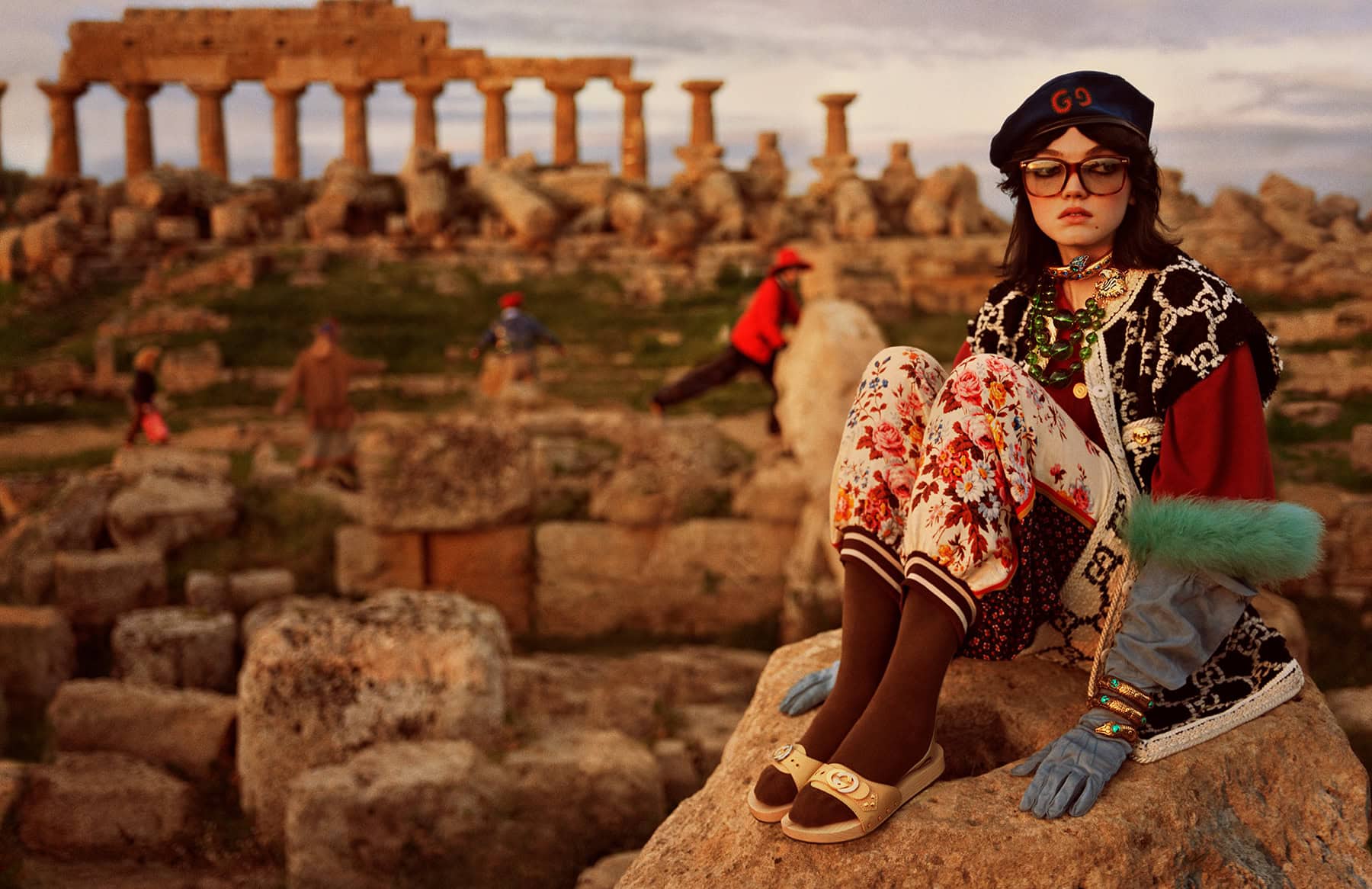 Gucci Creative Director | Alessandro Michele
Agency | Simmonds ltd.
Creative Director | Christopher Simmonds
Photographer/Director | Glen Luchford
Director of Photography | Jack Webb
Talent | Delphi Mcnicol, Dwight Hoogendijk, Emmanuel Adjaye, Matïss Rucko, Matthew Petersen, Paul Hendrik Piho, Unia Pakhomova, Walter Pearce, & William Valente,
Stylist | Jonathan Kaye
Hair | Paul Hanlon
Makeup | Thomas De Kluyver
Casting Director | Walter Pearce
Music | White Rabbit by Jefferson Airplane, Author | Grace Wing Slick, (P) 1966 Sony Music Entertainment, © Copperpenny Music / Irving Music, Inc, Italian Editor Universal Music Italia Srl
---