---
Harry Styles returns as the face of Gucci's Pre-Fall 2019 men's tailoring campaign once again helping Creative Director Alessandro Michele to challenge norms in men's suiting and the concept of masculinity.
For Styles third outing, Michele and art director Christopher Simmonds enlisted director/screenwriter Harmony Korine to captures the British singer, songwriter, and actor in a dreamscape of statuary and paraphernalia that speaks of Michele's fascination with ancient culture.
Korine first attracted critical attention as the writer of American independent film Kids, which was directed by Larry Clark and released in 1995. Lately, the artisanal director has edged closer to box office success with Spring Breakers starring James Franco, Vanessa Hudgens, Selena Gomez, Ashley Benson. His newest film, The Beach Bum, stars Matthew McConaughey and breaks later this month.
Like the previous men's tailored campaigns, Styles is accompanied by a gang of animals – this time piglets and swans – Styles plays an eccentric yet nonchalant character, surrounded by his pets in a classical environment, reflecting the House's vision for a new formal wardrobe.
Overall the campaign continues the free-spirited, artisanal, unisex and worldly vision Michele has instilled in the house since taking over as head of Gucci four years ago. It is refreshing to see how he has not only championed the attitudes of the next generation toward inclusion, luxury, and sexuality but has grown the houses market share along the way. It would appear that this little piggy went to market has an upside.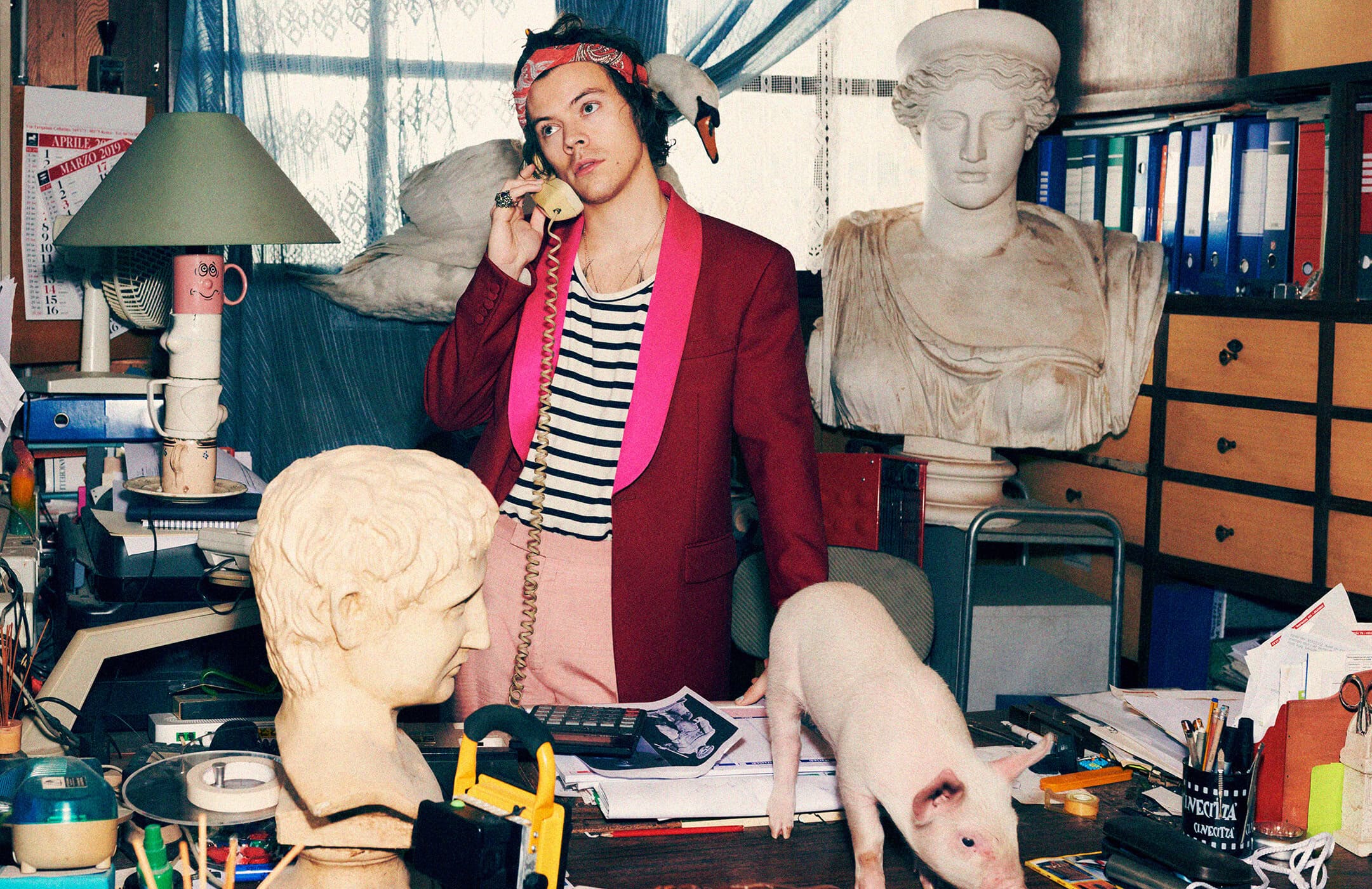 Creative Director | Alessandro Michele
Agency | Simmonds ltd.
Creative Director | Christopher Simmonds
Photographer/Director | Harmony Korine
Talent | Harry Styles
Hair | Paul Hanlon
Makeup | Thomas de Kluyver
Music | "Shower In The Rain" by Softboiled Eggies

---