---
Review of Gucci Spring 2022 Fashion Show
Once Upon a Time in Hollywood
By Anna Ross
I had an 'Aha' moment upon reading Alessandro Michele's show notes last night; just one sentence made the weird and wonderful world of Gucci suddenly make perfect sense: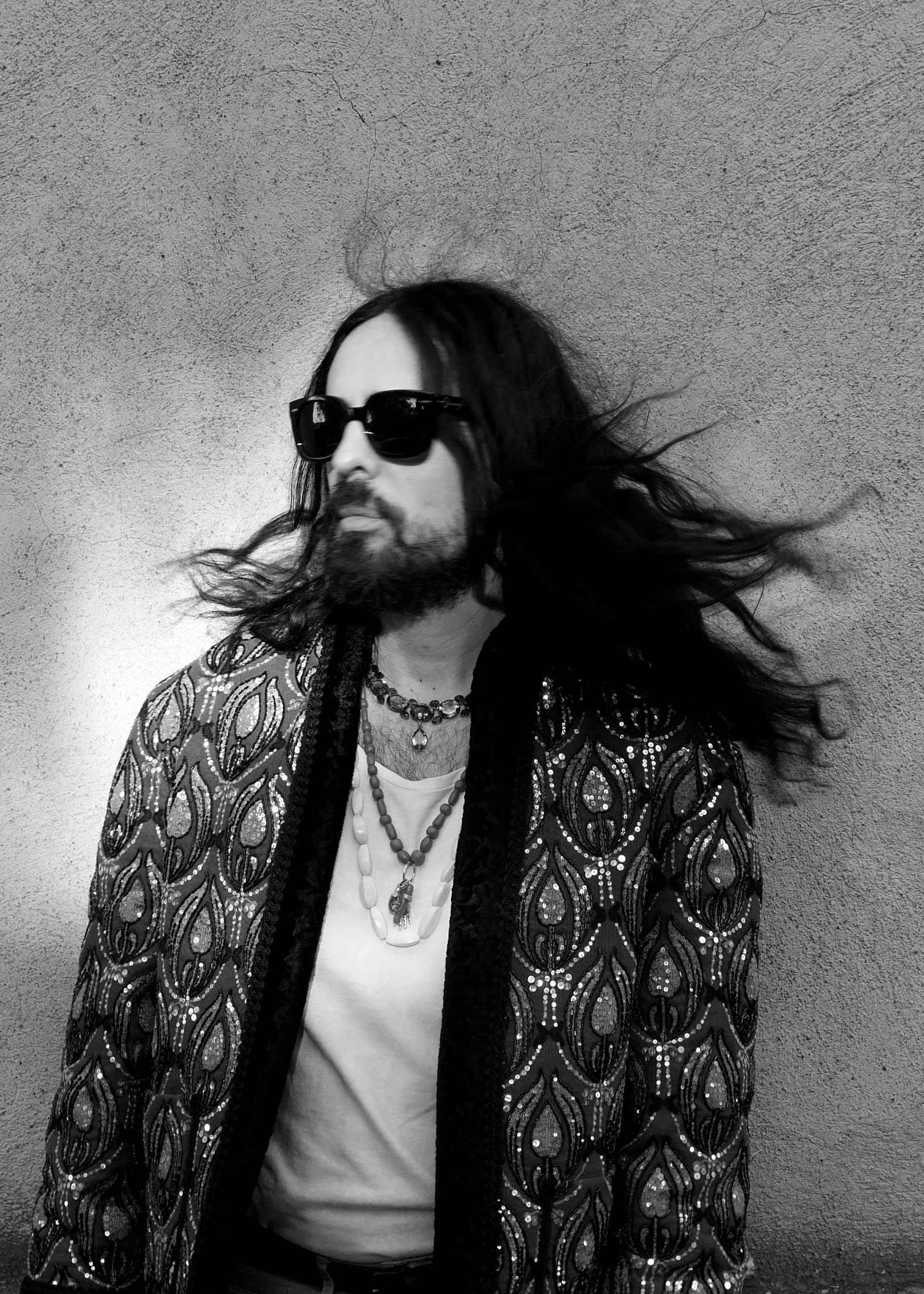 Mum worked in the film industry as an assistant in a production company. I remember all the stories she told me, and the details, and the sparkles, about that dream factory."

–Alessandro Michele, Creative Director of Gucci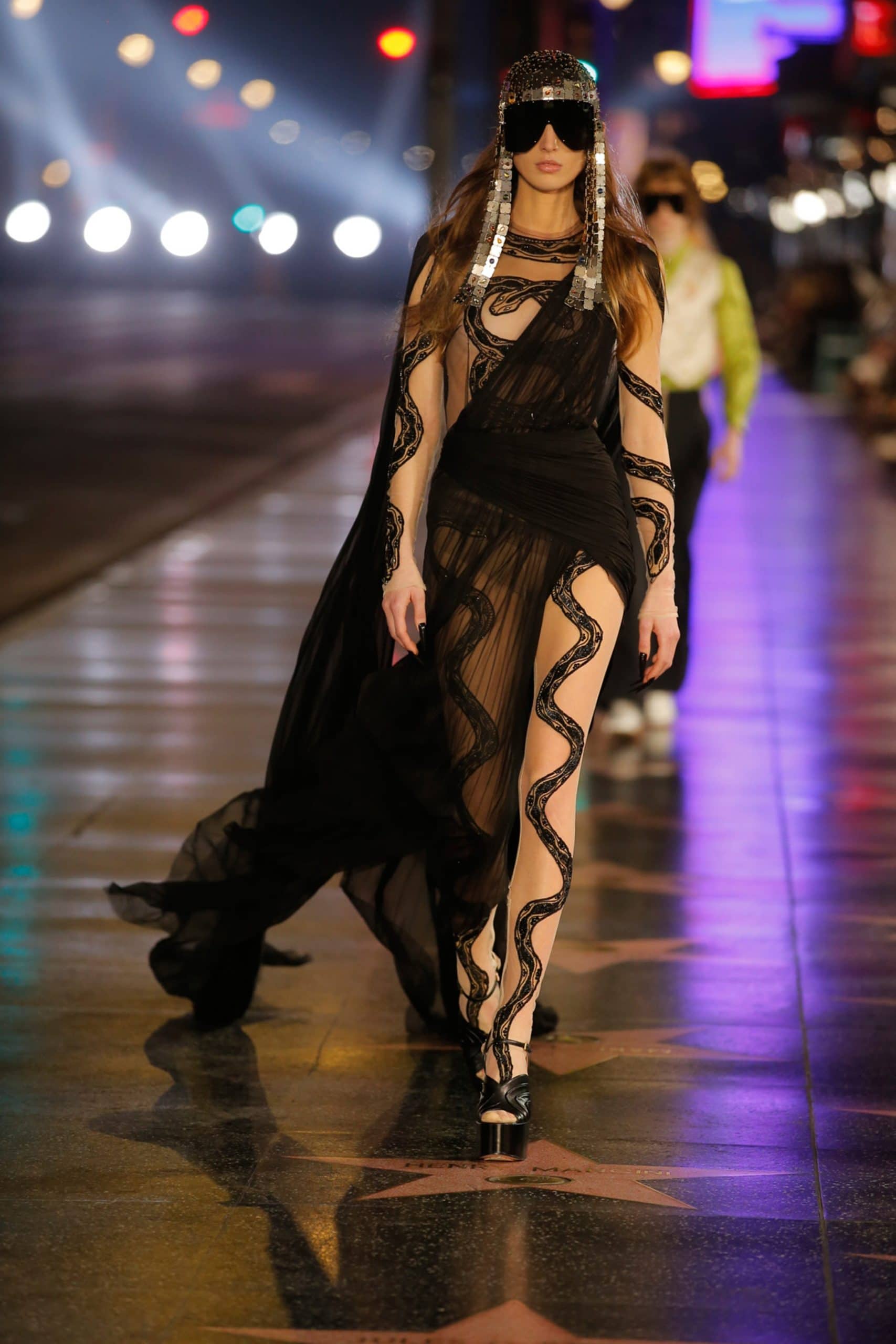 Of course, Michele's perspective as a young boy was very much from the outside looking in; "Back then, we lived in a squat on the outskirts of Rome…Those subversive tales helped me in piercing the grayness. That was my escape, my desertion." And so tonight, Michele made his childhood dream a reality, absorbing all of that shimmer and sparkle with a show that – quite literally – took a trip down Hollywood Boulevard – presenting a who's-who of La La Land, both on and off the runway. Michele's Gucci brings with it a very star-studded guest list. Amongst the crowds, Miley Cyrus, Gwyneth Paltrow, Salma Hayek, to name a few – and on the runway – Macaulay Culkin, Jared Leto and Jodie Turner – "These are the idols of a new contemporary cosmology, embodying a persistence of the sacred," as Michele put it.
Michele's "Demigods" filed out of Grauman's Chinese Theatre as if departing their very own premier.
Showing today: 1950's pin up's, Sci-Fi classics, Greek Mythologies, Silent movies, Pageant Queens, Rita Heyworth, Rock Hudson, Monroe, The Tenenbaums and Country and Westerns. The latter felt tinged with sadness given recent events: disasters can happen even in the city of stars.
Drenched in dazzling light, Michele's dressing-up box contained 115 looks, each as diverse and reference-rich as the next.
Plush yet powerful satin suiting met skyscraper heels, powder-pop furs and flower embroideries, scattered across the shoulders of suiting as if thrown there by mega-fans on the red carpet.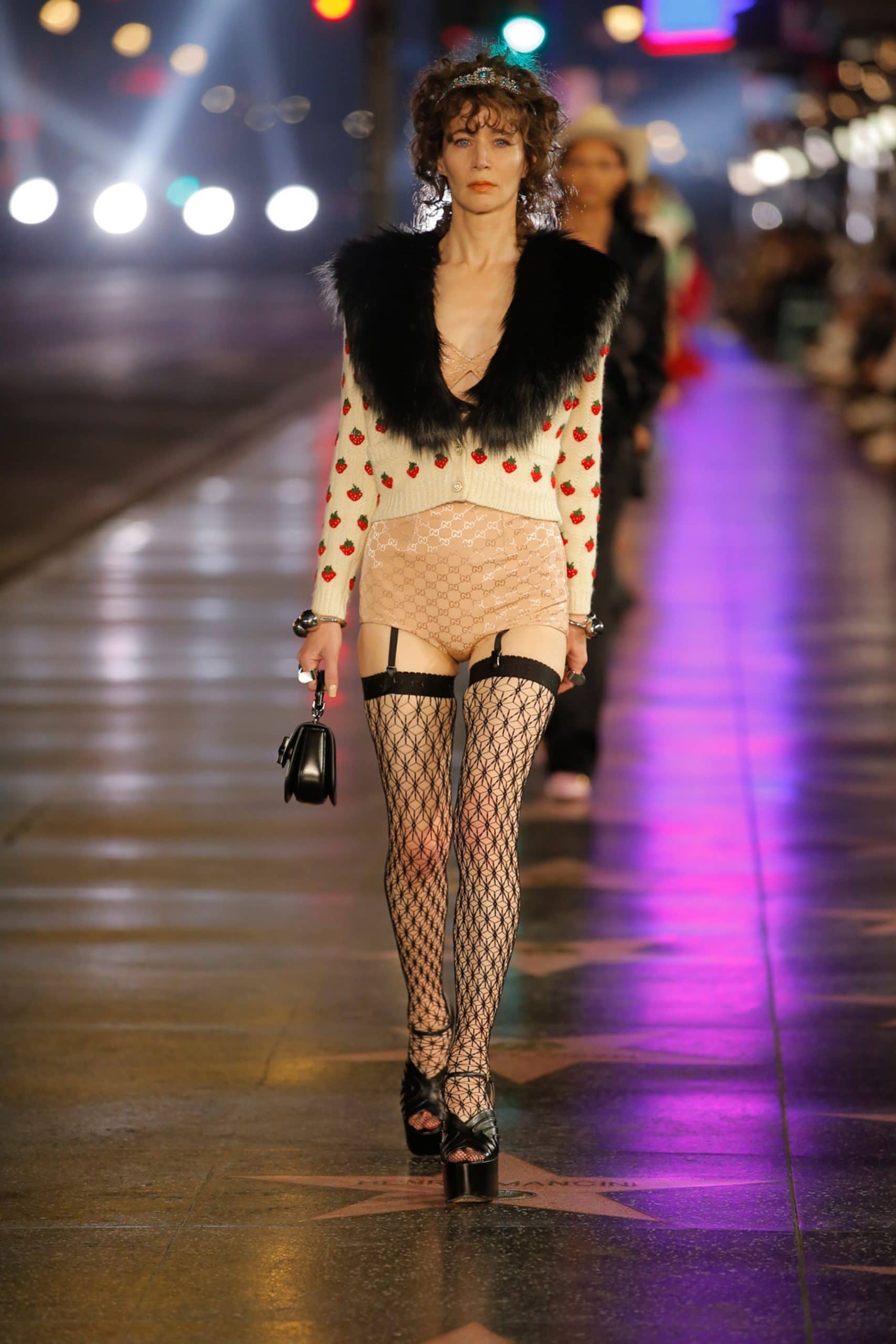 The kink of latex met the innocence of lace, the models fondled sex-toy-inspired accessories, corseted panels built into their blazers, hinting to the subversion amidst the sartorialism of Hollywood's elite.
Only in Michele's world can you put butt-plugs on Hollywood Boulevard.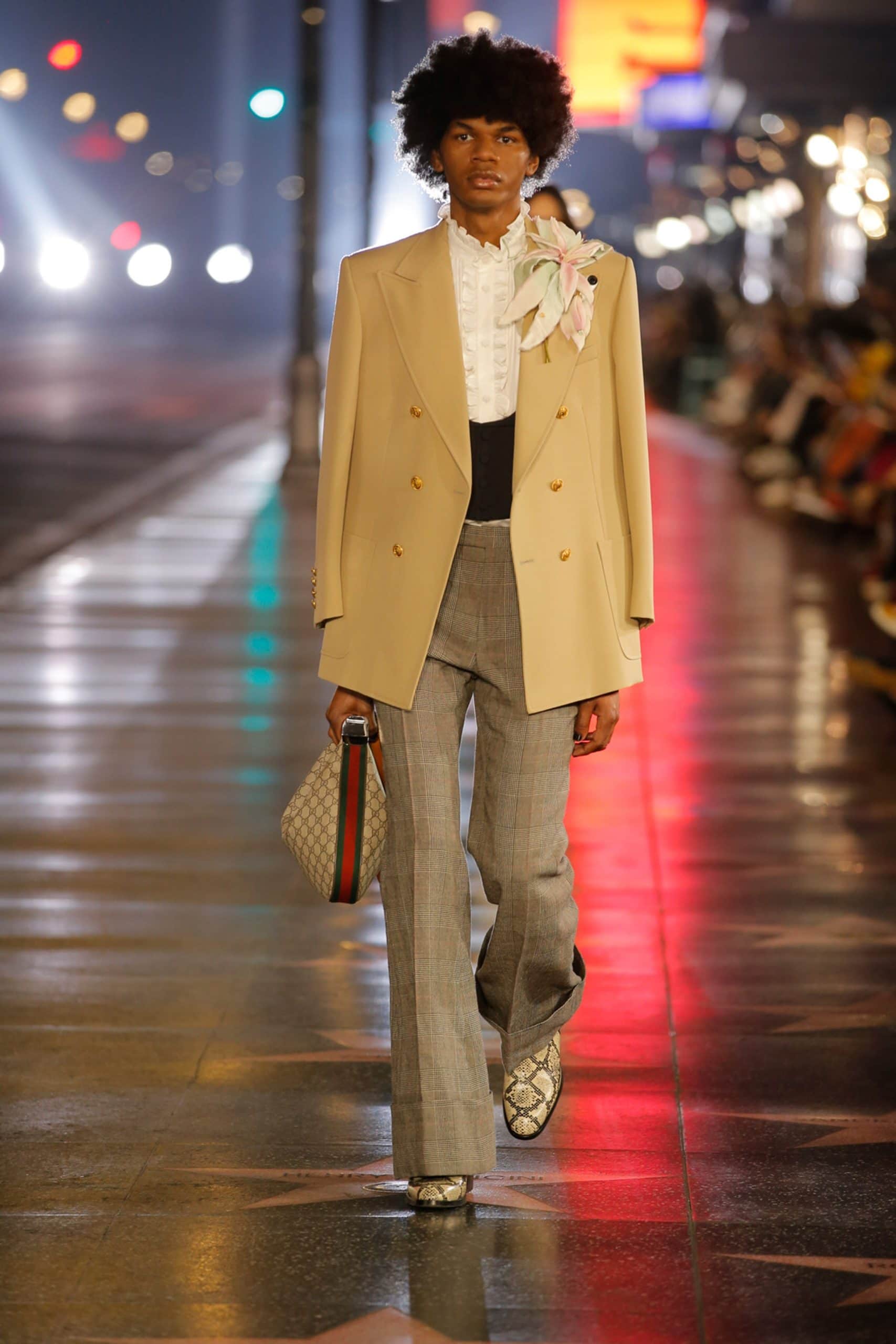 "This is where I met my most peculiar people," said Michele, as his array of often-oddball-esque models stomped out amidst the stars, wild-haired, ball gowns dissected around torso's, zippers recoiling around pant seams, ready for wherever the night may take them. "A parade of enchanted and deeply free beings that go across a land where neither past nor future resides: only the miracle of the imaginative flair," he surmised. Hedonism and high glamour.
Amidst the glitz and downright debauchery of the silver screen – Modern Hollywood. Juice-cleansing divas came laden in spandex, visor sunglasses and sneakers, ready to take a hike up the hills.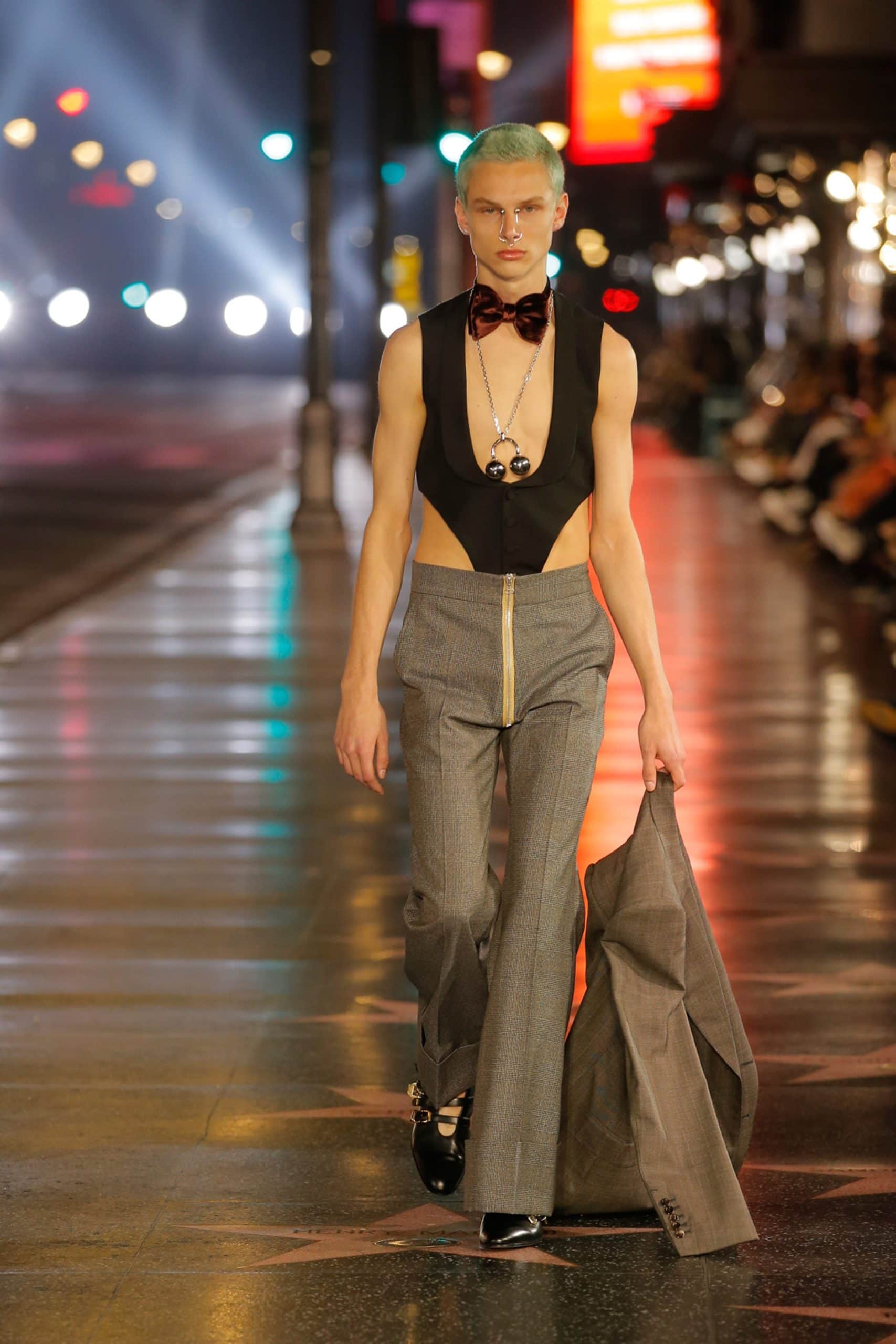 Resort shirts and relaxed chinos nodded to Brad Pitt's get-up in 'Once Upon a Time in Hollywood' – a cult-classic – and obvious blockbuster amongst the fashion-pack next season.

Although beneath the grandiose that is Hollywood, all that glitters is not always gold. Michele hasn't forgotten the upbringing of that little boy living in the outskirts of Rome, from the outside, looking in. The show is a part of Gucci's Changemakers initiative, which provides support to the Los Angeles and Hollywood communities through donations to six non-profit organizations, making an impact in the areas of homelessness, mental health and youth culture, hoping to provide others with a chance to dream in the city of stars.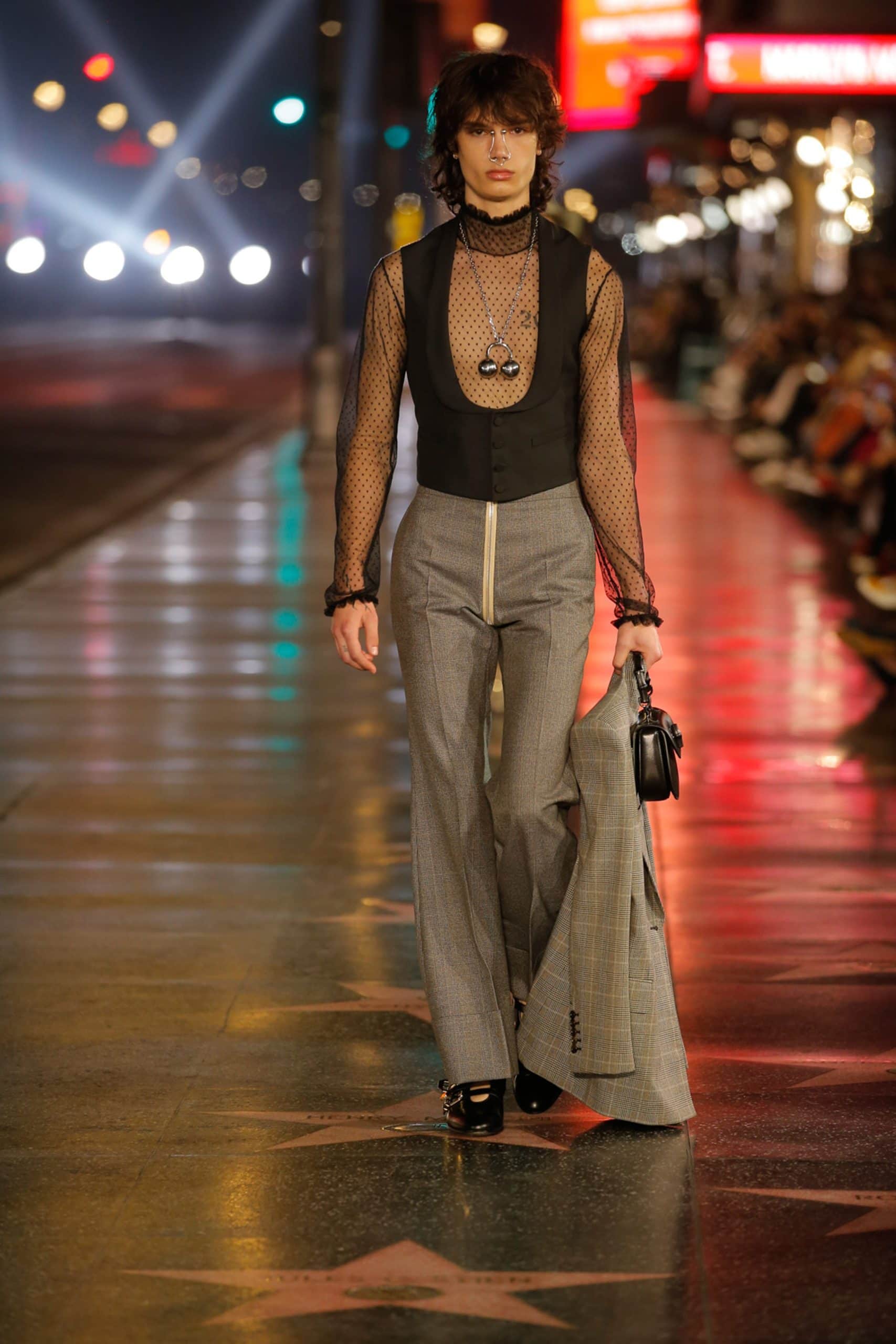 Take the grandeur, glitz and glamour aside and save it for a rainy day; when you take these clothes off the red carpet- away from Hollywood's walk of fame – what are they and who do they serve? Aside from the A listers peppering the front row, the answer is, very few.
It's all very well giving them the razzle dazzle, which Michele has flexed for years, but recent sales have suggested the allure of Gucci is waining. Bar a few resort shirts and a handful of leggings, there was very little substance amongst the sparkle, the bread and butter, if you will. Undoubtedly, accessories will bolster this houses sales, but in a post-pandemic climate, aside from celebratory intent, those looking for clothes to serve the every-man could leave the Gucci-gate empty handed.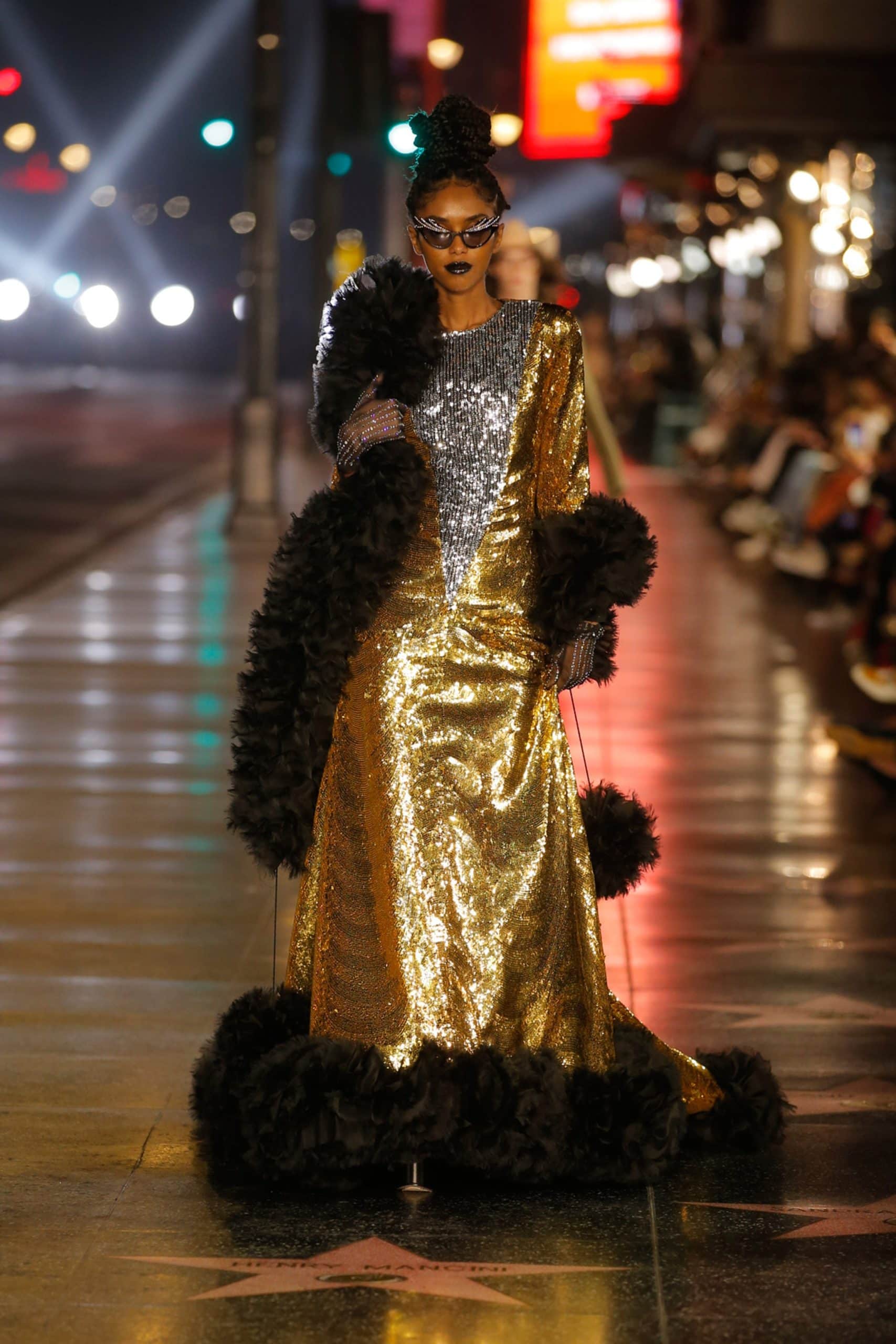 Michele has previously spoken of longing to be a costume designer as a youth. And these clothes, at large, are just that. Beautiful? Yes. Full of fun? Absolutely. Commercial? Clearly not. Michele could do with diversifying his dressing-up box to reclaim some of that hype that will serve on the streets as well it does on his stars.
---