---
Review of Gucci Spring 2023 Fashion Show
A simultaneous reflection of the duality of self.
By Lizzy Bowring
Milan Fashion Week has pulled out all the stops for S/S 23, presenting some visually stunning shows – each day has been a gift. Today, Alessandro Michele gifted us a stunning presentation that was emotive, surprising, and a delight – it was extraordinary.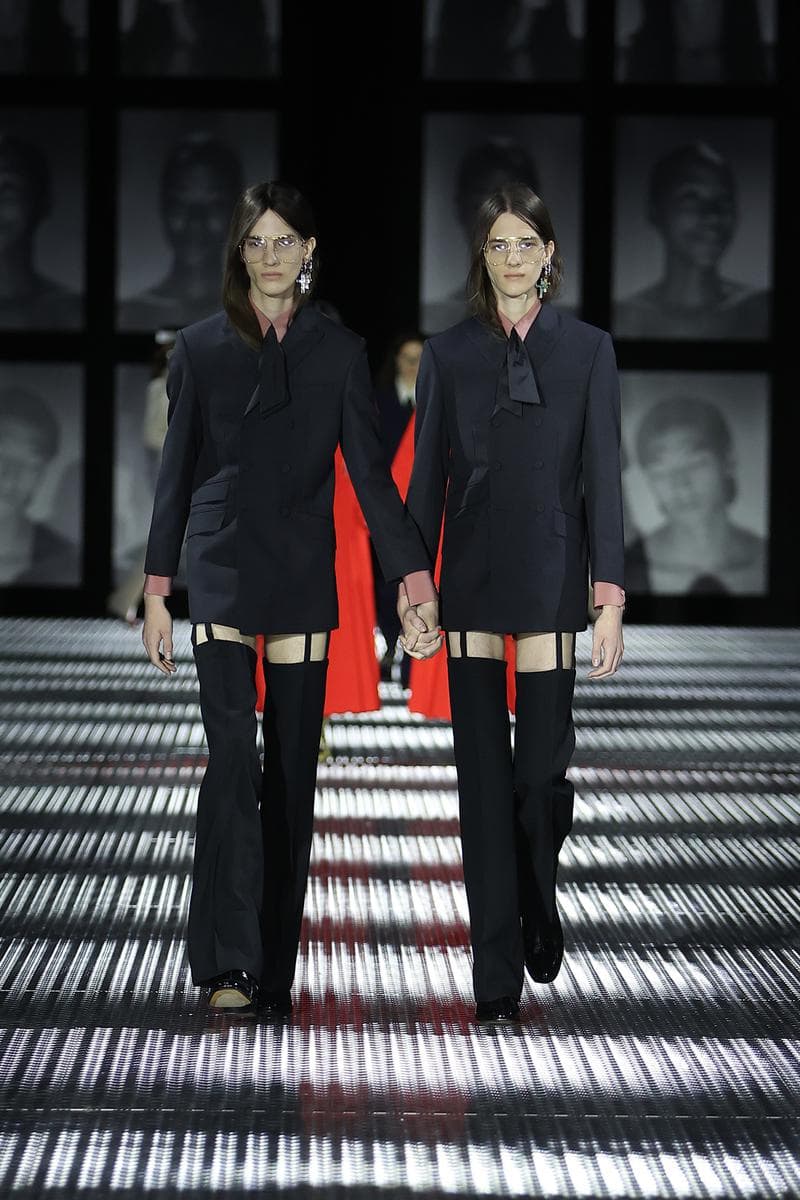 We must maintain this creativity and freshness, this desire to innovate.

– Marco Bizzarri
Let's look at the venue for "Twinsburg" just to get an idea. Within a reflective industrial setting at the Gucci Hub, the longest runway came constructed of metal traction, the walls displaying photographic portraits of mirror images of twins. Pause for thought!
And as the first model entered the room, walking to the specially composed orchestral music for the show, an eerie recording of Marianne Faithful's gravelly voice repeatedly said, "I am me, she is she, identical twins totally, totally opposite identical twins".
The show led with an immaculately slim-cut blazer equipped with leg garters that doubled as trousers, followed by a stunning red coatdress and a tailored cream trouser suit, accessorized with the bag of the moment, a 'vintage' Gucci chain shoulder bag. A bag that Alessandro explained post-show,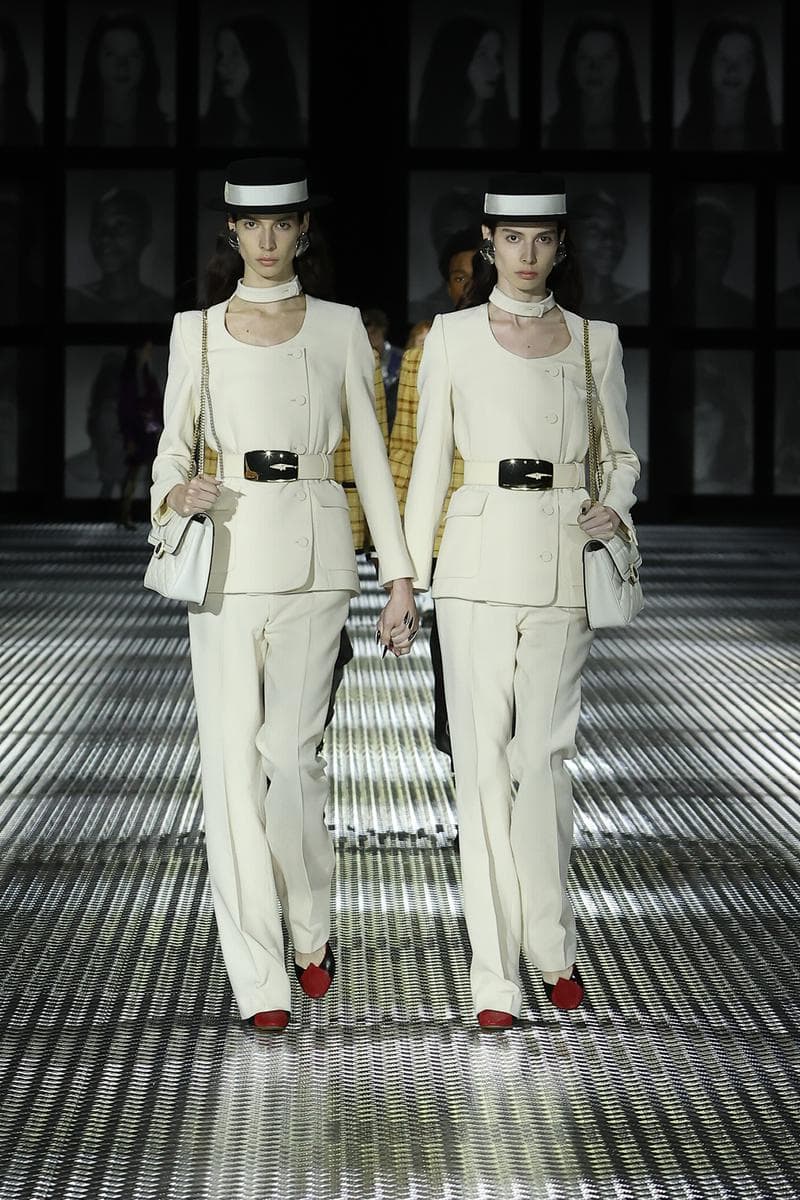 It is a bag that relates to the brand – just as you would use the same ingredients in the kitchen, then this bag has all the Gucci ingredients. Originally designed in the 70s. It is small, made of the best leather – I am a slave to possessing objects.
Overhead, lights swept seductively over each silhouette, glistening and sparkling on the 'face jewellery' draped from the wearer's eyes or dark sunglasses. A sequined blazer shone under the spotlight, decorated with floral embellishments in contrasting blue. Yes, this was going to be a show like no other.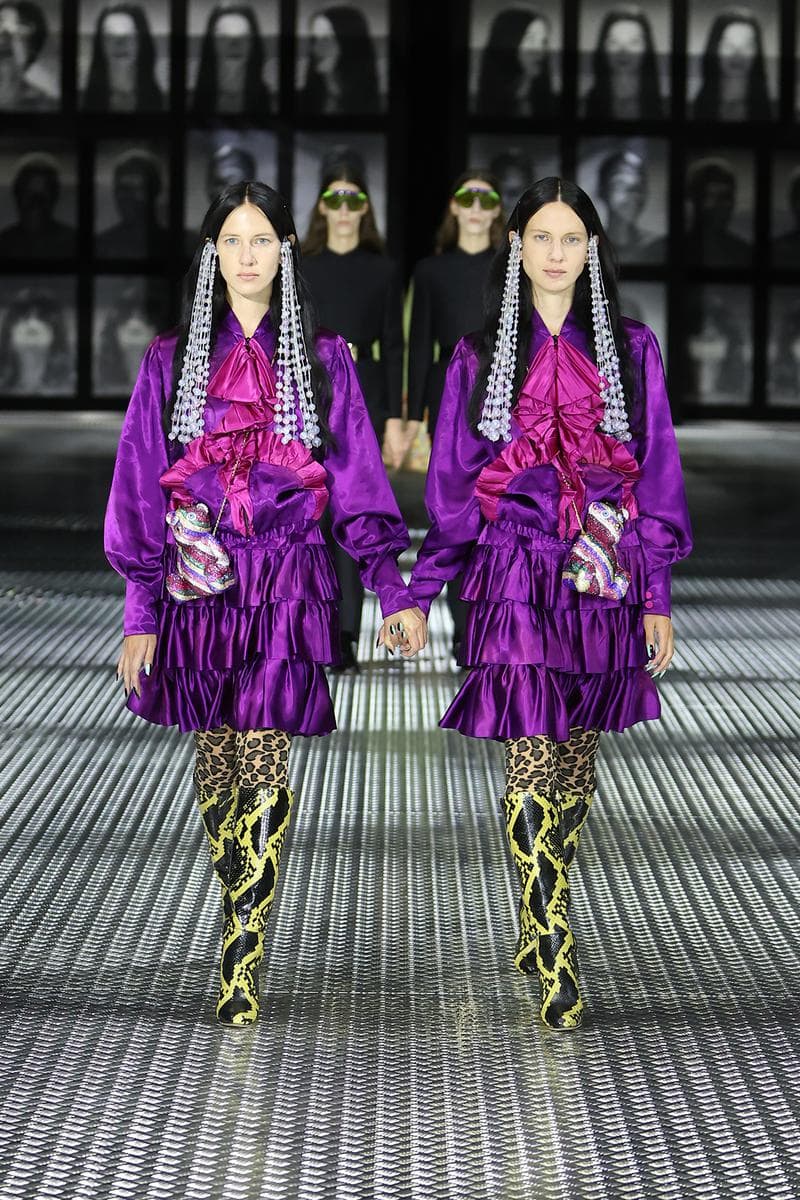 There were the ubiquitous '80s and '90s in Alessandro's concise offering yet executed with his distinctive vision. Perfectly tailored suits, a ruffled dress in a dazzling shade of magenta, and a floral printed pantsuit, all followed in a succession of unique pieces and outfits. The Creative director developed a passion for colour from his mother and sister, which subsequently informed the colourful and compelling prints. Menswear and womenswear, it was all-inclusive.
Several pieces bore the words Fuori, to which Alessandro explained that this is an acronym, a reference to homosexual rights, but it was also about the notion of freedom. How much more we need this word to appear in our dialogue? After all, we all need freedom to grow and understand more of the world around us.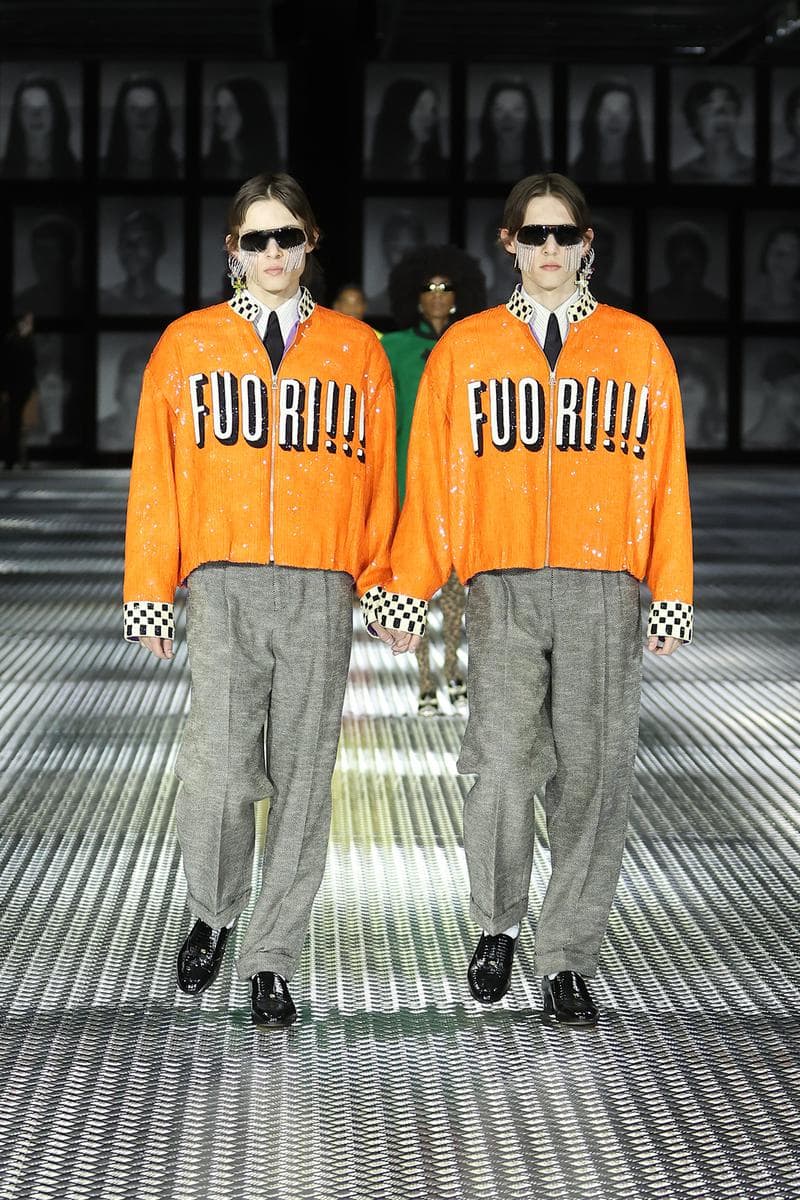 Accessories were just as covetable – a fabulous new Gucci tote – flat and easy to manage. Snakeskin-covered knee-high boots As for the gremlins – "naughty little people" – appeared as Gizmo, who made his first appearance today and might have been arrested into a model's arms a little later!
However, just as we thought this was the end, the divider curtain was raised on the tracked runway.
Bureau de Betak is a mastermind of such creative backdrops, and this one is perhaps their most evocative and clever.
There was an audible yet truly emotive and passionate gasp as the audience realized that they had been watching one set of twins while a separate audience on the opposite side, watching the other. Here was a stunning finale in which we witnessed the twins meet, join hands and traverse the runway, wearing identical clothing. And here lies the duality.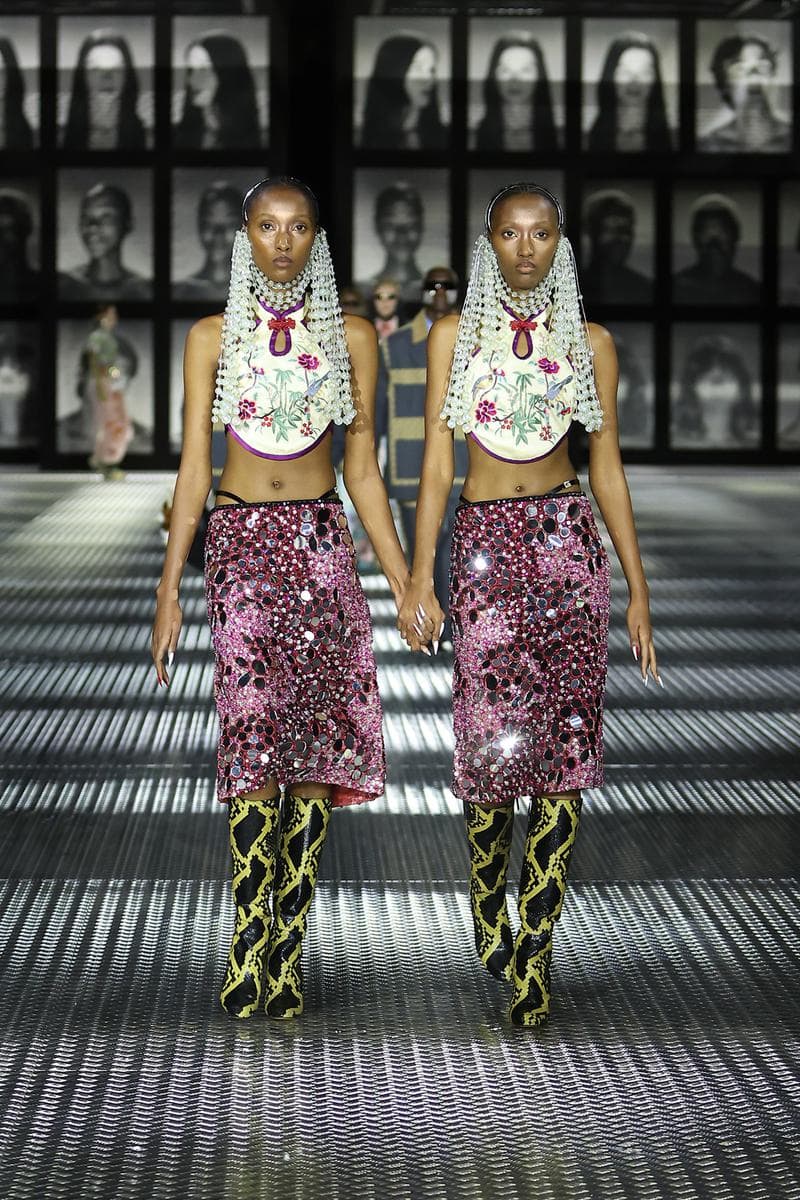 Michele had taken the concept of exploration of twins and applied it to Gucci's latest designs. The result was a line of apparel and accessories emphasizing self-reflection and individuality. Post-show, Alessandro explained more about his concept.
How two women brought him up, one his mother and the other his aunt, Eralda and Giuliana who made their twinship the ultimate seal of their existence.
They were magically mirrored – sharing a secret intimacy, the grace of their duplicated love giving rise to his eternal fascination for the duplicate, for the things that seem to reflect all to themselves. "Twinsburg" plays into this game. Michele mentioned that twins founded Rome, so the idea spawned his thinking even further. The castings for twins went as far as Ohio. It was a fascinating casting for him and his team and an exceptionally passionate one.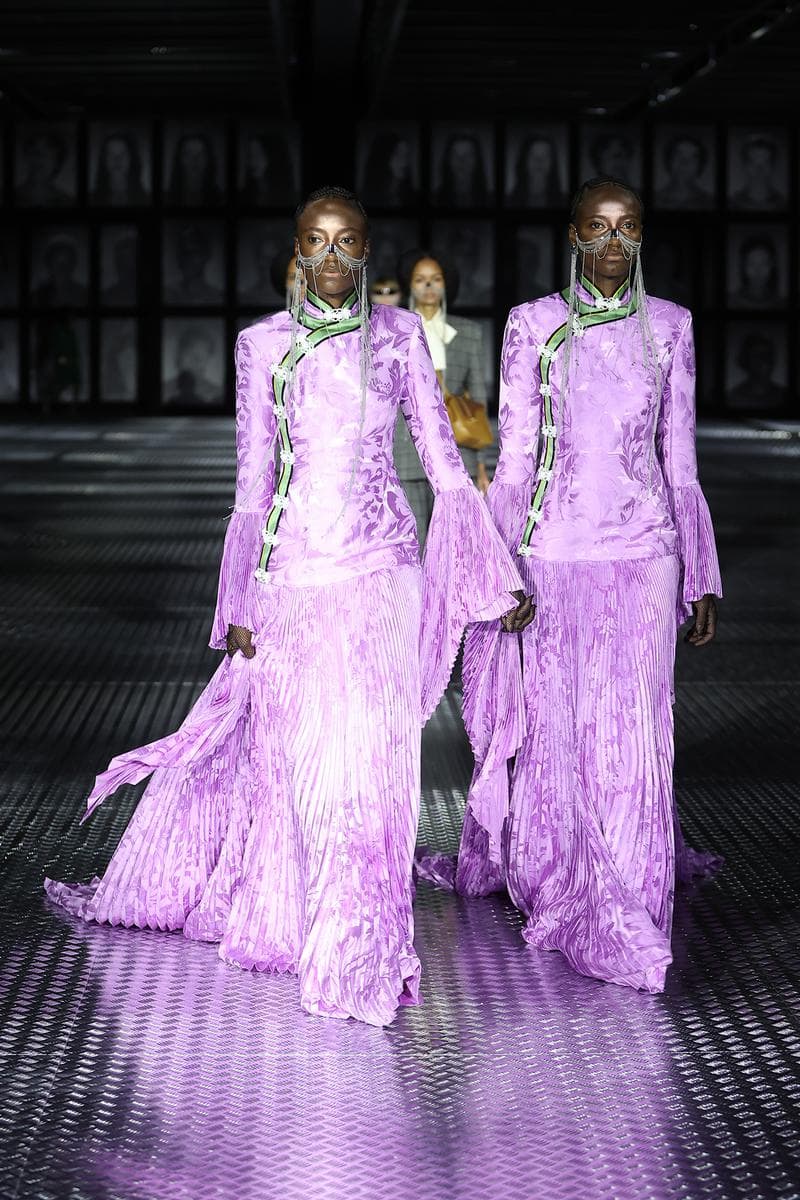 The effect of this show presents something ambiguous. As if the idea of identity may seem redundant, yet it is the clothes that differentiate our identities. The words resonate from the pre-show posting on the Gucci instagram, "The more you look, the more you see, a window to infinity". So very true about this infinite collection.
---