---
Review of Gucci Spring 2023 Men's Fashion Show
Laughing All the way to the Bank
By Angela Baidoo
An unexpectedly perfect partnership sees Harry Styles pair with Alessandro Michele for a collection which has Styles name, quite literally, written all over it. Presented during Milan Men's Fashion Week (that saw a range of category reinventions and doubling down on house codes) and followed closely by the brands recent collaboration with Adidas, this new partnership born of a friendship is yet another example of Michele's prowess in picking who, what, and when to merge with to create a cultural talking point that will produce ringing tills at retail.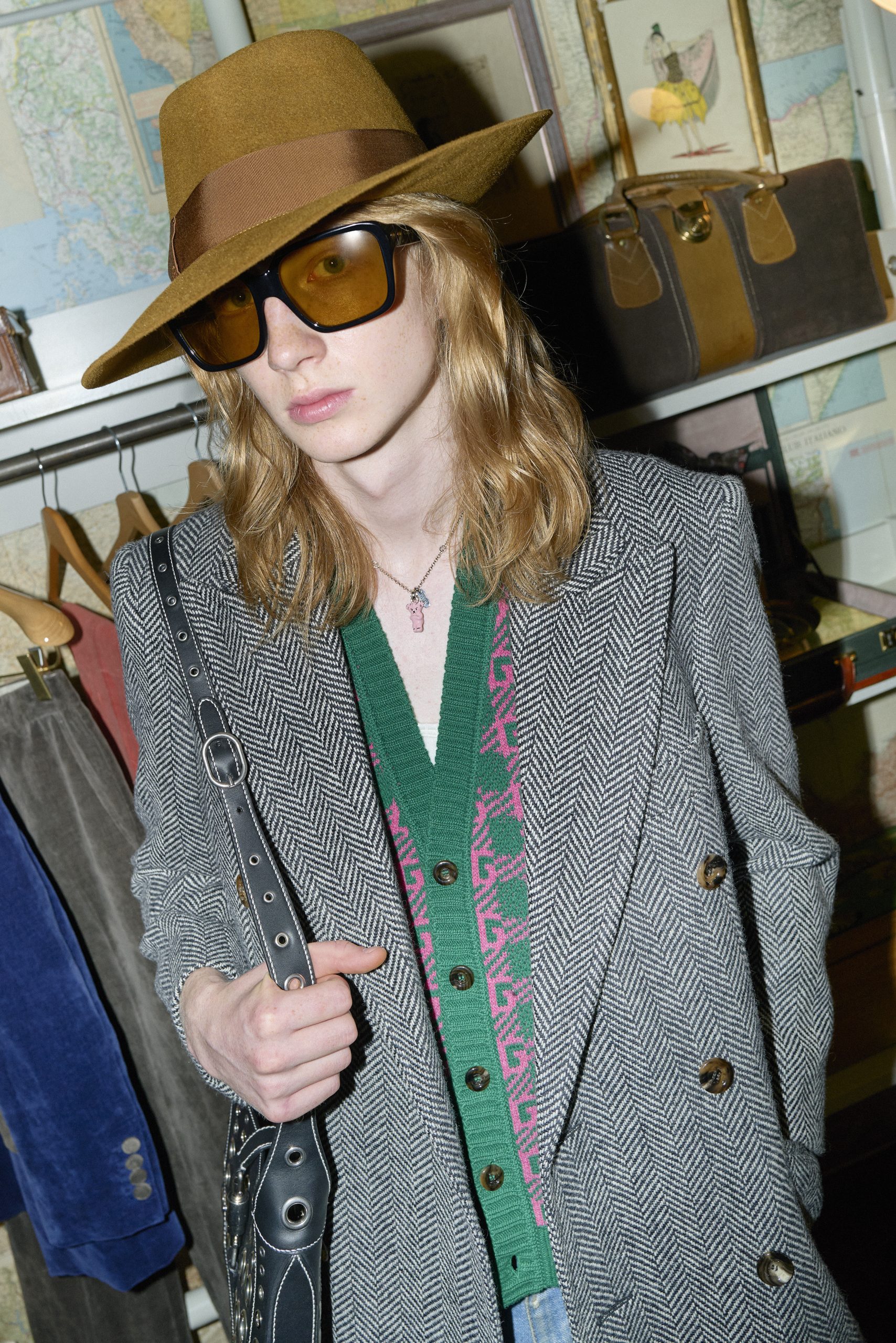 Gucci HAHAHA is not only a printed motif on a label..it is a collection born from a creative relationship that self-generates from amusement and ends with the tangibility of a product"

– Gucci
Gucci HA HA HA – the H and the A representing the duos initials, and the way in which they sign off their text messages to one another – takes their platonic love affair to the ultimate conclusion. After an initial test-run of custom outfits for his "Love On Tour" tour, this collection was generated by a proposal from Michele to create a "Dream Wardrobe" for Styles. "[Its a] mixing [of] aesthetics from 1970s pop and bohemian to the revision of the image of the gentleman in an overturned memory of men's tailoring" explained Michele.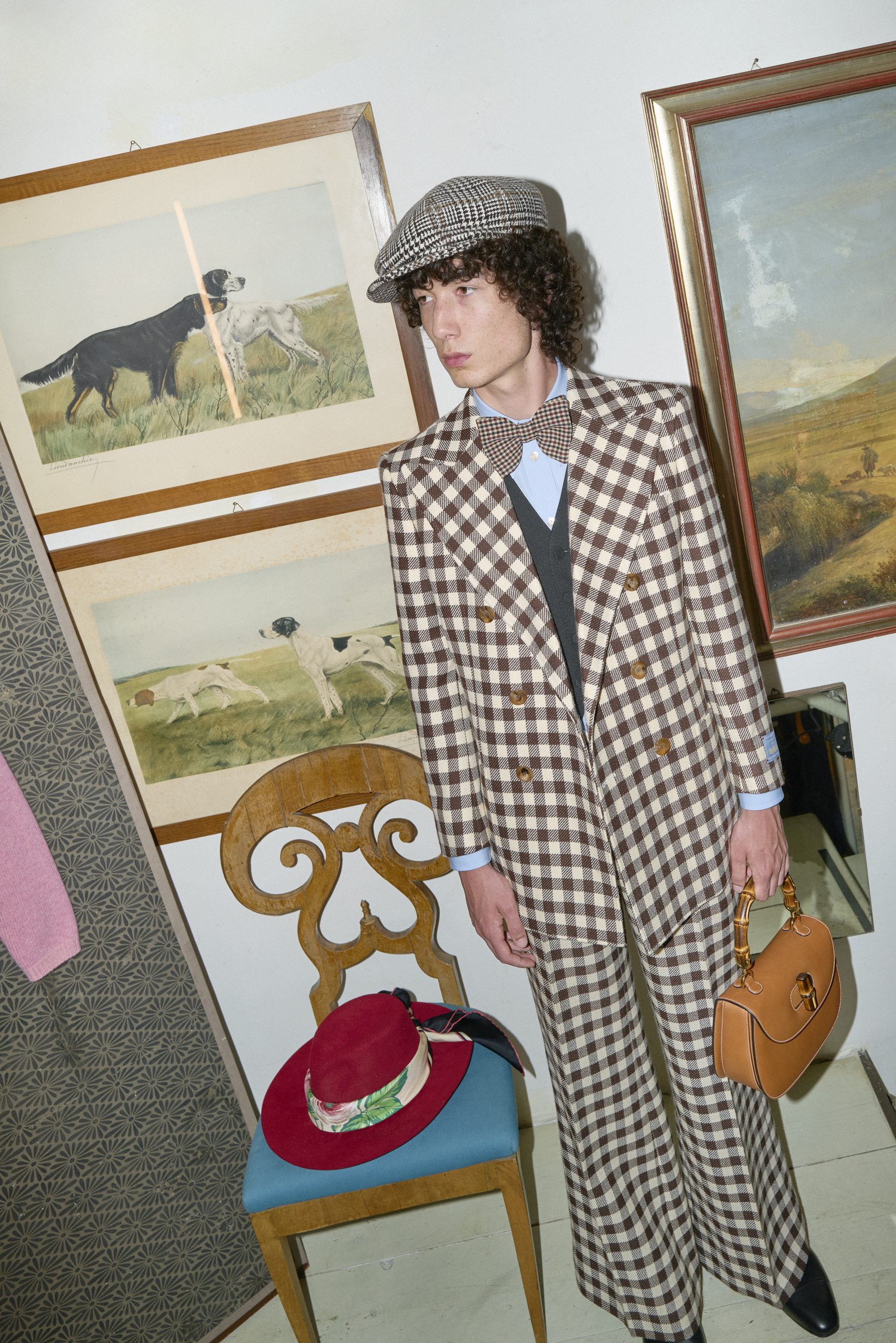 The official launch saw editors and enthusiasts flock to the vintage store Cavalli e Nastri on the last day of the Milan Men's shows, and immerse themselves in the cleverly executed concept that added a dose of fun and authenticity to the proceedings. Set over 2 floors of one of Micheles preferred vintage haunts in the city, attendees got the chance to shop and sift through the new collection, which sat side-by-side with an expertly curated selection of vintage wares, as well as rolls of the key printed and textured fabrics that went into creating the collection. A mixture of classic tailoring, silky shirts, wool outerwear, and playful pyjamas sporting the collections 'Grumpy Bear' mascot will be available to buy – and collect – from October, but it's likely we will see Styles getting to initially test-drive these items in his own unique way, as Michele observed "Harry has an incredible sense of fashion..combining items of clothing in a way that is out of the ordinary compared to the required standards of taste and the homogenisation of appearance."
Looking perfectly in place among the vintage surroundings, the Gucci HA HA HA collection's overtly retro styling is manifested in double-breasted blazers, the most perfect pair of tailored flares, jacquard shirts and knitted vests, and of course a white tank, which despite the collection launching later this year would do well if given an early release to ride the wave of 90s nostalgia that has ushered in its re-emergence as part of a uniform of basics.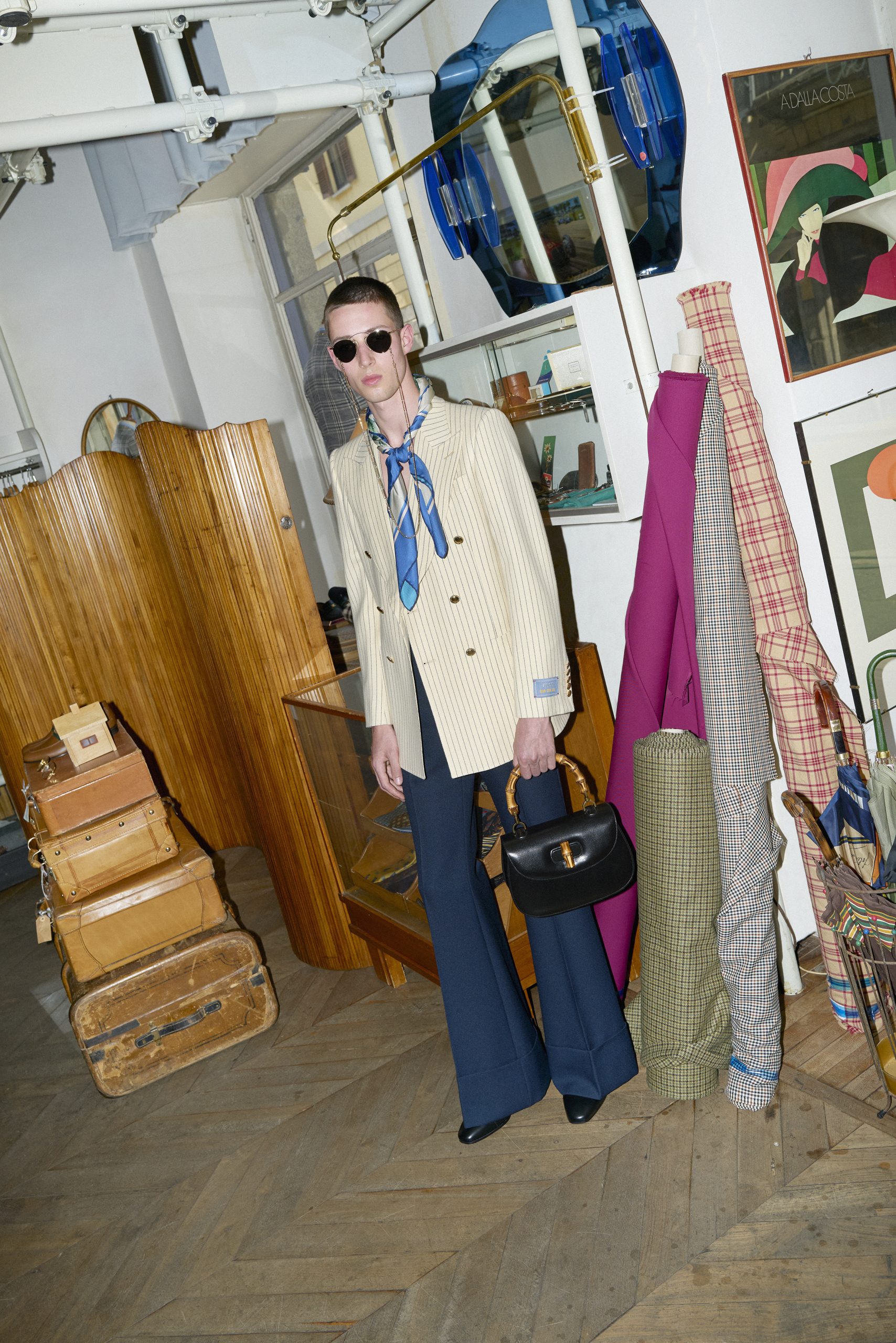 Gucci HA HA HA is an imaginative connection between Alessandro Michele and Harry Styles..bringing them together in the synthesis of Gucci"

– Gucci
Key accessories including socks and brooches, as well as the 'Grumpy Bear' T-shirts speak more to the 'merch' conversation and will act as an accessible way for the legions of younger Harry Styles fans to buy into the collaboration.
Continuing on that key exploration of what masculinity means today, the traditional tailored elements of this collection, despite being a plausible sartorial option for both genders – and all who fall in-between – highlights the importance of the structure that it can ingrain into any outfit, and of the categories enduring, timeless appeal.
---