---
Review of Heliot Emil Fall 2022 Fashion Show
Extraordinary Innovation and Technical Elegance
By Anna Ross
Heliot Emil are stars in the making.
Founded by brothers Julius and Victor Juul, the Danish duo have clearly gathered quite the cult following. Between themselves and Rick Owens showcasing tonight at the Palais du Tokyo, the crowds of fans clad in uniform of all-black was quite the spectacle. When you consider the two designers in the same space, it makes sense, as Juul's and Owen's aesthetic both boast the same type of industrial, underground elegance and thus, a similarly inclined customer.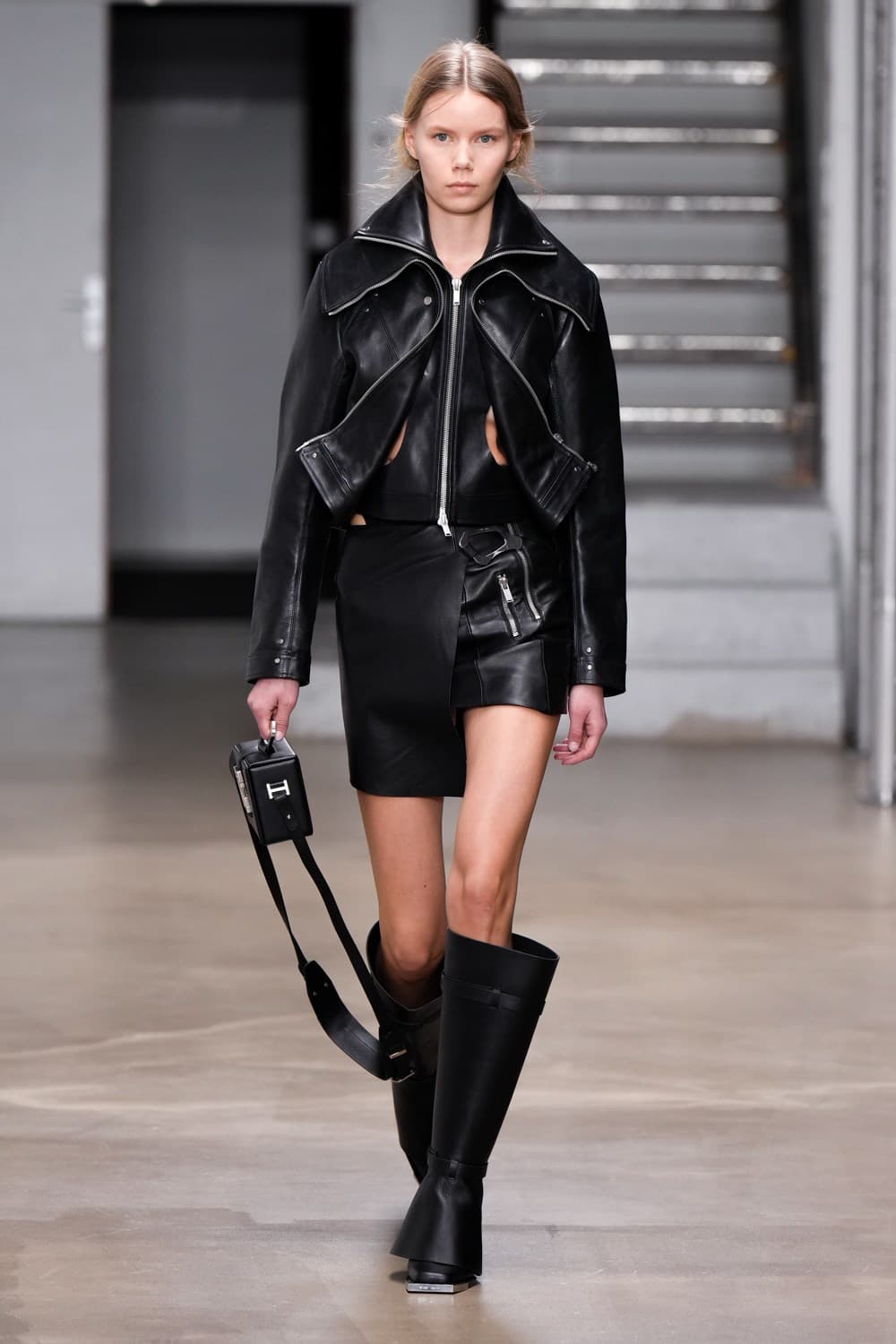 However, by no means are they the same. Juul's version is cleaner and more 'techy' than Owen's signature beautifully dystopian underworld. Technology, in fact, is a central theme throughout Juul's work.
The design duo are innovators and tonight showcased an array of future-thinking solutions for the modern world.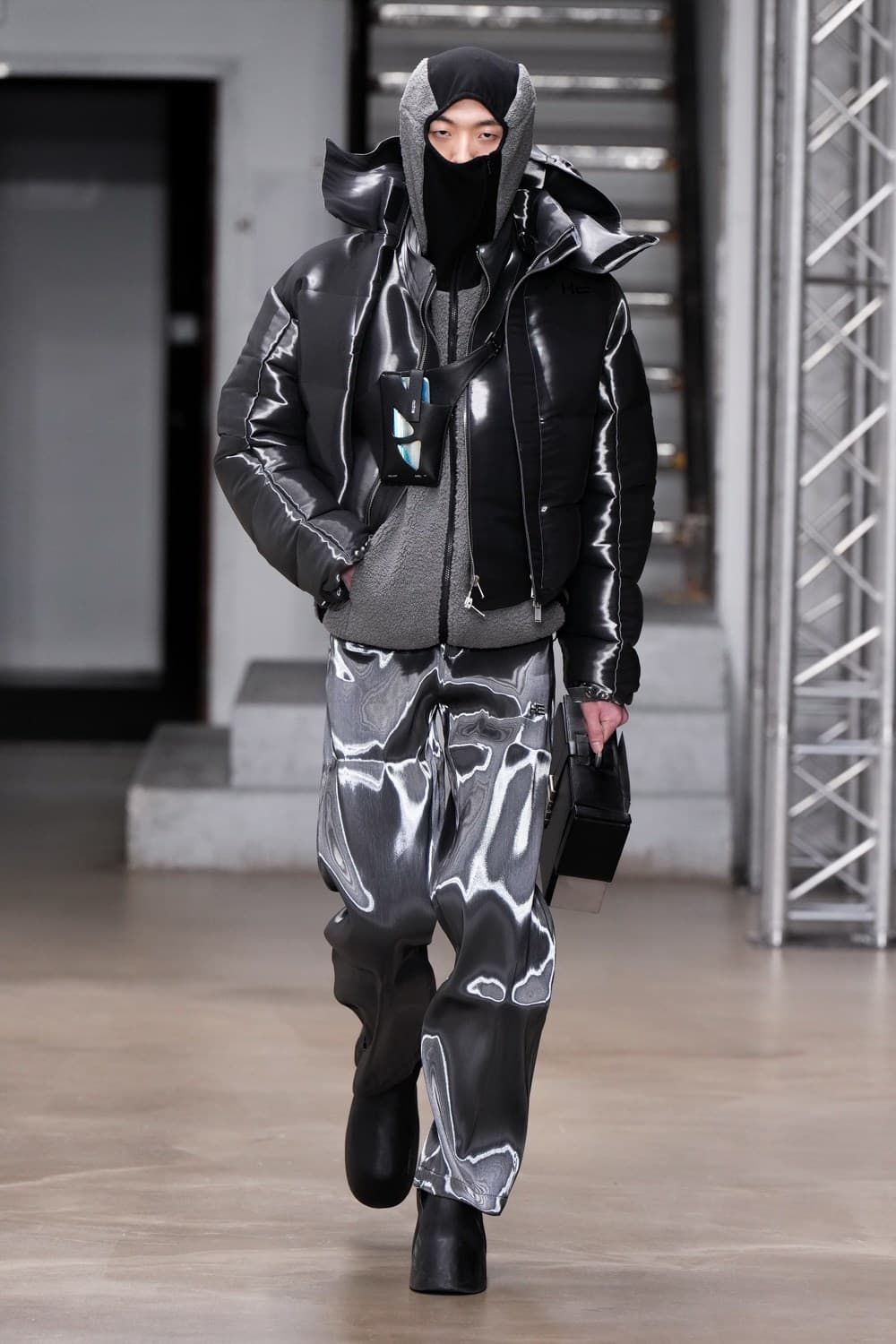 Take for instance their chunky 3D printed footwear, a result of a collaboration with footwear brand SCRY. The process uses a wireframe solution and AI to print large structures that both utilize resistant material while maintaining flexibility. By doing so, the process eliminates waste and the end material can be repurposed to construct new shoe designs, making the process entirely circular and a first of its kind in the fashion world.
The same process was applied to various garments; I'm assuming a pair of trousers that looked like liquid tar (in a good way!). Elsewhere on the techathon, material developments that included RFID GPS Blocking, Anti-Radiation and Heat Embossed Fabric. Add to that a partnership with technology brand realme, whom they designed custom phone harnesses with that came strapped around the models bodies. I'll be straight with you and say this level of tech is beyond my fathom, I don't even own a Kindle, but I'm in awe nonetheless.
It feels like this duo are visionnaires of the future, carving a journey towards a better, more sustainable planet. Their innovation is simply astounding and their craft, impeccable.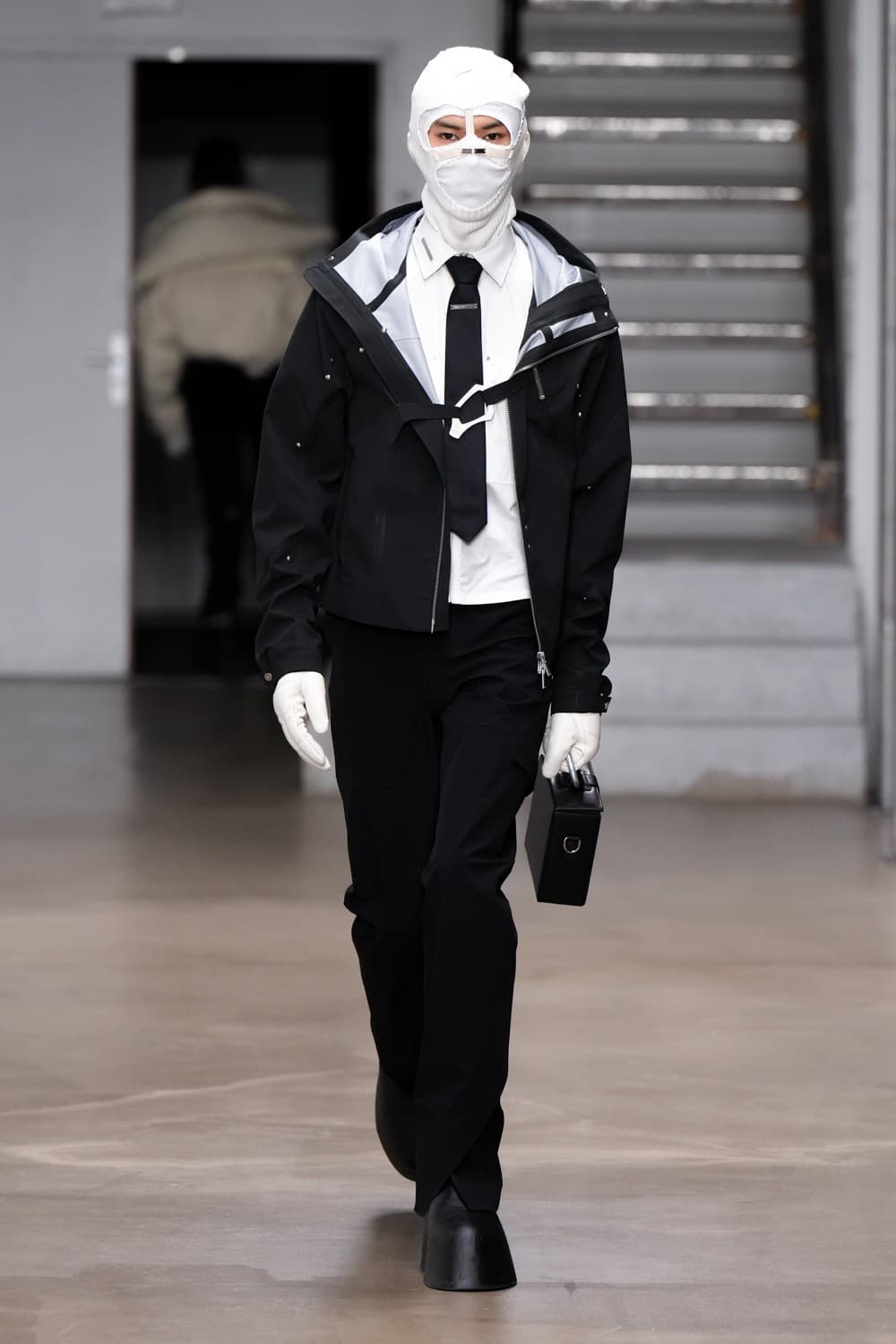 Tech aside, their clothes were simply exquisite. Julius noted he's been inspired by a picture series of workers in a limestone factory. This was translated in the pared back colour palette, clever material play and savvy approach to uniform. The designers goal was to redefine this very category, referencing suits, shirts and ties throughout time within the line-up.
The designers' approach to silhouette, fabric and high-function was spot on. There wasn't a look I could fault throughout this collection – and I'm notoriously tricky to please.
There's a touch of Helmut Lang to this designers language, but dare I say it: better? Their language is sleek and smart, sartorial yet sexy. It has everything.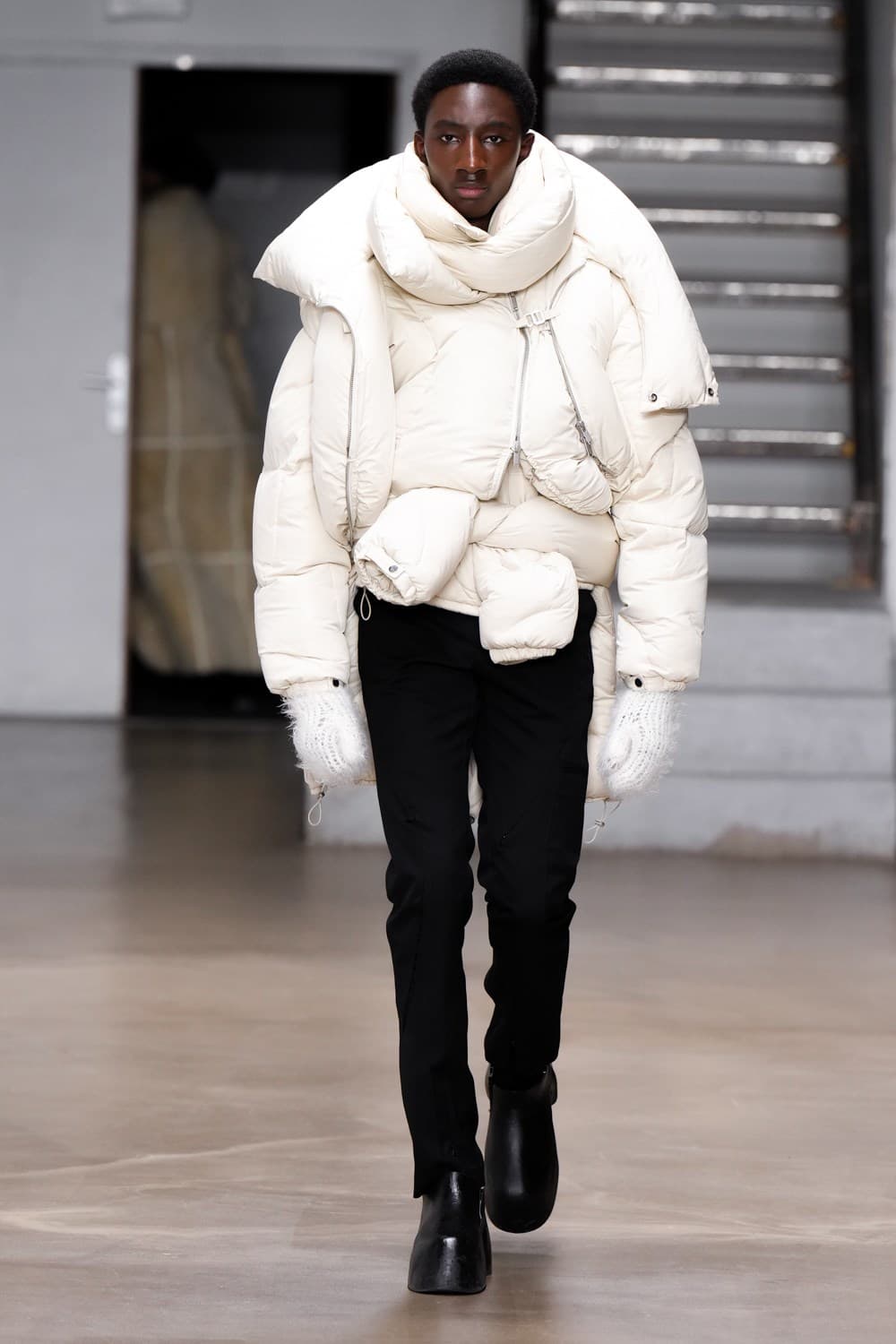 They bought their signature warped forms to outerwear, puffa jackets curving around the body as if creating a protective cocoon; elsewhere, an edge of sexiness in dissected slip dresses, asymmetrically around the body. A chainmail dress 'clunked' as it moved, it's scales framing a chunky piece of hardware which was an emblem throughout the show. The tailoring is that of designers well beyond their years, (the brand was born in 2016); a personal highlight, a cream wool suit that came harnessed at the bust. I could go on.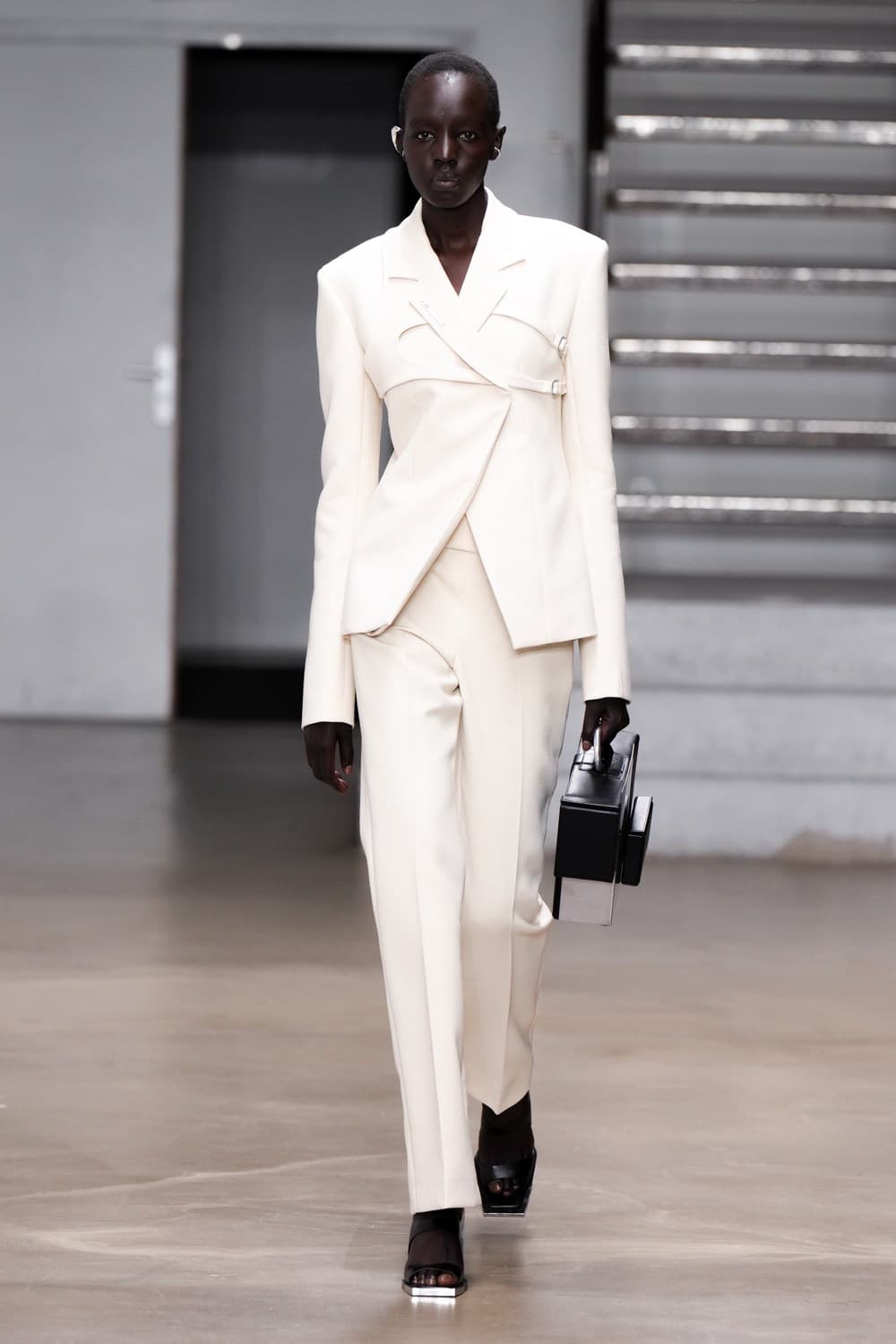 There's something incredibly special about these designers. Not just their work; their compassion and spirit:
In direct response to the situation in Ukraine, the duo have set up a pre-order system in which the brand will donate 100% of profits to humanitarian aid through the work of UNICEF. "Our goal is to make use of our situation to help and support a country and people in need."
---