From Seoul to San Diego, the traveling circus that is the Destination Fashion Show proves that you can't keep a Billion-dollar Industry Down.
By Angela Baidoo
Originally developed to meet the needs of the jet-set, providing resort wear for those vacationing in warmer climes during winter, the off-schedule resort-meets-destination show has overshadowed the pre-fall season, which has more of a needs-based focus. Typically shown from May-to-June (perfect for the see-now, buy-now drop method), these collections can be presented in their best light amid expansive natural backdrops or historical architecture.
Despite the optics in the face of challenging times, the destination show (which now encompasses couture and re-stagings) still offers an unmatched marketing opportunity, especially in the face of an increasingly fragmented landscape where the attention of online audiences is becoming even harder to corral around a single moment. So, we shouldn't expect the destination show to die anytime soon. But how can the format evolve to keep pace with changing attitudes around the industry's environmental impact. And considering there are so many unchartered territories and historical gems left to explore, where will luxury fashion head to next?
Index
Carving Out a Space of One's Own
How Escapism Won Over Environmentalism Post-Pandemic
The Multi-faceted Marketing Approach
Think Local when Going Global
Carving Out a Space of One's Own
There are obvious benefits to showing on-schedule during fashion week, as Alison Bringé, Chief Marketing Officer at Launchmetrics outlines "Our data has found that showing on-schedule yields higher results in terms of Media Impact Value. Looking at NYFW, brands saw up to 4x more coverage when showing at fashion week vs. off-season."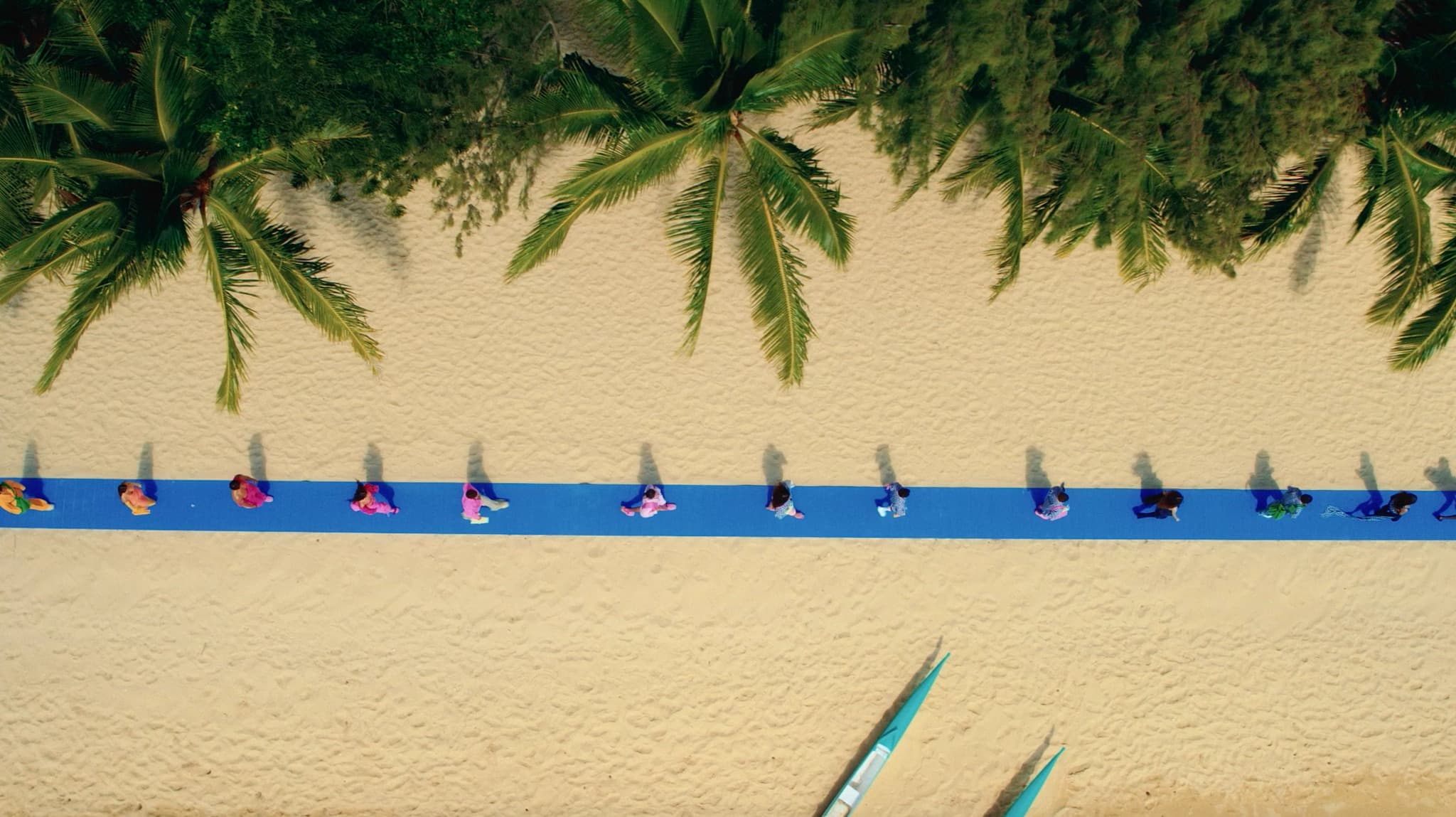 Yet, there is also much to gain from creating a marketing moment outside of the crowded fashion calendar, including a rare opportunity to create hype across traditional and social media, alongside the end product of a valuable digital asset.
The unique pull of these shows is not just the in-person experience, but also the sense of place (think, Chanel at Grand Central Terminal for Cruise 2007) and emotion (a throwback Instagram reel of the 2020 Jacquemus Lavender Fields show has garnered over 1M views) that is evoked with each regional location.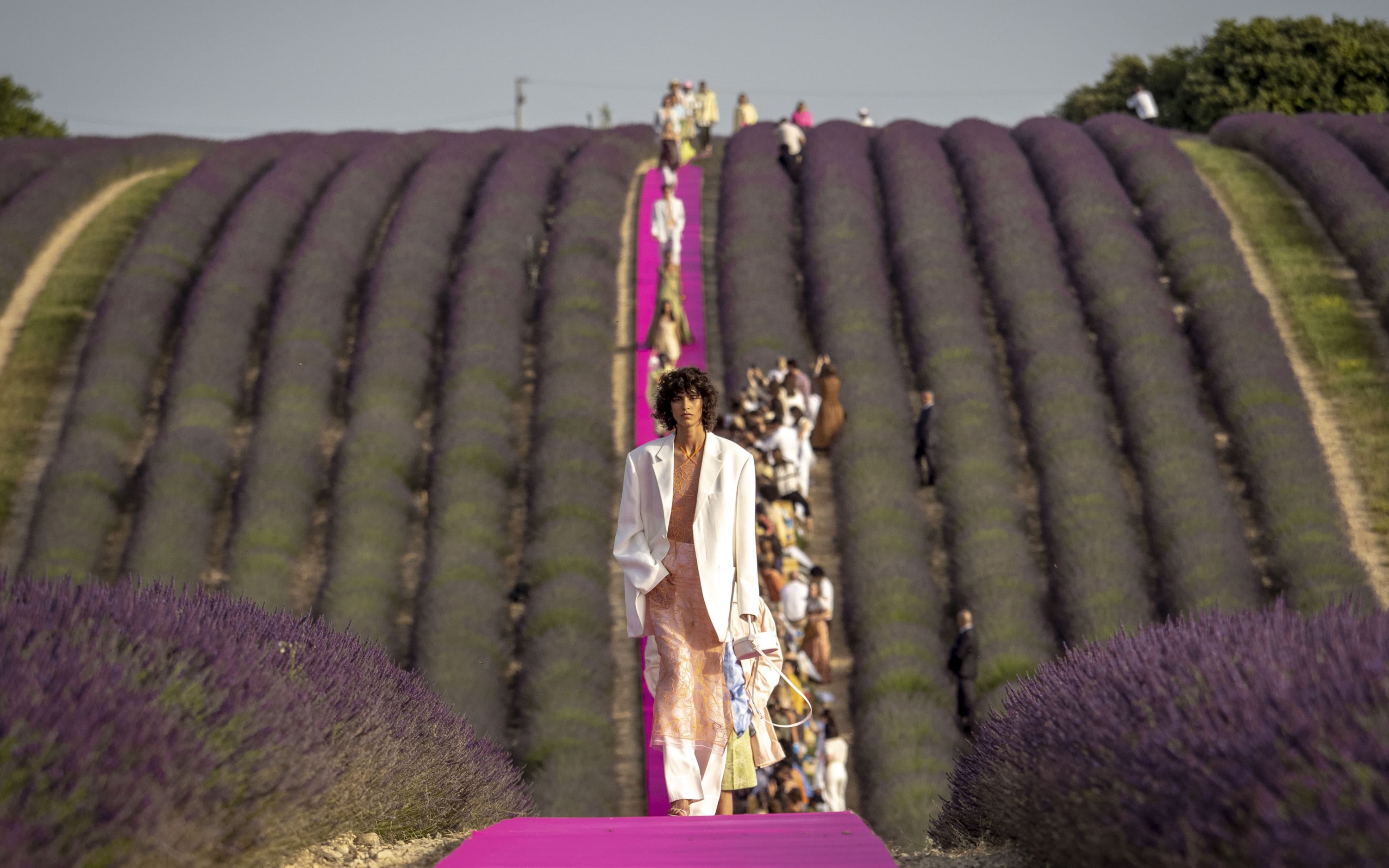 This format is particularly beneficial to those brands who have embraced the in-season drop method. Jacquemus being a key example of this, as his recent "Le Papier" destination show was an experience akin to a large-scale trunk show with pre-show social media teasers and the use of drones to provide a 360° view of the collection, followed by a chance to purchase in real-time. This also plays into how the Gen Z consumer wants to shop now – in-season and aligned with the most relevant trends – as looks posted by show attendees Jorja Smith and Amina Muaddi will certainly be the most sought after.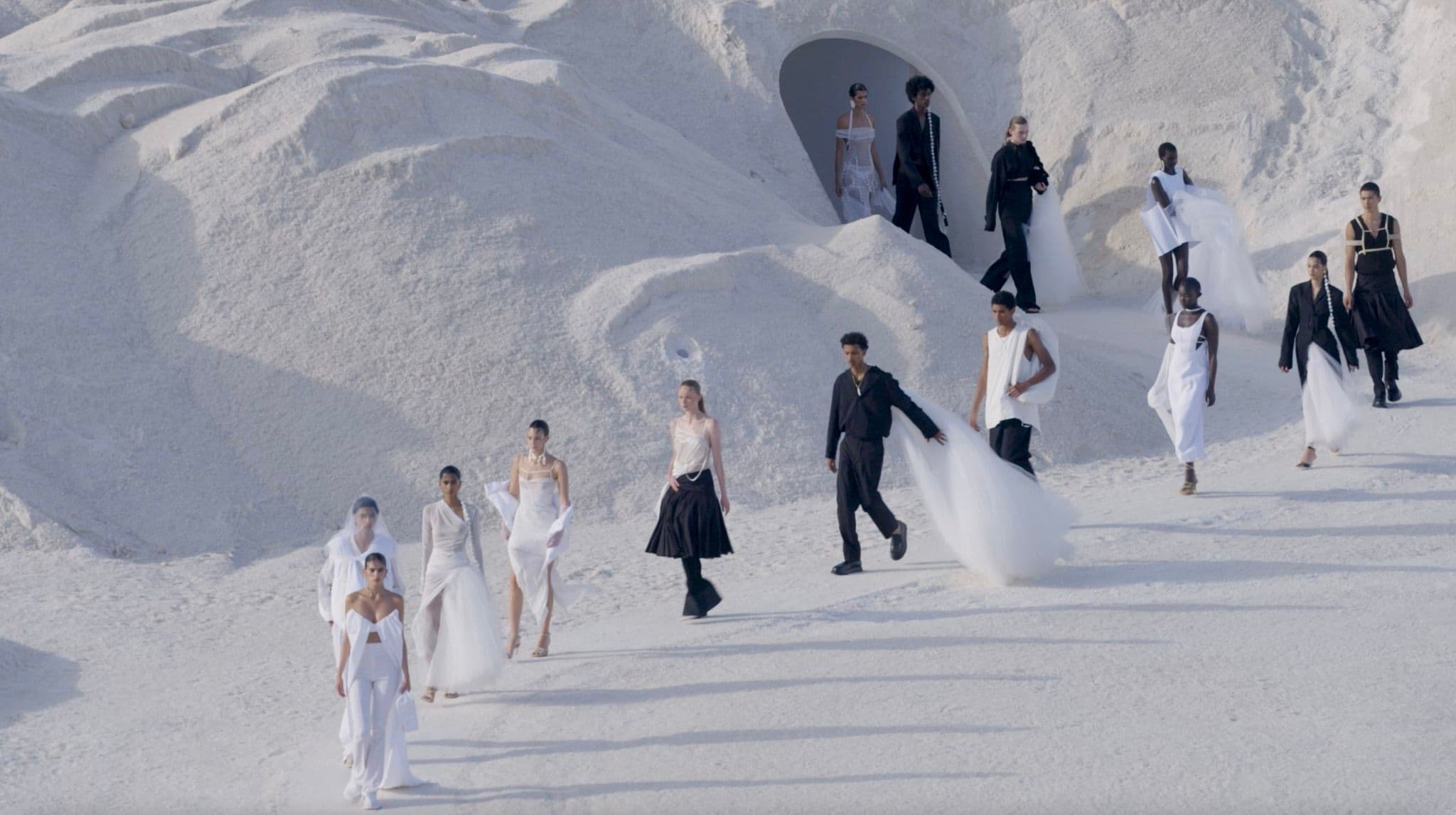 How Escapism Won over Environmentalism Post-pandemic
There was a lot of soul-searching during the pandemic, followed by open-ended pledges and hypotheticals of how the fashion industry could change for the better, but the reality for an industry whose reach extends across the globe – from retail to manufacturing and logistics – changing overnight was always going to be an optimistic moon-shot goal.
Many industry insiders were caught off-guard at how swiftly it was back-to-business when travel restrictions began loosening, with the first half of the year witnessing luxury brands turbo-charging efforts to find ever-more insta-worthy locations.
April brought Dior to Seoul, which tied in with the opening of its concept store and a partnership with the Ewha Womans University which served as the show's set.
May was a bumper month with Chanel in Monte Carlo, Louis Vuitton in San Diego, Gucci extending an invitation to traverse the cosmos in Puglia, Kim Jones partnering with ERL for Dior Men in Los Angeles, and the New York Stock Exchange playing host to Balenciaga. In total 27,000 miles were clocked in for just the first five months of the year alone.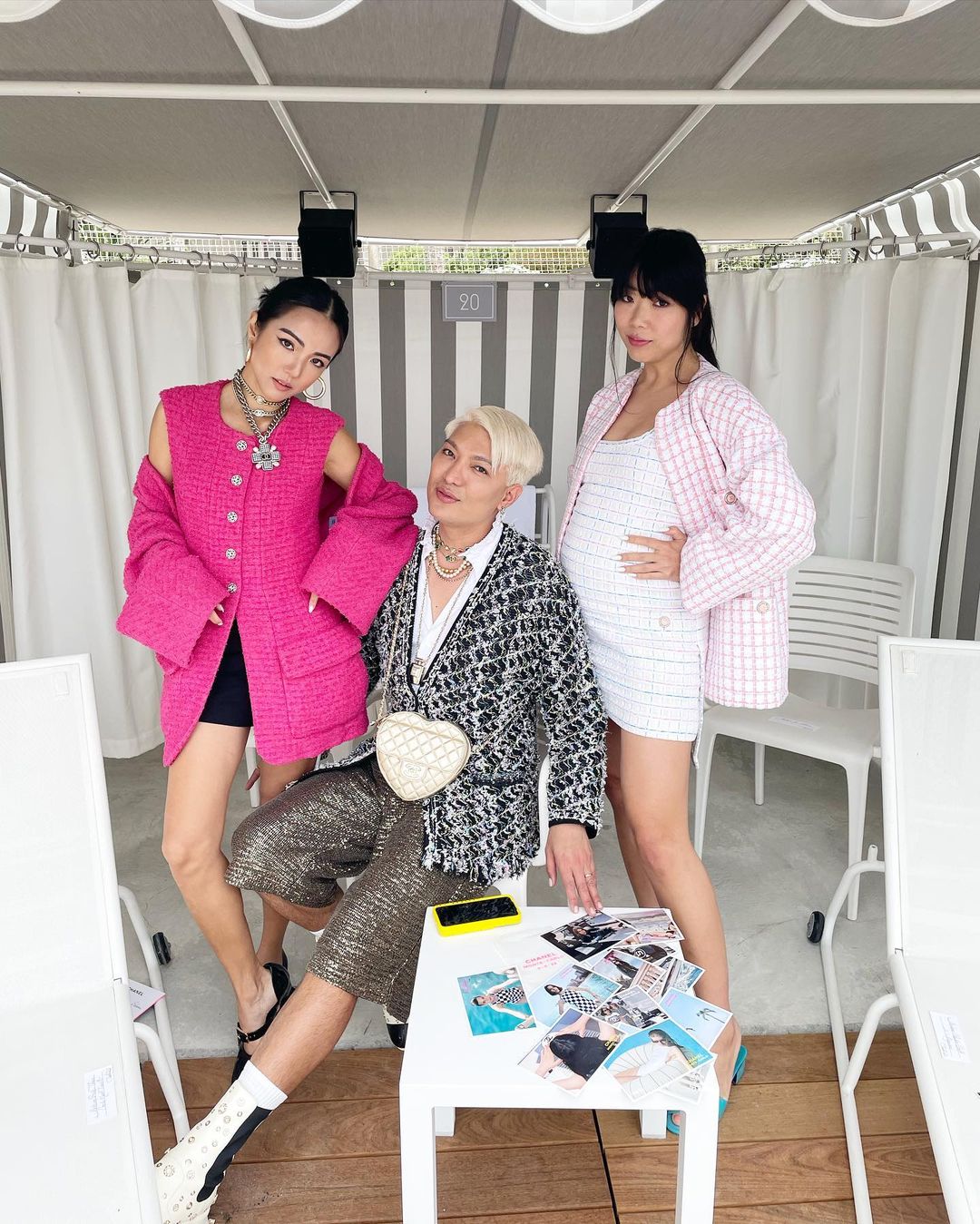 June-July saw these shows followed up by Jacquemus taking inspiration from the Camargue salt plains, Max Mara heading to Lisbon, Saint Laurent Men's foray into the Agafay desert in Morocco, and Valentino taking to the Spanish steps in the Eternal City in Rome.
The trajectory – and appetite – for these types of activations is only growing, but brands need to prepare to navigate the ticking PR time bomb of being perceived as out-of-touch in a world that is seemingly imploding. As growing climate concerns fuel think-pieces raising questions around whether this is a responsible way for luxury fashion to sell the dream.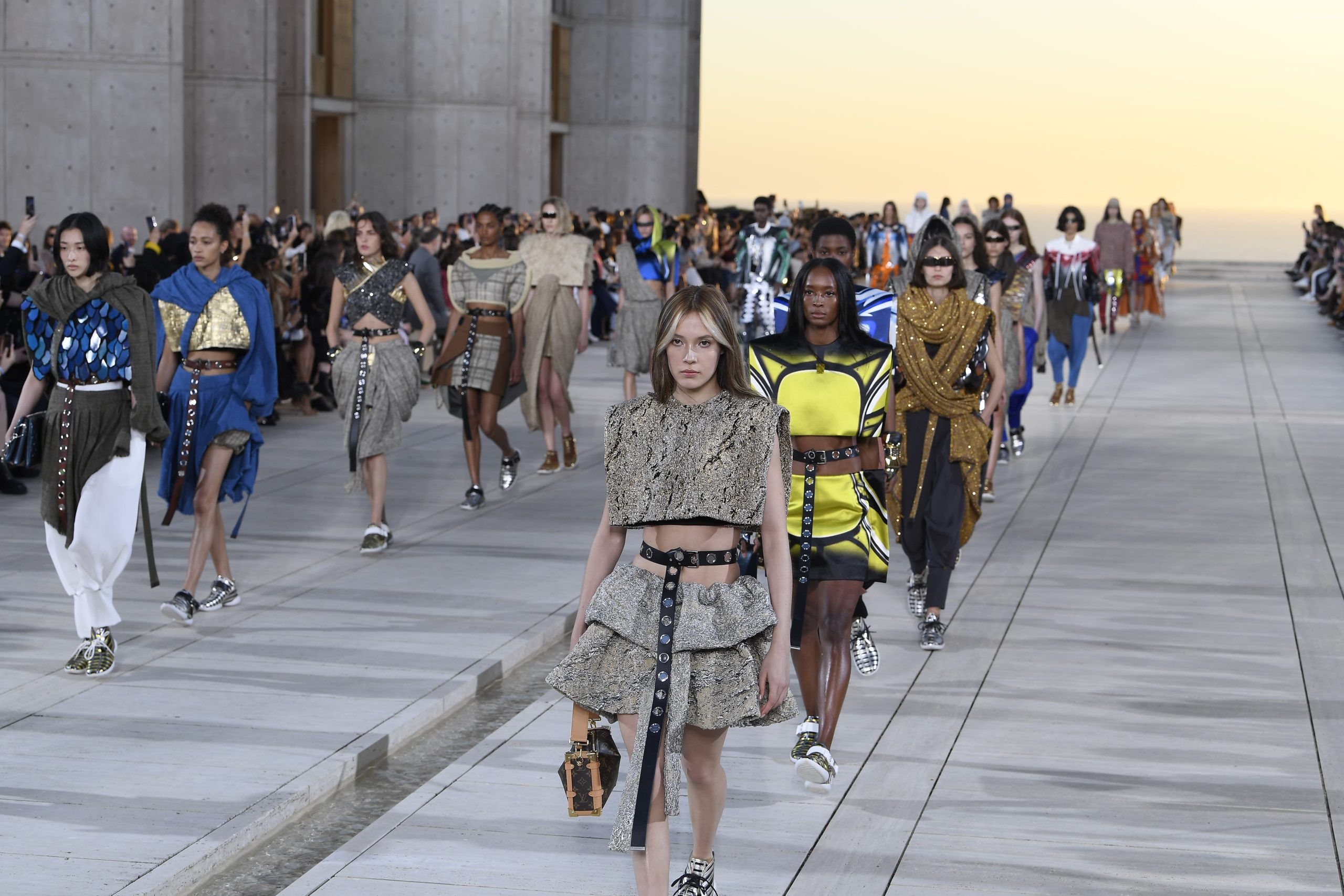 One way brands can work towards reframing their annual shows is by paying particular consideration to engaging with each locale, opting for the temporary residency over the wholesale invasion approach, and acting responsibly to mitigate any lasting environmental effects. Whether that involves alternative modes of transport (train travel is seeing a revival, with the Orient Express making a return in 2024, conveniently timed to coincide with the Olympics in Paris), partnering with and amplifying local influencers and celebrities (as Prada recently practiced for its Beijing show), or considering a long-term legacy by investing in local creative initiatives such as commissioning artists to create pieces for the show space, which can live on in museums.
The Multi-faceted Marketing Approach
The additional expansion of the brand universe, both during and after the destination show, has yet to be fully realised. With reported discretionary spend shifting from products to experiences, marketing teams need to re-evaluate how they activate the brand experience. As CFO's look to new revenue drivers, the destination show provides a way to deepen ties with customers by providing lifestyle-based solutions that are rolled out post-show. Marketing activations that tap into adjacent product categories and industries could include: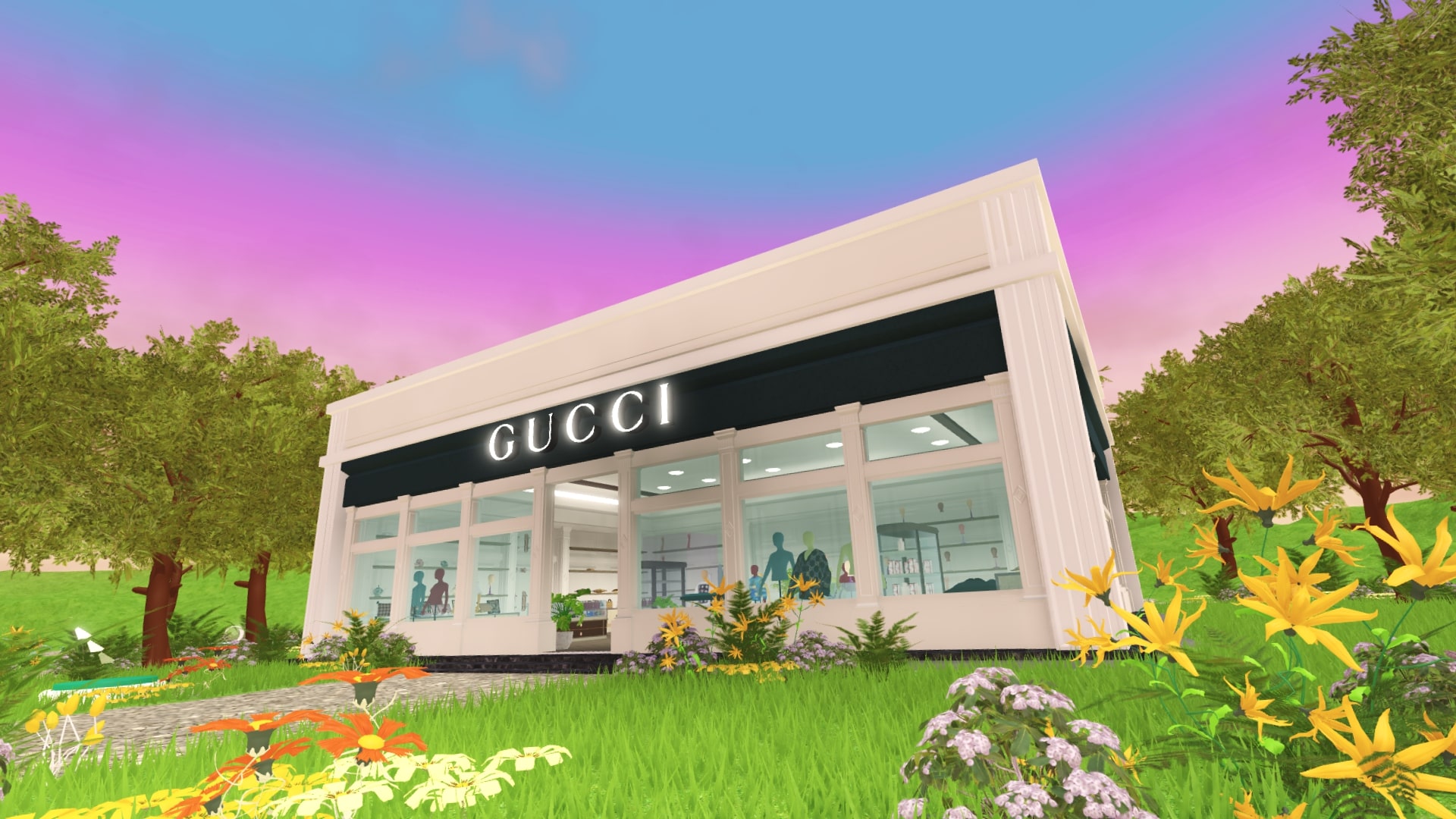 Hospitality – re-branding a local hotel and creating an experiential hub for guests or going digital with a virtual world in the same vein as the Gucci Town within Roblox, whose central garden – which saw over 1M players visit in 2021 – could host a 'destination' show of its own.
Fragrance – Ben Gorham of Byredo has talked about "…the translation of memories into scent", and here is where brands can highlight ingredients derived from a region or use fragrance to transport viewers and attendees on an 'imaginary journey'.
Sport – Miu Miu took over tennis clubs from Forest Hills, New York to St. Tropez to celebrate its Fall 2022 collection with a #miumiutennisclub July activation, highlighting its viral pleated mini.
Food – for spring summer 2021 Fendi's "La Famiglia" show invitations were accompanied with a gift of EFFE no1925 logo pasta, which was produced by Rummo. Those gifted were able to then foster a deeper connection with the brand through making a family recipe of lemon pasta.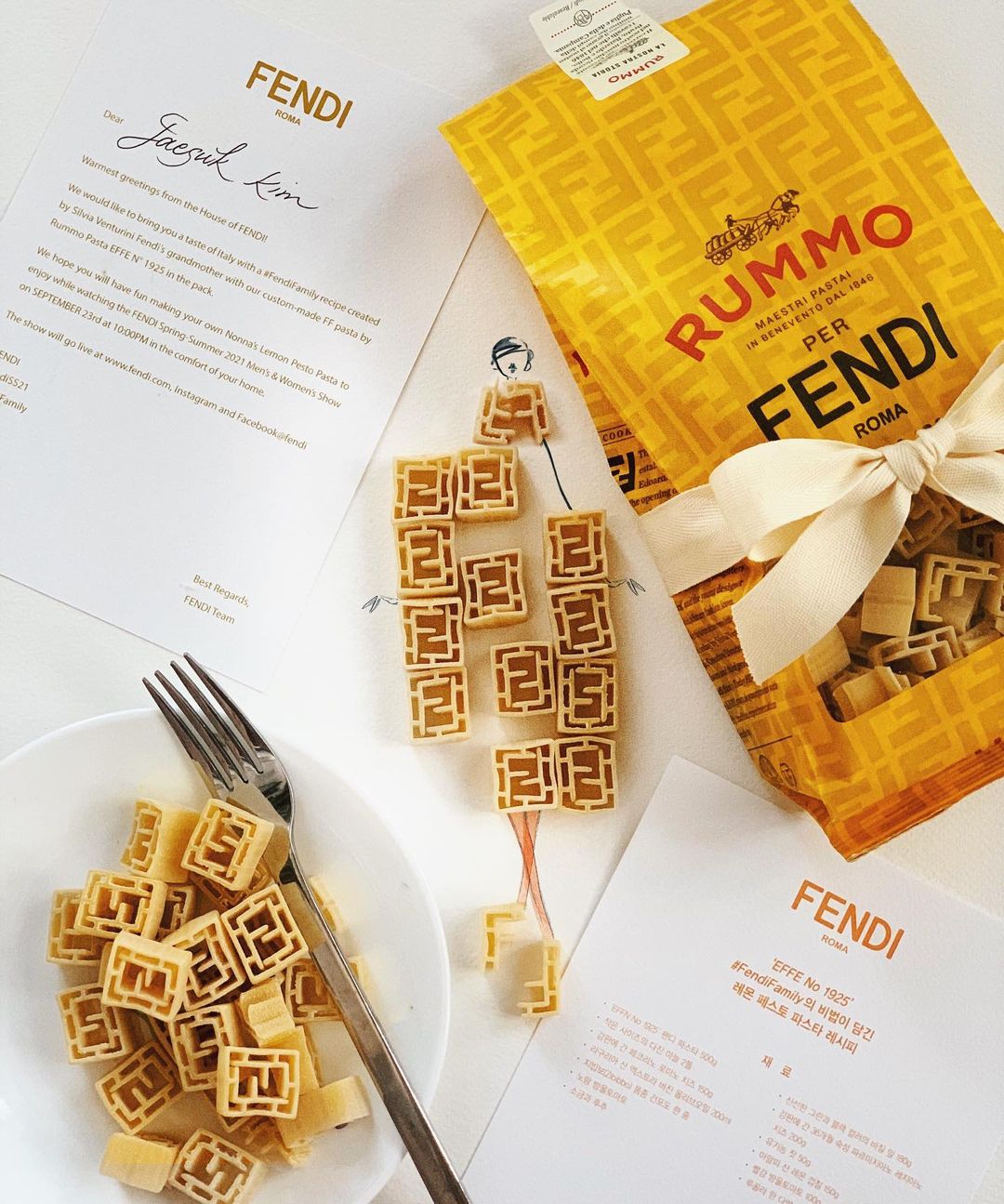 In travelling further afield there is the chance to engage with fans of your brand who don't live near a store and by coming to town, an in-person on-boarding, can be carried out as part of the cultural experience.
To truly amplify these events, brands should think bigger and bolder, widening their scope and taking an expansive yet inclusive approach to touchpoints that will create memorable merch and experiences. This is where taking the time to really dig into what makes each place unique will pay off in customer acquisition.
Think Local when Going Global
What could be seen as a positive step towards investing in the diversification of the luxury consumer, Chanel's next Métiers d'art collection is slated for December 6th in Dakar, Senegal. A move that could positively affect the luxury house's bottom line, as the continent hosts the world's youngest population (at least 70% of sub-Saharan Africa is under the age of 30, according to the UN), and as of December 2021 the number of millionaires topped 136,000, with $2.1 trillion in private wealth held on the continent, as outlined in the Africa Wealth Report by Henley & Partners.
As the luxury industry's focus has often been clustered around the north and south of the continent (think South Africa, Egypt, and Morocco), there is a growing need for luxury brands to start a dialogue with the countries that lie between these 2 centres.
Now, with the impending Métier d'arts show in December, Chanel can work towards genuinely fostering a connection with key Senegalese insiders for its front row (from fashion editor Julia Sarr-Jamois to Tongoro founder Sarah Diouf, and stylist Jenke Ahmed Tailly), as well as engaging the next co-hort of Africa-based Gen Z and Millennial clients. Many of whom are responsible for spearheading several global cultural shifts through music (Burna Boy and Wizkid's Afrobeat sound), fashion (LVMH Winner Thebe Magugu has collaborated with both the Kark Lagerfeld brand and Adidas), and art (the Victoria and Albert Museum in London's latest exhibition focusses on the history and culture of 'African Fashion').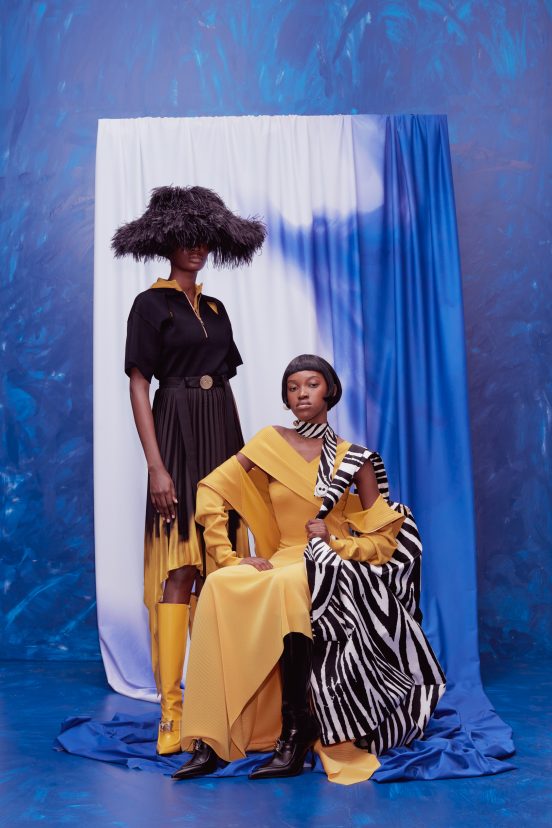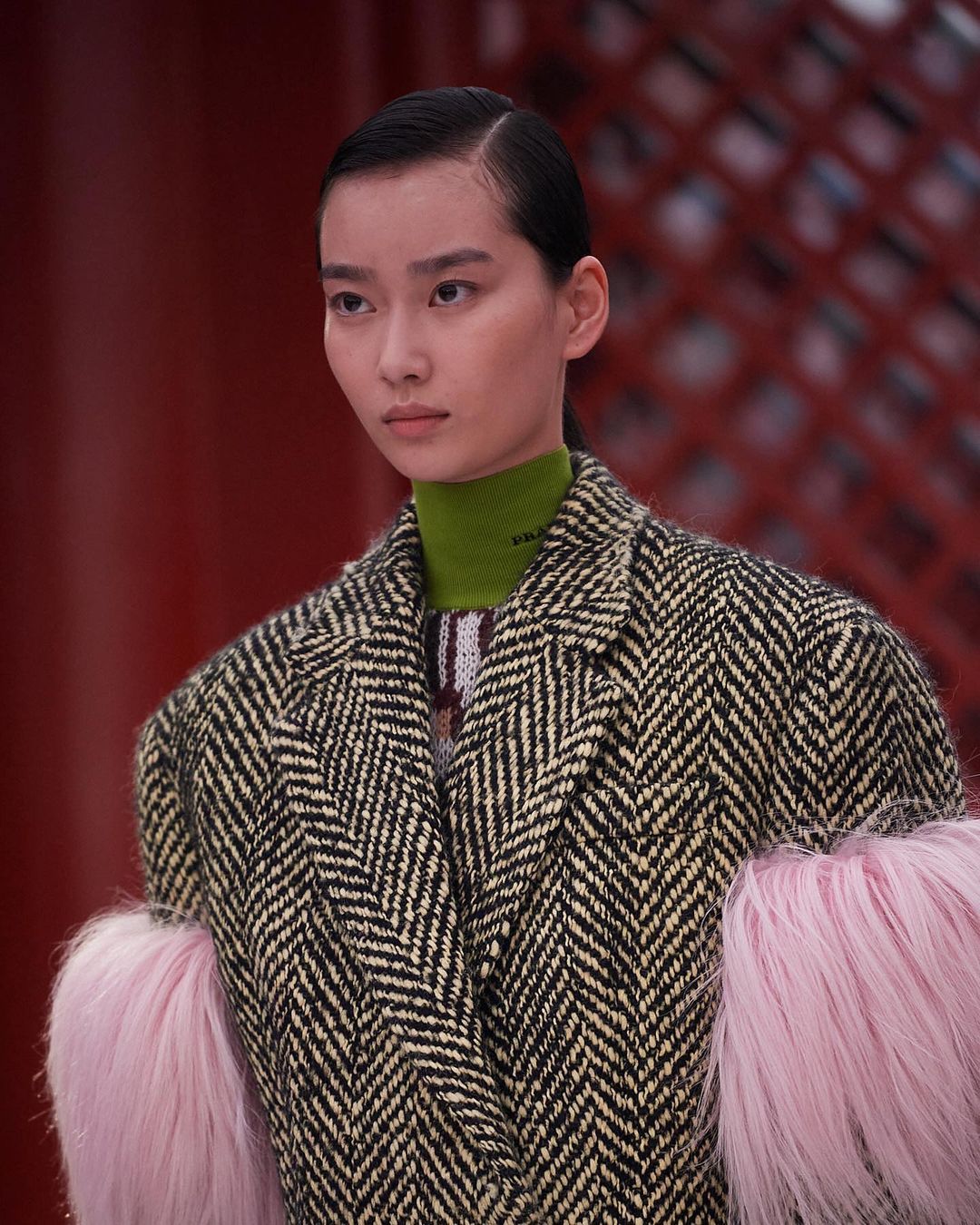 Prada's re-staging of their Fall 2022 collection in August at the Prince Jun Mansion Hotel, Beijing, demonstrated the importance they placed on taking on board and integrating the cultural nuances of their chosen location. The brand cast models and actors that reflected the local region, from supermodels Du juan, singer Zhao Lei, actors Chun Xia (also known as Jessie Li) and Liao Fan, and Prada Ambassador Cai Xukun. Prada showed an understanding of the need to continue its ties within an important market, one that has been experiencing a shift in consumer sentiment towards luxury goods purchasing, and a stalled return to the 'new normal' caused by new COVID spikes and reimposed lockdowns (Beijing only recently relaxed restrictions in June). This outing was more than part of a travelling roadshow, as explained by Alison Bringé, Chief Marketing Officer at Launchmetrics:
Beijing was a key statement for the brand (Prada), especially as first-mover advantage is seen as more significant than ever before. In fact, Prada has had a strong focus on the market for some time, which has proven successful in the past with their SS22 Collection – broadcast in both Milan and Shanghai. The event generated a total of $22.3M in MIV, with China contributing to 20% of the global Media Impact Value (MIV).

– Alison Bringé, Chief Marketing Officer, Launchmetrics
An impending recession and climate crisis aside (as looking at the bigger picture it is going to require a collective effort from the other major polluters who occupy the 'Top 5' with the fashion industry – energy, transport, food, retail, and agriculture), destination shows provide a much-needed form of escapism and fantasy in a world that has never needed it more.
Key Takeaways
Resort collections face into the future: earlier springs and longer summers, mean that resort collections benefit from an extended selling period, and with more brands leaning into the see-now, buy-now model the destination show will only continue to grow in importance.
Expand the Brand Universe: the opportunity for brand expansion is still underutilised, as the destination show offers a marketing halo opportunity for product launches, development into adjacent product categories, and unexpected tie-ins.
Think Local First: when considering new destinations, especially within APAC and (E)MEA regions, take the time to engage with local voices as a way to resonate with customers in-country, as data from Launchmetrics confirms "..it's a strategic move when brands are traveling to non-traditional markets for shows or mediatized brand events, to leverage local voices to reach local audiences."
---