---
Review of Iris Van Herpen Fall 2022 Couture Fashion Show
The Future is Now
By Lizzy Bowring
Where does one begin to review an otherworldly collection? The Iris Van Herpen show was an extraordinary presentation showcasing her work and the outcome of all those with whom she collaborated over the last six months. Their intricate details, materials, and prints, carefully choreographed into the collection came with a depth of intense artistic craftsmanship that held her audience today.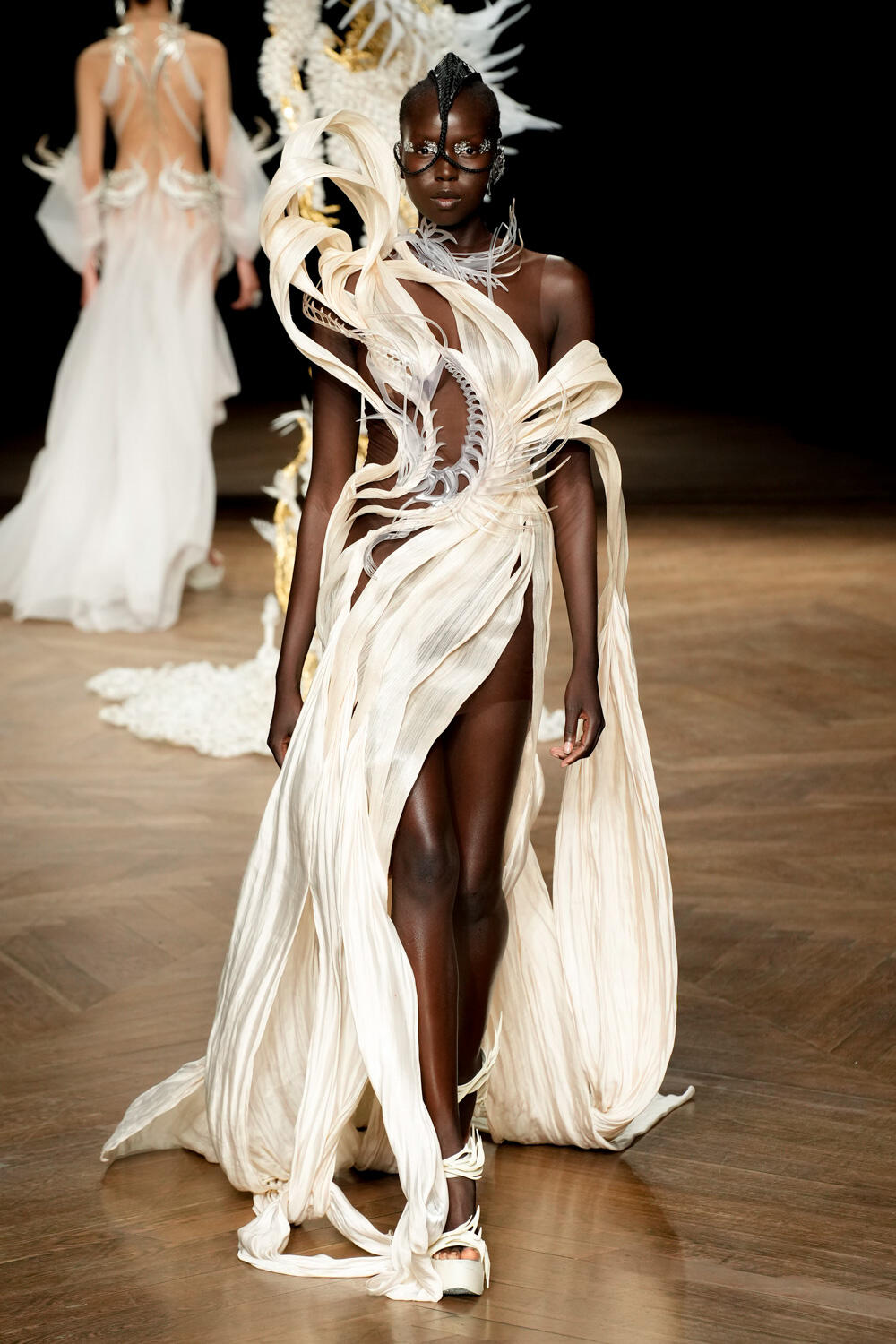 Their intricate details, materials, and prints, carefully choreographed into a collection that came with a depth of intense artistic craftsmanship that held her audience today.
Iris is a rarity, a creator in touch with the world around us, diving deep into every nuance, her storytelling as meaningful as the clothes she creates. In a pre-show interview, Van Herpen tells the story of her inspiration, the journey, and those she worked with during this journey. Her inspiration for the collection came from the 8th century Magnus opus poem 'Metamorphoses', where the stories of Arachne, Narcissus, and finally, that of Daphne and Apollo caused her to reflect on the relationship between humanity and its place amongst nature.
With technology becoming increasingly complex and the ability to recreate our digital twins growing each day, it is important to consider what this means for our sense of self. What happens when we lose touch with who we once were? And what new realities might we find if we open ourselves up to change?"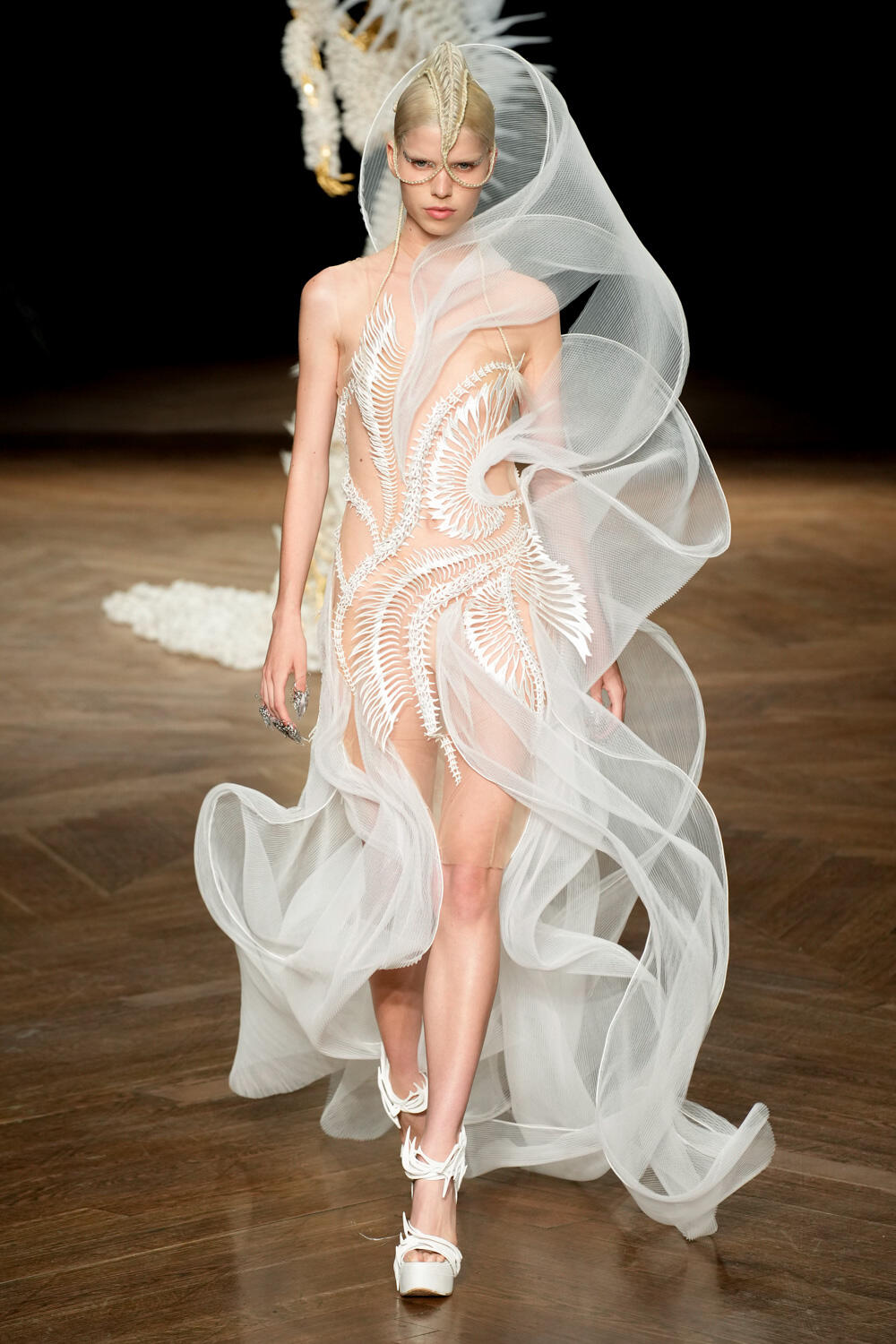 For this 15th anniversary, Iris van Herpen was to make her debut into the Metaverse in collaboration with Microsoft, fusing the realms of digital and physical couture and creating the first of its kind 'mixed reality runway experience'. The show notes suggest that physical models would exist in harmony with digital avatars, shown through hololenses and augmented phones, while digital portraits of Ovid's myths were envisioned to intersect the show with a sequence of 16 silhouettes and 3 avatars. But a last minute hiccup due to complications with COVID meant this could not go ahead.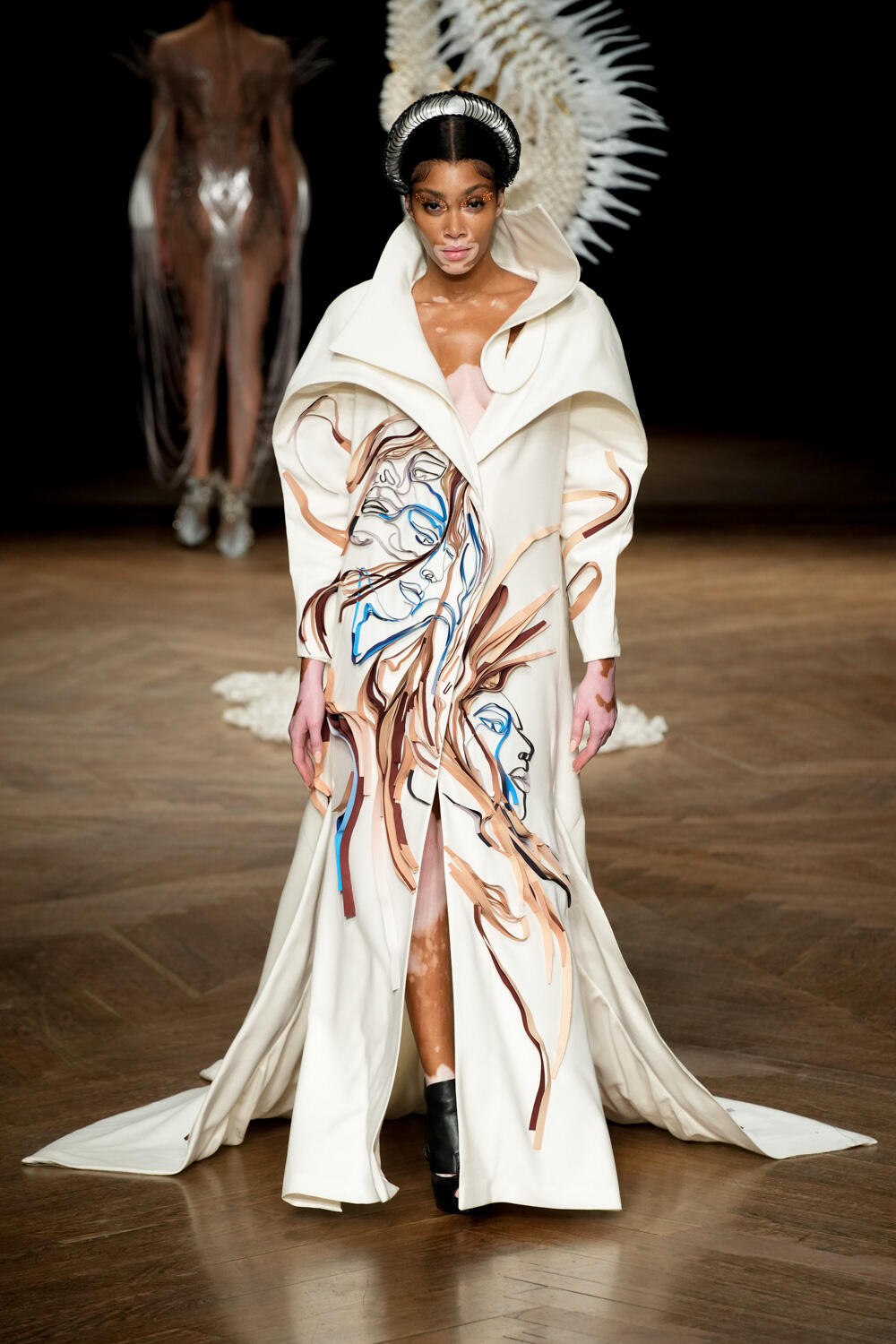 Nevertheless, the audience was certainly not daunted but mesmerised by
the presentation's centrepiece, which stood majestically and ethereally in the centre of the room. True to Herpen's vision of Daphne, the statue was crafted in the hands of Casey Curran, and made from 'polyester paper' that rhythmically undulated and quivered at the slightest breath. And from here, ebbed the heart of the presentation. The sculpture embodied the old mythology of Apollo and Daphne. Here, Herpen describes this as trying to capture the human form in transformation,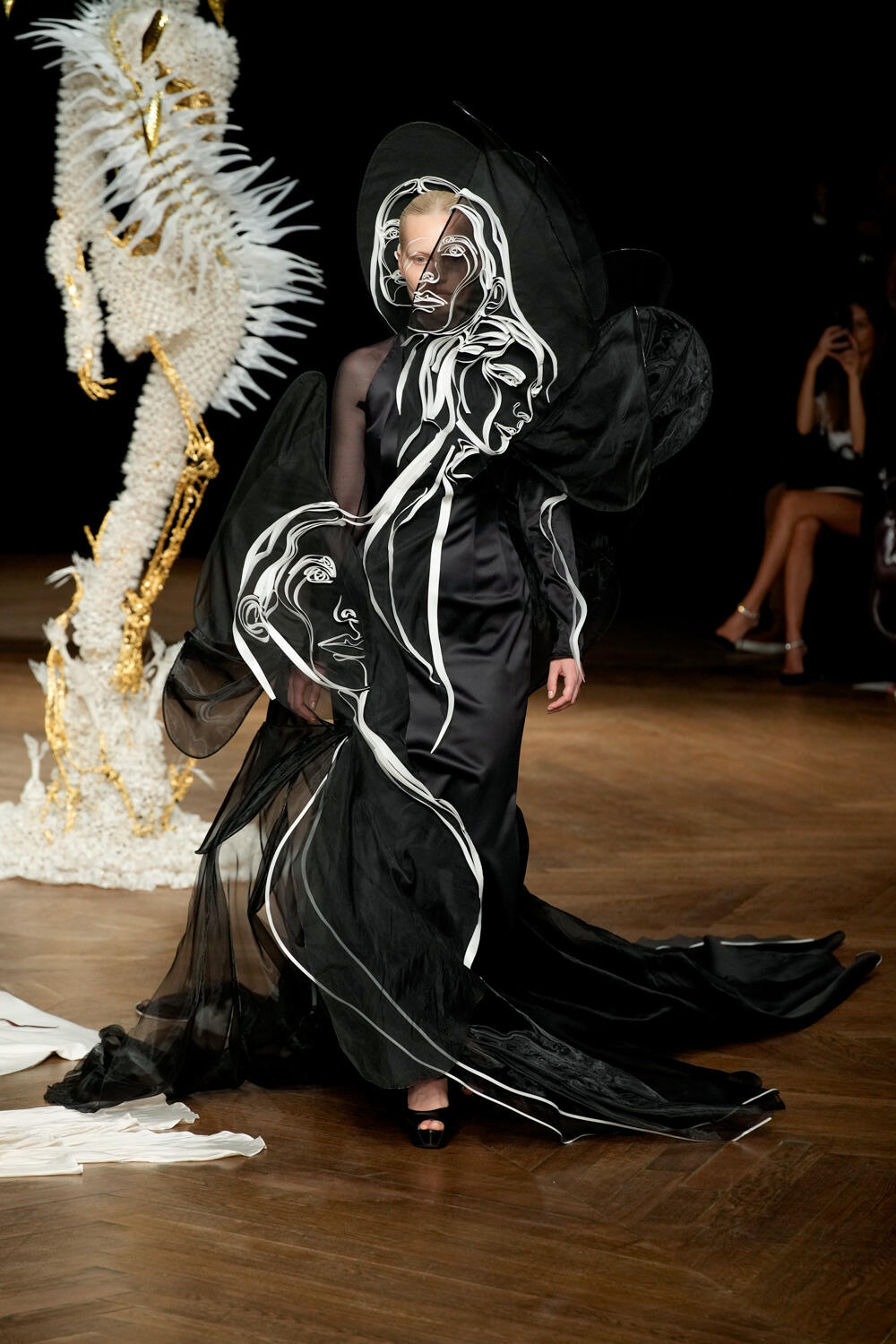 it is pretty masculine because Apollo still owns her even after she escaped him. I wanted to bring this into the future, into the 3.0 where Daphne is the form, and the golden flakes suspended from the ceiling are Apollo, where he is more like a spirit flying out of her mind. 
The collection took six months and four of that was spent collaborating with a network of institutes to work on new materials. Forweavers for example, is a small company developing biodegradable fabrics from a banana species called abaca. The resulting fiber is woven into textured sculptural material, which appeared in the opening look of a sinuous draped form. While the 3d printing developed by the dutch duo Eric Klarenbeek and Maartje Dros, used a natural process based on the residue of cocoa shell beans. Here, the Singularity jumpsuit held emebllishments that were electroplated with copper and draped with ochre organza. The Narcissus coat made of upcycled poly-silk ribbons dyed in blue, ochres, and browns were cut in various heights and embroidered into an artwork of echoing faces. Van Herpen also partnered with Solaris using 100% recycled molar as a base for the laser cuts and embroideries. Elsewhere, artists Staskausas and Lance Victor Moore, made the delicate face jewellery.
It is pretty challenging; a lot of time goes into the development. There is also failure, but once material is successful, it is so exciting.
When asked about Couture, Herpen responded:
I love being part of that, But at the same time, I wanted to give it my own identity, and I wanted to bring the couture aesthetic into the future to bring it relevant to the society that we are living in today.
Such a big part of our lives is infused by technology and innovation, it has so much influence on who we are and where we are going that I really want to embody that into the looks as well. If you think of dance, craftsmanship, and technologies, for me they are tools to create the essence of the work. It is about the body and the transformation it creates with the garment, so it is about movement, and transformation; these are fundamental, timeless principles. I see fashion as a form of art and believe there is value in the Haute Couture of the modern-day. With Couture, there is time and space to develop and innovate where we can create sustainable new materials that are not only available for us but for the wider industry. That has even more importance.
In 15 years it might be different, there may be immersive experiences that are indistinguishable from our physical reality. This collection is also about raising questions about where are we going and who we want to be in this new world and the Metaverse.
An exhibition at Paris's Musée des Arts Décoratifs is on the agenda for next year. It will include mixed realities where there will be a physical archive and an immersive experience.
As a creator, this is beautiful as there is so much storytelling and inspiration in my work, and so in a futuristic way, the metaverse will be a powerful tool".
---