Parisian Party Nights
Review of Isabel Marant Spring 2024 Fashion Show
By Mark Wittmer
THE COLLECTION
THE VIBE
THE THEME
Isabel Marant is ready to party: Spring 2024 saw the designer, who tends to lean more towards a polished, sensible, and quite Parisian wardrobe, kick off her Sunday shoes for a scintillating and intriguingly detailed collection of nightlife expressiveness.
The main event was an eclectic series of sinuous party dresses realized through diverse craft techniques, like lace, laser cutting, knits, and more deployed to hug the contours of the body. Eye-popping patterns seem to draw inspiration from paper marbling, but almost look like an AI-generated rendition of it, while triangular patterns provide a power-clashing counterpoint. Catsuits put a more playful spin on a look we've seen from Marant's fellow Parisian mainstay at Saint Laurent, Anthony Vaccarello.
Meanwhile, oversized utilitarian details like billowy bellows pockets and extra-long belts provide a bit of grounding while still playing into the theme of flowy festivity, while denim is illuminated through beaded embroidery.
On the menswear side of things, its good to see the fellas be encouraged to strip things back and embrace a bodycon sensuality of their own.
THE BUZZWORDS
Statement-making. Festive. Textured.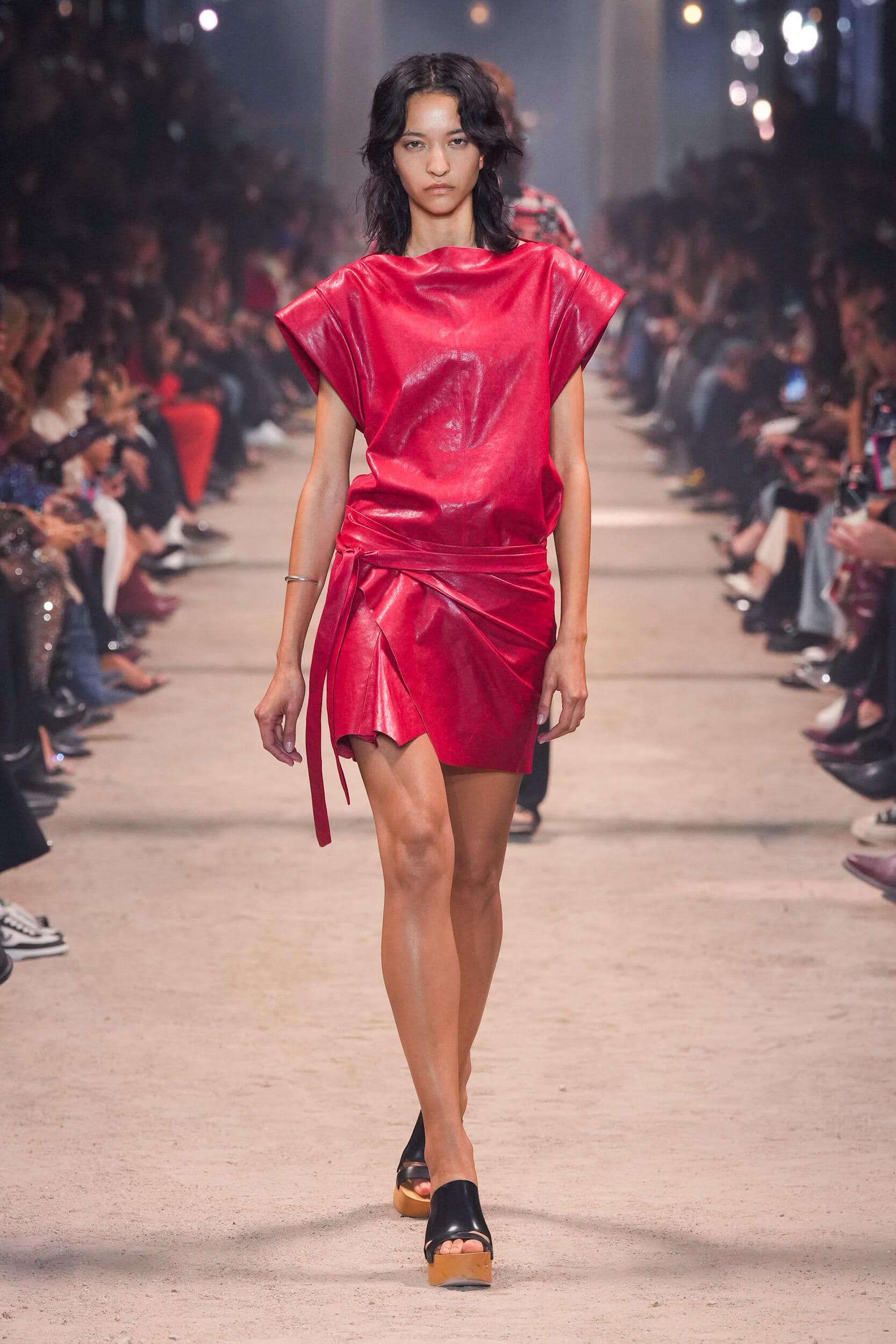 THE SHOWSTOPPER
Look #53
Dresses that you can hear coming before you see them is shaping up to be a microtrend of the season, and though it's not something we might typically expect from the Marant M.O., this disco-ball chainmail dress felt like the focal point of the party.
THE DIRECTION
PROS
Confidently bold, statement making pieces realized with eclectic craft and texture.
The flirtatious and flirty spirit is extended to menswear, which we don't see enough.
CONS
The disparate threads of the collection don't quite come together, both across the whole and as individual looks.
THE WRAP UP
Showcasing a refreshed spirit of craft eclecticism and party-ready boldness, Isabel Marant has us anticipating a hot and heavy spring awakening.
---