---
Review of Jacquemus 'La Montagne' Seasonless Fall 2021 Fashion Show
A Superstar Model in Bra and Blouse Powers a Viral Moment Atop an Abstract Mountain
By Long Nguyen
In the good old glory days of the super creativity era in fashion, say more precisely decade from the early 1990s, fashion designers at the time were full of inventive ideas in constructing outrageous narratives for their collections. These stories resonate beyond the fashion realm to impact the culture at large.
The fashion designers setting the tempo back then – Martin Margiela, Prada, Tom Ford at Gucci, Alexander McQueen, John Galliano, Helmut Lang, Rei Kawakubo, Yohji Yamamoto, Jean-Paul Gaultier, to name a few – were always readied to surprise their audience.
These designers' shows back then were masterpieces of innovative fashion and storytelling narrative shows. Outside of the venues where these designers chose as locations for their shows, there would be a mob of fashion enthusiasts hoping to get a glimpse of the 'new' and not the tired dressed up non-sense now parading for dwindling audiences interested in this type of gimmick.
In the last few years, there were so very few to no surprises coming out of these fashion shows, which are now mega productions yet with little or no innovative fashion ideas whatsoever. Then the pandemic arrived and wiped out all of the show spectacles as brands raced to the digital realm with heightened production of short films in place of live shows.
Part of the young generation of French fashion designers, Simone Porte Jacquemus, staged the only live fashion show in July 2020 in a wheat field an hour north of Paris after the men's spring 2021 and haute couture fall 2020 were canceled. Early in 2019, the brand announced a twice-a-year show season in late January and late June rather than during the scheduled Paris regular season.
That Jacquemus Spring 2021 show was precisely a year after a hugely successful show near Aix-en-Provence. The models marched on kilometers long Fuschia carpets dividing the green landscape against the backdrop of the Alpilles mountain chain, providing picture-perfect social media moments across the globe.
Jacquemus' creative approaches to his shows, then and now, were the way for the designer to continue to surprise his audience anew, with a fresh approach to view his fashion and the fresh new merchandises awash in a bit of excitement of the staging and the location. The efforts seemed genuine without the excesses of big budget productions.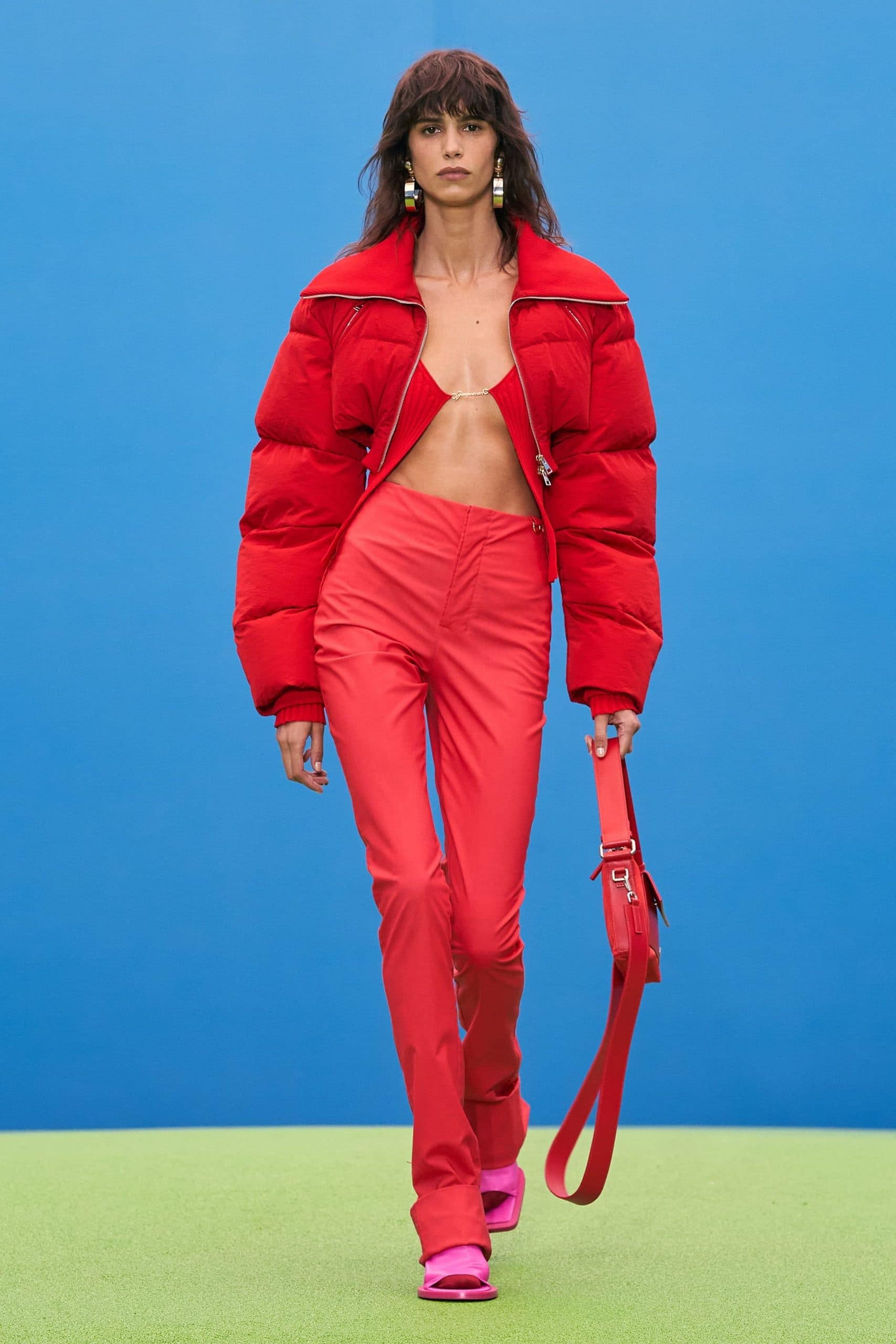 In his first show since last July's outing in the wheat fields, Jacquemus again surprises his audience with a small live performance in Paris with colorful tent decorations meant as perhaps the camping gear for this fashion adventure in the mountain if imaginary one appropriately titled La montagne.
"This particular year has encouraged us to be true to ourselves, and we wanted to share with you a fashion moment. It will present our shift to a more adaptive, modern, and flexible approach. Our goal is to maintain the momentum between our presentation and product availability," Jacquemus said in a statement.
Today's show, executed by creative show director Alexandre de Betak and his Bureau Betak firm, the perennial runway stars Kendall Jenner, Adut Akech, and Bella Hadid in his signature at times skin-baring clothes, this time the midriff is prominent, in a film studio Saint Denis, just on the northern periphery of Paris.
Many fashion brands, big and small, are rushing back to the ways to the Before Time era retaining few if any of the lessons learned in this enduring pandemic period. With much of the world still reeling in crisis, here is a young brand leading the way towards a different outcome, hopefully, a different result.
At least, by shrinking new collections presentations to a biannual basis, Jacquemus emphasizes the necessity of more time to make better collections. Gucci and Saint Laurent are brands adopting this biannual season, but not enough participants to sway the fashion system from more pre-collections.
"To us, this feels more relevant, more realistic. Our focus now is less seasonally specific. This collection will be available to purchase immediately following the show, with more releases to follow. True to our independent spirit, we want to embrace challenges as well as reinvention," the designer said, specifying the necessity of altering how his business will operate post-pandemic.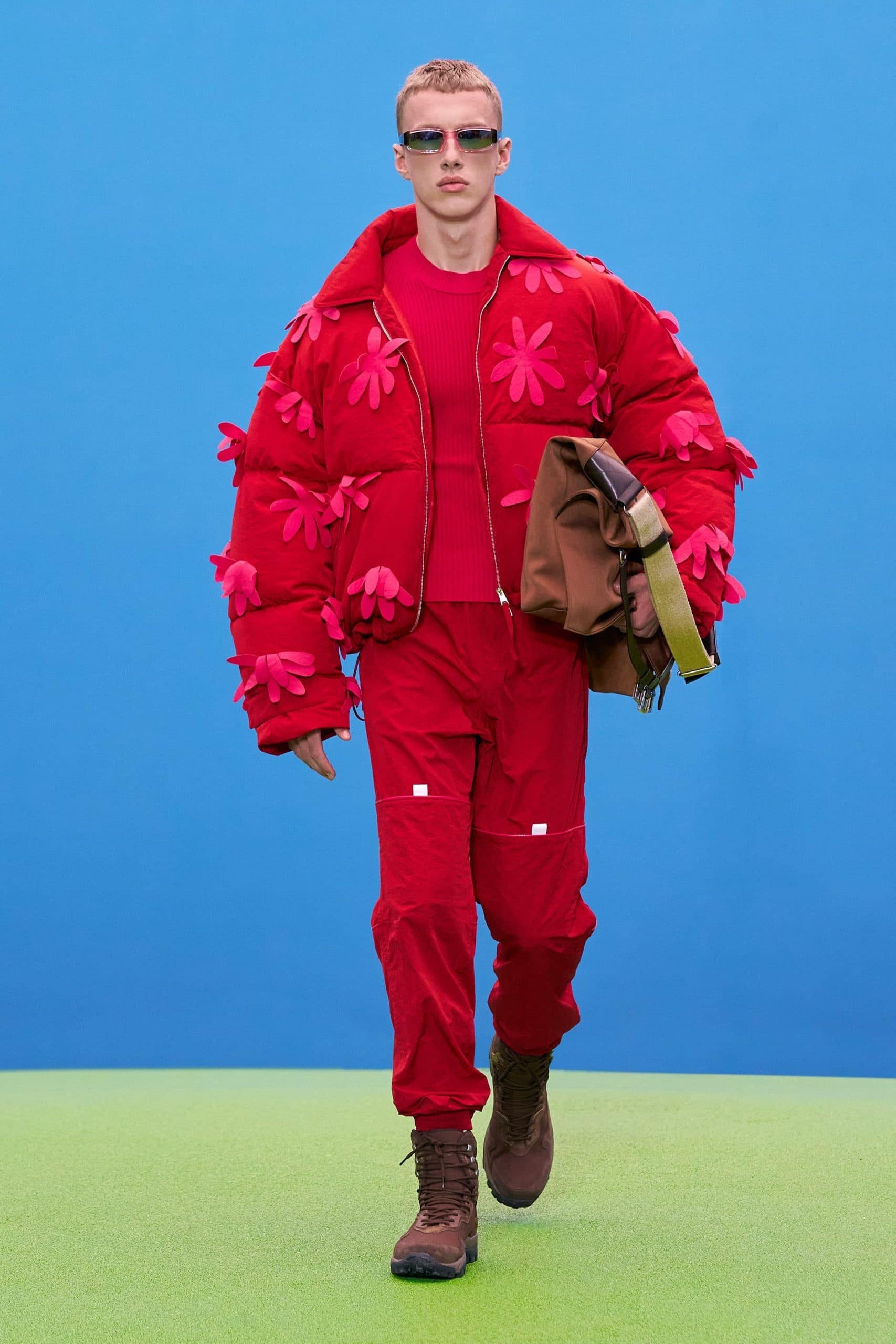 For his debut seasonless coed collection, Jacquemus pared his fashion shapes to minimal proportions. The colorful clothes reference mountain trekking and ski garments; if these clothes can be called 'ski,' maybe more of the après ski mode. In a men's red puffer with embroidered pink rose flower petals or the women's midriff cropped version paired with a slouchy bra top and stretched Fuschia pants. The stretchy close-to-the-body shapes prevail with just enough fabric to make, say, a camel front zippered jacket, a jacket to a barely-there pantsuit.
Don't be mistaken as the Jacquemus touches abounds in these slinky midriff offerings of cut-out bras under a cropped jacket and stretchy pants, white midriff blouse, and white long skirt overalls, or light brown puff sleeve blouse and matching long skirt. It is a collection based on mountaineering gears and a red puffer coat cut as a cropped bolero coat with Fuschia knit bra and stretchy pink pants. Indeed a yellow puffer down vest over light blue knit top and khaki stretch shorts isn't exactly an outfit destined for the winter outdoors.
The clothes are wearable, trendy, youthful, and fun – not exactly an easy combination to achieve but done by Jacquemus here in such a seamless manner. That trompe l'oeil light ecru long dress in an overall skirt is available for pre-order at the brand website as the Draio dress in sizes 32 to 46 for around 1,060 dollars.
The menswear follows a more tailoring route, with light mauve slim single breast straight silhouette jacket paired with one shoulder midriff grey knit and linen shorts, a boxy Fuchia double breast cigarette pantsuit slouchy light purple linen single breast jacket, and cotton khaki pants.
An oversize ecru linen drop shoulder single breast jacket with a fold over-attached pocket square shown on the runway with a light purple knit and soft pink pants are available for pre-order sale at the Jacquemus website. Known as La vest Yucò, the jacket costs an equivalent of 880 dollars in the exact runway fabric. Or another runway jacket – a light aqua blue technical two buttons single breast jacket with pocket detailing is available for pre-order in the actual runway color for around 960 dollars. The entire runway outfit, including the brown shirt and dark chocolate pants, is for sale as shown.
Other products available for immediate shipments are small accessories like a Fuschia Atla crossbody wallet bag for 550 dollars in three colors – Fuschia, black, and khaki. Similarly, the women's leather round coin purse Pitchou small bag is 260 dollars in five colors – brown, aqua blue, black, khaki, and orange. The same goes for the new sunglasses like the rectangular tortoise Yauco.
But, a thorough search for the orange knit men's bra at the website did not show any result. Perhaps this men's knit bra will be available the following season, sometimes at the end of next January.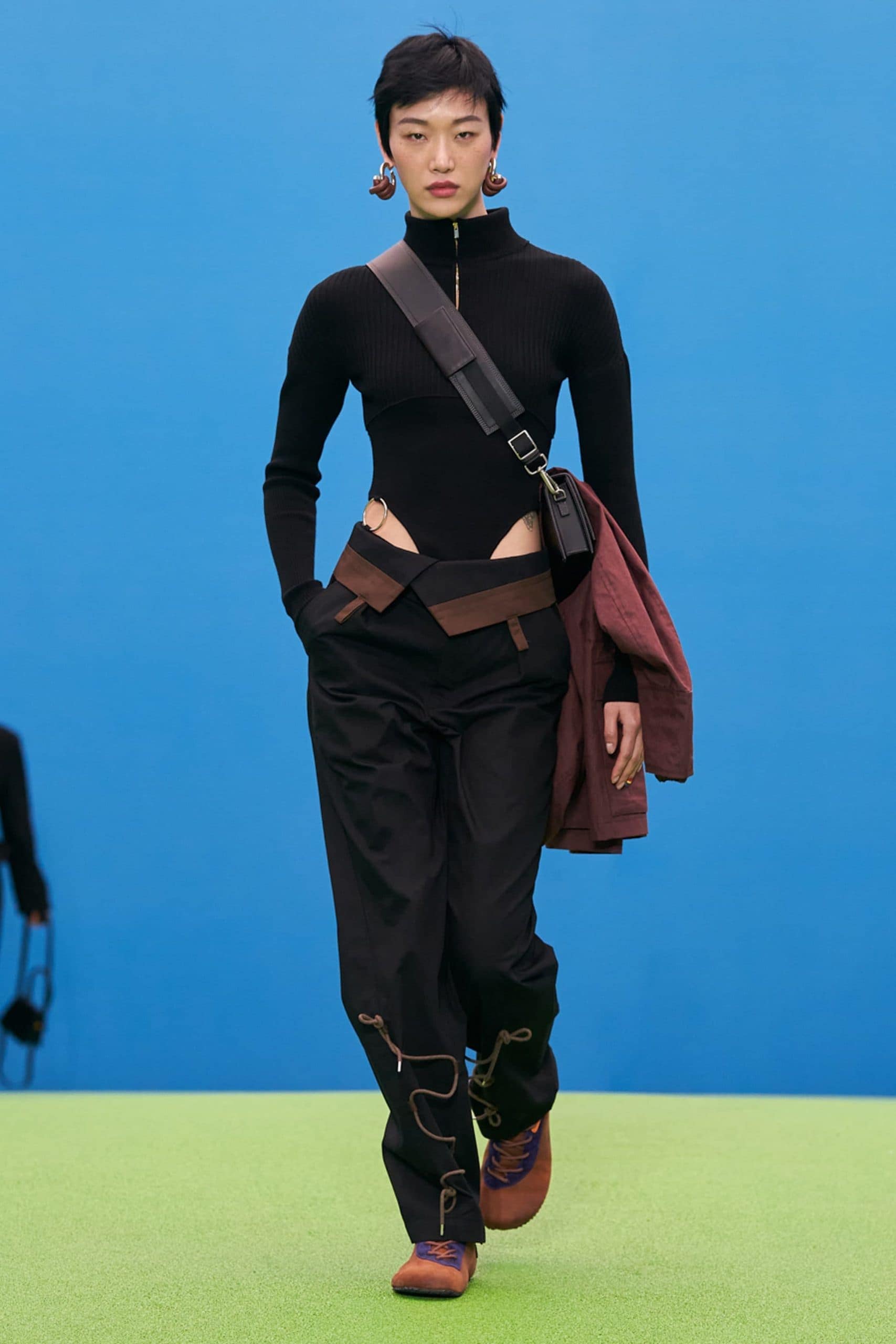 In terms of newness, this Jacquemus non-season collection isn't one to propel a change in fashion discourses, but the clothes are more sport and feel the quick mode of consumption now. The designer has a knack for smelling out the changing environment and the change of taste – that too is a unique talent. Don't forget those tiny new must-haves – Ciuciu bags and mules – ready for purchase now.
---