---
Review of Jean Paul Gaultier Fall 2021 Couture Fashion Show
The Familiar Mariner, Pinstripes, and Corsets Now Augmented Imaginatively in a Different Light and Construction.
By Long Nguyen
"This was never anything planned formally. Jean-Paul invited me over for tea more than a year and a half ago, and we were talking. Out of those chats over in the kitchen, this idea came up organically," Chitose Abe said in the foyer of the Gaultier world headquarters near the Arts & Métiers section of Paris just after the spectacular Fall 2021 Gaultier Paris couture show that she designed.
Abe recalled that it was during a bit of sweet in the kitchen of the atelier that both Gaultier and Abe began to discuss this project. Abe said she had no idea when he invited her that this was what he had wanted to discuss. "It was not the idea of a collaboration between the Sacai company and the Jean Paul Gaultier company. It was more of a personal approach," Abe emphasized.
This show was worth the wait of more than a year.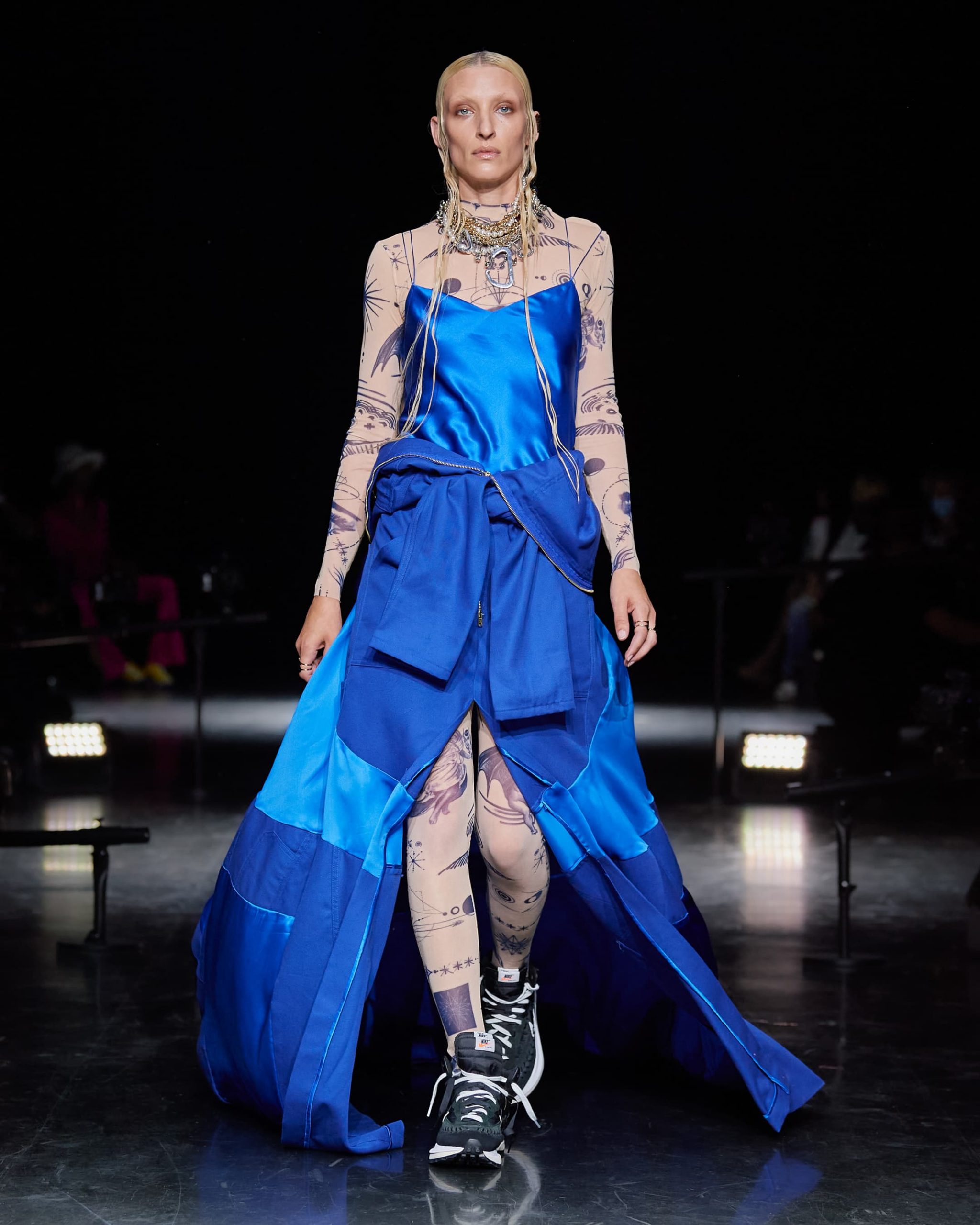 Collaborative work between Chitose Abe of Sacai and Gaultier Paris is this stellar Gaultier Paris x Sacai fall 2021 couture collection that reflects the ethos of both designers on each piece of clothing. Still, these clothes are the result of something kind of an actual mind melt.
Collaborations are such a cheap trick now in a fashion puzzle that so many recent art-fashion collusions seem at best quaint. But, a real collaboration where there are significant exchanges of design ideas is simply a rare breed. The Dries Van Noten x Christian Lacroix project for Fall 2020 was an imaginative merger of design thinking and aesthetics between two radically different fashion worlds.
Abe, too, is a fashion code breaker not in the sense of transcending cultural and social values but in the careful reexamination of the construction of clothes. Don't be mistaken and place Abe's work in the category of the deconstructionists of the late 1980s and 1990s.
Instead, Abe's oeuvre at her Sacai label founded in 1999 is the alteration of clothes and asking what constitutes a garment. She destroys our habits of seeing a particular type of clothes by separating them and then merging them with unrelated other parts from other clothes and combining them in ways that disturb our vision.
Abe's training as a pattern maker at Junya Watanabe and Comme des Garçons allows this rare powerful technical look behind the structure of any garments. It offers a different way of saying a coat is made off, thereby deconstructing our habits of seeing a biker jacket, a trench coat, a flight blouson, or a basic skirt.
Abe said of her intention in the design of the collection:
I wanted to create something completely new while at the same time preserve Gaultier's DNA. I was a big fan of Gaultier when I was growing up and love the tattoo collection. He pushes the idea of fashion far forward.

— Chitose Abe, Creative Director of Sacai
Abe's displayed her masterful techniques in the thirty-one outfits she created for this Gaultier Paris fall couture collection. The designer took several critical signature codes from Gaultier – the mariner stripes, the pinstripes, the MA1 flight jackets, the corsets, the tattoos – and created a genuinely imaginative range of clothes, couture clothes nevertheless.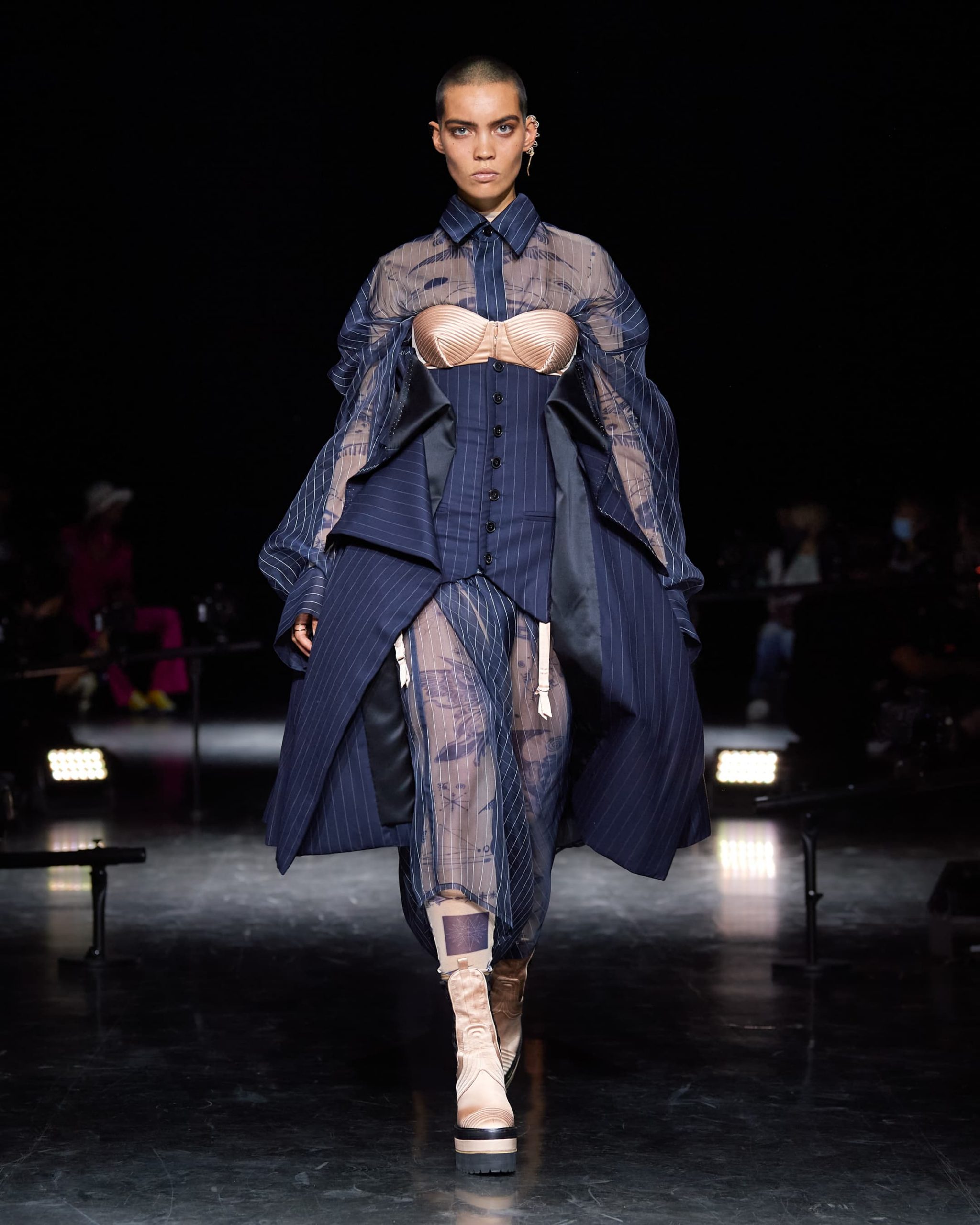 A black sheer pinstripe navy white pinstripe organza shirt, a nude corset, and a pinstripe coat-vest combination was the show's opening look that set the tempo for the entire collection where Abe created new fashion with signature Gaultier elements imbedded in these garments.
The designer said backstage in a preview that the navy pinstripe wool fabrics are one that both she and Gaultier have used extensively in their collections. Thus this seems the right place to start the show as it is also the central tenet of this project – the merging of ideas. The standout in this pinstripe group is the corset/vest one sleeve paired with a white long shirt dress or the double breast half pinstripe boxy jacket with the pinstripe poet blouse bell-bottom flare pants.
For all the visible body parts revealed, say by a green strapless MA1 nylon corset and long slashed skirt, Abe covered the model's body with a white stretch tulle, print pattern bodysuit, a direct descendent of the Gaultier Spring 1994 tattoo collection.
Another green nylon MA1 flight jacket becomes an oversize blouson over a corset dress with skirt folds. The khaki trench coat transforms into a corset dress with a cape skirt or a strapless cape dress. The Fall 1994 Mongolian logo shearling is now a white faux fur short coat with the same red JPG logo application or a long black dress with black organza panels.
Gaultier's memorable couture pieces were his embroidered denim strapless dress from his debut Gaultier Paris season for fall 1997. Here, Abe redid the denim as a faded jacket with giant buttons paired with a multiple pants long skirt or as a faded denim dress with side black organza panels.
One of Gaultier's most famous symbols – his white and blue mariner stripe first appeared in the Spring-Summer 1984 debut men's show L'homme objet as a backless cropped short sleeve tee shirt – are now either a sliced dress made from stripes of silk organza or as an organza striped mariner tee shirt dress with an attached colorful patchwork knee-length skirt with a long train.
The range of models chosen for this show is a mirror of the younger generation today. This casting reflects the years of casting that Gaultier has always been known for decades before anything like runway diversity is an industry-wide issue. At Sacai, Abe focused her attention on working with exciting individuals as models for her runway shows. She isn't in thrall with booking the supermodels of the day.
"He is a rule-breaker," Abe said when I asked her about what she thought of Gaultier long before this collaborative project was even a point of discussion.
The designer can also add herself as a rule-breaker in fashion, changing our perceptions of the physicality of clothes. She never approaches her fashion from some high intellectual ground – what if not to fill in for the lack of design ideas that appear in many luxury fashion houses. But her clothes speak to the emotion of fashion and of seeing new garments design in innovative ways. Gaultier did the same with his clothes as he upset social and cultural norms with different sartorial proposals far ahead of their times.
---