---
Review of Jean Paul Gaultier Spring 2022 Couture Fashion Show
Sea Life
By Mark Wittmer
Taking as his jumping off point John Paul Gaultier's signature penchant for the nautical, Glenn Martens' one-off couture collection for the house dives deep for an aquatic and deconstructionist meeting of minds.
The special collection by Martens marks the second installment of Gaultier's ongoing guest designer series, which brings in a new creative director for each seasonal couture collection. The first edition of the project enlisted Sacai founder and creative director Chitose Abea designer who, like Martens, has a penchant for deconstruction and reconstruing perceptions of established garment forms, albeit in a rather different manner.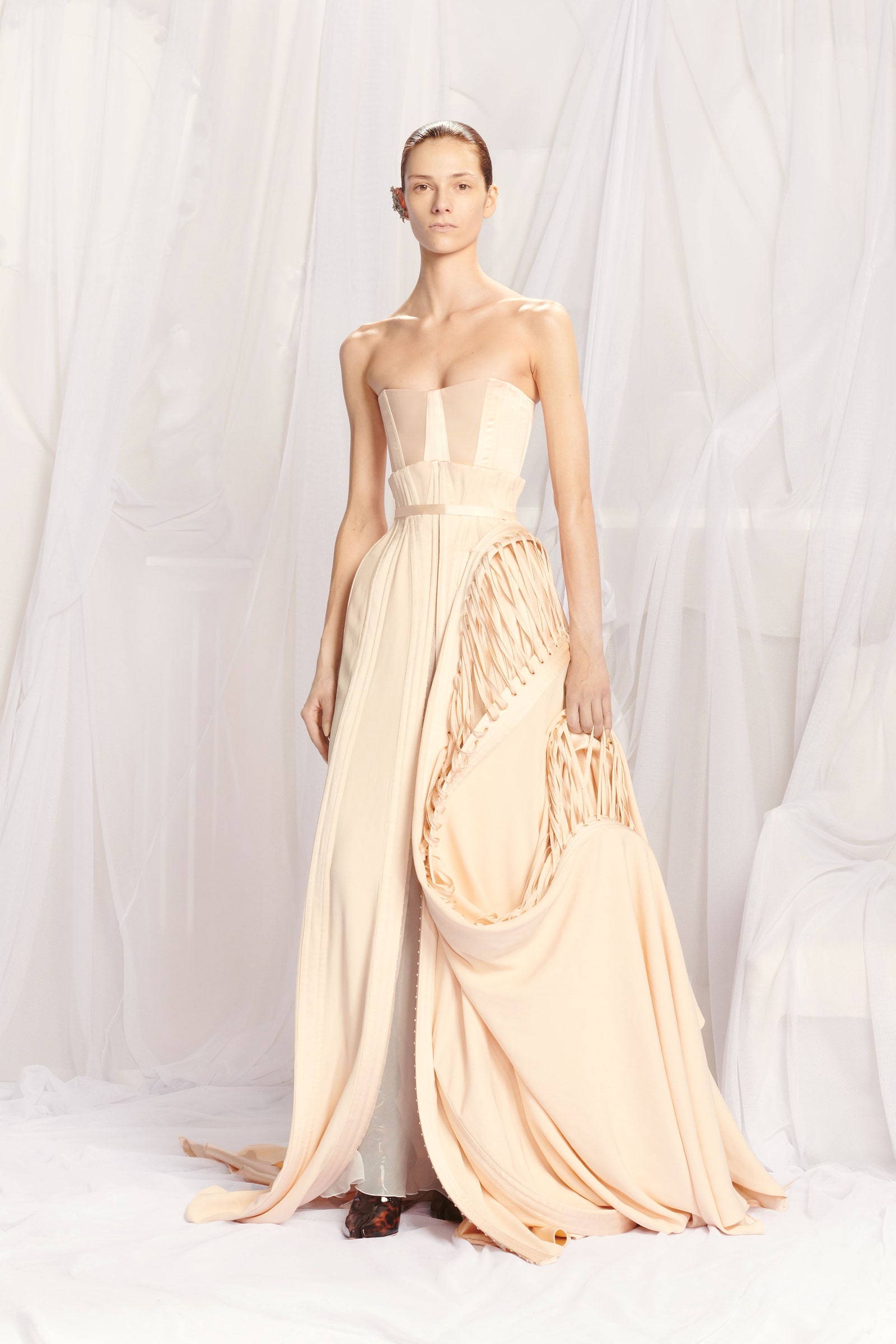 Martens set his sights on the house's iconic sailor stripes, corsetry, and aran knits, while threading in some of his own favorite techniques that have made his long-standing tenure at Y/Project a visionary success."
Stripes were given an eye-popping distortion treatment across structured dresses that emphasized the hips through a hidden, carapace-like construction.
They also appeared in a more abstracted form across the complexly layered sheer dresses, which wrapped their wearers in jelly-fish like tendrils and fluidly blurred their silhouettes.
Techniques brought over from Martens' work at Y/Project included a deconstructed knit dress, with a tangle of cables that allow the wearer to choose which hole to stick their head through – a modular and destructively brilliant technique we've seen on Y/Project sweaters for the last two seasons.
The creative director also made excellent use of his interior wire frames that can reshape fabric structures from within. These were deployed on a series of expansive, undulating dresses that floated through air like the fins and tail of an exotic fish or a strange deep-sea anemone – a stunning way to close out the collection.
The combination of an exciting designer who is interested in pushing the established bounds of fashion like Martens and a house with a legacy that is so entrenched in the mindset of modern fashion like Gaultier makes for a really exciting recipe, and the show more than met our expectations. We got to see a side of Martens we had not yet seen, and we got to see a side of JPG we had not yet seen, but all the while we saw both identities clearly.
It's still in its early stages and we don't know where the collaborative couture project will sail to next, but with two excellent shows down from Abe and now Martens, it's already an exciting success.
---