---
Review of x Spring 2023 Couture Fashion Show
Pure and powerful sensuality
By Lizzy Bowring
Pure, Powerful, and calm, this was a sensual presentation from Haider Ackerman for Jean Gaultier, the fourth in Gaultier's unique guest designer program and one of the most anticipated of the season.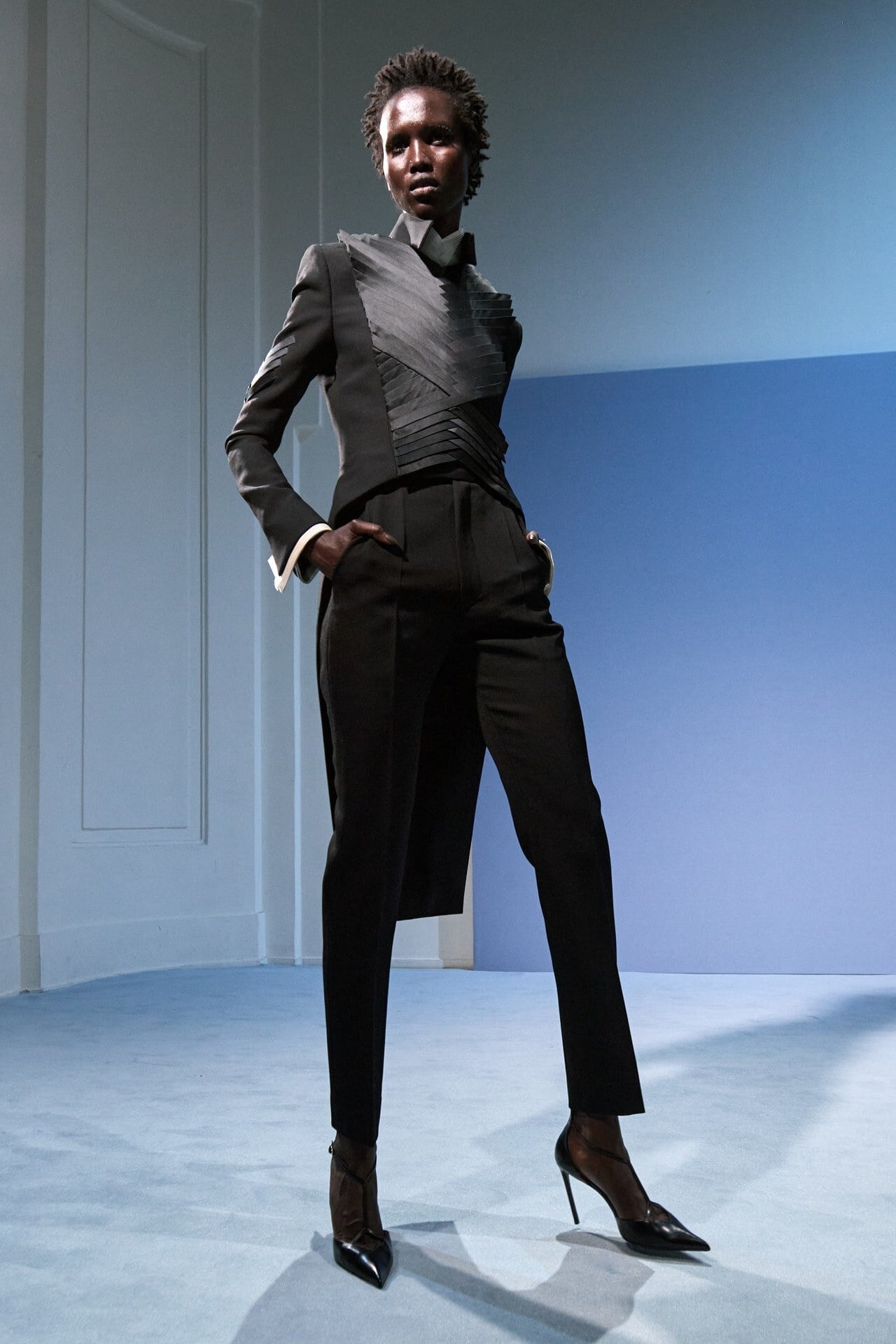 As one of fashion's most emblematic icons, this presentation showcases Ackerman's sublime tailoring, sensitive creativity, and technical excellence beyond par.
Since 2020 when Gaultier 'retired,' he has always thought of inviting a guest each season to present a couture collection. The concept has become one of Paris Haute Couture Fashion week's biggest drawcards beginning with Sacai, a collaboration that helped to energize interest in the brand, to Y/Project and Diesel designer Glenn Martens, and last season, Olivier Rousteing's spectacular re-interpretation of the work of Gaultier. For each creative, it must be akin to having a one-night stand, and who knows where that last lingering kiss will lead? The experience itself will be unforgettable.
Gaultier threw down the gauntlet, and Haider picked it up and ran with it. This evening, we witnessed a presentation that represented the Couture of old. The elegance of the clothes, the models, and the time they took to walk through the Atelier was incredibly arousing. The background soundtrack, with its slow and deliberate repetitive breath uttering the words "Look at Me," had a deeper meaning, and by the look on Tilda Swinton's face meant, "Buy me"! ( Incidentally, Tilda Swinton is a close friend of Ackerman's; her support must have meant a great deal).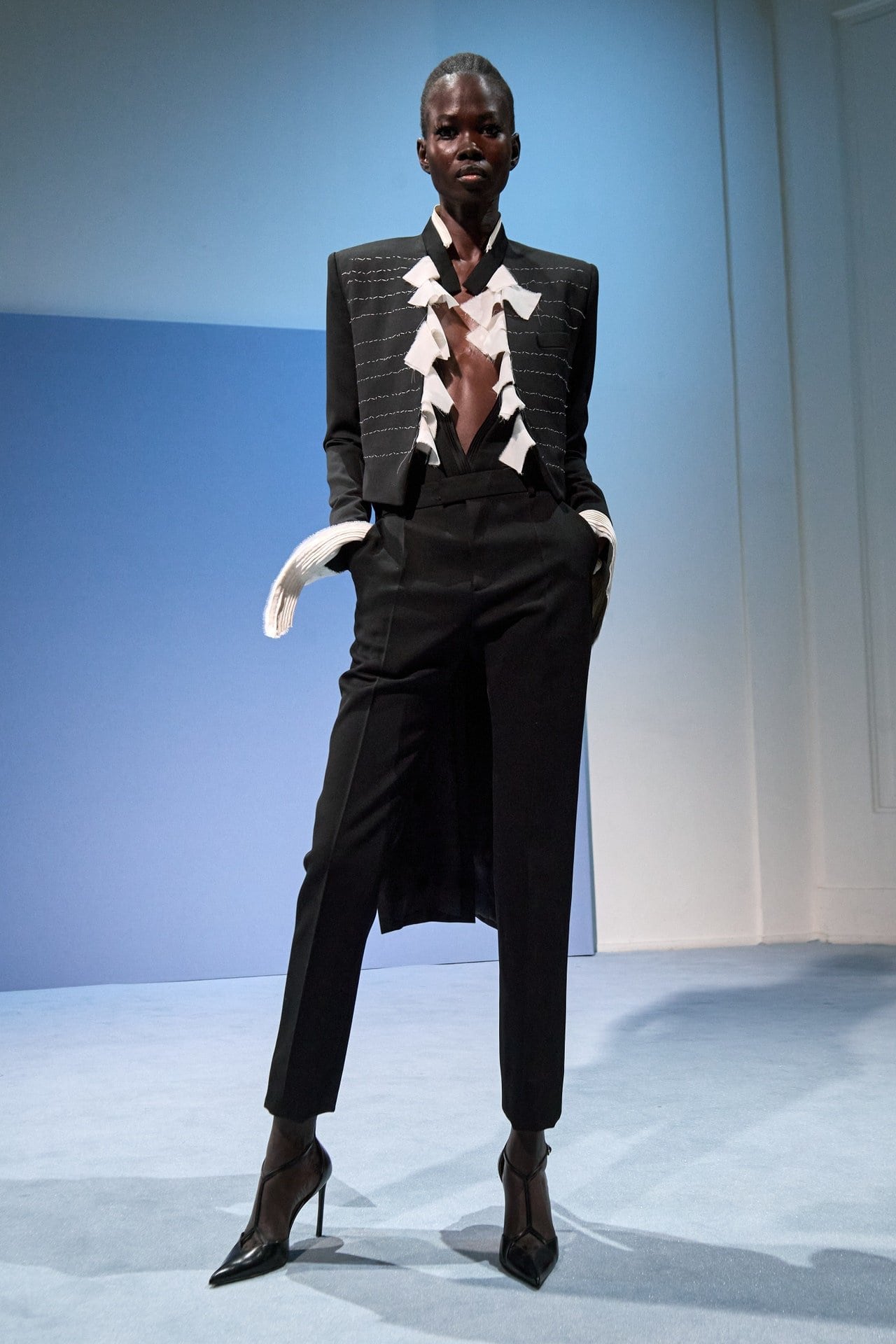 When Gaultier and Ackerman first discussed working together, it was interesting to note that both men shared an incredible mutual respect. Ackerman recalled the early years of Gaultier's work and how much it inspired him, for instance, the sleek black suit with feathers exploding from the sleeves or the designer's less exuberant side where tailoring was his quiet manifesto. Ackerman also remembered a bomber jacket designed by Gaultier with an extra-long zipper that undulated down the front. The tailoring of his 1997 couture debut particularly stood out for him with the realization of some incredible similarities in their work.
However, Ackerman's work is as much of a minimalist as the maximalist approach from Gaultier. And so it was that to explore the purity of Gaultier's design and to show the essence of Couture is how Ackerman perceived the premise of this collection.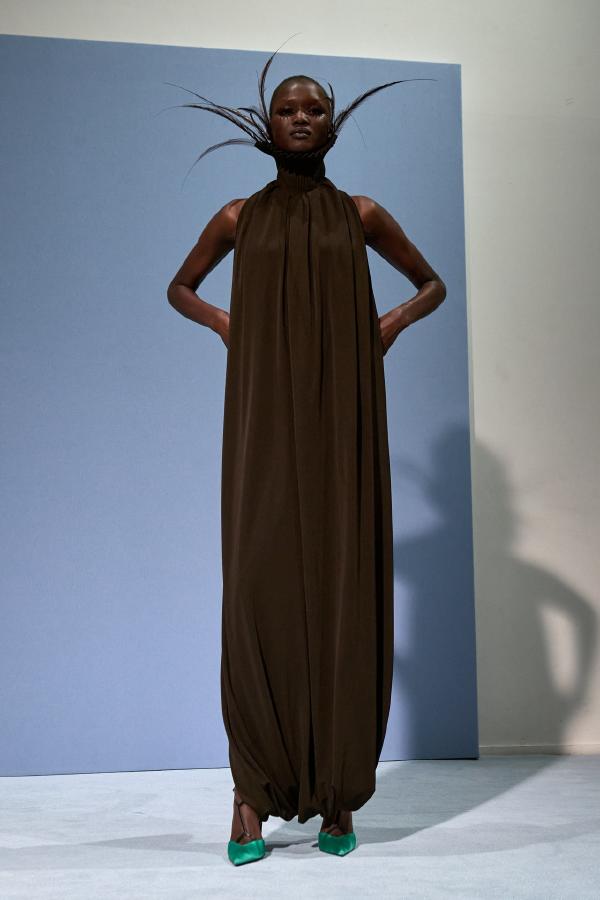 From the first outfit, one could appreciate the artistry of the Atelier. Acute pleating in the jacket defined an impeccably tailored cut. Every attention to detail did not go unnoticed, from the peak of white at the cuffs to the sartorially cut trousers. Yet another work of art closely followed with a sartorial cropped jacket, edged in flutters of silk, opening discreetly enough to utter extreme sensualism. Yet look three deserved utters of awe; the quality of the white top's cut underscored its appeal's sincerity. The inspiration from Gaultier's earlier works saw feathers cascading and billowing in fabulous contrasting jewel tones of electric blue. Bustier tops were cut and manipulated to create a piece of art all on their own, while the long beige gown, rendered with an elegant cut, followed naturally every curved line of the model's form. Insets of dazzling colour were cleverly exposed when the model walked, discreetly placed so as not to be obtrusive but more to express an element of surprise.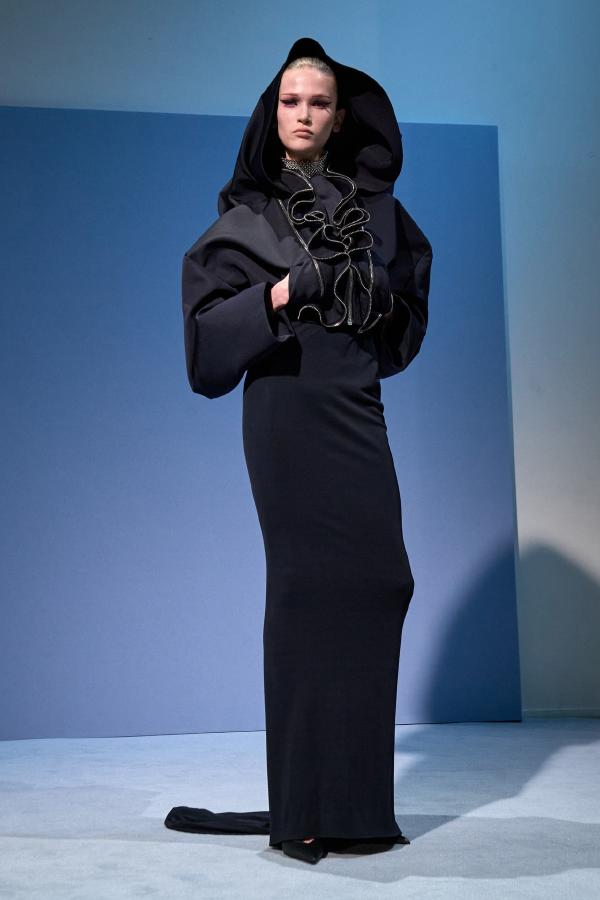 The palette of bright hues came as a refreshing contrast to the black; a tangerine ensemble with its slim tailored trousers was as much of an exercise in bespoke fabric manipulation. It rendered the outfit stunning with its massive bow, and as for the cream coat, its magnificent A-line shape was indicative of old master craftsmanship.
A statuesque cylindrical form in the softest orchid hue commands attention as the audience visually drinks in its liquid form, the bodice cut expertly to curl up and around the neck in caressing sculptural curves; it was tantalising.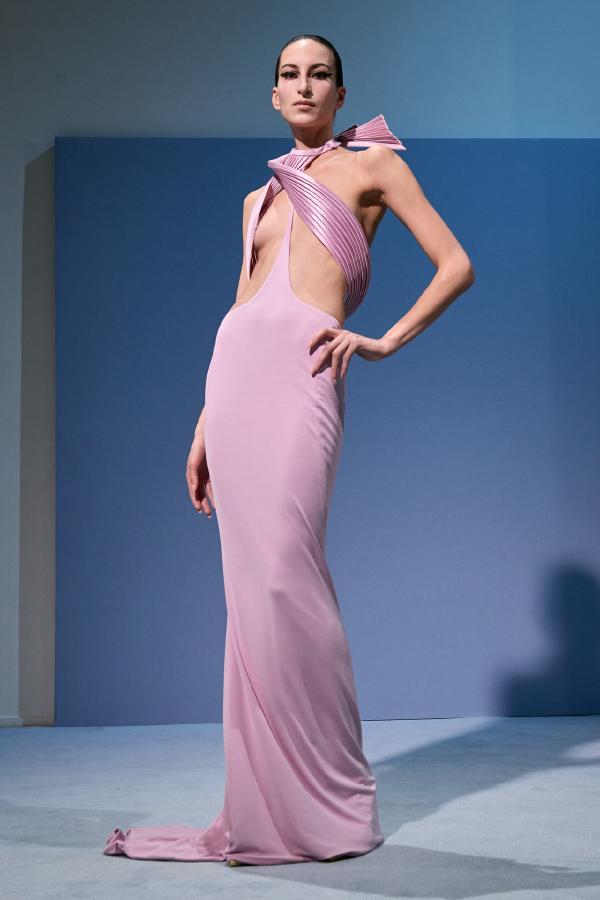 And there it was, look 24, the idea of the bomber jacket with its undulating zipper. Yes, all the references were there but procured from the hands of Haider Ackerman. Watching Gaultier's face as the show unfurled, saw a man filled with intense emotion and gratification. The collection presented before him was not a wild outing but an acknowledgment of the immense generosity and inspiration that Gaultier has provided over the years, and it would appear that these two creatives run in similar parallels. Every silhouette bore that unique sensibility that only comes from the hands that understand what makes true Couture.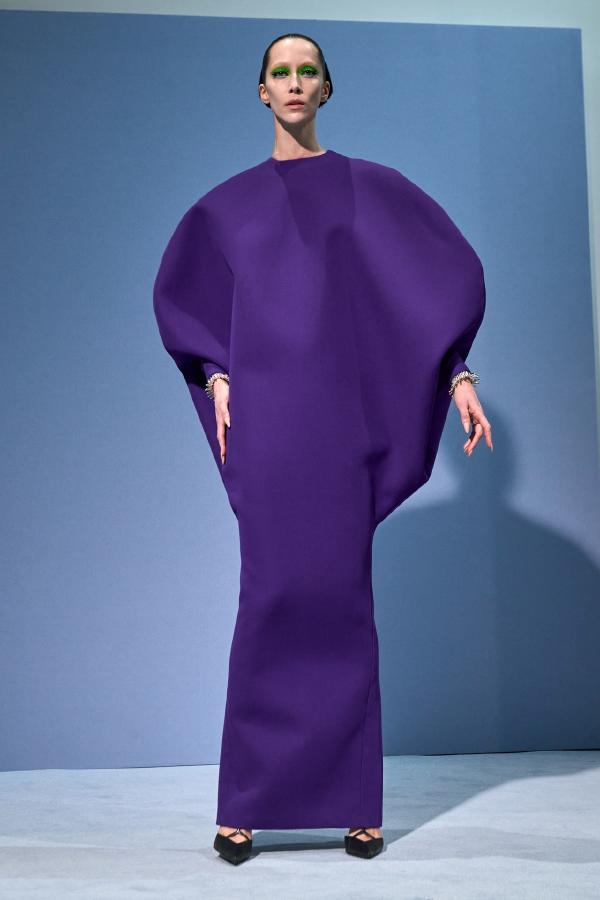 Haider Ackerman is a designer who has been overlooked of late, and to those who have witnessed today's moving experience of a pure couture debut, it shows what a mistake. It should bring him new opportunities. Would that be something?
---