---
Review of Jil Sander Fall 2021 Fashion Show
Sumptuous Clothes, But Not So Much Emotions
By Long Nguyen
The big news at Jil Sander came two days before today's fall presentation in Paris. OTB, the holding company that owns Diesel, Maison Margiela, Marni, and Victor & Rolf, and the Staff International factories, had acquired the brand from the Japanese fashion group Onward Holdings. Luke and Lucie Meier's creative director team will remain at their posts, stirring the brand in this new era for Jil Sander.
And to celebrate the occasion of this new beginning, Luke and Lucie Meier sent out a fall collection that bends on the lean and clean silhouettes mix with bold prints and shapes. The pair doused their collection with philosophical aesthetics that will firmly establish the brand as a plate holder for the kind of sophisticated clothes made with great care about their design and their fabrication.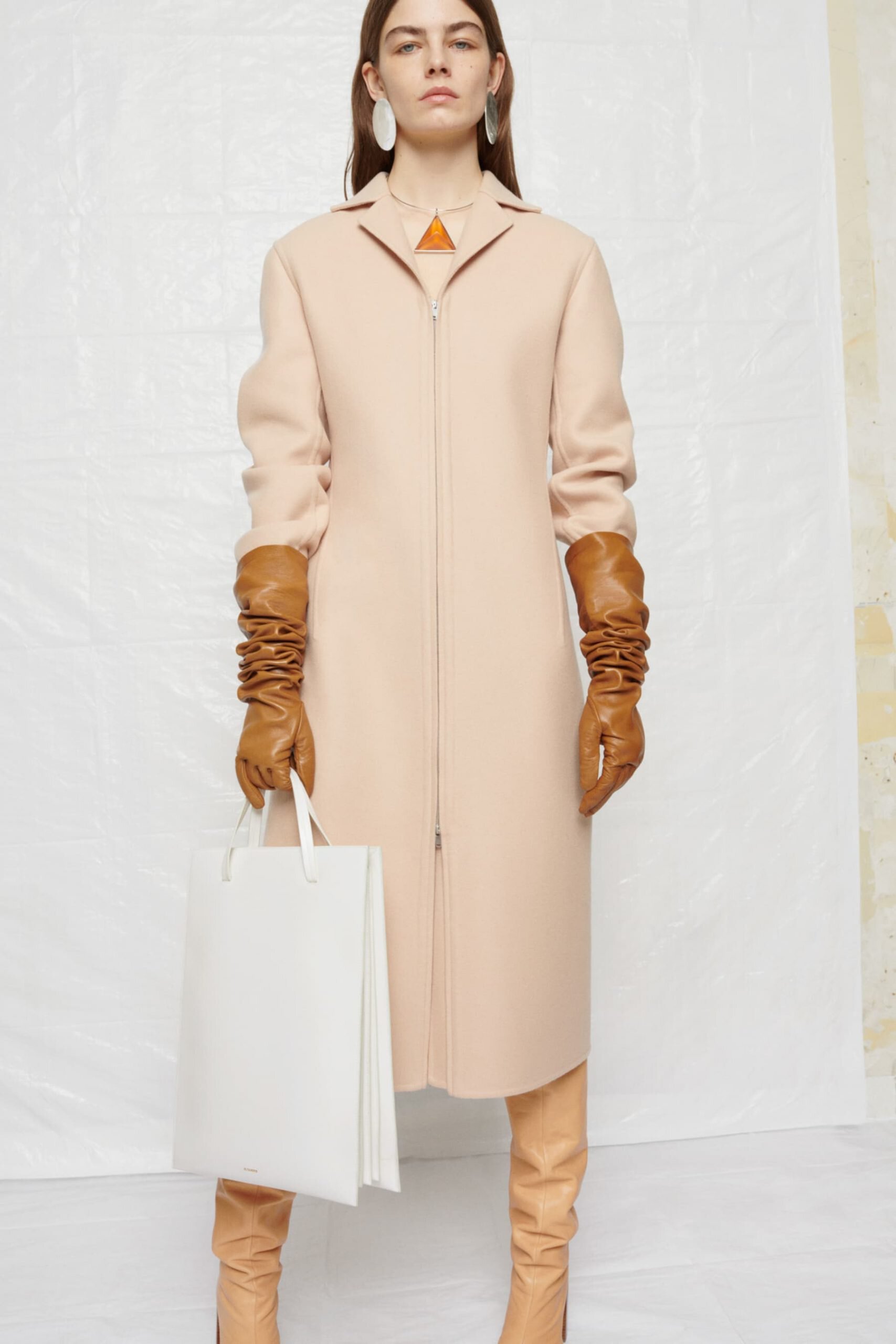 These Jil Sander fall clothes are faultless.
The tailoring techniques' rigors are apparent in a fitted ecru one button slim single breast pantsuit with a white pearly tank to the laser cut precision of a bright yellow zippered coat-dress. Besides these strict tailorings, there are ore fluid shapes like the white-black-mustard sleeveless long knit tunic and wide-leg black pants and red and white pattern print pleated long skirt and blouse. The designers' thinking and the artistry of making these garments demonstrated their unique focus in this collection and beyond.
It's all there in this collection, all the clothes any young woman would need for her wardrobe.
There is a sumptuous black leather and white wool coat for any occasion, or a fantastic yellow cardigan jacket and light yellow fringe knit skirt for the new hybrid office. Daywear is plentiful in black and white butterfly motif long dress, a nay wool zipper slim coat and black leather tight pants, or any of the range of fitted navy coats or black jacket suiting. The light purple wool belted coat with creased sleeves is certainly a coat for all seasons.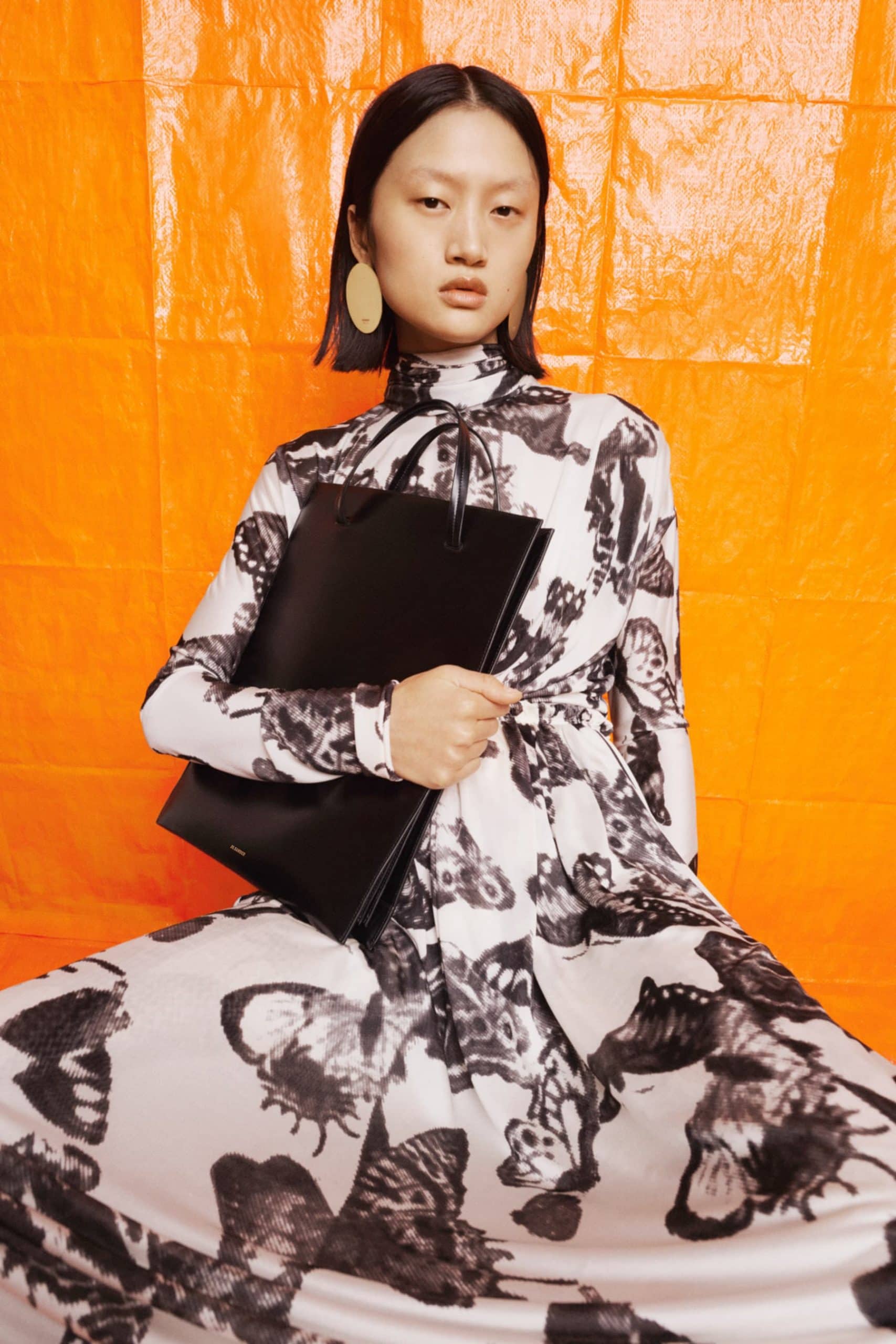 More than anything, the clothes reflect both the simplicity in their demeanors and heftiness in their fashion quotient weight.
That said, having great clothes isn't the whole fashion game at this point. Fabulous clothes alone won't propel this new Jil Sander brand to the next level.
In the 1990s, the brand founder Jil Sander connected to her customers via her clothes because her clothes meant something to her customers with a reliable and foundational message. Back then, Jil Sander provided the needed respite from the sex revolution unfolding in fashion. Her clothes were the perfect anti-dote, the break from all those noises at the time.
But, things have changed in the two decades since. There isn't much of a fashion resistance movement today – no one is resisting the ubiquity of luxury logo branding, for example. The fashion culture has morphed at great speed in recent years. Changes are coming even faster as youth culture jumped from one thing to the next overnight.
Perhaps, the Jil Sander brand can take a quick lesson from the new sister brand Marni, which has successfully created local communities globally in the last two years. It will take much more in the reality of fashion than just great clothes today to convince young people that this is also their brand.
---