---
Review of Jil Sander Spring 2022 Fashion Show
Seeking Serenity and A New Silhouette 
By Long Nguyen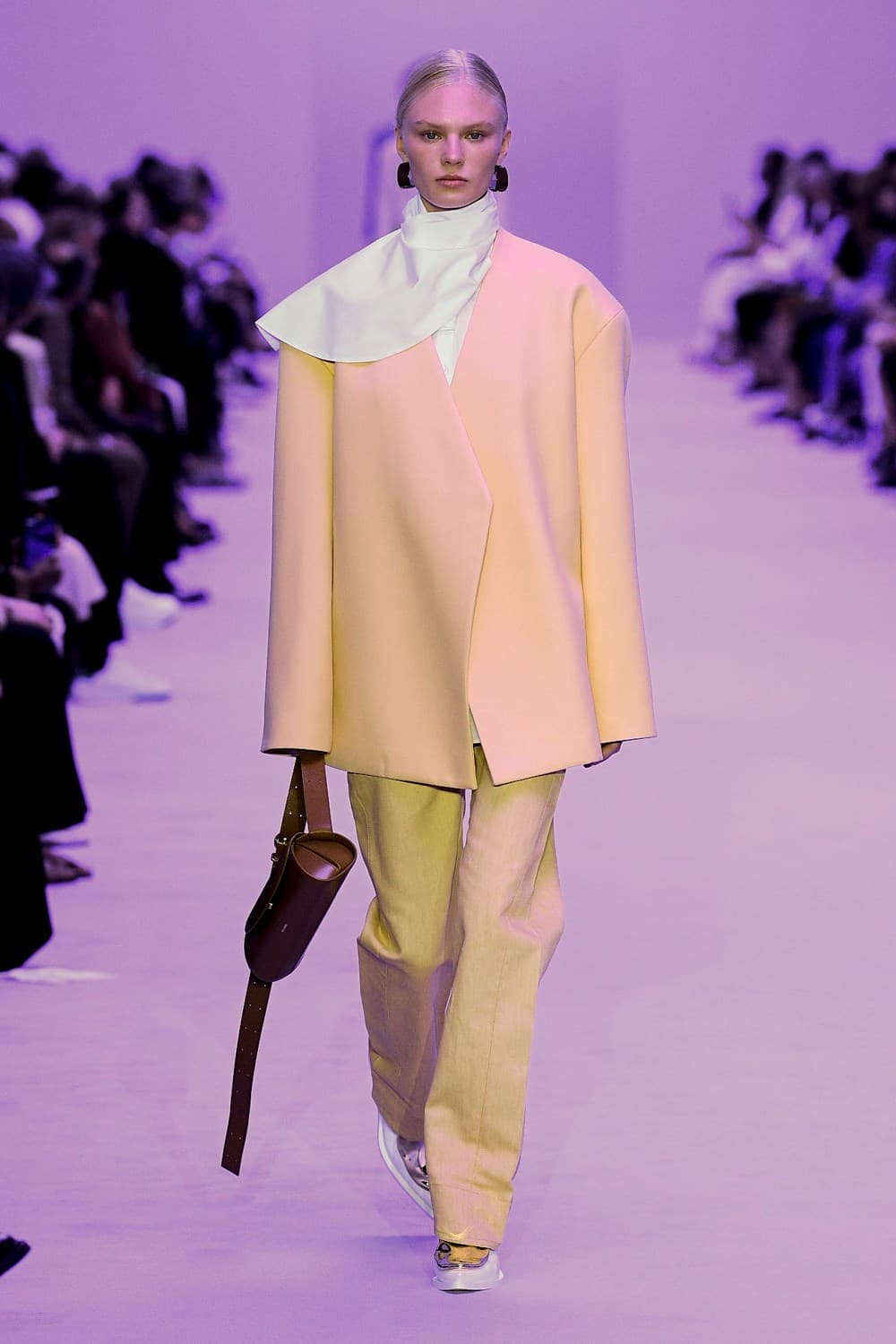 Jil Sander today is still very much a brand in transition, not entirely out of the Jil Sander of the founder's day when so firmly established a fashion look in the minds of anymore pronouncing the name out loud. 
"We are in motion," Luke and Lucie Meier said of this Spring 2022 collection.
In the few years since 2017 that Luke and Lucie Meier have taken over the creative direction of Jil Sander, the couple has steered the brand towards a new version of the heritage of the brand's minimalism that the designer Jil Sander herself was an anchor member.
What that entails are clothes that don't shout but also clothes well designed, well thought out production and prescient materials to counter the extreme high waste and pollution generated by the fashion industry at large. Gearing the brand towards young consumers, the designers must also endow their company with the same value system adopted by these more conscious global kids.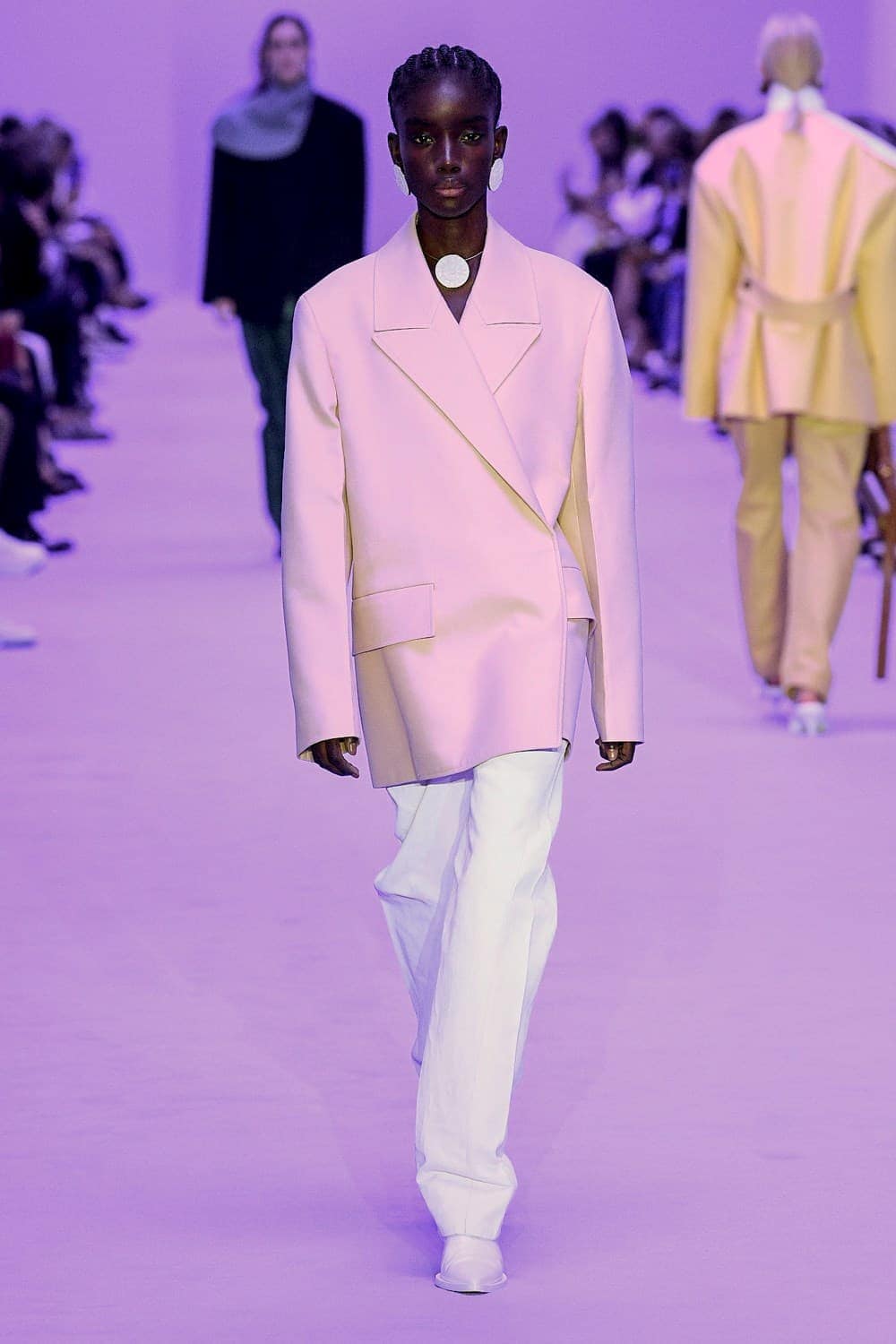 The Meiers have begun slowly adding a bit of soul into the mixture of sensibility and service of humanity each season. On sure thing that was absent out of the heritage of Jil Sander stern, aesthetic mold is certainly sensuality. And even a little bit of emotion as the rigidly structured garments was never that amenable to show off oneself – they were more like armors, something not as needed as a year ago next spring.
The clothes must be simultaneously timeless and timed to the now. 
"Tension is energy. We are reopening our eyes and can enjoy the bliss of a new reawakening. We are plural, nocturnal, and luminous; feminine, masculine, vulnerable, and strong. Subtle and powerful. Silhouettes and volumes look strong yet feel light. Generous, they change from garment to garment to garment, from look to look, in a skillful balance of fabrics, treatments, and details," the designers said of the collection.
That means for the Spring 2022 women's collection, much softer and slightly oversize shapes, some pastel colors, and here and there daring graphic knit prints.
The main shape of the jacket is the boxy rectangular silhouette with broad dropped shoulders, oversized longer sleeves in cardigan collar or large lapel cross body double breast with patch pockets and one button on the far left side and paired with mixed colors pants as separates and not as a pantsuit. The light pastels of green, light yellow, celadon, or light camel pastel colors jackets are paired with either dark shades pants or an entirely different palette.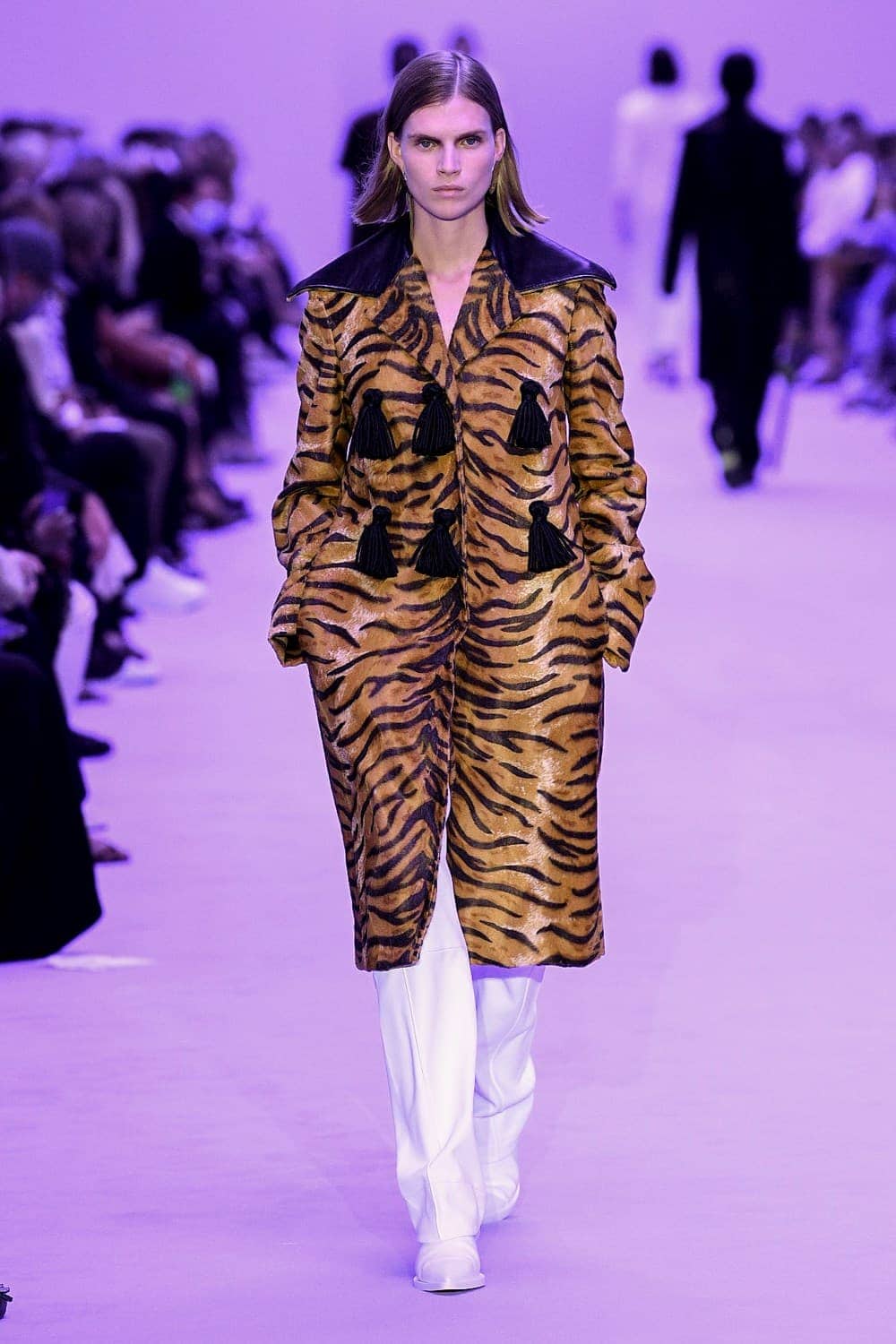 "Smocking, cording, padding coating – cotton drills are gessoed or glazed with Nappa: everything is textural, showing creative invention and artisanal handcraft," the designers said about the unique blending of natural fabrics.
While the jackets and coats are boxier, the dresses tend to be more linear with a clean-cut strappy ivory long dress or a light mustard tunic and matching skirt. Long knit dress with zig-zag patterns or a loose pastel color dyed loose dresses made from natural fabrics and artisanal dyeing processes to reduce chemical waste.
Hard and soft elements match the collection's strength in the series of separates: a silky black blouse with mustard cigarette pants, a light pink mock turtle neck sleeveless tunic, and a slim skirt or loose short sleeve polo knit and sage straight-leg pants. The blouses and skirts combinations are great in white and light yellow or in a cowl neck sleeveless tunic over slim white pants. By offering solid choices for these separates so consumers can combine them into their looks, the designers showed their certain realism in making the clothes fashionable and in realistic ways for customers.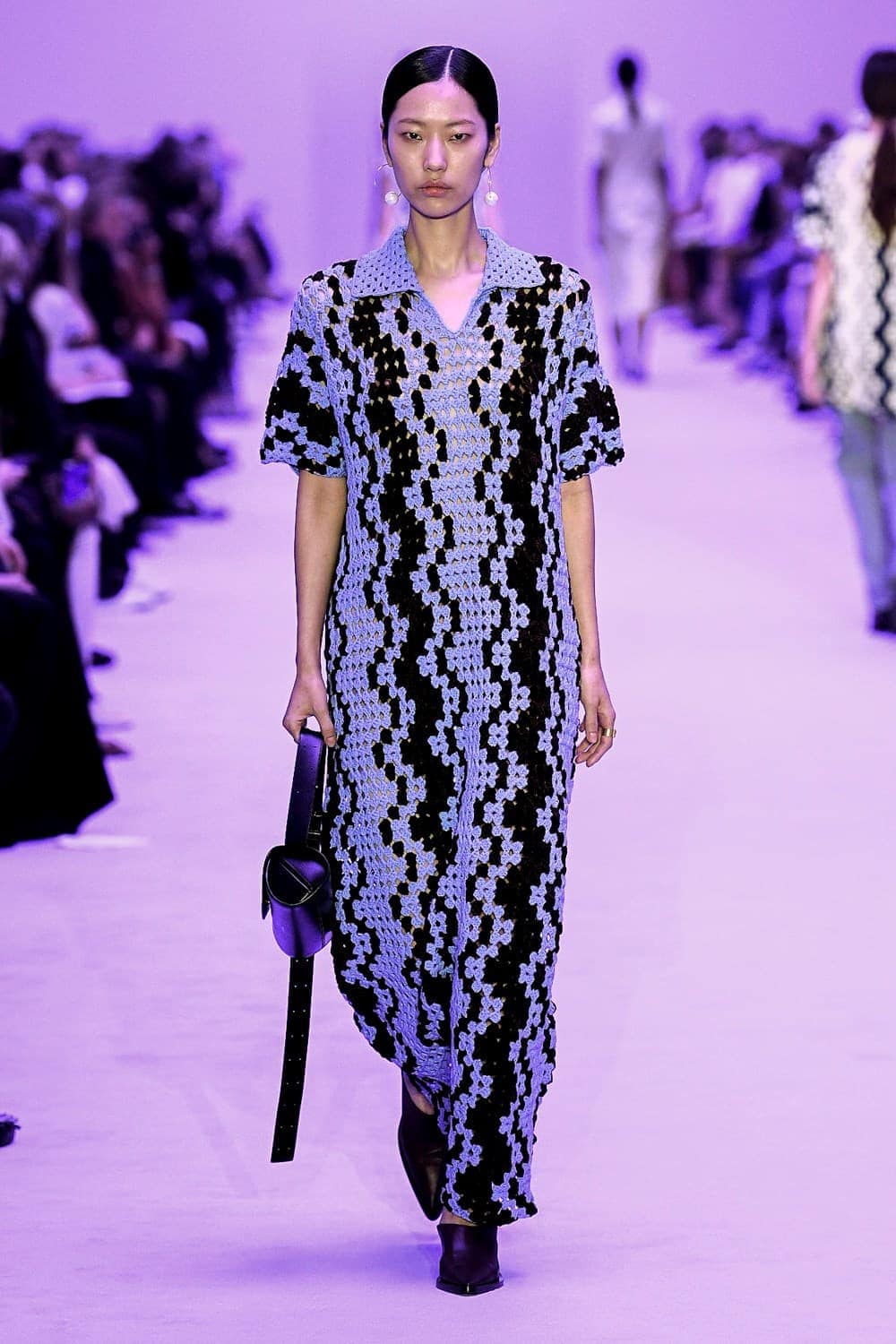 The jacket's shapes have that Balenciaga heavy gravity pull. They are far from exactitude in details like the cross-body button closure, but those look at the fine details of cuts these days. Just enough that the overall shape has that semblance and Balenciaga's version is already well profoundly entrenched. This process remains still part of Meier's evolving relationship between materials, shapes, and color. 
While this Spring 2022 collection is more fluid in design and the fabrics aren't so stiff, the collection still feels a bit impersonal and anonymous. Without a doubt, some consumers can quickly identify themselves wearing these clothes.
---