Sculpting Simplicity
Review of Jil Sander Spring 2024 Fashion Show
By Mackenzie Richard
THE COLLECTION
THE VIBE
THE THEME

In the ever-evolving world of fashion, themes serve as compasses guiding a brand's vision, and with this collection, Jil Sander spoke in the nuanced language of minimalism. It was, without doubt, a powerful collection, finely crafted with precision that pays homage to Jil Sander's legacy of delivering timeless staples. Each piece seemed to whisper a promise of longevity, both in style and structure, making it an impeccable choice for those with a discerning eye for classics.
At the heart of this collection lay the archetype of the minimalist. This isn't about minimalism as mere absence, but as a deliberate choice of presence. It's for the individual who understands that simplicity isn't synonymous with plainness. Every piece, with its clean lines and meticulous design, beckoned to the shopper who knows the value of understated elegance.
However, the collection, while undeniably strong, carried a shadow of longing. It left one with a gentle yearning for something more, a surprise perhaps or a bolder leap. While the clothes were tailor-made for the ideal Jil Sander enthusiast — a minimalist with a penchant for well-designed classics — there was a subtle, lingering wish for a dash of unpredictability to disrupt the serene waters of the collection.
This season's theme was a reverent nod to the enduring and the classic, curated with finesse for the minimalist who seeks beauty in well-crafted simplicity. Yet, in its dedication to this theme, one could sense the faintest desire for a touch of the unexpected.
THE BUZZWORDS
Minimalistic & Meticulous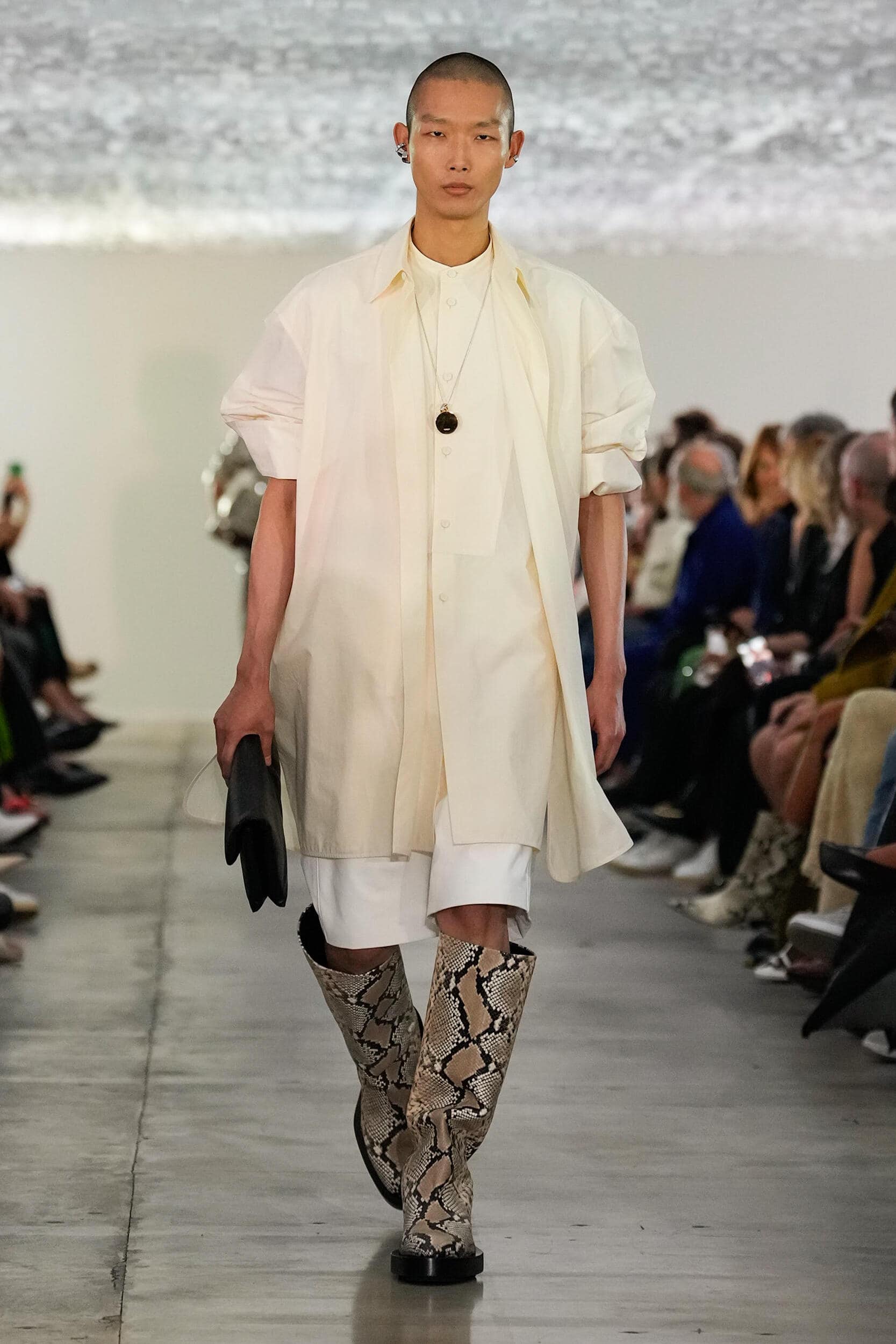 THE SHOWSTOPPER
Look #46
In the world of fashion, there are pieces that quietly assure their elegance and then there are those that demand attention, creating an indelible impression. This season's Jil Sander collection had its moments of both, but when we delve into the realm of the truly unforgettable, our gaze is inescapably drawn to the captivating animal graphic items.
These pieces aren't merely clothing; they're narratives, setting the stage for conversations and connections. The bold animal graphics, intricately rendered, don't just shimmer against the vibrant colors, they evoke responses. Don't be surprised if wearing one prompts a passerby to fondly reminisce about a beloved pet or enthusiastically declare their allegiance as a "dog person" or "cat enthusiast." These designs are more than just visual treats; they're conversation starters, bridging the gap between fashion and everyday sentiments.
In any other setting, they might have risked becoming overpowering, but in Jil Sander's expert hands, they strike a harmony that's pure magic. They integrate vibrancy with the collection's audacious color palette without ever overshadowing the other elements.
In essence, these animal graphic items aren't just the standout of the season for their artistry alone. They're emblematic of Jil Sander's ability to blend innovation with tradition and fashion with relatability, making each wear not just a style statement but also an invitation to engage, share, and connect.
THE DIRECTION
THE WRAP UP
As a steadfast aficionado of Jil Sander, I've been consistently dazzled by their offerings, with each collection standing as a testament to artistic craftsmanship. This season, while echoing past themes with a hint of familiarity, truly stood out with its undeniably striking color palette that commanded attention from the first look.
There's no mistaking that the Jil Sander team has masterfully infused their unique take on the current trend of luxury for the artful individual. This collection, more than just clothes, is a statement, resonating deeply with those who appreciate the confluence of art and fashion.
True to their ethos, each piece from this collection feels like a love letter to quality craftsmanship. It's apparent that donning these designs would instantly uplift one's style quotient, making them the epitome of sartorial grace. The bold, yet harmoniously blended colors, act as the perfect canvas, allowing each design to make its unique mark.
Their approach to metals this season added a tantalizing layer of innovation, while their signature expertise in proportions remained unparalleled. That said, while the collection has its pulse on contemporary luxury, it felt anchored more in the realm of cherished classics than in the transient brilliance of trend-making showstoppers.
To sum it up, even though one may not be propelled to the store with the same fervor of previous seasons, there's an undeniable allure to this collection, teeming with impeccable staples drenched in a palette both audacious and sublime. Raising a metaphorical glass to Jil Sander for once again orchestrating a symphony of style!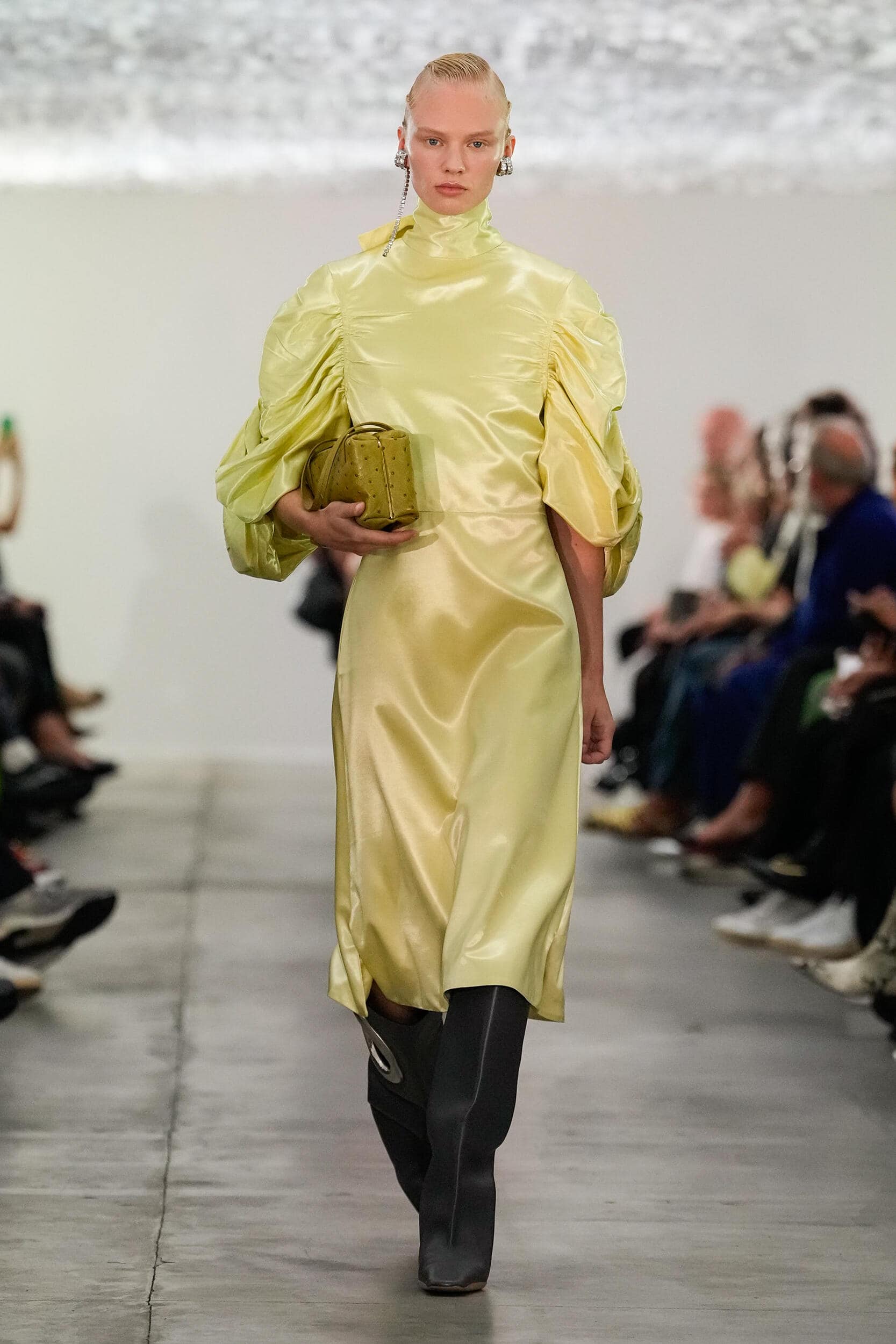 ---