---
Review of Junya Watanabe Fall 2021 Fashion Show
That Old Rock'n'Roll T-Shirt Woven in a Patchwork Medley is Still a Thing.
By Long Nguyen
Junya Watanabe surely knows his ways around the aesthetics of the rock'n'roll and punk music scenes. The appeal of the youths' allures that inhabited these seemingly peripheral and underground subcultures has spawned the imagination of fashion in terms of the collective rebellious temperament and the endless possibilities for merchandising. 
Watanabe forcefully demonstrated the firm command of the sartorial vernaculars of rock'n'roll that he now combined with his masterful display of cutting and construction techniques.
That rock band tee shirt is now a base for this fall collection of inventive merchandise based on Watanabe, termed as the rock spirit's three pillars – Versace, Levi's 501, and the rock tee shirt. 
This fall season's show as an ode to the eternal of rock music took place to a small standing audience at Toyosu Pit, a concert hall in the Koto City section on the western side of Tokyo towards the bay.
However, this fall show treads on the very familiar terrain that Watanabe has traveled many times before in his work, particularly the two successive collections in 2017. In that year, the Spring 2017 show focused on bonding street vibes extreme cuts, while the Fall 2017 collection had total refurbishments with all those mixtures of tartans clothes mixtures paid homage to the punk movements of the mid-1970s.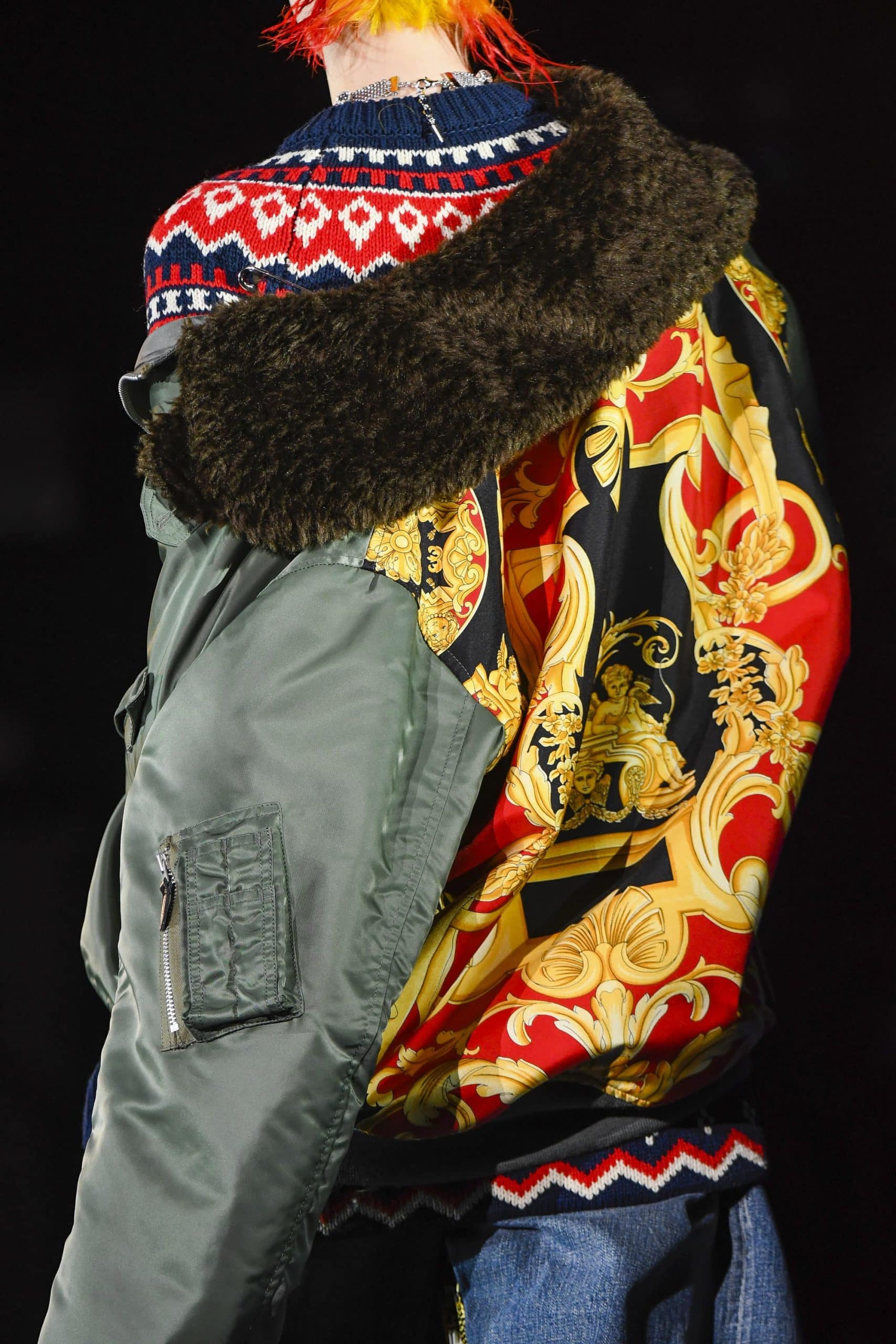 Now in this fall collection, with its anarchic tempo and models in dark eyes makeup and purple-dyed hair, the clothes are made from complicated constructions of garments, mainly in oversized silhouettes.
The collection base is the plain concert tee-shirt imprinted with rock bands like Aerosmith, Queen, The Who, Kiss, Def Leppard, Sex Pistols, AC/DC, David Bowie, Black Sabbath, and Rolling Stones. A white-painted The Who logo graced the black and red wool rectangular panel on the back of an olive hooded military parka or the Aerosmith logo painted on a red wool Nordic ski sweater. The show's music is a mixture of songs from these bands like Detroit Rock City from Kiss or Back in the Saddle from Aerosmith.
Though it is not exactly like any old rock band tee shirt, say from a vintage shop. Watanabe has transformed a black Kiss tee shirt with tour dates printed on the back into an elaborate short dress with red and blue faux fur bands and silver and purple sequined sleeves and a patchwork of colorful silk prints cut vertically on the front side now short dress. These silk prints' swatches come from a new collaboration Junya Watanabe Comme des Garçons x Versace Iconic Print Project that features six of the known signature Versace prints from the 1990s menswear to interiors and dining plates.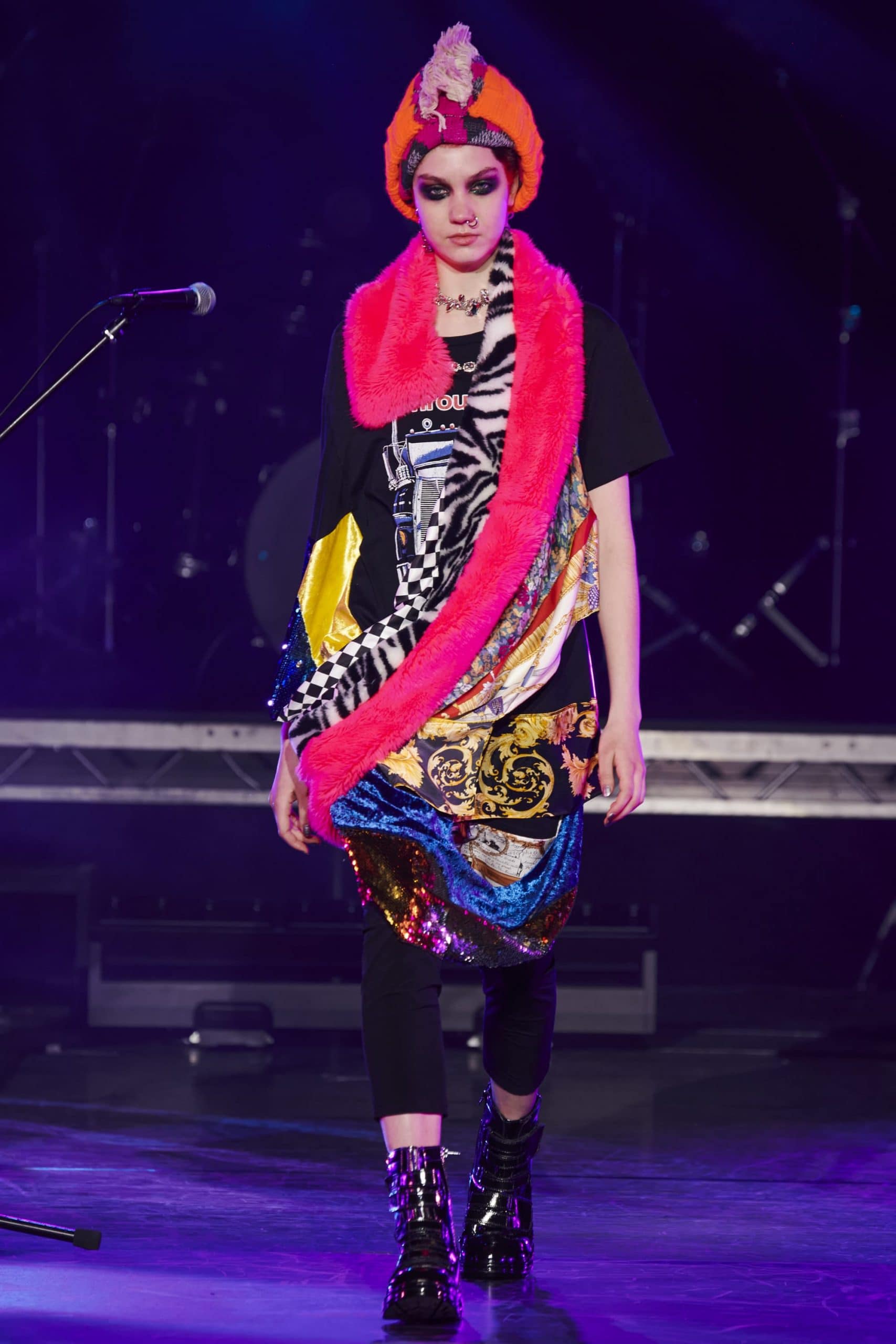 Watanabe created intricate patchwork combing segments of these vivid Versace prints into intricate collages, adding onto a black tee shirt now extended with these swatches into a knee-length dress with panels of fabrics attached to the front like an oversized scarf. Or the designer used the black and gold baroque print as a pair of slim pants underneath the cut-out-wrapped washed Levi's jeans skirt paired with a blue wool Nordic sweater and an olive nylon MA1 bomber blouson.
At times though, there is a whiff of the work of Chitose Abe at Sacai.
The merger of a black wool single breast navy coat with segments of a silver MA1 nylon blouson attached to the back and brown furry trims, the grey wool herringbone coat with nylon MA1 sleeves or a light grey sweatshirt, and a navy sweater dress display some of Sacai's known hybridization work. Punk was also the central tenet of Jun Takahashi's work in the late 1990s for his Undercover brand, and Takahashi's roughness was then now permeating throughout this collection show. 
But Watanabe's ingenuity shone through with the inventive use of the different Levi's pieces of denim from the classic 501 models issued in the years 1937, 1947, 1966, and 1976. The designer immersed the jeans silhouettes, or just segments of the jeans, onto white furry long skirts or cut them as denim pants with open side black pleated silk panels.
This collection will surely endear the brand to young consumers with an exciting range of merchandise that can strike a chord with this audience. Punk today has been so thoroughly exploited that the original movement and its accompanying accouterments neither convey any sense of urgent creativity nor any original clothes.
Junya Watanabe has always been at the forefront of exploring new arenas in his fashion design work over these decades, not repurposing old ideas with new fabrics. But this fall collection feels a bit too much of that reliance on accustomed inspirations and design techniques.
---