Plastic People
Review of JW Anderson Spring 2024 Fashion Show
By Angela Baidoo
THE COLLECTION
Simple silhouettes with subversive twists
How retail-ready are Play-doh pants?
THE VIBE
THE THEME

Always one to turn a cryptic clue into a mind-bending concept for his collections, Anderson's plastic people fit the mould of his brand perfectly. There was a cartoonish element to the first few looks to hit the runway, but not completely unexpected for the designer, as models wore hooded sweatshirts and cuffed shorts which defied the laws of physics in the way they stood away from the body, but they provided the link to the plasticine Instagram post (i.e. clue) as these pieces looked to be moulded from the modelling material. A commentary perhaps on the way we are all moulded by society to fit into a certain box, or simply a playful tribute to that most British of childhood institutions, Wallace and Gromit, who themselves are fashioned from plasticine. Outside of the obvious statement-making silhouettes there was a lot for the JW customer to love as Anderson took a focussed hand to rethinking construction techniques. Creating texture and interest through simple folds or an oversized weave on sweatpants.
Looks which appear (on first glance) chaotic or subversive are Jonathan Andersons way, a few seasons ago he presented a collection which featured a broken skateboard attached to a sweater, not exactly retail-ready, but what his customers come to the brand for is anything but 'Quiet', they desire something off-kilter, a break from the norm, but with the knowing of a designer who understands that these clothes still have to work for the real world. Which is why when taken apart each piece will work just as well when paired back with a pair of jeans. And that is where the designer gets it, that delicate balance of creativity with commerciality, because as much as the industry and newspaper headlines love a pigeon clutch, what sustains a brand is some damn good clothes with a point-of-view.
THE BUZZWORDS
Disruptive. Beyond the Body. Textural Finesse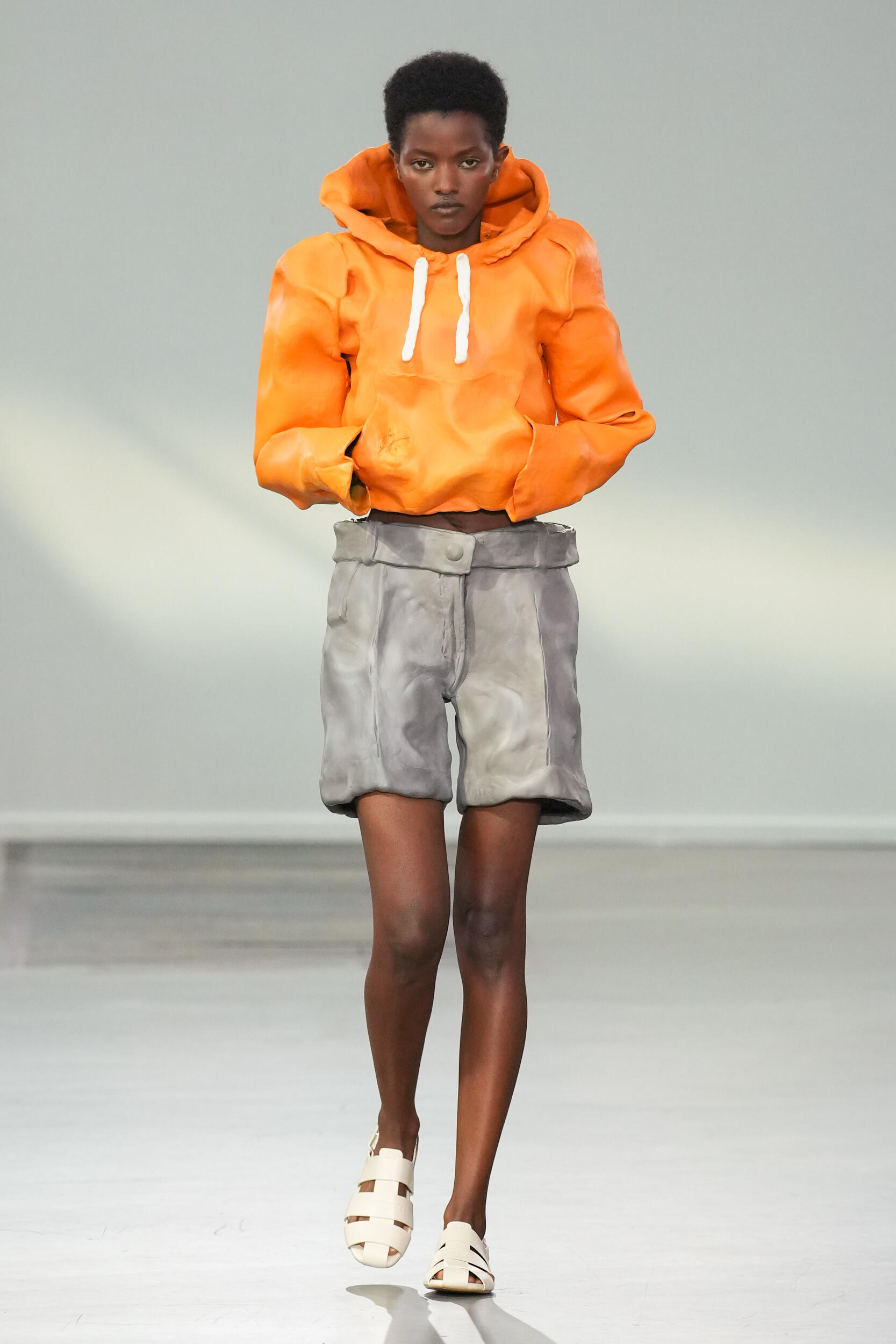 THE SHOWSTOPPER
Look # 22
Creatively placed padding is steadily becoming the detail of choice to accentuate not just shoulders, but hips and waists, but in Andersons hands a multi-coloured layered maxi-dress gets an almost costume-like makeover, as the skirt stands away from the body, creating a rhythmic, almost hypnotic moment as the model walked.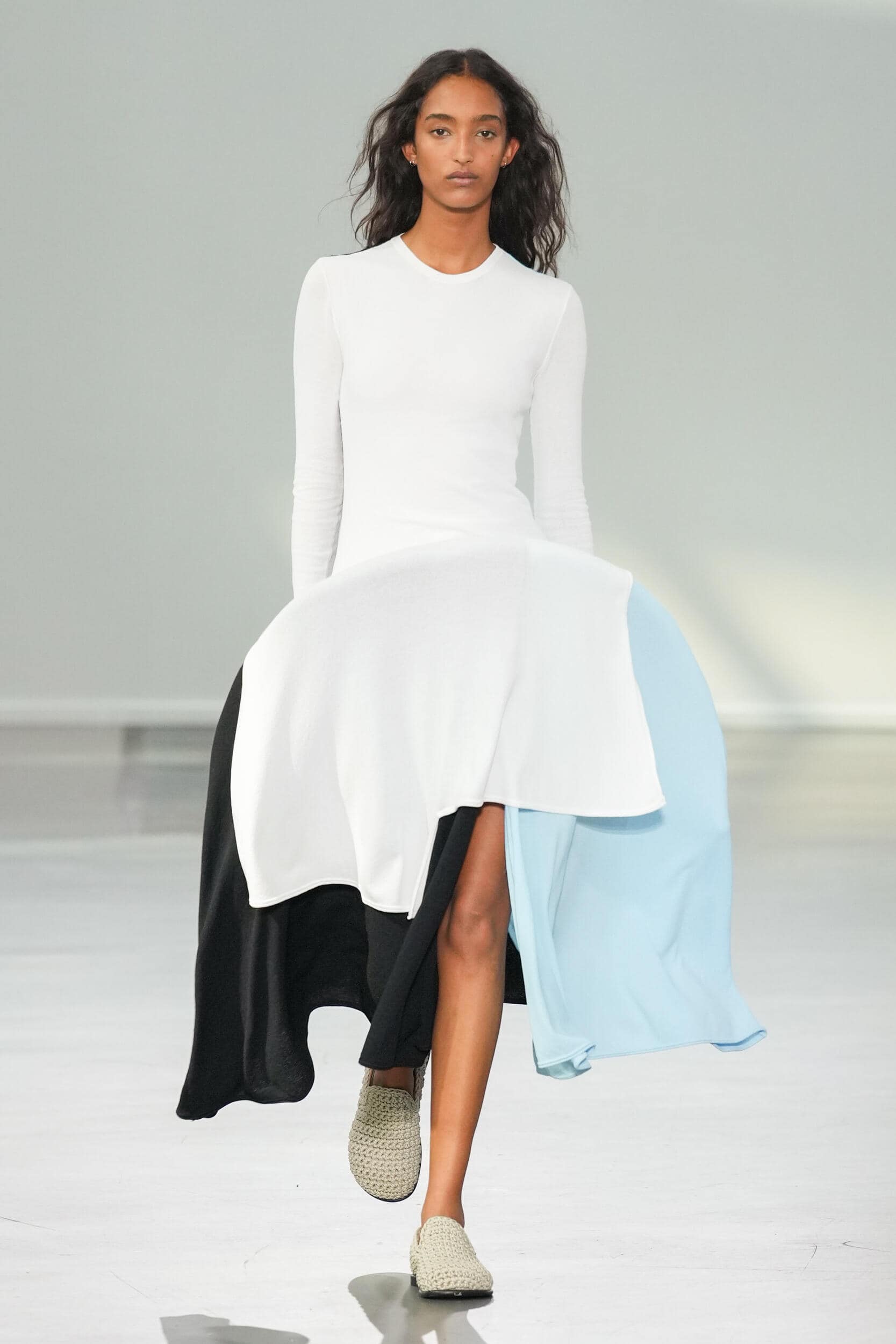 THE DIRECTION
THE WRAP UP
Presenting in the Roundhouse this season, there was no muss, no fuss, with a simple set of white chairs and the cavernous space as backdrop. This allowed for a guided tour of Anderson's 'Simulated Summer', where the season was not all it seemed. As if preparing for a change (climate), bomber jackets were padded with feathers, and a section fashioned in wipe-clean plastic appeared to be a nod to the ever-changing weather patterns that fashion month has already experienced. Facing into the need for versatility and collections which take the long-view, the designers evening and outerwear offerings reimagined the draped dress in a casual reiteration, and his pistachio trench coat with overskirt could be restyled in a myriad of ways. With the designers collections it is never a case of what you see is what you get, as he always invites the viewer to look deeper beneath the surface.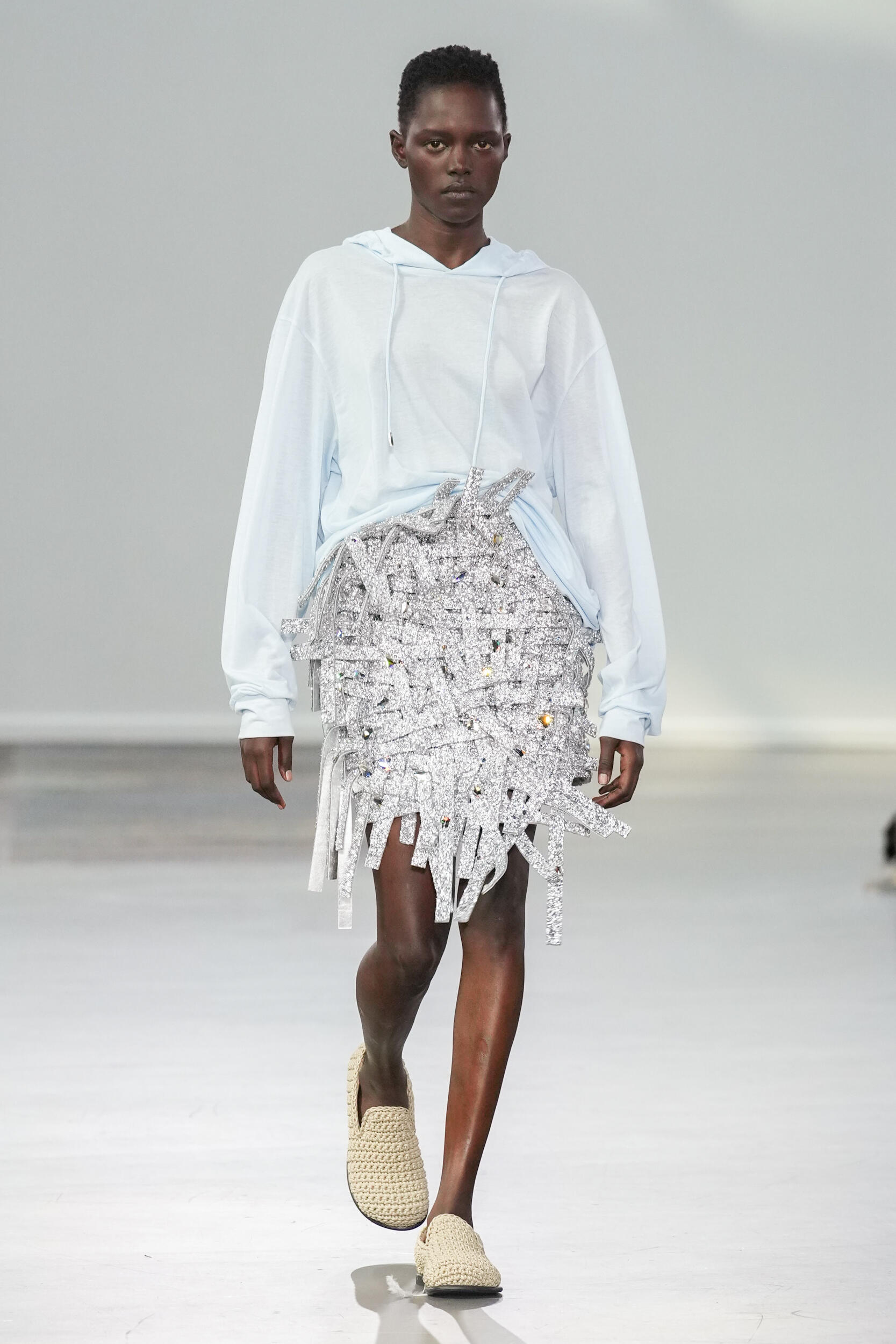 ---