---
Review of Kenneth Ize Spring 2022 Fashion Show
Effortless yet Elevated: Kenneth Ize's New Dawn
By Anna Ross
After a frenetic three weeks getting back into the swing of show season, it's fair to say the fashion pack could do with turning down the tempo a notch or two. And that's precisely what Kenneth Ize offered tonight, kicking off Paris Fashion Week with a collection that took its time to unfurl, set to a tranquil soundtrack of birdsong and live clarinet, staged within the serene backdrop of Palais de Tokyo.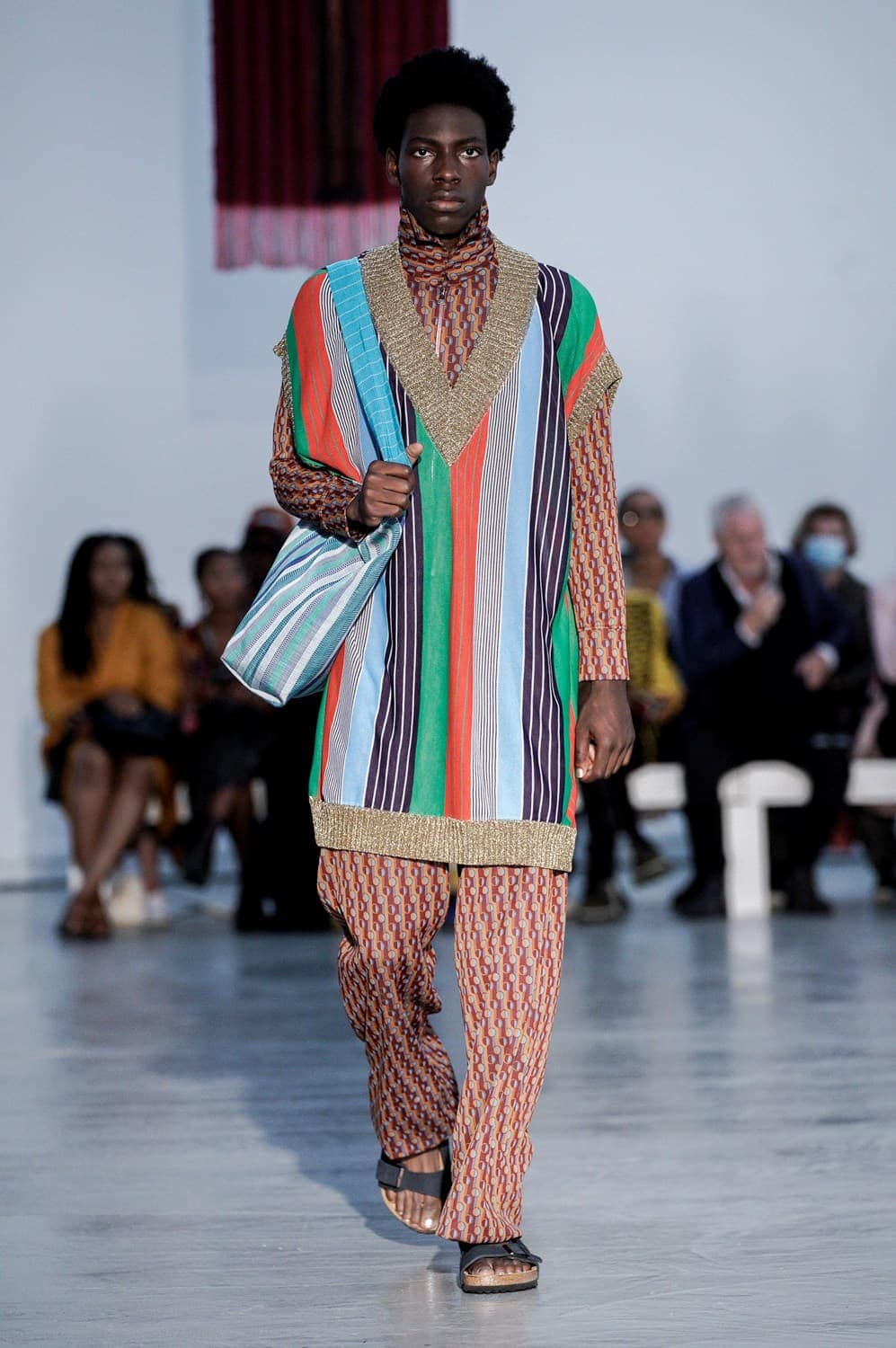 It was as if the audience breathed a collective sigh of relief, Ize providing a momentary respite from the inevitable hustle and bustle that lies amidst the next ten days.
Over the past few seasons, Ize has forged himself a name as one of fashion's brightest rising stars. His collections draw from his Nigerian heritage, fusing contemporary design with West African craft, adopting the centuries-old traditional Asoke fabric as his leitmotif, woven by hand by artisans and design groups across Nigeria. In fact, to cement his devotion to the heritage of this material and its makers, Ize has invested his profits into building a factory where it's created, employing local artisans and makers – nurturing culture while opening up new design narratives.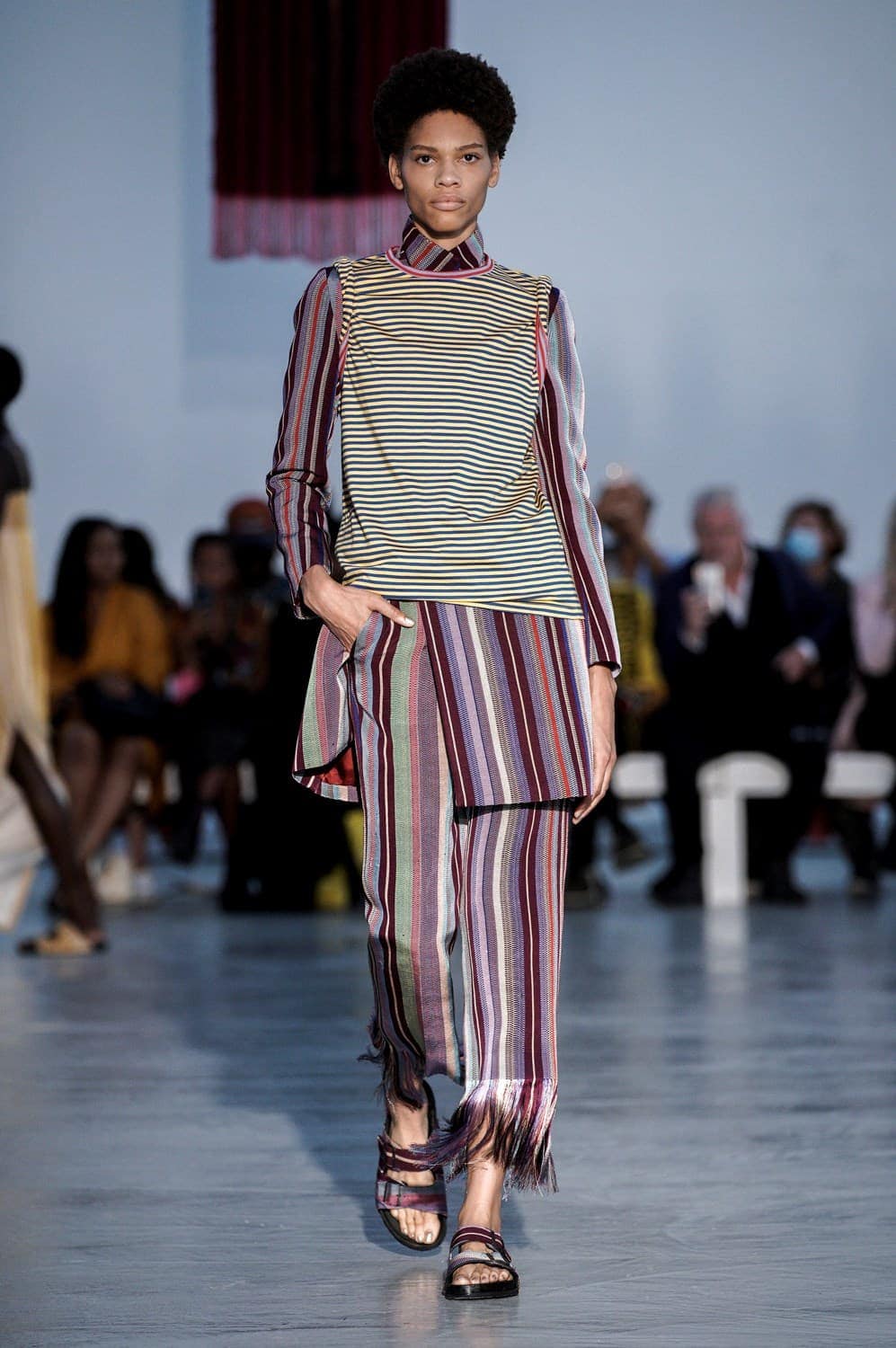 Last season, we left Ize in a somber mood. Having returned to Lagos following the EndSARS protests, his A/W 21 line-up came in a noticeably more withdrawn palette, his silhouettes more simplistic and his prints – serpentine – reflecting the vicious circle of life and death. Today's show, entitled 'A New Dawn,' set off with new beginnings in mind. His silhouettes were more fluid and his palette noticeably brighter, encapsulating the ongoing mood of optimism cited throughout this season's collections.
Ize's models moved serenely around the space as if drifting without a care in the world and with no particular place to be. Of course, the beauty of his models moving with such intent meant you could actually see the clothes, which – were by every means – exquisite.
Long, layered, relaxed silhouettes boasted effortless ease yet never fell short of feeling elevated.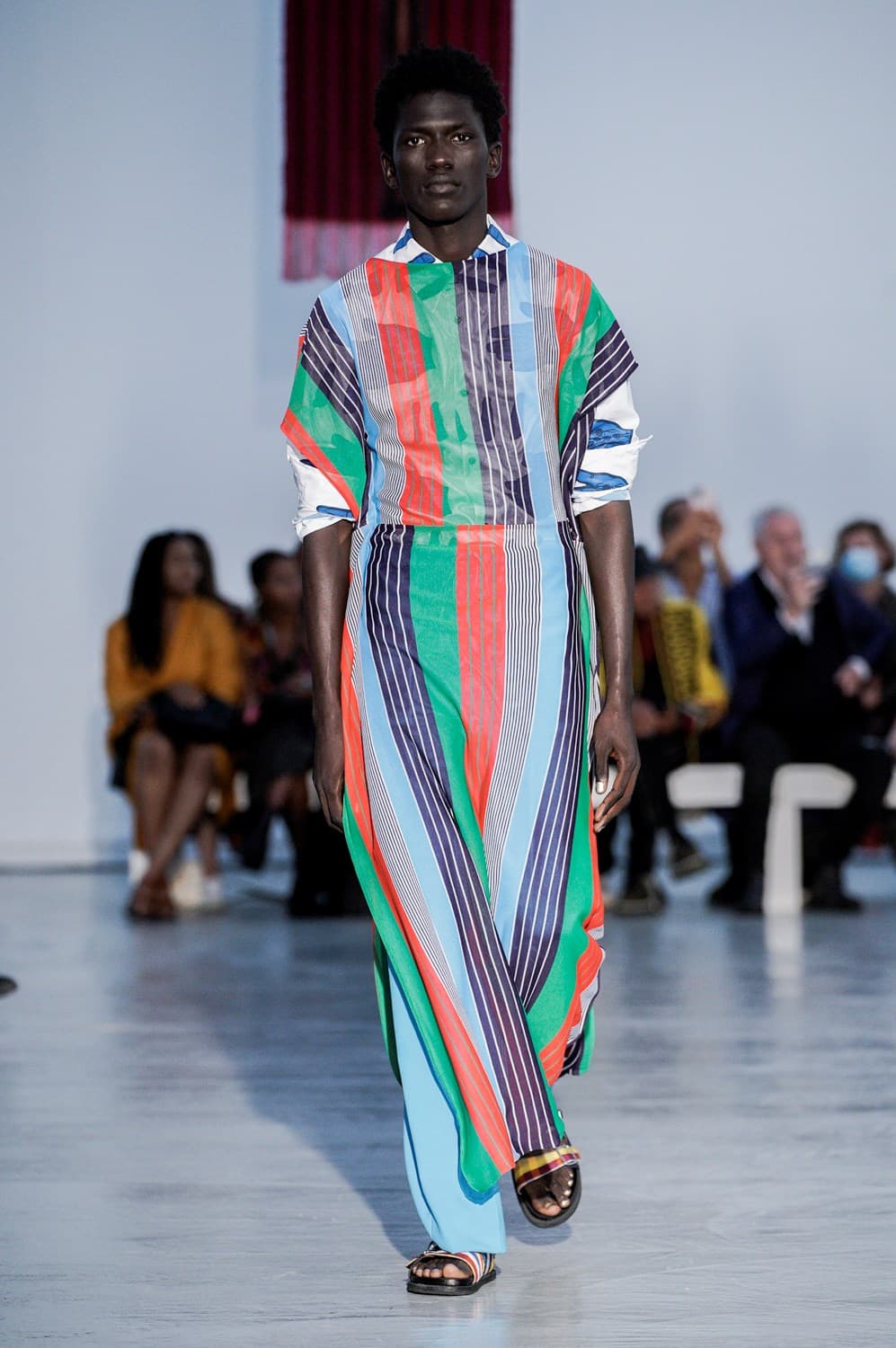 His knack for luxurious textiles evokes an artisanal sensibility into every panel, seam, hemline and closure. Several shapes came finished with elegant tendrils of dancing thread, bouncing around ankles, wrists and waistlines, often framing accessories such as beach bags or baseball caps. Soft structure was introduced via vest tops, tunics and knitted tanks, all laden with Ize's signature Asoke stripes, infused in sunkissed brights.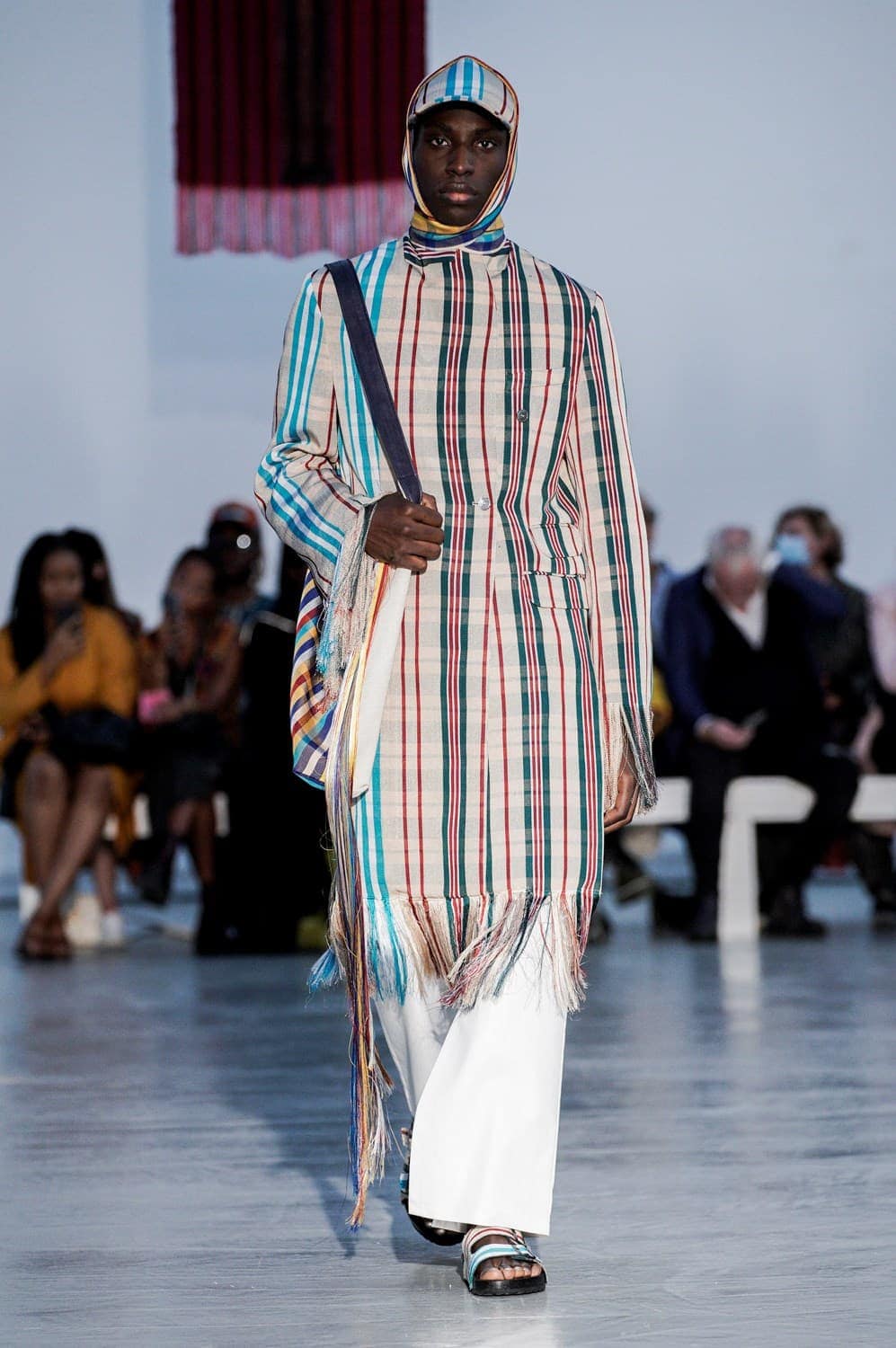 Of note; a turquoise suit with matching shirt and a series of wrap waist sarongs that would look just as delicious on women as they did on men.
Elsewhere Ize diversified his print line-up with a series of retro-esque geo's, which were served over roll-necks, pyjama sets and shirting, looking nonchalant when teamed with his fluid take on tracksuit bottoms. A tiger print roared here or there, though felt a little lackluster compared to the strength elsewhere within his pattern portfolio.
As if enforcing a slower, more comfortable and more relaxed pace of life for the new dawn ahead, the designer put his artisanal spin on everyone's favorite shoe-du-lockdown, the Birkenstock. For designers like Ize, pieces like these (in sandal, clog and slipper styles) will be his bread and butter for his growing audience of devoted fans, desperate to get a taste of Ize's high-craft aesthetic on a more accessible price-point.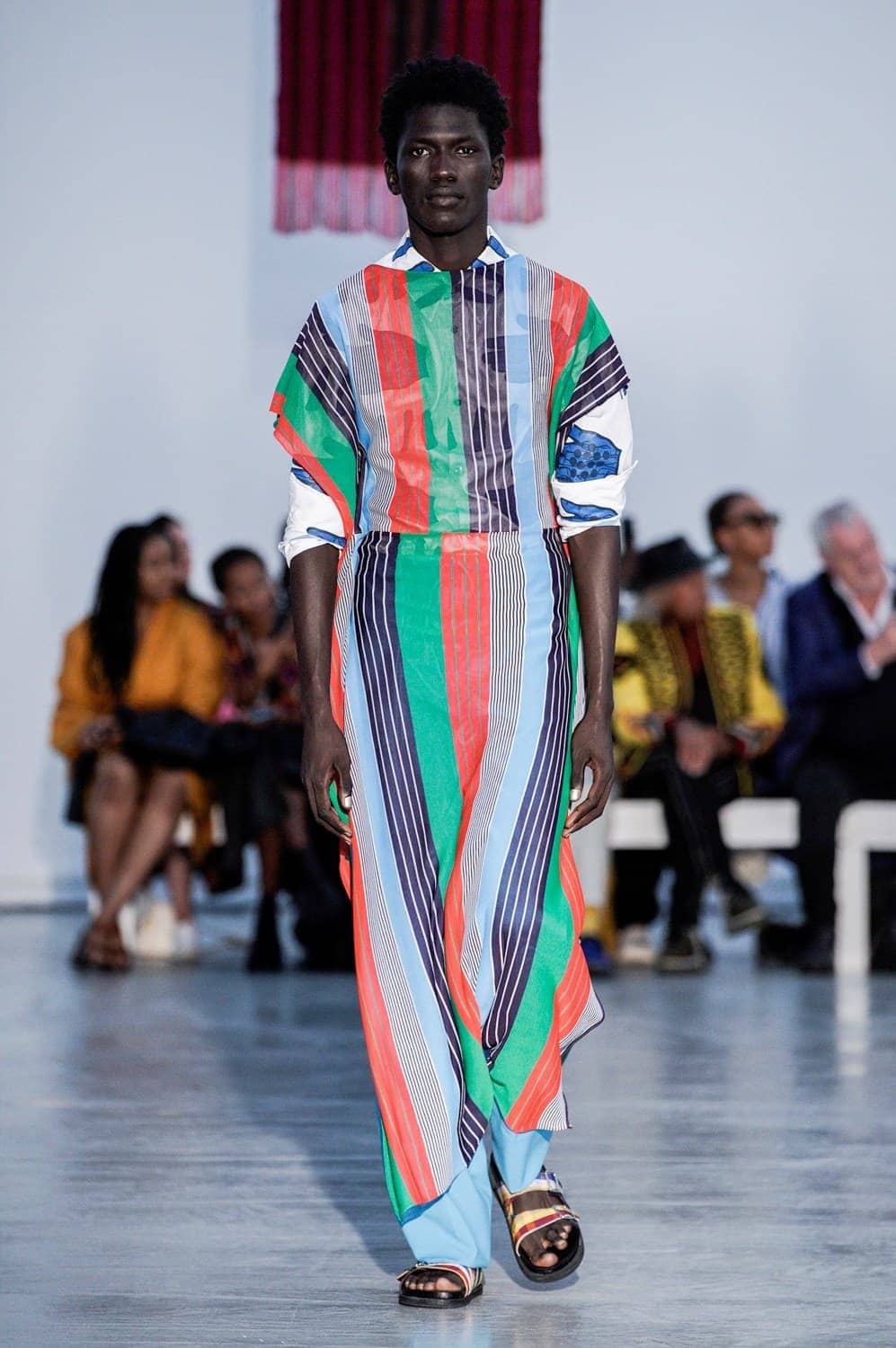 ---