---
Review of Kenzo Fall 2022 Men's Fashion Show
Nigo's Debut Surveys a Fellow Icon's Legacy
By Mark Wittmer
Playing it safe but still delivering on high expectations, Nigo presented his first collection as creative director of Kenzo from Paris Men's for Fall 2022.
Achieving almost legendary status as the godfather of streetwear, Nigo rose to astronomical international prominence after founding A Bathing Ape in 1993. The popularity of Bape and its connections with other cultural leaders in hip-hop and fashion was a major contributor to streetwear being named and recognized as a category and its entry into the world of "high fashion."
Perhaps surprisingly, given Nigo's living legacy, the collection's most prominent note was one of Parisian twee. But then again, considering the house's longstanding presence in the DNA of Parisian fashion, perhaps this is not so surprising. Button-ups and ties peek out of many a well-tailored suit jacket or overcoat, exuding prim sophistication, which stand in playful juxtaposition to the many bright colors of aforesaid pieces.
Meanwhile, outerwear pieces still attest to Nigo's streetwear origins, like puffer, varsity jackets, and bombers – the latter of which are reversible, with a cute embroidered map of France on the back on one side, and one of Japan on the other.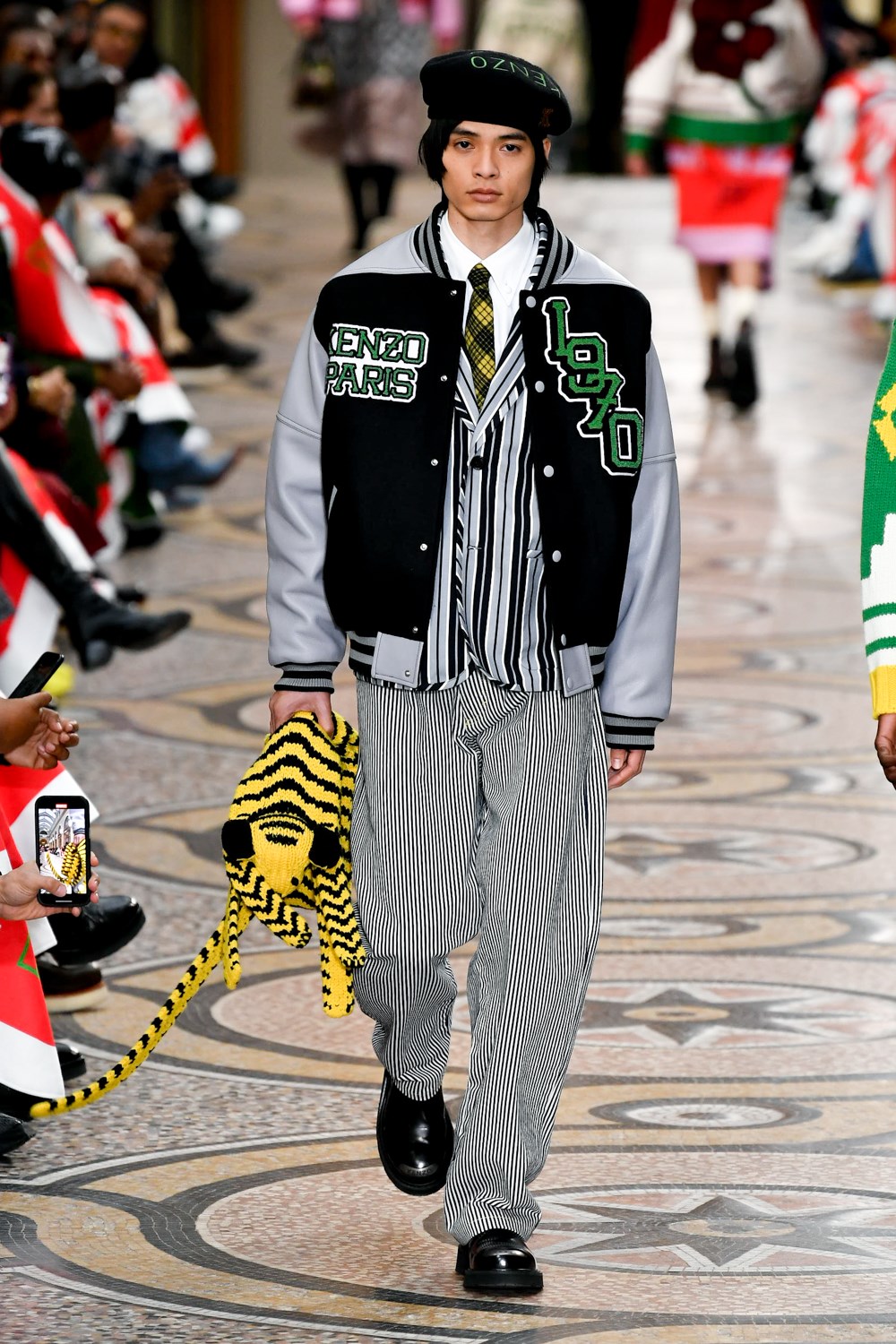 While much of the collection felt distinctly, classically Parisian, Nigo did infuse this overarching aesthetic with some welcome strains of his and Kenzo's shared Japanese design heritage. Overalls were cut with reference to Japanese dressmaking; wrap shirts were informed by hanten jackets; samue, the workwear worn by Japanese potters, inspired tops with kimono-like structures.
Another place where Takada Kenzo and Nigo converge is their penchant for vibrant knitwear, seen in the form of scarves and tops throughout the collection.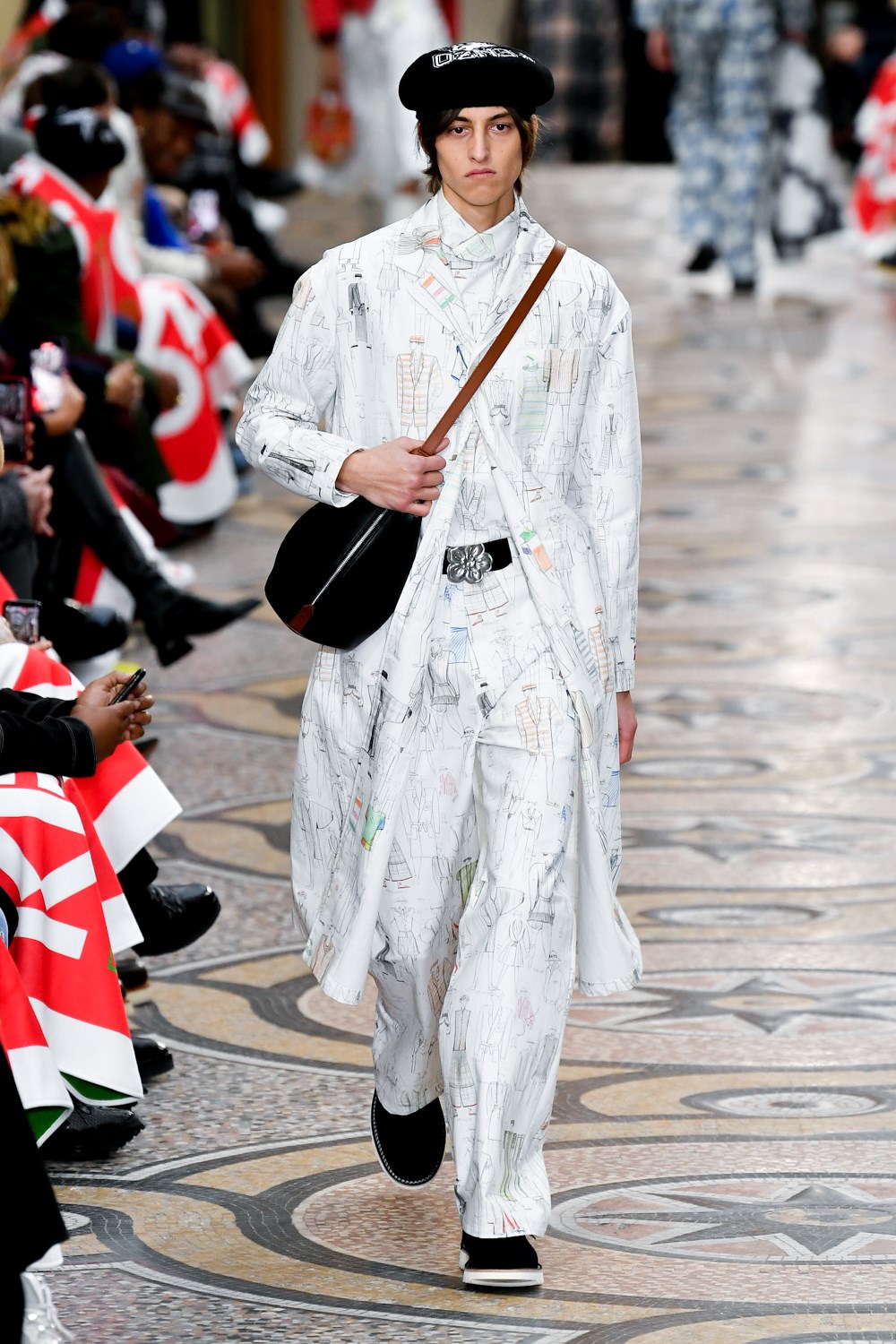 In addition to the frequent floral, stripes, tigers, and check (Takada Kenzo first rocked Paris' snobby fashion scene with his overflowing and eclectic combinations of colorful prints), a few pieces feature prints of the founder's own sketches.
Though literal references to Kenzo's work such as these ran throughout the collection, his spirit of irreverence and innovation did not. Though colorful and somewhat eclectic, the apparent free-spiritedness and graphic references felt a bit studied, and more than a bit commercial. There are no new ideas here – but for now, that's ok.
It's to be expected that Nigo would play it safe with his first collection for the house. It was more an exercise in showing his thorough understanding of Kenzo's formal and graphic languages, rather than developing its creative spirit. His work for the collection, which was quite distinct from the Bape designs that made his name, felt humble: it was a celebration of Takada Kenzo's work and life and the shared heritage of the two designers, not a forwarding of Nigo's own vision. Now that this groundwork is set, we look forward to what the new creative director has in store in terms of moving the house forward.
---