---
A Night To Remember With A Family Of Friends
Under the direction of Felipe Oliveira Baptista, Creative Director to house Kenzo, the brand has launched the collaboration Kenzo X Kansaiyamamoto. The namesakes of each house have passed recently, so this capsule collection not only merges two unique design tastes, but also pays tribute to the groundbreaking styles that each designer was responsible for in their lifetimes.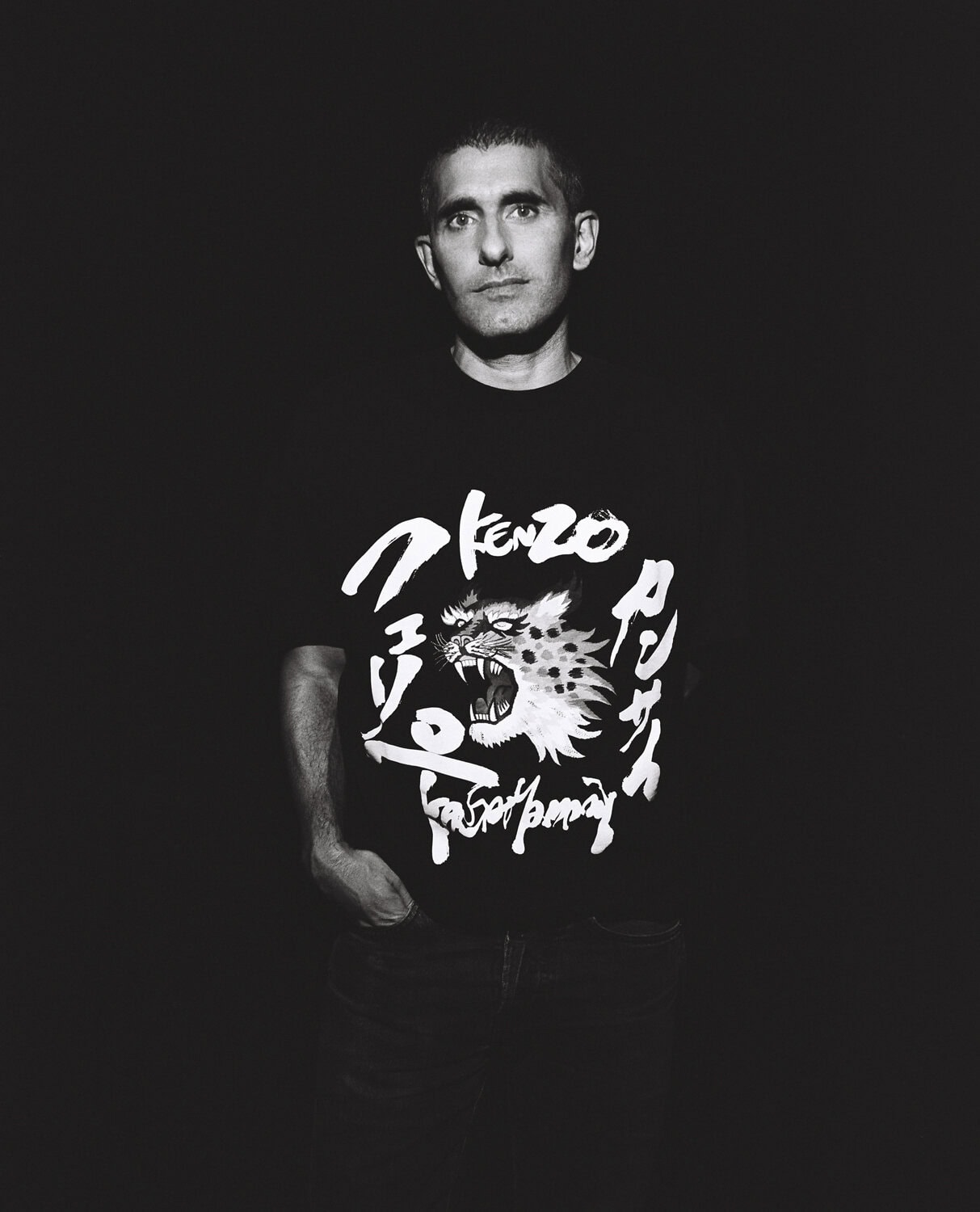 Both Kenzo and Kansai believed in comfort — easy to move in — clothes. Both believed that fashion should talk to everyone. With this in mind, we followed a group of young Parisian friends: actors, photographers, models. Some of them I know and had already photographed. We wanted to keep things very real, raw and spontaneous. A true celebration of life.

— Felipe Oliveira Baptista, Kenzo Creative Director
The promotional video opens with a shot of four friends, two sitting on the ground with their backs against a bed and two dancing on that same bed. The shot is overlaid with the two brands' names — with each logo displaying unique typography. Kenzo is featured in a heavily geometric font while Kansaiyamamoto feels more calligraphic; elements of both typographical styles are utilized throughout the video and the accompanying images.
We move swiftly into a close up of those two friends sitting with their backs against the bed. They are looking at vinyl records and wearing shirts that feature lions that almost appear to stare up at the viewer. The video then moves to shots of one girl weaving colored yarn into her friend's hair, another friend staring through a fishbowl, and the group as a whole laying back on the ground using each other's torsos and shoulders as pillows with legs outspread. This is the stage of the evening where friends are simply enjoying time together before the urge to go out takes over.
It should be noted that there is nothing particularly luxurious or out of reach about the apartment. It is eclectically decorated and serves its purpose to accommodate camaraderie perfectly well.
Inevitably, that urge to go out comes on and the friends proceed to get dressed and playfully critique each other's outfits. When they get outside, we continue to see the primacy of camaraderie. The friends are not worried about getting to the club as quickly as they can. They are enjoying taking detours, taking photos, and taking in the cityscape.
The video continues to emphasize relatability as well. The friends don't get in a limo, they walk and take the bus. They are age-appropriately goofy and nervous, the video even features one of the girls biting her nails.
Moreover, when they arrive at the club, they are not escorted past a line of star-struck patrons who have been standing in line for hours. They go to a little hole-in-the-wall club and are more interested in the time spent together than an appearance of status.
The video ends with a shot of all the friends after the night is over standing against a painted brick wall wearing their outfits. The premise of the video makes this feel completely natural. In other cases, it would feel contrived to end a video with a group shot featuring the clothes, but in this case it makes sense. This picture will be a souvenir for the friends to remember their night of low-level debauchery. This same technique was used throughout the "going out sequence," but again, it feels natural. It is expected that documenting their whereabouts, clothes, and activities is part of a night out for young creative types.
The photos are impressive as well. They immediately grab your attention and demand to be engaged with.
By layering the foreground with both Kenzo's geometry and Kansaiyamamoto's calligraphy as well as Kansaiyamamoto's anime-style drawings, the eye is pulled in. Then the viewer will come to focus on what is happening behind that overlay. They are interesting and somewhat difficult to figure out which means you will take time with them. The photos continue to emphasize the theme of youthful camaraderie.
This campaign is youthful and understands what young people are looking for. The very fact that they understand the importance of emphasizing the phenomenon of a family of friends shows how in touch they are with the values of up and coming generations. Sure, the clothes are bold, flashy, and fun, but more importantly, the brand effectively told an alluring story about friendship — a lifeline for most young adults today.
Kenzo Creative Director | Felipe Oliveira Baptista
Photographer | Raffaele Cariou
---