---
Review of KidSuper, Phipps, Arturo Obegero Spring 2022 Men's Fashion Shows
Disco Balls, Dream Sequences, Masculine Archetypes, and Dancing to Transform States of Mind and States of Men's Fashion
By Long Nguyen
On this fifth day of the Paris men's spring 2022 season, Hermès showed a robust and confident collection favoring an elegant casual approach to men's fashion with the rigors of craftsmanship. The brand showed live to a small audience at the Mobilier national on this Saturday afternoon.
KidSuper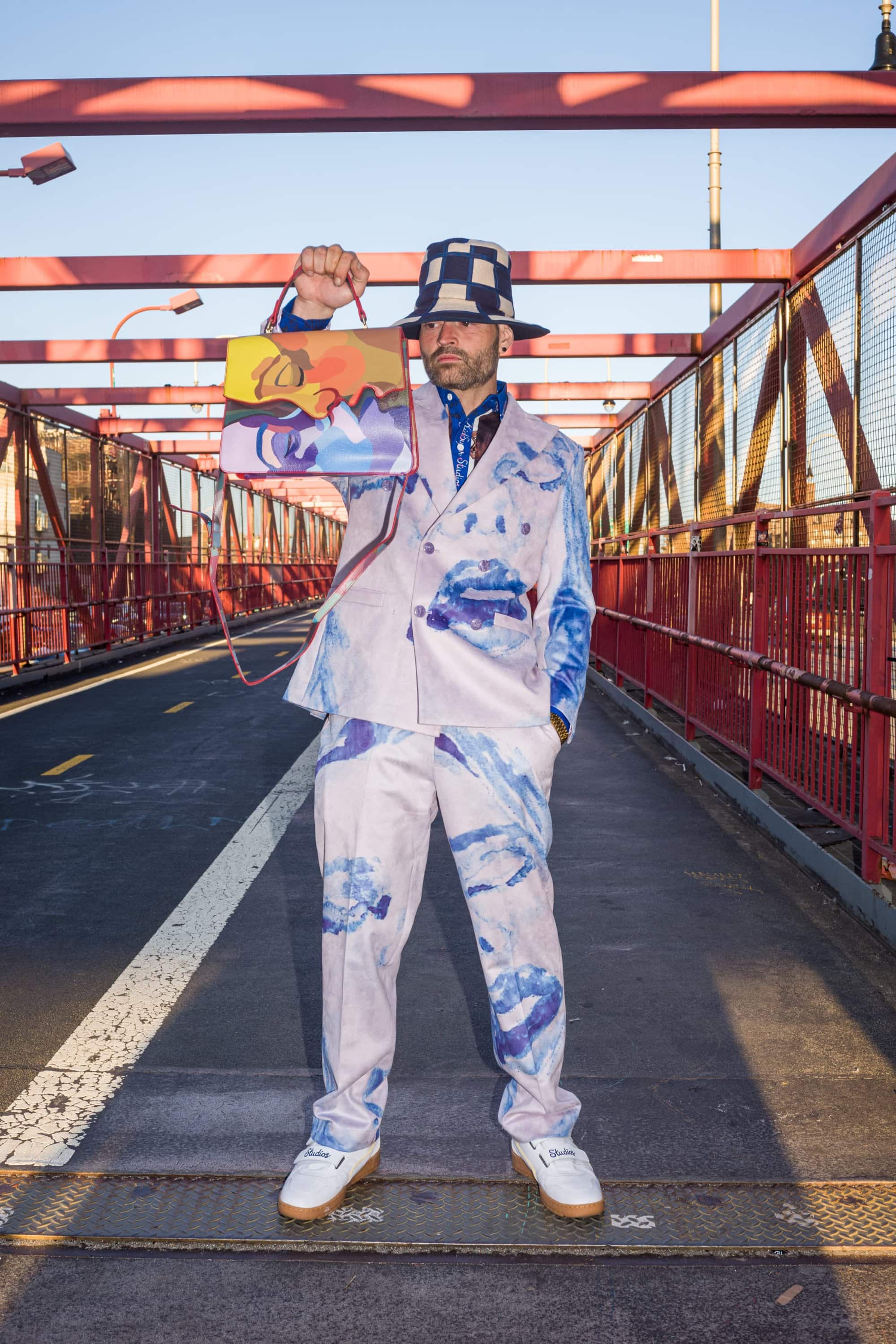 "There is a little bit of KidSuper in everyone – that sense of wonder that anything is possible, that you can do it, and that fearless belief that to go ahead into projects that we don't know we can succeed. It is based on how I felt as a child, looking up at other brands and asking why they are not having fun, why they do not stand for anything. I am creating my kind of world," Colm Dillane said via video from his studio in Brooklyn. 
Behind him is a wall full of the colorful patchwork of images that he said was the stage set for his spring 2022 film presentation titled "What do you want to do before you die?"
In the film characteristic of Dillane's last season presentation of stories with stories, the clothes are as part of different dream segments coming to life.
In the first dream, different real people asked for the answers to this question. Then they are put on an airplane to experience sky diving, and parachuting or another said he wanted to eat steak that leads to a couple sitting on a terrace discussing their lives. Others mentioned family reunions leading to a scene of a family feast and a couple vacationing in Paris as their dream was to travel.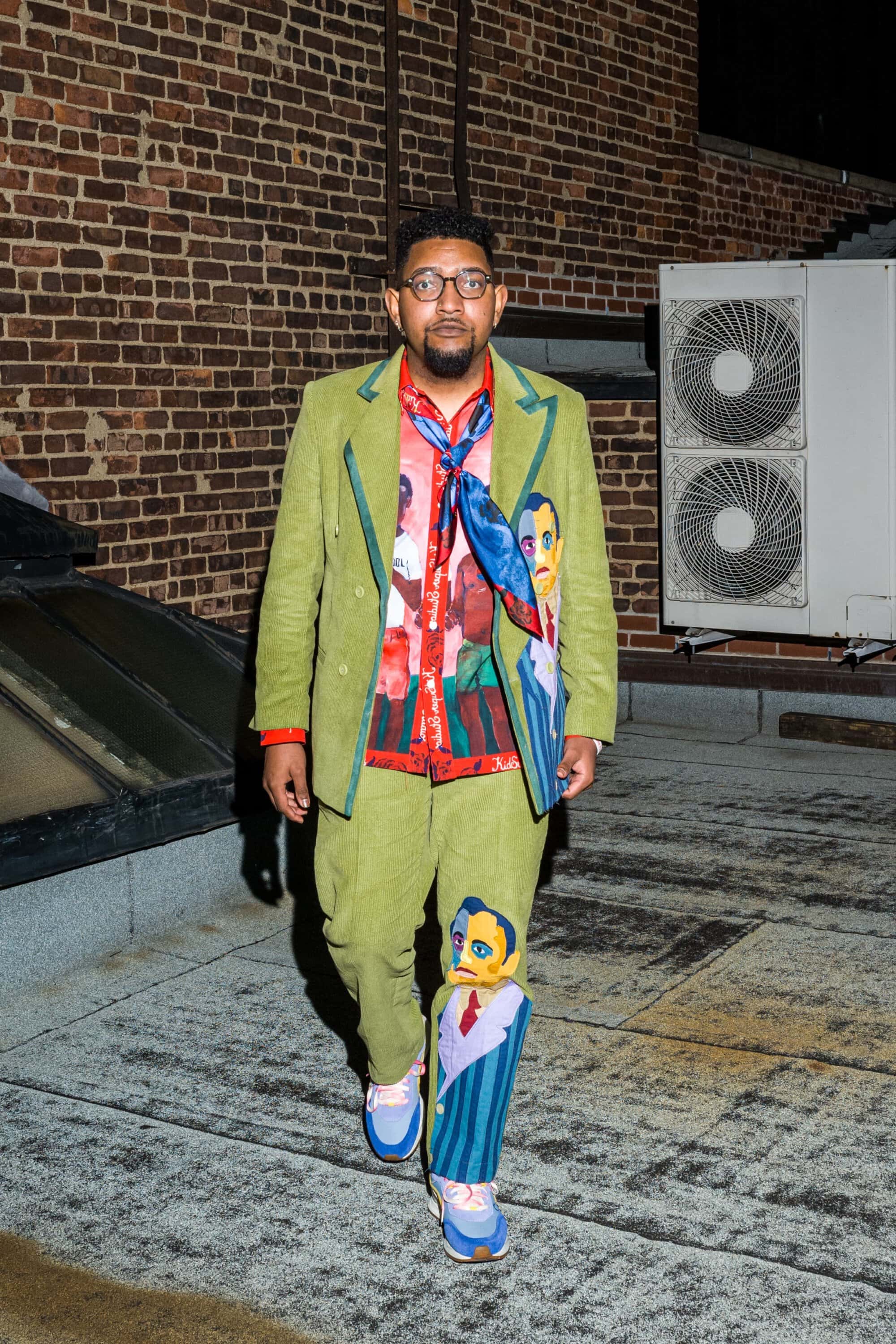 The film is an ingenious way for Dillane to show how his KidSuper brand connects with real people. "I am connected to real humans, something I think luxury brands fail at."
The clothes verge on the familiar garments Dillane has shown before, now in brighter colors and graphic prints. A pink satin suit with cloud prints, a red short double breast suit with handwritten words in deep blue, a brown coat or a white with colorful imprints of faces, a green double breast fitted suit with an embroidered figure, or a red patchwork print – these are KidSuper's staples.
"I am never going to worry about what trend am I going to hit or whether this product will see because it is the right color, the right design. For me, it is all about storytelling and building a fan base that appreciates your vision so much that they don't care what it is," Dillane said 
The clothes telegraph specific messages with the print images and the figures drawn or imprinted on the garments. They represent the faces of people familiar with different communities. A real strength of this small niche brand is reaching out and touch people, some possible customers, some not.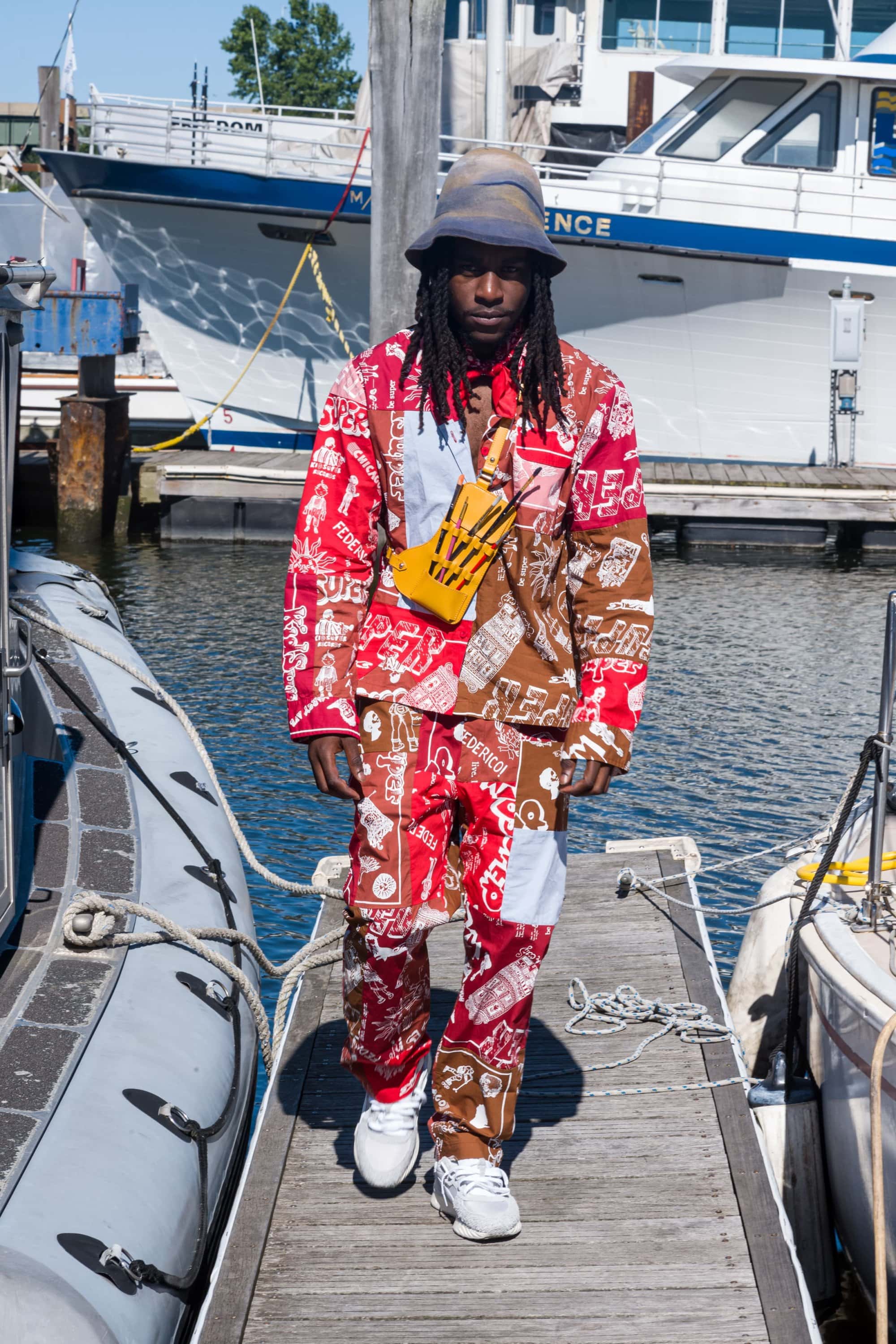 "There are small niche brands that are taking out little pockets of these established monopoly brands, and that will continue at an exponential rate," Dillane said via video. The Brooklyn-based designer may have a point here, noting that today authenticity is a value hard to come by and harder to own. 
Phipps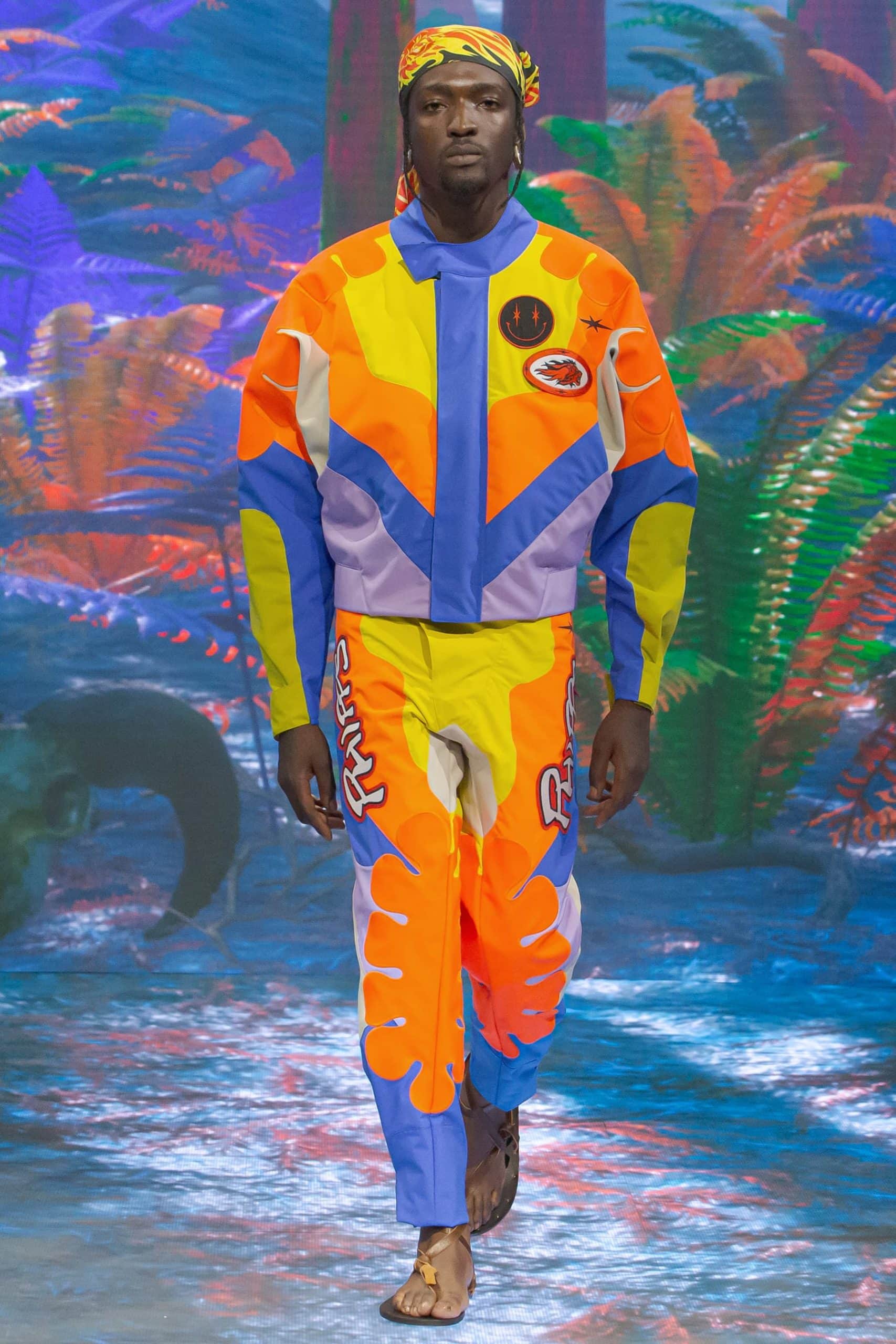 "I want to push the brand into new territories with preserving the sportswear element while elevating the technical side of the clothes, something that the brand is known for," Spencer Phipps said on a zoom call from his Paris studio the day before his official Paris presentation.  the designer revealed his spring collection with a film titled 'It Stars Now.'
The short film features a cave dweller in a whole-body wood fringe costume and some tribesman carrying a hammer as a nod to our subconscious notions of historical identification of the male.
Phipps founded the brand in 2018 with the primary aesthetic of adventure, outdoor culture, and survivalist clothes.
This spring 2022 film explores masculinity through a short film extended reality film, an altered AR reality from cave to space station. This season, Phipps is adamant about adding technical elements to his range, including cotton print cargo pants with black nylon knee patches, print pants with nylon drawstrings leg bottom, or colorful nylon blouson and matching pants. Motor cross imagery graces tee shirts.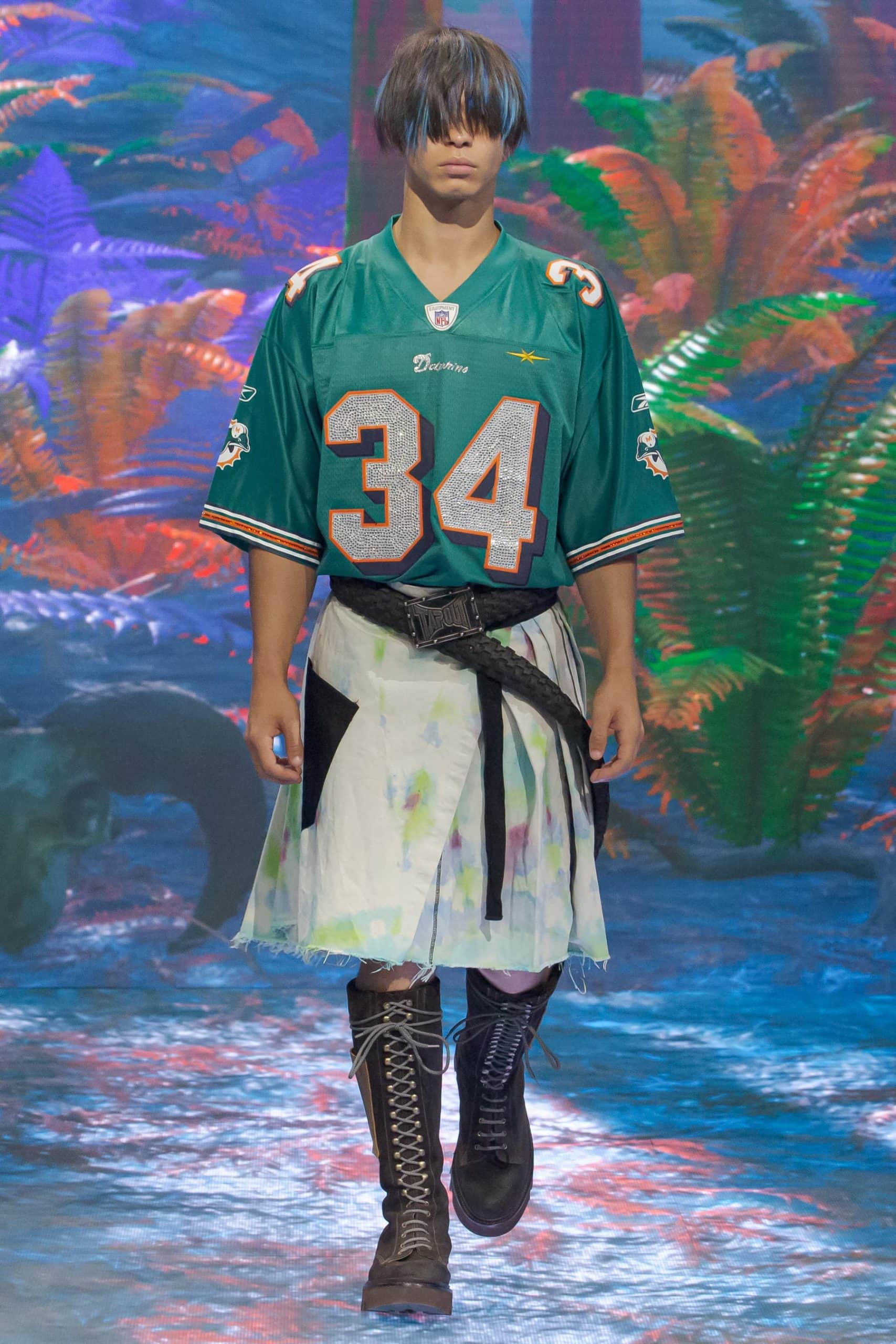 A green football jersey with sparkling beads team number paired with a dyed cotton wrap skirt questions the subtleties of the classical archetypes of rigid masculinity say male representations in sports. 
This spring collection has plenty of wearable clothes with even a touch of tailoring in the blue pinstripe single breast suit adorned with large utilitarian patch pockets and shoulder and side protective paddings. It also introduces womenswear that follows the direction of its male counterparts.
Phipps said he is opening a pop-up vintage shop in Los Angeles next week selling an array of vintage products he has culled from many sources. In addition, Phipps Lab, a tribute to the recycling methodology but with a careful selection of old materials and made in artisanal ways, aka couture, is also launching.
Arturo Obegero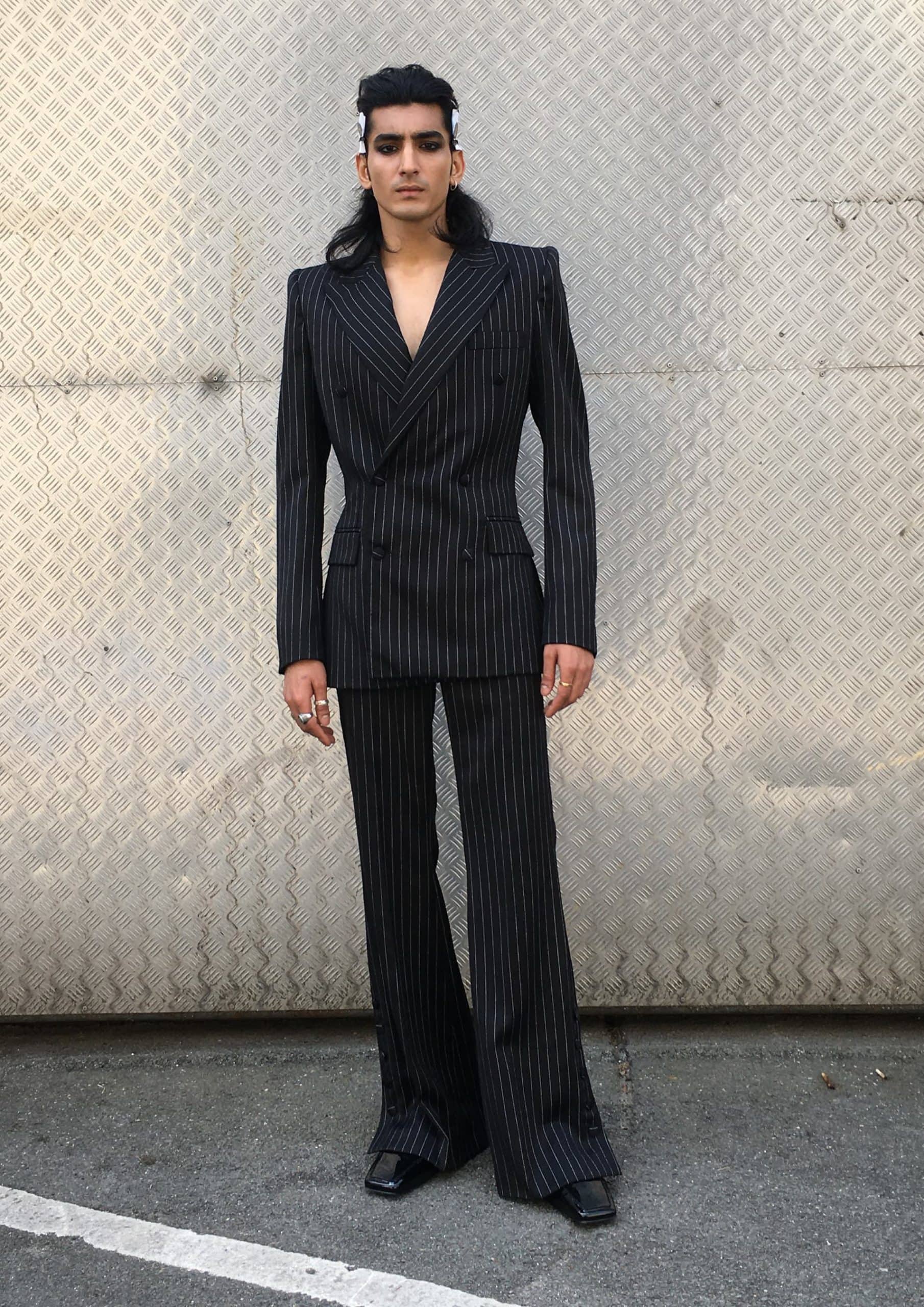 Arturo Obergero, a 2018 Central Saint Martins graduate, is a young Spanish designer based in Paris with the flair to slightly altering the cut of his men's clothes to enhance their potential for the dramatic along with a bit of sensual romanticism in the narrative.
'Euphoria' is the moody film Obergero presented with tango music accompanying models entering a dance studio and ended up partying together. The clothes, mainly in black, rely on the young designer's ability to cut and perfect his shapes. The clothes veer more towards a couture offering with severe cuts and tight constructions in mostly slender silhouettes. The tailored jackets and high waist flare pants anchor this collection.
The garments range from the tailoring – a tight fitted high shoulder double breast black pinstripe flare pantsuit to pinstripe boat neck double breast vest pantsuit – to the sportswear vibes of black sparkling shirt and pants or a sparkling black polo with white trimming beads – well sportswear in the Obegero sense. A black sheer chiffon embroidered top paired with black flare pants is another evening look. There is even a white open-back vest worn as a replacement for a jacket.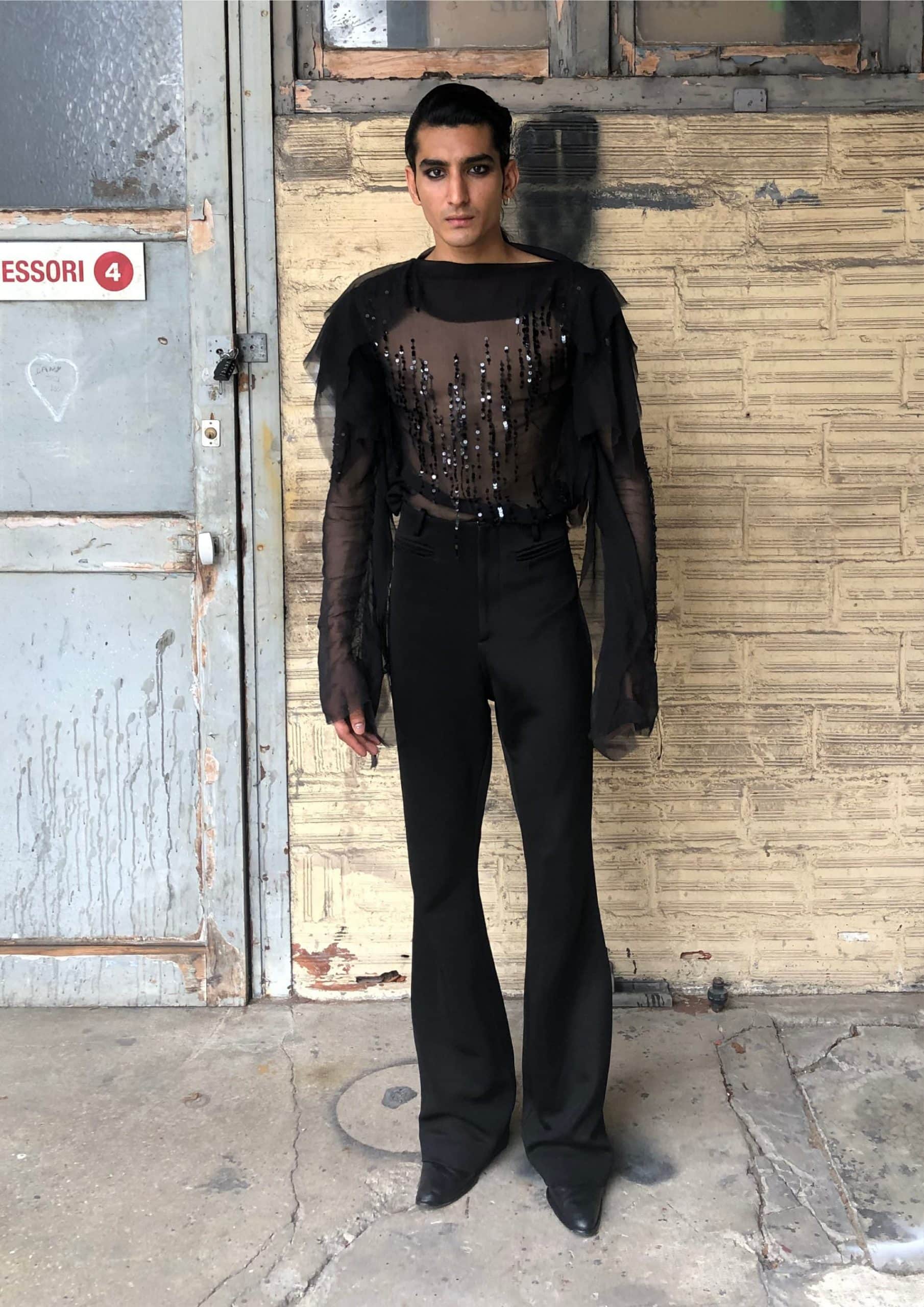 Obegero no doubt has the technical knowledge and craft know-how, but the young designer has to broaden his horizons, perhaps looking at other inspiration beyond the world of dance that he loved so much. Maybe this will allow Obegero to expand his fashion vocabulary without compromising his craft and stagecraft. 
---