Review of Lafayette 148 Fall 2023 Ad Campaign by Creative Director Emily Smith with Photographer Jody Rogac with Talent Maggie Gyllenhaal
Lafayette 148 announced that Academy Award-nominated actor, screenwriter, producer and director Maggie Gyllenhaal is the star of its Fall 2023 collection campaign – the first time a major celebrity has fronted one of the brand's campaigns. Expressing the many natural synergies and shared values between Maggie Gyllenhaal and Lafayette 148, the campaign joyfully brings to life the season's collection theme, 'In the Library of Women' – a celebration of the cultural and sartorial qualities found in women literary icons and writers.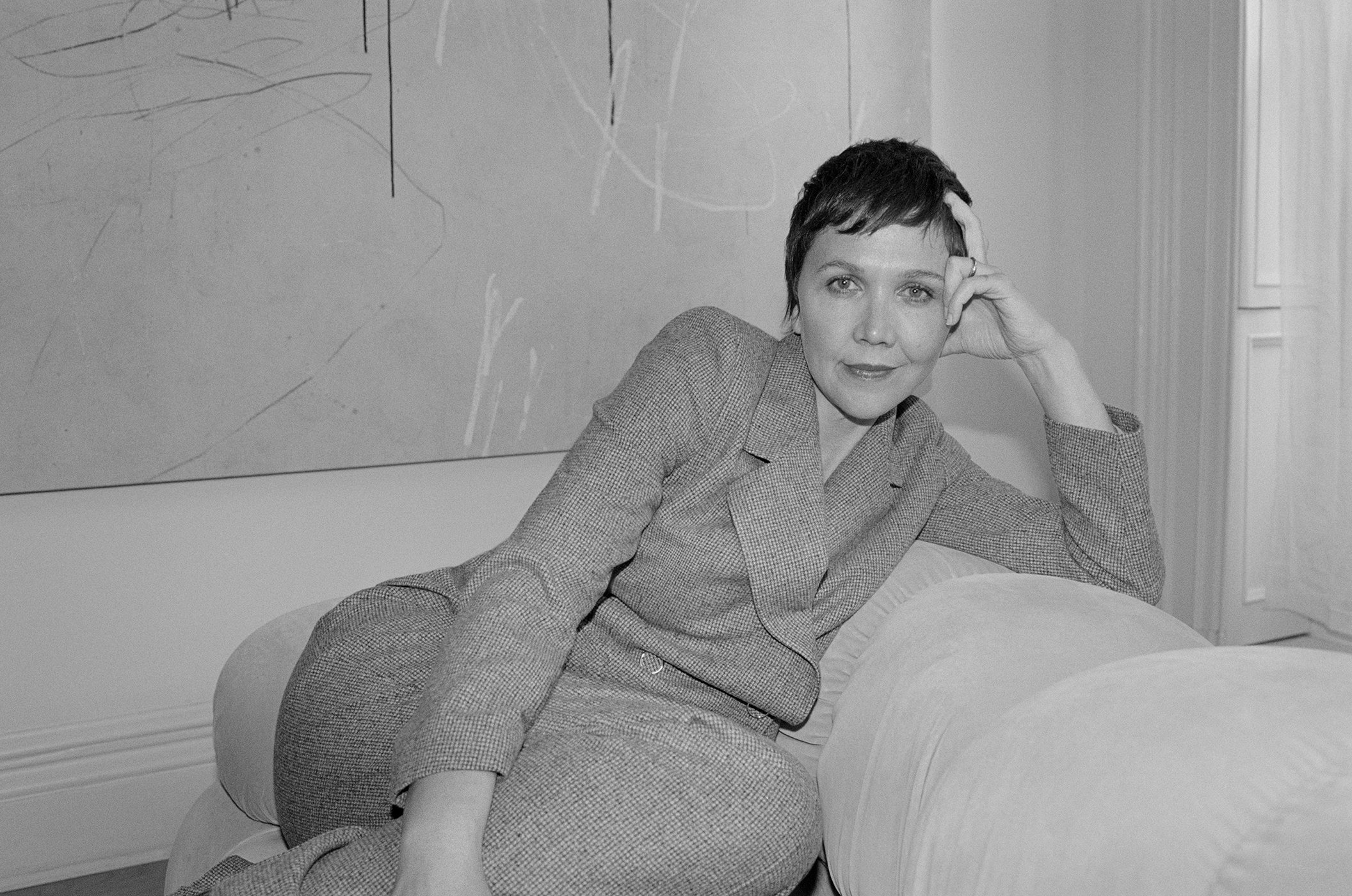 Following on from the first chapter of the Fall 2023 season campaign – featuring models shot on location in the Brooklyn Public Library – the stills and moving image of this second chapter capture Maggie Gyllenhaal showcasing collection looks in a Brooklyn brownstone, the neighborhood which is home to both Gyllenhaal and the brand's design atelier.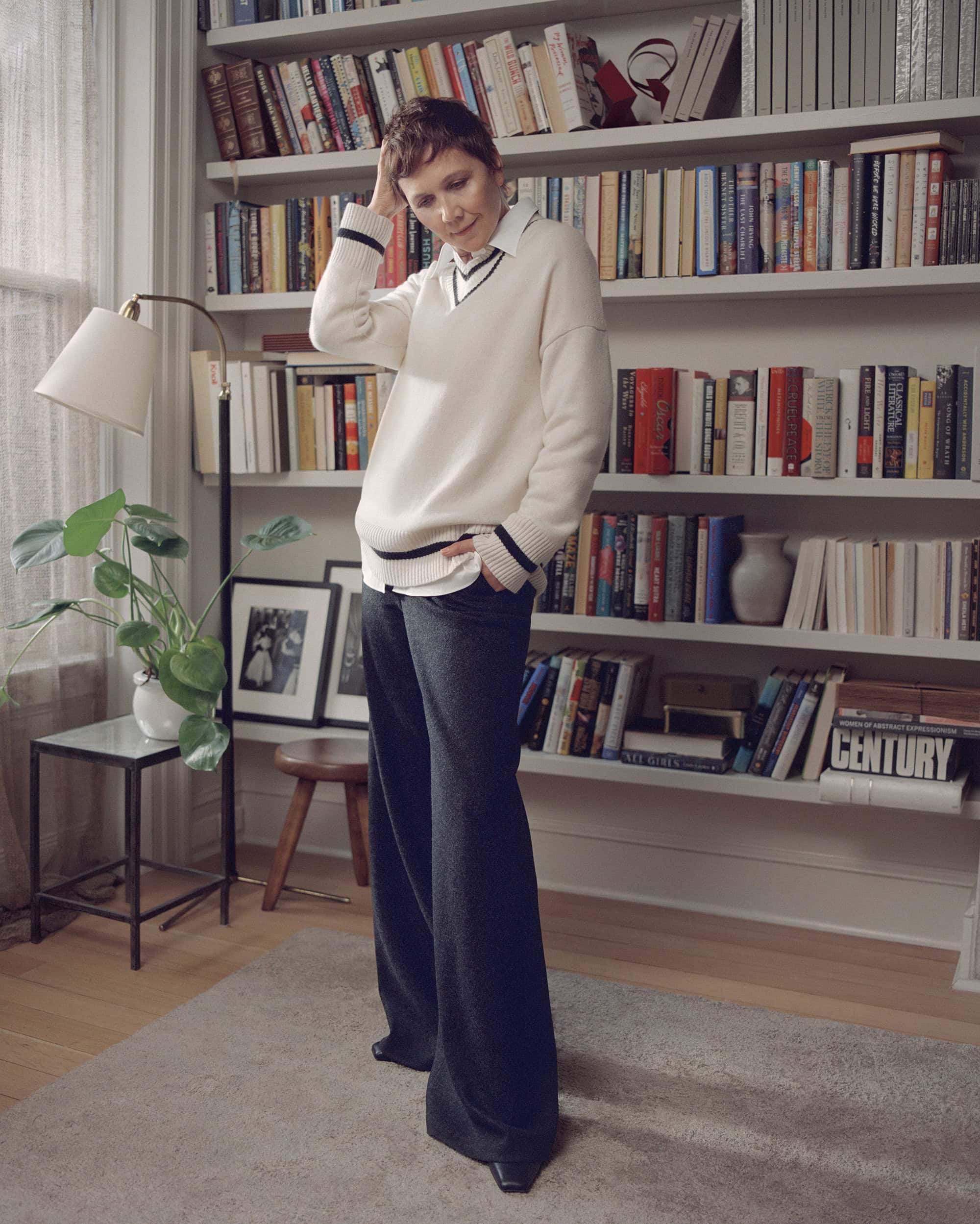 Lafayette 148 Creative Director Emily Smith was drawn as much to Maggie Gyllenhaal's burgeoning reputation as one of Hollywood's most in-demand screenwriters — her screenplay adaptation of The Lost Daughter was nominated for an Oscar in 2022 – as she was her many acting roles.
"A similar sensibility resides in Maggie's writing as it does in her onscreen and onstage performances. She possesses a rare talent for portraying the intricacies of women's lives, one that is anchored in a deep sense of empathy, humanity, and grace. It's these understated values – complimented by her natural elegance in everyday life – that I find so inspiring in Maggie. So, when thinking about a woman who could effortlessly embody the spirit of the collection, she was a natural fit. Plus, she's a local Brooklyn girl, too!" – Smith
Gyllenhaal has recently completed the writing of her latest screenplay, with the project soon going into production. In the Lafayette 148 campaign's exclusive video interview, she explores what writing means to her:
"I have always been someone who's understood what I think about the world by writing about it. For me, the pleasure in writing has something to do with finding a way to create enough space and freedom in my own mind to figure out and express what I'm thinking about. As an actor, you have to learn how to quickly get yourself into that flowing, unconscious, dreamy state; you've got to be ready to go whenever the crew is ready. And that's really served me well with my writing—but I also love that, as a writer, it's on my own time. I can take days and days to write a scene. There's as much time and space as you need. I can move entirely in my own rhythm." – Gyllenhaal
I think it's a different experience being a woman in the world. In some ways we almost have a secret language, because for so long, we've had to read and express ourselves between the lines. We might not even know we're doing it, although I do think we feel it, if we pay attention. That shared feeling is something I particularly cherish, in my writing and in my life, but also in the work of other women.

– Gyllenhaal (on the topic of being a female writer)
It's this sentiment that makes Maggie Gyllenhaal such a natural embodiment of Lafayette 148's values and projects. The Fall 2023 campaign follows her recent attendance, with Emily Smith, at New York City's annual gala for Save Venice, the American non-profit organization dedicated to preserving and promoting the artistic heritage of Venice, Italy. The brand is currently sponsoring the conservation of the 18th-century painting Assumption of the Virgin/Female Saint in Glory by Giulia Lama, a female artist who was so unrecognized in her lifetime that even the title of her painting remains a question. The project reflects Lafayette 148's continued mission to celebrate the accomplishments of ambitious women – past, present and future. Attending the Save Venice gala, Maggie Gyllenhaal wore a full-length black gown featuring the Fall 2023 season's signature 'Leafed Pages' motif, created by dipping the edges of fanned books in ink and imprinting them to depict books gracefully tumbling down in motion – a fitting tribute to Gyllenhaal's literary associations with Venice, the city where she won the Best Screenplay Award for The Lost Daughter at the 2021 Venice International Film Festival.
The myriad synergies between brand and celebrity are perhaps best expressed in the way Maggie Gyllenhaal effortlessly brings to life Emily Smith's design philosophy in the pieces she wears in the campaign: the sculptural simplicity of a loose-fitting pant-and-shirt ensemble in finest paperweight grey leather offers the natural embodiment of Lafayette 148's relaxed proportions crafted in finest quality materials; the perfect white shirt, a longstanding signature for the brand, is paired with easy-to-wear blue denim jeans and black loafers; collegiate spirit is fused with utmost sophistication when chunky cashmere V-neck sweaters are worn with wide-legged black pants.
I heard someone say recently: 'Getting dressed is the first artistic expression of the day.' And I took it to heart. With Lafayette 148's collections, I find that everything from the colors to the shapes and silhouettes mixes really well with me. There's a combination of elegance, comfort, as well as some really wild pieces. The shearling coat has so much aplomb! and goes so well with the classic crisp blouses— kind of French New Wave. It's all such a natural fit for me.

– Maggie Gyllenhaal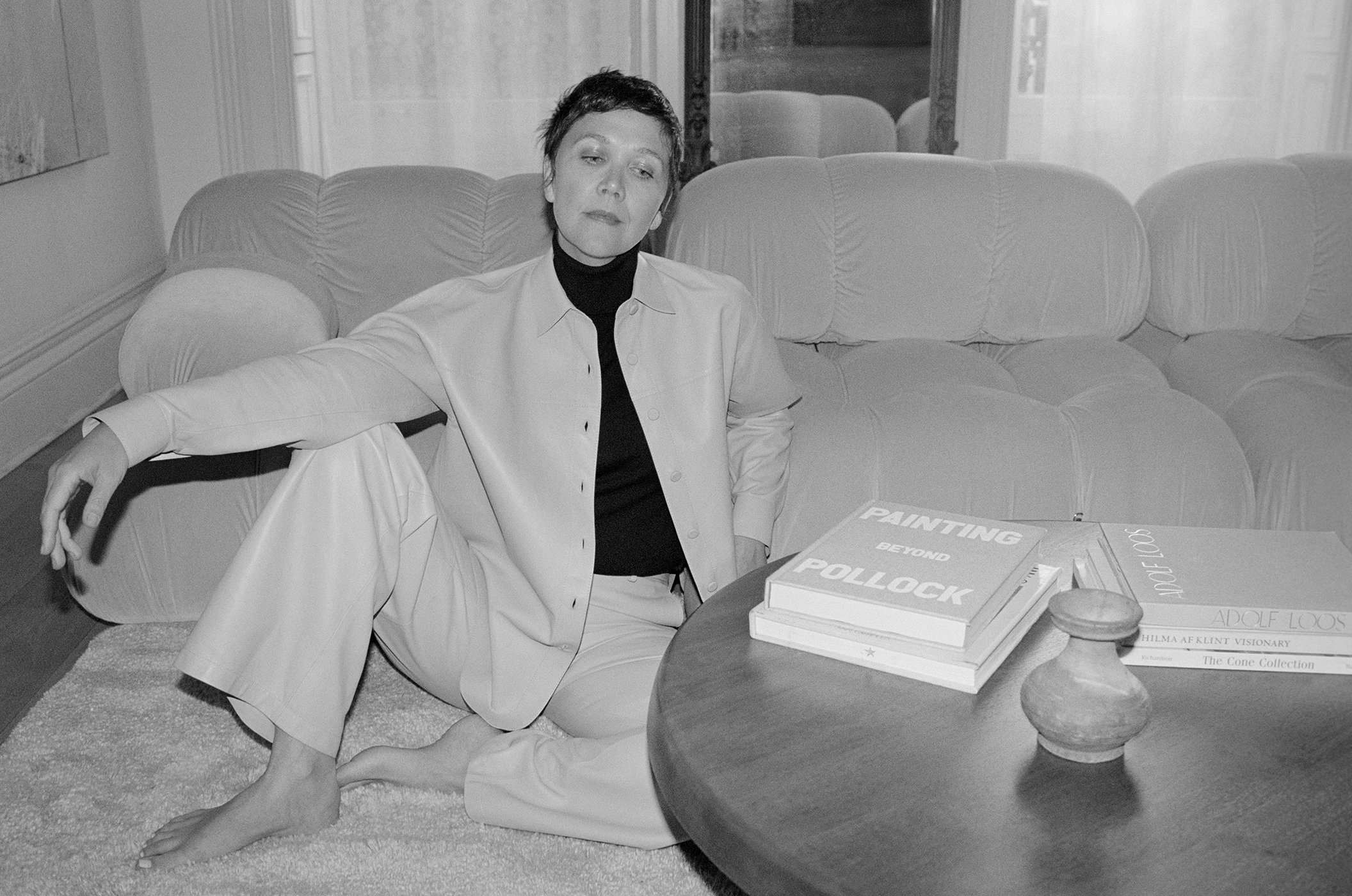 Lafayette 148 Creative Director | Emily Smith
Photographer | Jody Rogac
Talent | Maggie Gyllenhaal
Stylist | Sandra Amador
Hair | Renato Campora
Makeup | Daniel Martin
Location | Townhouse in Brooklyn

---