---
Review of Lanvin, Balmain, Anrealage, & Schiaparelli Fall 2021 Fashion Shows
For a TikTok Mega Party or a Journey to the Moon, There Are Clothes to Match
By Long Nguyen
Bruno Sialleli sure knows how to have fun.
At least, theoretically, that is in his film for the Lanvin fall women and men collections. The boys and girls partied in their excessively embellished clothes that seemed a time-warped from another distant era and not a projection into the near future. The designer spoke about his years as a youth early in the 2000s, where his fashion senses came from watching the MTV videos' runways where artists were prone to the era's excesses.
Shot at the Shangri-la hotel's various areas, the music video-style film titled MTV Heroes sure has the appropriate clothes with boys and girls riding in the hotel's empty conference and suites. The women's clothes are just as ornate as the wall and ceiling decorations of Prince Roland Bonaparte's former residence and now a 'Monument Historiques' site.
In a short and fast-paced film with the blasting of the Gwen Stefani 'Rich Girl' soundtrack, Sialelli draws from elements from Lanvin's 1920s heritage. He deploys the 'Jewelry' dress, a dress that combined an evening dress and a piece of jewelry into one entity, into different manifestations of evening wear. Now, the Lavin of 1920s takes the forms of a short navy dress is decorated with colorful beading trims, light pink strapless velvet short dress with a back train, or duotones cocktail dresses like a black and white or a pink and camel dress with twisted and gathered fabric on one side.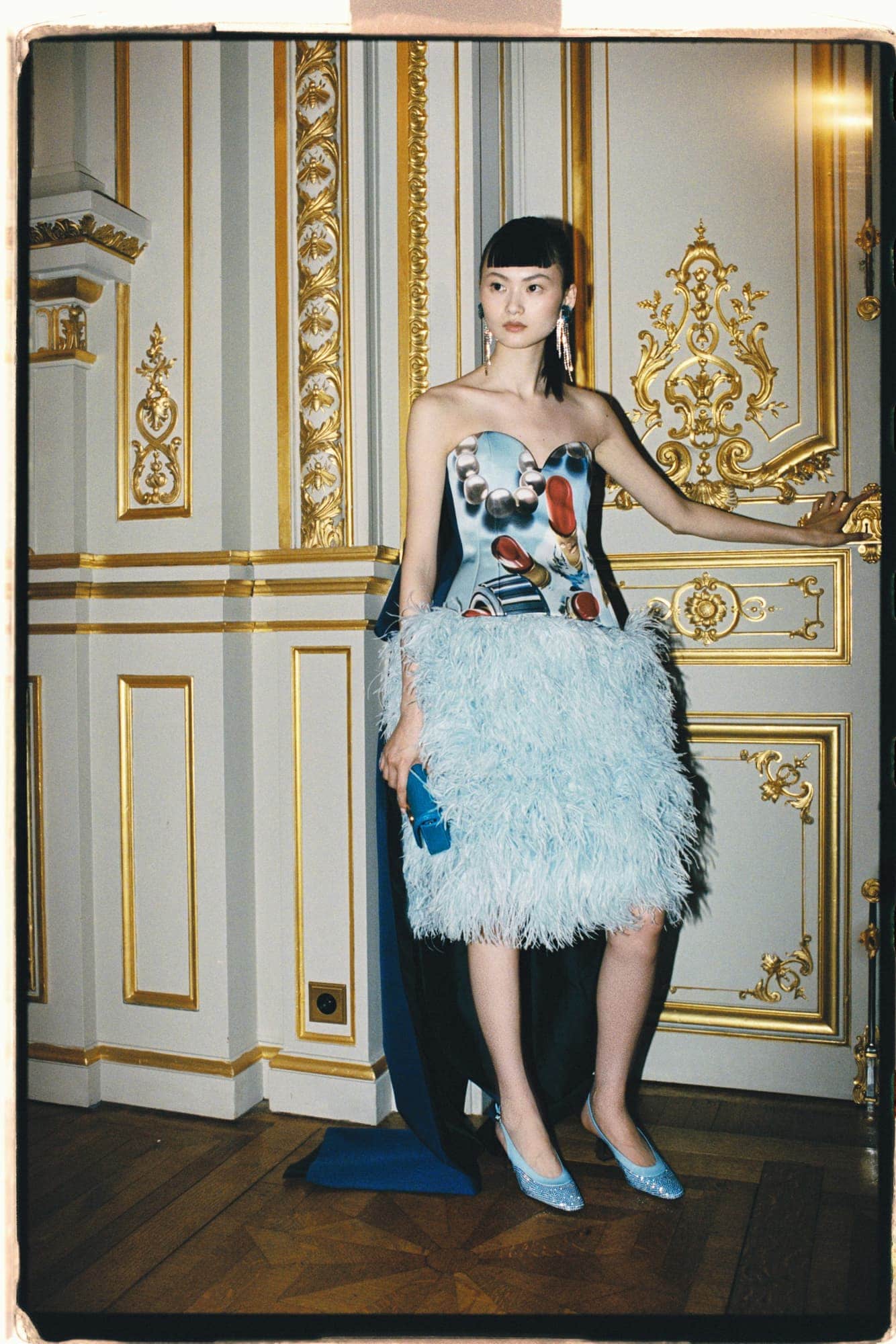 Sialelli collaborated with the estate of the James Rosenquist Foundation. The designer uses elements from the painting Gears (1977) as a print on an ice blue corset paired with a light blue marabou long skirt or a white print skirt with a blue marabou feather top. Each garment highlighted the lipsticks and steel ashtray featured in the original artwork.
Daywear includes a light yellow single breast pantsuit worn with a feather bra, a hot pink boxy suit and lights brown plaid wool coat with white feather collars, or a simple black flare coat adorned with the brand gold log.
The menswear is much more tone down with slight boxy shapes with oversize red/black plaid long double breast coat and large camel wool shirt or black leather shirt decorated with rectangular Rosenquist art print. One sparkling black coat has an entire Rosenquist 'Time Door Time D'or' print on its back. Sharp shoulder and baggy jacket characterize the prime silhouette for the pantsuit.
While the menswear is undoubtedly the better of the two collections, the women's clothes somehow looked a bit overdone with as few surfaces of any cloths are left untreated. That said, there probably is a place for these kinds of party dresses.
Not all the clothes look too overdone. There are a lot of wearable clothes here, marabou feather-trimmed or not.
One question to ask, though, is whether this kind of thinking and spirit is actually in tune with how young people live today. Sure, many of them look a bit like this on their Instagram and Tik Tok, but those homegrown looks are not the same as these luxurious wares. There may be wealthy young clients wishing to live an era they might only have seen on TV or streaming service.
Olivier Rousteing filmed his new Balmain show 'Above and Beyond' at an Air France hanger at the airport in Paris to honor his travel theme for this fall season. There is a sense in this show of how different from the spring show last season was its emphasis on haute couture and exaggerated shoulders.
It's a departure from the recent emphasis on haute couture, but perhaps, it is a way of moving forward after having done so much of the elaborate craftsmanship work. That makes this Balmain fall co-ed collection with overlapping ideas and executions more of a grounding in luxury sportswear collection than a great deal of Rousteing's previous shows.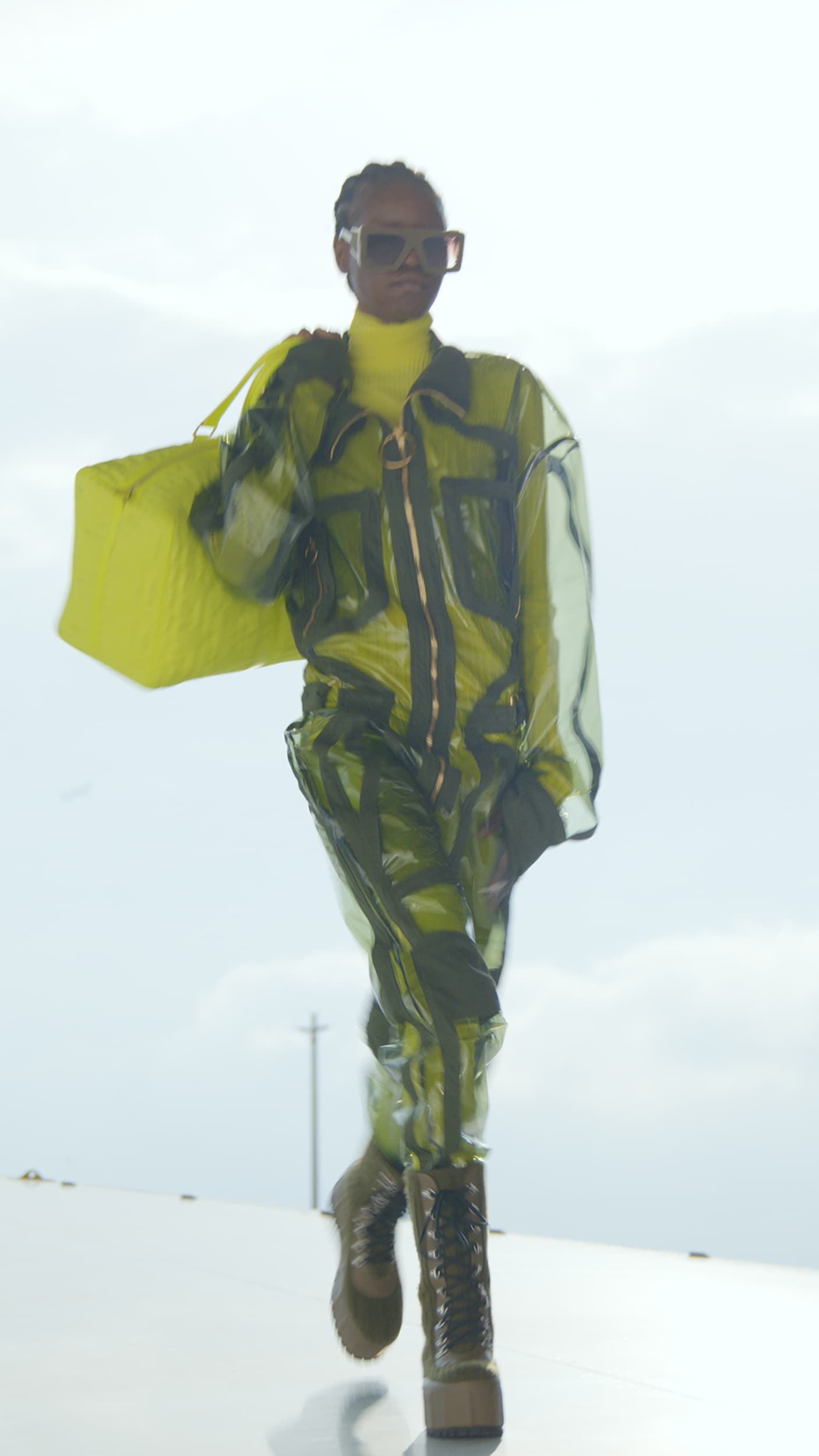 The travel theme ushered in a new look of dark olive green utilitarian and military wardrobe, well utilitarian in a Balmain way, not how these clothes commonly found at army surplus stores. The show's opening looks features mostly dark olive green functional garments. They include a ruched parachute deep v-neck dress, a plastic transparent flight jumpsuit, and a lace-up zippered short dress that merged these Balmain classic design elements in less dressy ways.
The strength of the women's collection is in the range and the diversity of the outerwear. Among the best outerwear shown here are the black and olive boxy shearling bombers, the olive wool military coats, the black leather parkas, the sleeveless shearlings, the navy wool long coat, the silver coat, the brown and white house logo trenches. The simple light mauve or hot pink wool coats are other options.
The menswear features mostly loose and boxy shapes, again with outerwear as a driving factor with oversize black shearling bikers with flare zippered sleeves and olive military wool coat with elongated sleeves. Not all men's clothes are focused on being more fashion-forward. Although paired with a green nylon flight suit, the light brown double breast felt wool spread collar coat or the dark green gabardine wool double breast jacket with gold buttons tucked into a high waist wool pant classic, albeit mixed with more advanced garments here for the show.
It's a smart move for Rousteing to change the fashion direction in a way that maintains his signature work. And also in finding new ways to make the digital experience exciting and more immersive.
The world has turned upside down in the past year. Everyone can agree
with this statement.
Fashion designers differ on the kind of fashion they are making for now and for the near future. Comfort clothes on one side or innovative design on another?
For the Japanese designer Kunihiko Morinaga, the world, at least his clothes, has been turned upside down, literally.
"Wardrobe classics are juxtaposed with their zero-gravity counterparts, with models alternately parading on the ground and the ceiling," the designer said from Tokyo of the fall Anrealage collection he called 'Ground.'
The designer meant turning the physical clothes upside down by zero gravity and letting all the print patterns and everything else on the garment sink to the bottom due to gravity. Thus a black trench coat with polka dots, when turned upside down, all the white circles would fall to the bottom (or top) of the trench, and the collar would also be upside down. Similarly, a grey and blue checker coat, when again tilted 180 degrees, would become all blue at the bottom (or top) with a few square checkers still in the process of falling. The checks and polka dots have now gathered around the shoulders, forming a drainage system gone awry.
Even the constructions of the garments, one of Morinaga's expertise, have been shifted due to the gravitational force exerted on the garments' hardware and patterns. Inside pockets of a camel jacket folded over, and the inside of a short skirt turns upside down. Grey cotton ruffle dress is now its reversed version with the ruffle on the arms of sleeves and chest rather than on the bottom of the knee-length dress. One camel trench coat sees confusing mixtures of buttons, sleeves, and waist belts criss-cross in irregular pathways. A denim jacket has all the pockets and buttons on the top part of the blouson.
Morinaga's technical rather than philosophical observation of the world upside down gave him the advantage to create new ideas for his clothes. It's a radical way to look and think about clothes from the standpoint of form-makings and the process of fashion.
This fall collection isn't about deconstruction but about the seminal ways to think about basic construction and use these techniques in a different light and a different angle of vision. This collection is also perhaps Morinaga most non-high-tech collection in a few seasons, with the primary use of just traditional craftsmanship and innovative thinking. The collection serves as a visual narrative of Morinaga's fashion slow methodology – where the buttons, the pockets, and the collar fall matter a great deal.
Then, there is Daniel Roseberry, the creative director at Schiaparelli, since April 2019.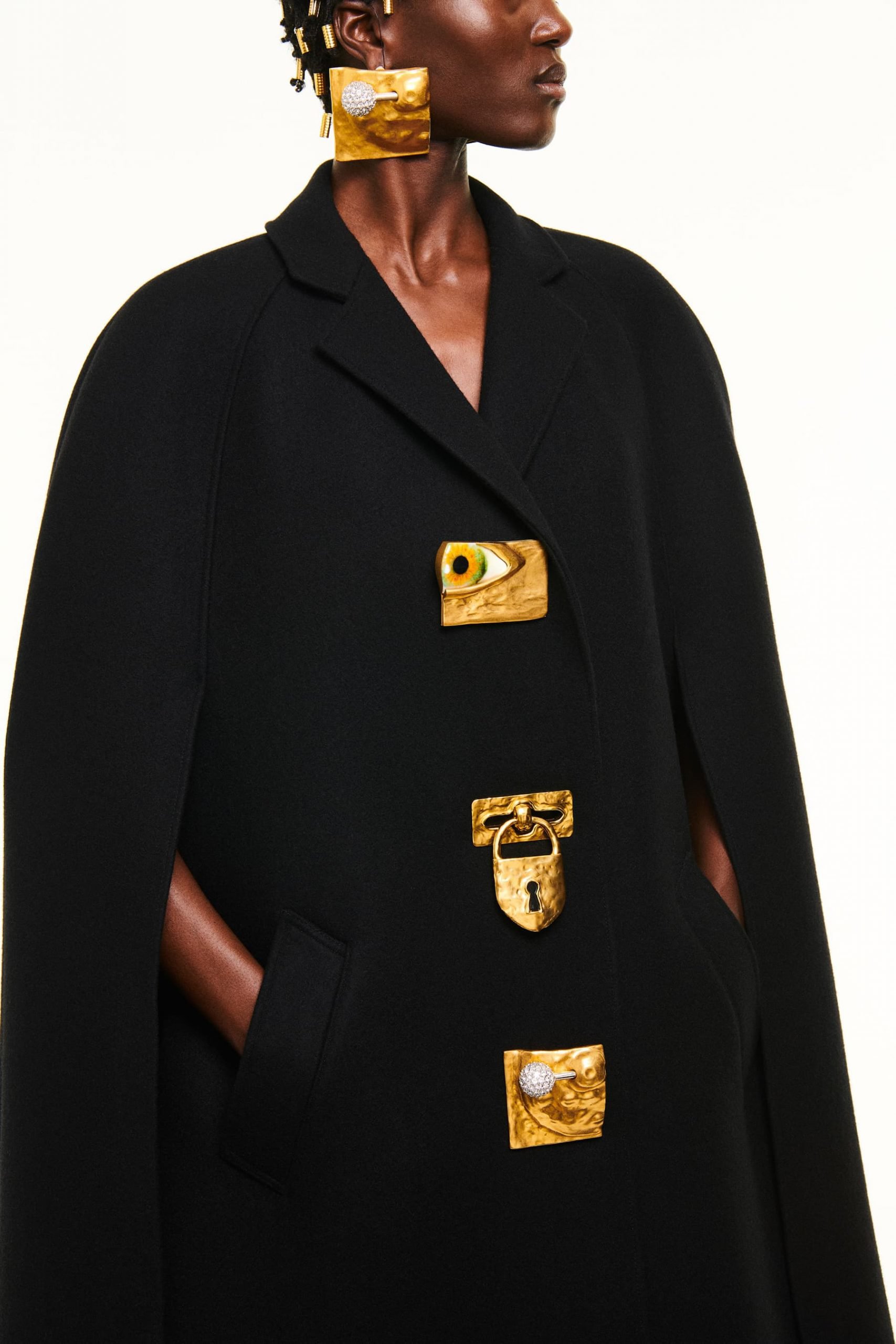 "Surrealism writ joyful. Bijoux that are as much armor as they are embellishment. A disciplined palette. An irreverent take on silhouettes" is what Roseberry said of his new fall ready-to-wear collection for the house.
What the American designer meant is a wardrobe of a tweed jacket, black single breast wide-leg pantsuit, ecru long parka, black leather hooded blouson, a black and white checker skirt-suit or a black long cardigan coat. Then add on the oversized gold brass necklaces, earrings, and rings. Other pieces of jewelry encrusted into each garment to secure the most disturbing impact.
Thus a double breast white wool coat has breasts and chest muscles drawn on the coat. A brown knit jumpsuit is attached to leather gold breast straps. A gold leather breast embroiders onto the basic ivory wool knit sweater. A white shirt has circles for breast ( a Jean-Paul Gaultier trademark since the 1980s). And a black leather blouson and matching pants have a large array of golden square buttons affixed all over.
The problem to distinguish here is between innovation in design and mere decoration. It is not a question of aesthetic taste but one of fashion design.
Here, Roseberry attempts to outrage with decorations and not with innovative designs. There is a gulf of difference between design and embellishment.
---