Review of Lanvin 'Character Studies' Ad Campaign by Photographer Steven Meisel and Art Directors M/M Paris with models Alay Deng, Electra 3000, Lex Peckham, Lian Koster, Raquel Zimmermann, and Wali
Lanvin explores the classic character of contemporary women with an intimate new campaign that marks both a new chapter and a return to form. Titled "Character Studies," the campaign was shot by photographer Steven Meisel with art direction by M/M Paris.
Meisel's imagery takes shape as simple, strikingly gorgeous black-and-white portraits. Capturing six different feminine personalities, he reveals an emotive sense of character and curiosity behind each woman, who feel at once like historical characters and distinctly contemporary personae. The simplicity of the approach also emphasizes the excellent work from fellow industry leaders, makeup artist Pat McGrath and hairstylist Guido Palau.
Intriguingly, the campaign doesn't include a single full-look shot or handbag, and even features one portrait of veteran model Raquel Zimmemann nude, covering herself with only a well-placed arm. The image is stunning, but not sexualized or exploitative: it depicts a woman who is comfortable and confident in her own skin. The imagery thus feels like a strong embodiment of the house's new commitment to stripping back the fast-paced, oversaturated fashion-industry hype and getting back to channeling what founder Jeanne Lanvin called "le chic ultime" – excellent craftsmanship and thoughtful design for the life of an independent woman (or man, or person, as we hope to see in a similarly thoughtful menswear follow up).
The campaign also reintroduces a slightly altered logo for the house, which breaks from the recent trend of fashion brands sacrificing classic text in favor of slick sans-serifs – another move that emphasizes Lanvin's refocusing on elegance and sophistication that is at once timeless and everyday. The brand shared in a statement, "Along with a comprehensive product reset across categories, a newly designed website and boutique concept debuting in the first half of 2023, the campaign signals a confident new visual identity and direction for the house."
Lanvin is the one of the oldest French fashion houses still in operation (the third oldest, to be exact), with a unique and inspiring story in its founder and a wealth of history to draw upon. This campaign takes excellent steps to strip away what is unnecessary and return to a place of championing Lanvin's legacy while guiding it forward with clarity and elegance.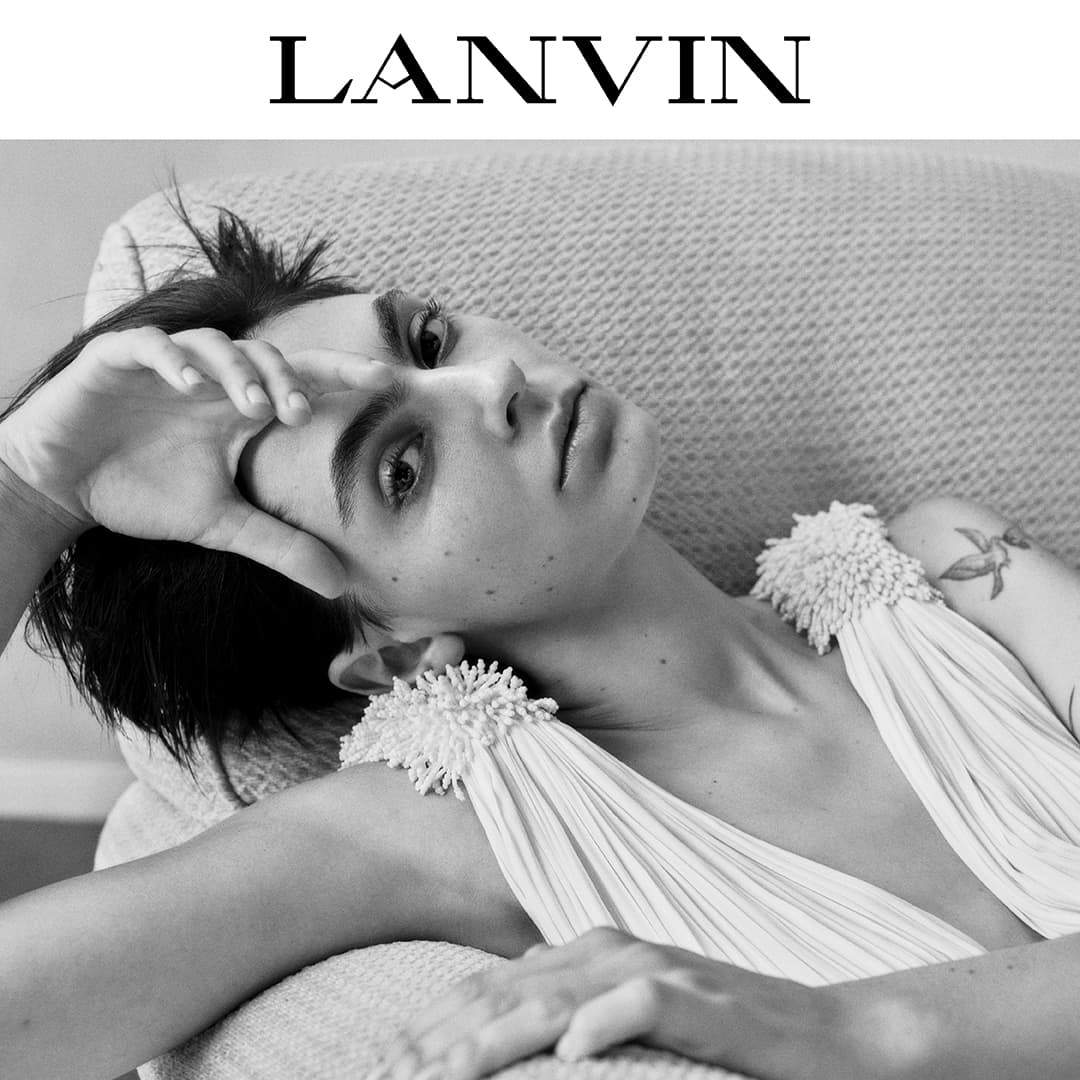 Lanvin Creative Director | Bruno Sialleli
Photographer | Steven Meisel
Art Directors | M/M Paris
Models | Alay Deng, Electra 3000, Lex Peckham, Lian Koster, Raquel Zimmermann, and Wali
Stylist | Ludivine Poiblanc
Hair | Guido Palau
Makeup | Pat McGrath
Set Designer | Mary Howard
---