---
Liz Magor's art is a meticulous reflection of the interdependence of subject and object, a quietly ecstatic revelation of the secret social life that permeates the created world of everyday things. Working primarily through sculpture and installation, the Canadian artist examines the way in which produced objects take on meaning through human use. She seems to be especially sensitive to the depth of feeling embodied in the most casual things; rather than recontextualizing objects in an artistic space distinct from the conditions of life, Magor meets them on their own terms and reveals that they are already rife with emotional meaning, that they provide their own context through having been kept close or cast away, made into memories or forgotten. In her process and pieces we see that we are not entirely distinct from the world around us, that our internal life must step forward into the external world and find itself in it.
This artistic vision caught the eye of Jonathan Anderson, the founder and creative director of London-based fashion label JW Anderson. Magor's work Pet Co. was the centerpiece of the venue and the runway itself for the label's women's spring summer 2020 show in London. The piece features small collections of childhood objects – stuffed animals, blankets, toys, sometimes intact and sometimes only scraps – encased in rectangular prisms of transparent plastic. Dozens of these boxes are spread across the space, occasionally stacked on top of each other. An immediate feeling of tension is evoked: these objects are full of rich emotional history, they were well-loved, they are part of someone's life, someone's memories. To see them presented in a sort of sterile, industrial package makes it seem as though this unquantifiable emotional matter is being transformed into a commodity, something to be purchased or perhaps experimented on. An element of human experience is palpably present, but it can only be looked at from a distance, through a lens.
To set this piece as the backdrop of a fashion show creates an interesting conversation between the two. The world of fashion seems to have a similar feature of being mediated, put behind plastic: designing, creating, and wearing clothes feels like a genuine and essential process of embodying and expressing human imagination and experience, but so often it is only for the sake of selling a product, of turning a human into a consumer. The intersection of Magor's artwork and JW Anderson's show works to raise questions about the nature of this relationship and what it could be.
Among all this social and emotional exploration, it seems hard not to see a pointed political note as well. The quarantine and containment of valuable human objects reverberates with a fearful echo of the situation at the southern United States border. Children's toys in boxes; children in cages.
JW Anderson continues to move in exciting directions with this insightful and timely celebration of the work of a great contemporary artist. To bring this artist before a new audience, to have a conversation with her work and raise questions that are often overlooked goes above and far beyond the standards of what a fashion show must be, and shows what it can be. Everything in the world is full of life: let us try to see it.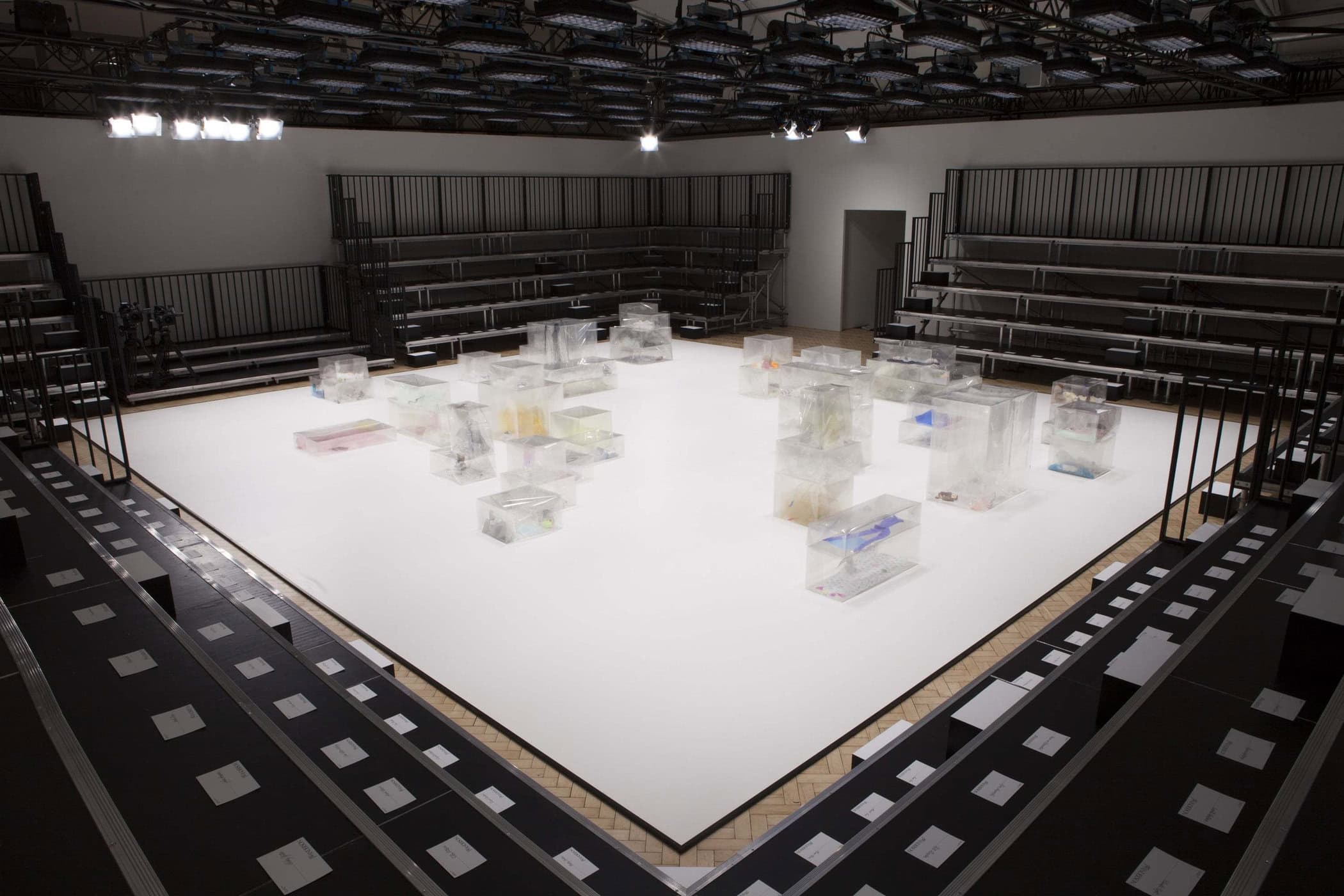 ---