---
Review of Loewe Fall 2023 Fashion Show
Softly Does It, as the Everyday is Accelerated at Loewe
By Angela Baidoo
'Reduction', a word which opened the Loewe show notes this season, and a word which perfectly sums up the house-by-house and brand-by-brand shift that has been taking place this season. Stripping down, paring back, and truly projecting historical house codes in a way that also represents a vision of the future, rather than an over-reliance on the past has meant that many designers who have presented their collections over the last few weeks, have had to find ways to reduce their ideas down to truly say what they mean.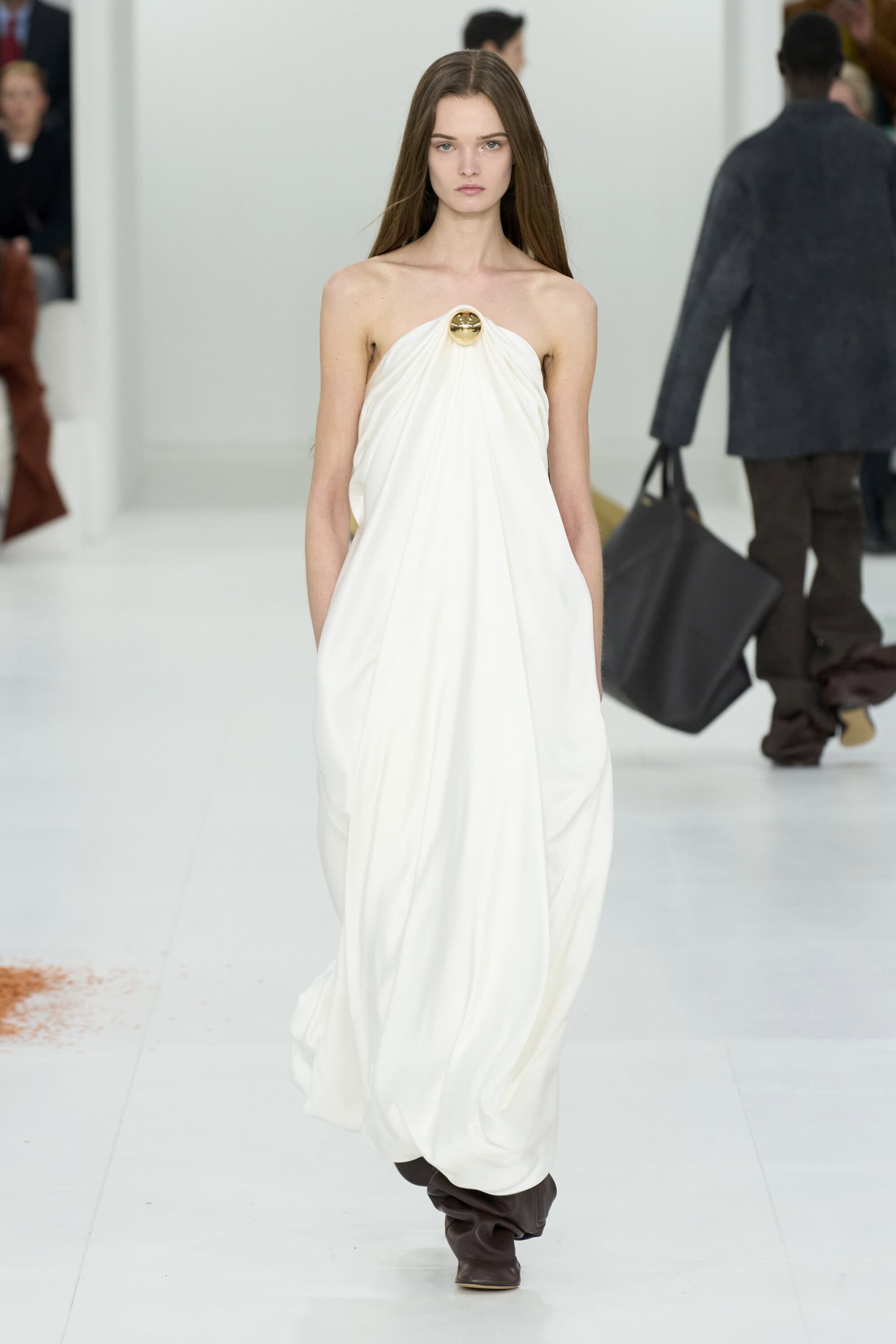 Presenting a much more distilled vision for Loewe this season, JW Anderson gave us his unique take on the art of reduction, which will appeal to the introverts in us all
An acceleration of the everyday, Jonathan Anderson's fall 2023 Loewe collection is taking a stand for the introvert in us all, seeking to indulge in the joys of fashion, yet not stand out for all the wrong reasons. Considering how to reinterpret the items that we make a choice to put on every morning, meant a zeroing-in on "silhouette, texture, the way materials react to light", according to the show notes. But don't mistake these designs for those that have been trending over the last few weeks – namely real-world clothes for the stealthily wealthy, which could also be labelled as 'normcore' for the ultra-high-net worth crowd – because the designer's creative agility always tended to shine through.
Smoothing out the edges of his decidedly analogue collection last season, which saw pixelated prints brought to life, fall was to be about a blurring and softening of his vision. Despite the stage on which the collection was set, i.e., fall, there was a distinctly seasonless or at the very least trans-seasonal feel to today's proceedings, sans a fur coat or a cashmere knit or two, the palette of pastels and satin sheaths said spring rather than fall. But nevertheless, the designers mission to create a singular vision of a reductive approach meant that the details mattered when shapes were – in the designers words – blunt. Draped satin was suspended by thin chain hardware, and compact knits in oversized shapes were sculpted and folded around the body. Even feathers were applied with a lightness to a tank top and trouser set.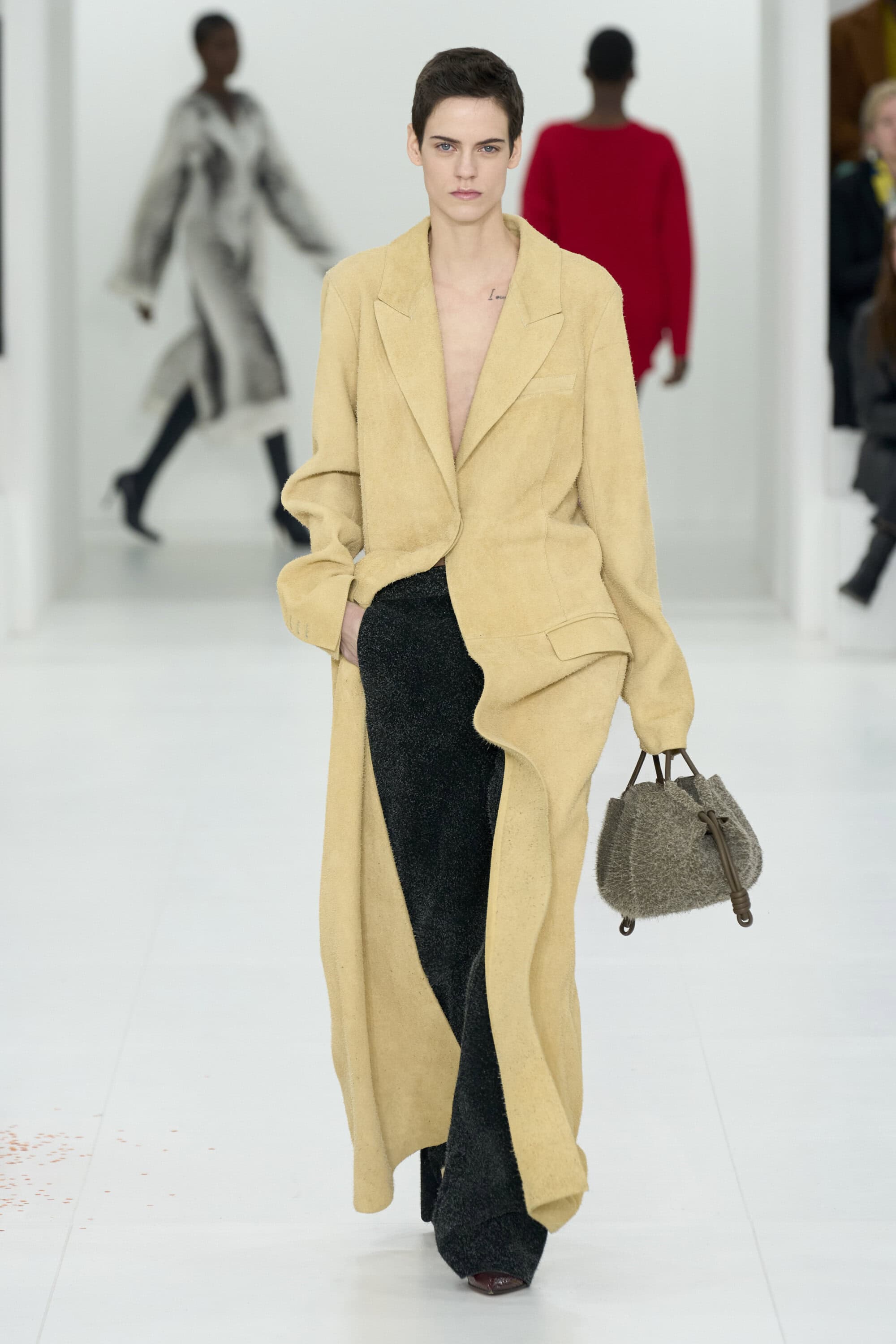 One of the many hang-ups with being the industry's go-to designer for seasonal showpieces and shows in-and-of themselves that speak to the surreal, this season there was a drawing down of that asset, which was mostly evident in the boxy 'paper doll' shapes.
Playing with blur as a way to stress that fashion, rather than being about the moment, is about the later. Dresses, trench coats and faux fur coats become an impression: a ghost, a memory that fades or returns, and sticks.

Jonathan W. Anderson, Creative Director, Loewe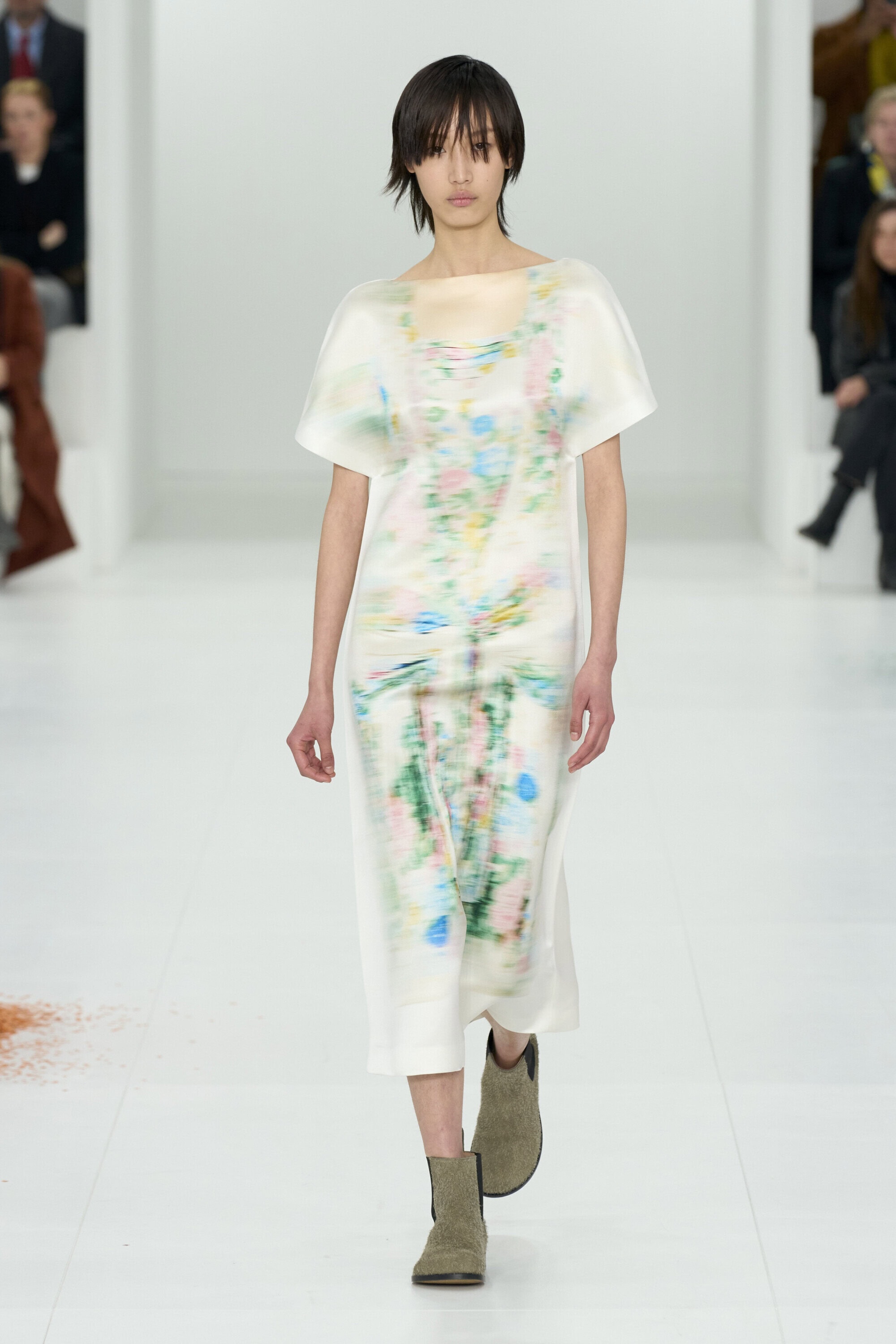 Subverting the idea of trompe l'oeil and using it in this collection to put into focus "what may seem unclear right now" according to the notes, imprinted dresses, coats, and even textures, were but mere impressions that were faded so as to lose their definition. But still, there was an almost romantic return to the analogue in this collection, day and evening dresses were about the cut – simple geometric silhouettes – but the choice of materials amplified them as a conceptual experiences. The smooth tactility of velvet, or the draped properties of satin, gathered and held in place by a single organic metal trim which mimicked jewellery.
Even though the expectations for a spectacle are high with a Loewe outing, Anderson, in his own way, but not unlike many designers this season, is making his voice heard on the very real world problems affecting us all, and his answer is to take it back to the simplicity of a silhouette, the comforting reassurance of tactile textures, and the adaptive nature of a designers materials.
---