---
Creative Director Jonathan Anderson Releases 'Eye/Loewe/Nature' Collection With Personal Reflections About How Humans Can Minimize Impact On Natural Ecosystems
Let's be honest. The impending climate disaster and seemingly endless pandemic have humbled us–well most of us anyhow. Nature has asserted herself; she is not one to be trifled with. JW Anderson, creative director for Loewe, has spent some time ruminating on our collective situation, and his meditations have yielded a 2020 Fall/Winter collection focused on upcycling.
The singular moment we are going through made me reflect with renewed interest on the link we, as humans, have with the natural world, and the actions we can take in order to minimize our impact on the whole ecosystem. This is why the Fall Winter 2020 collection is focused on upcycling. I love the idea of repurposing something that already had a life: it reminds me of the transformative power of creativity. Using existing sources also gives unicity to each piece, which is a very warm trait, akin to my proclivity for craft.

– Jonathan Anderson, Creator Director for LOEWE
Anderson ran with his idea that our collective unconscious is evolving towards a state more harmonious with nature. Not only is he focused on using organic cotton and repurposing military materials, old fleeces, and patches of flannel, but he is keeping the design aesthetic itself organic. We see somewhat mismatched squares of flannel all put together to create one new flannel shirt–a thing which, despite preconceived notions, truly constitutes a whole.
Anderson has clearly gravitated to a military motif for this season's collection. He plays with the practical elements of military clothing and the patterns. Many of the clothes are upcycled from military tents and camouflage. The accessories are upcycled too; he has made a convertible bag from camouflage uniforms, and a tote bag from old fleece.
This collection is designed for men who see themselves as escapists, as practical, and as adventurers. Perhaps Anderson believes that in order to love this collection you also need to have a love of nature, of the great outdoors. Regardless it is clear that he is a great lover of nature, and he is putting his money where his mouth is: for every Eye/Loewe/Nature product sold, Loewe will donate 15 euros to environmental causes.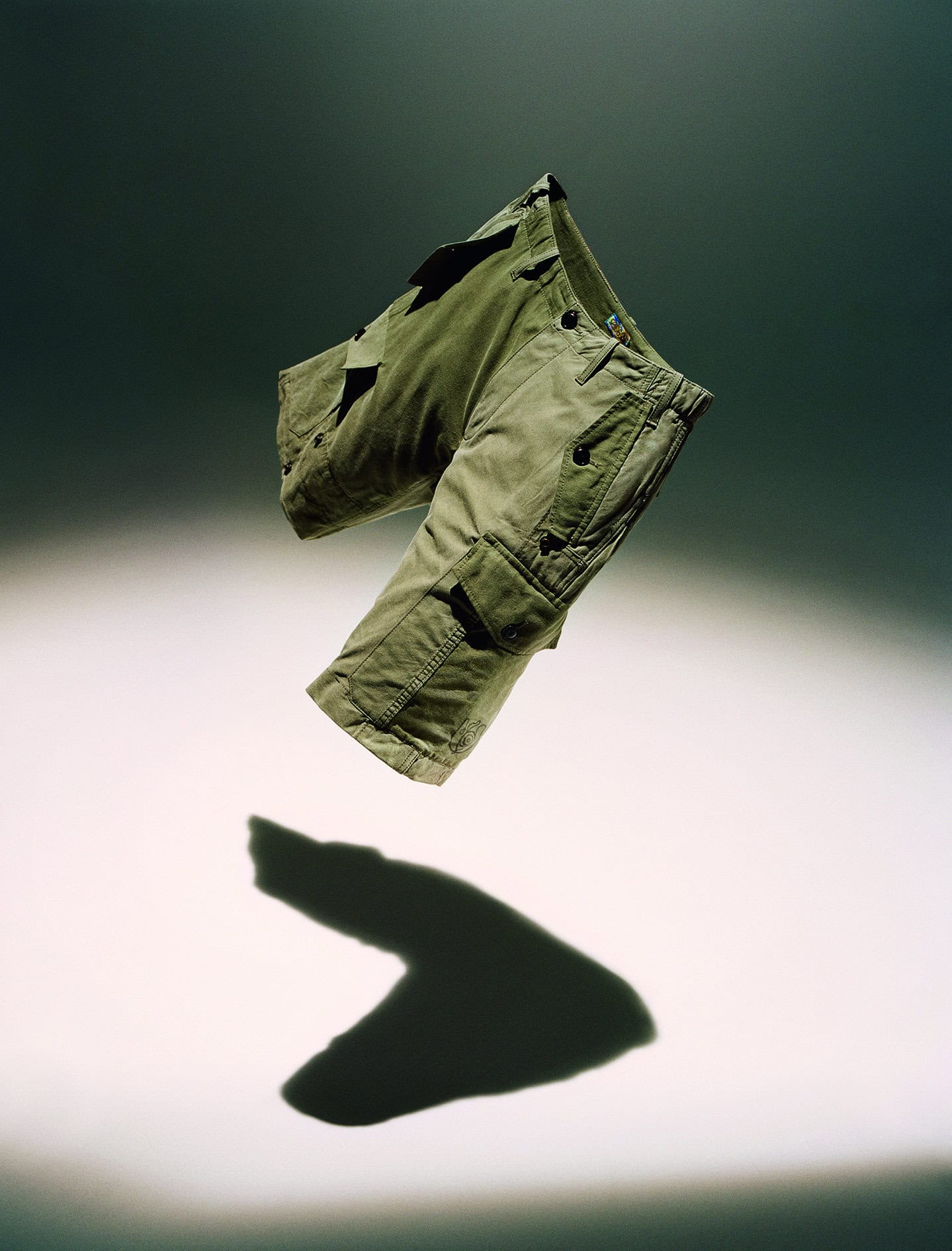 ---