Extracting From The Everyday
Review of Loewe Spring 2024 Fashion Show
By Angela Baidoo
THE COLLECTION
THE VIBE
THE THEME

Just when you thought there was nothing more to be said – or subverted – around the everyday, Jonathan Anderson says let's do more with less, and less in his works translates as syphoning off the unnecessary and considering how varied ideas in the world of garment design can still have mileage.
Just like we all have 24 hours in a day, designers often begin from the same starting point, a trouser typically has 2 legs and a sweater some sort of opening to allow the wearer to put it on their body. But unlike other designers, Anderson is cut from a different cloth, and what he chooses to do with his numerous 24 hours leading up to a show is always unpredictable, until the moment it hits the runway.
Summer 2024's silhouettes were overall a study in classical preppy tropes and wardrobe staples. Polo shirts were highlighted with contrasting tones, a tweed blazer featured chest pockets (women's clothing is crying out for more pockets), and the waists of wide-leg trousers, like their menswear counterparts before them, were designed ultra-high, the anti-thesis of any hope of a return to the low-rise jean inspired by the y2k trend. As the designer loves to subvert norms, he put a pin (literal and figurative) in several items, highlighting the work of dressmakers in the gathering, tucking, and securing of fabrics which will go on to become key details.
The all-encompassing cocooning cape might just win out for emerging shape of the season, but its impracticality will surely be what attracts those curious to give it a try. With the same logic being applied to the designers coat-cum-carryall.
If there is one thing to take away from this season it's that the everyday matters as much as the extravagant, and clothes don't have to always be loud to remain an important commentary on wider society. And bringing to the runway his continued exploration of everyday silhouettes which if tweaked with an intelligent design detail here or a considered twist there, the everyday is elevated to something which can live on in a customer's wardrobe for decades. Always reminding them that what others would consider a basic knitted sweater actually features a single collar, controversial yes, clever, most definitely so.
THE BUZZWORDS
Norm at its Core. All-day Everyday. Twisted
THE SHOWSTOPPER
Look # 44
Who said silhouettes have to make sense, as Anderson's oversized knitwear can have one collar and a V-neck so low as to allow the waistband of the jeans underneath to peak through.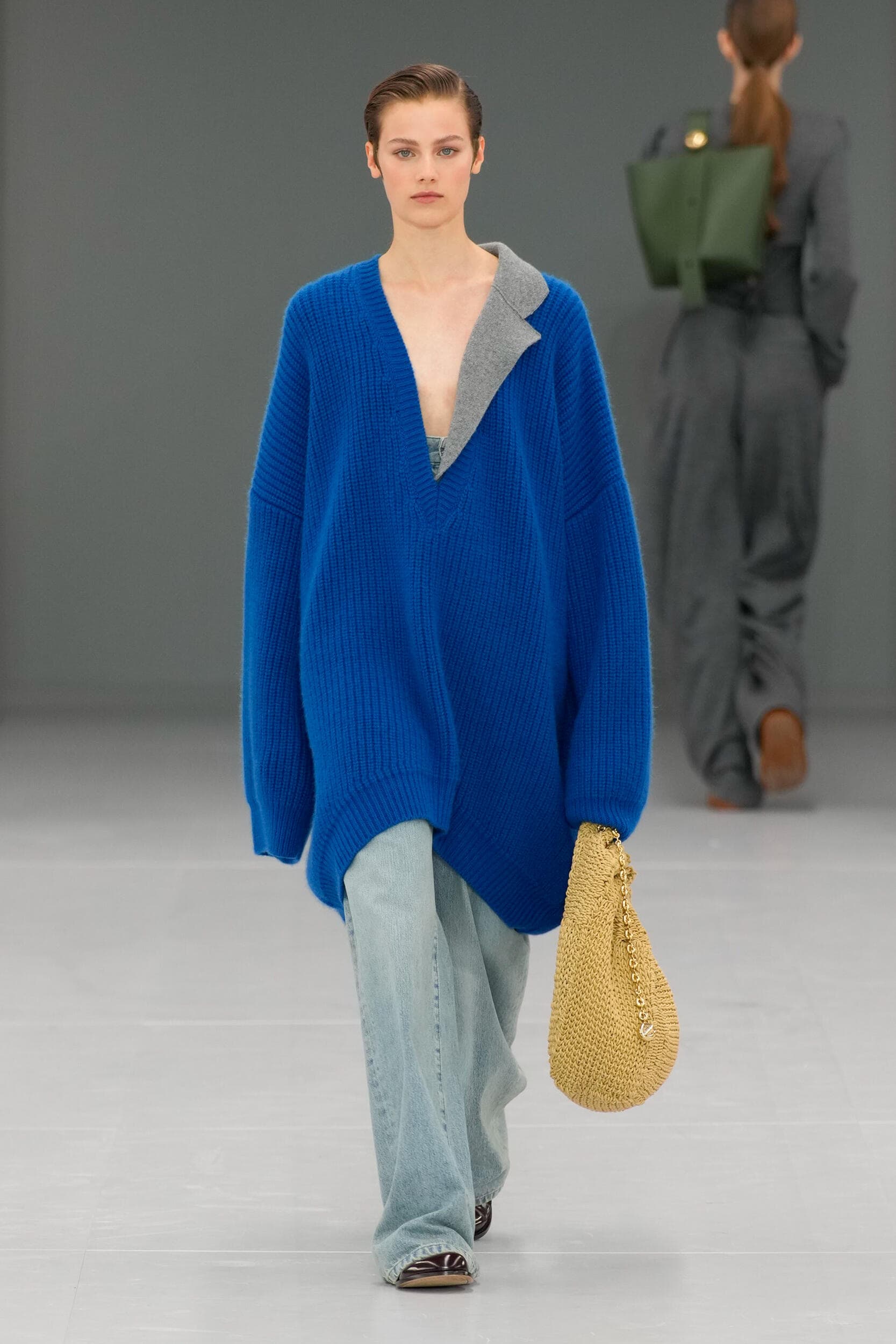 THE DIRECTION
PROS
Amplifying the value in the everyday
CONS
How will a giant pin translate at retail?
THE WRAP UP
Modernity in oddity is where Jonathan Anderson does his best work, taking on the idea of novelty as a fleeting concept and instead applying it to the everyday, challenges traditional ideas around what clothing can be and how it should present. In the used of 'chewed hems', altered proportions, and textural play there is a long-lasting steady hand at work with Anderson's Loewe which continues to make it a must-see each season.
---